Get The Most Momentous Holi Experience by Driving to Hyderabad
Does a festival have so much power that it can unite different people of various States, myriad walks of life, and diverse religions together? Well, yes! And even you'll believe this once you witness the celebrations of the most colourful and joyous festival of India – Holi! The festival signalling the onset of springs has this unique charm and power that lets you automatically get drenched in colour and be a part of the fun and excitement in the air! And even though you always celebrate this festival with your family and friends in the traditional and fun filled manner, this year we insist you to try experimenting with the celebrations by steering to another city of India!
Hyderabad — the city of Nizams! Yes, we are suggesting you to drive all the way to Hyderabad and experience their style of Holi celebrations! And we guarantee you won't regret your decision even for a second. The locals here might be deeply influenced by the culture of Nizams, but when the festival of Holi arrives, you'll witness an entirely different aura in the air and lots of zeal amongst the locals to celebrate this occasion. Well, maybe this is the reason Hyderabad witnesses such a large number of tourists during the festival of Holi each year (pan-India and pan-global). So, interested in being one of them?
Very essential things to consider when travelling Hyderabad for Holi 2021.
Date of the festival and events — Holi is on the 28th of March this year. However, different events are scheduled for the entire week in Hyderabad.
Lots of other things to do in Hyderabad besides playing Holi — One thing that you should definitely do in this city of Nizams apart from playing Holi is devouring their authentic Hyderabadi cuisine. The lip-smacking blend of spices and traditional taste will provide your tastebuds the most astounding feeling.
Places to visit in Hyderabad during Holi
There are lots of other things to do during Holi in Hyderabad as well (including shopping at the local bazars). Like, visiting these places for example.
1. Char Minar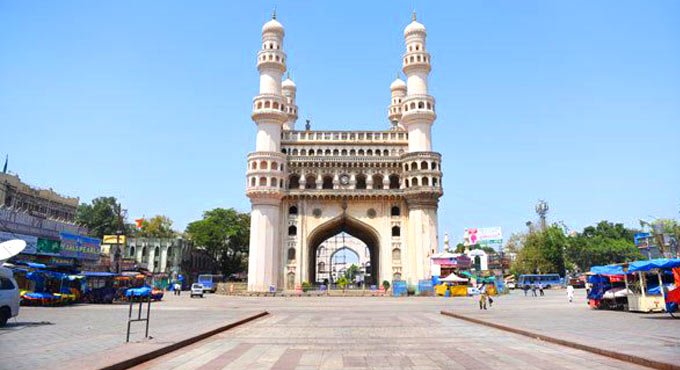 You just couldn't miss the mighty Char Minar when visiting Hyderabad. It's a glamorous historical building built by the Mughals and iconic to the city.
2. Golconda Fort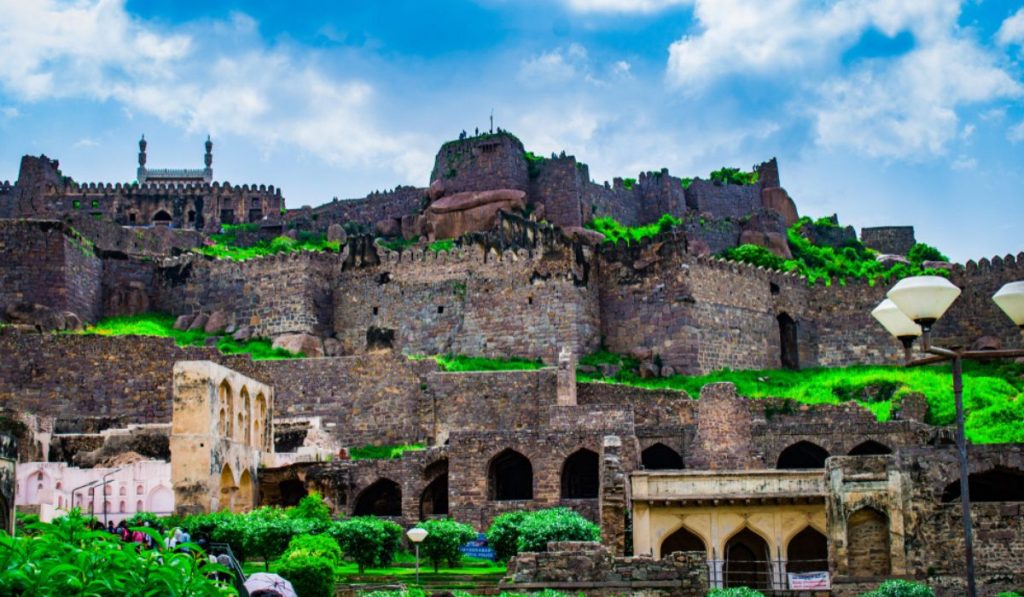 The most interesting tourist attraction in Hyderabad which takes you back in time with its huge expanse and unique architecture.
3. Ramoji Film City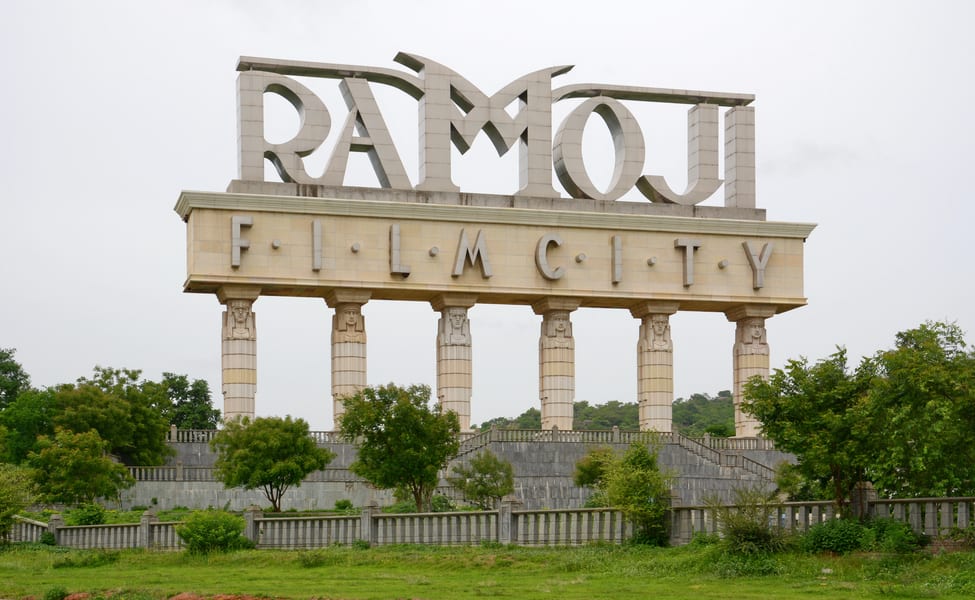 Be mesmerised by the magical theme of the Ramoji Film City – one of the profound tourist attractions of Hyderabad.
4. Hussain Sagar Lake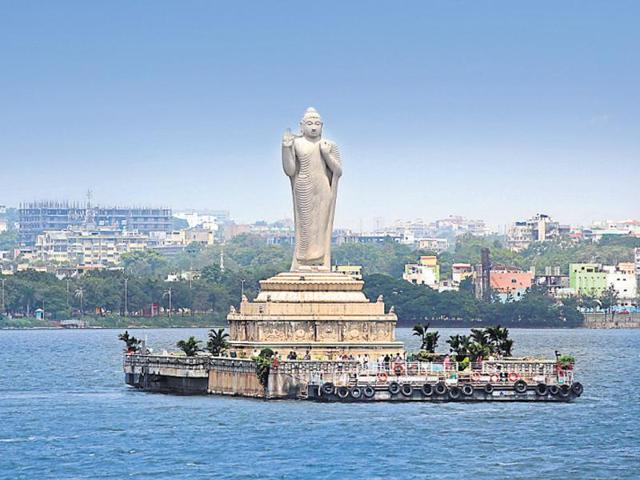 Connect with your inner self by taking some time off from the very buzzing Hyderabad – spend some relaxing time at the Hussain Sagar Lake.
5. Birla Mandir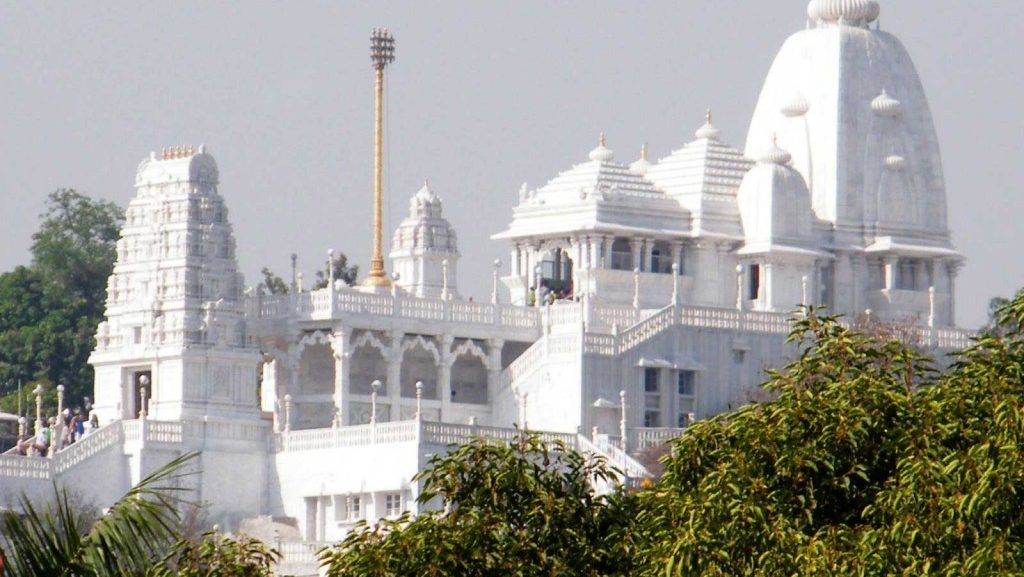 One of the most iconic temples of the city awaiting devotees like you each day. (Especially during festivities it feels great to visit this temple.)
Keep your Holi spirits high by checking the most happening Holi events of Hyderabad!
You'll feel overwhelmed by knowing just how much is stored for you during Holi in Hyderabad! Yes, there is a lot happening in this city during this time and you can gear up to be a part of the great Holi celebration in Hyderabad in 2021:
1. Gabbar ki Holi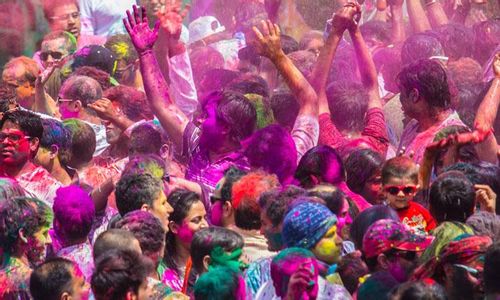 Don't limit yourself with a traditional Holi celebration when Gabbar Ki Holi is happening at the Summer Green Resort, Telangana. You'll be glad to know that DJ Mark and Piyush Bajaj are going to adorn this event apart from lots of colours, rain dance, exotic food and unlimited drinks.
Time of the event — 9:00 am – 6:00 pm
Entry fees — 599 INR onwards
2. Rang Barse — Festive Escapism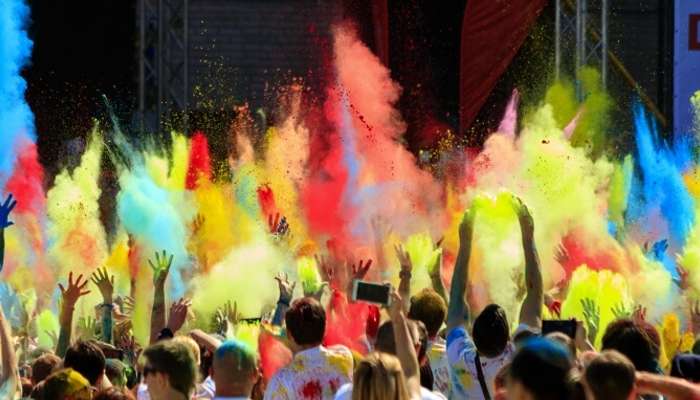 Indulge in the greatest celebration of Holi in Hyderabad by visiting the Inorbit Mall. There are some exclusive surprises awaiting you here like the rain dance, celebrity performances, Electronic Dance Music, snacking, glasses of thandai, and even organic colours.
Time of the event — 8:30 am – 1:00 pm
Entry fees — 699 INR onwards
3. Holi Festival at Rendezvous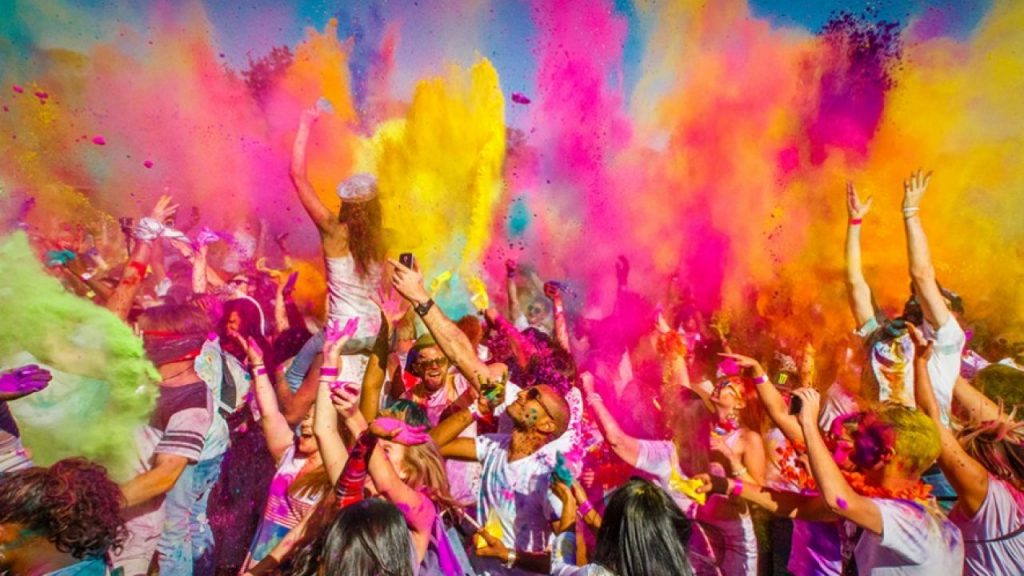 Rendezvous in Telangana is one of the best places to visit in Hyderabad during Holi. This is one of the most rocking events happening with lots of famous DJs turning up like DJ Pratap and DJ KD Belle. And if this wasn't enough you'll get to experience splendid rain dance, balloon fire, games, entertaining performances, and even unlimited food and drinks at this festival.
Time of the event — 9:00 am – 6:00 pm
Entry fees — 399 INR onwards
4. Lathmar Holi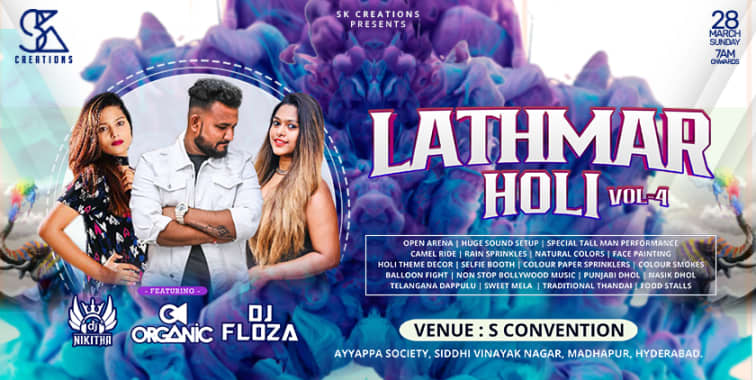 Get ready to groove in one of the best Holi party places in Hyderabad – Sayalo. Lathmar Holi isn't the traditional Holi celebrated using the sticks, but you will find immense fun awaiting you at this event because there would be a celebrity DJ playing your favourite numbers. Get ready to dance and rock with colours and DJ Zohon Babloo, DJ Zee Two, and DJ Apoorva. Well, this isn't enough! You can even indulge in the mud pool, enjoy the dhol playing in the event, water splash each other, and click crazy pictures at the photo booths.
Time of the event — 7:00am – 3:00 pm
Entry fees — 299 INR onwards
5. Holi Tronic Volume 2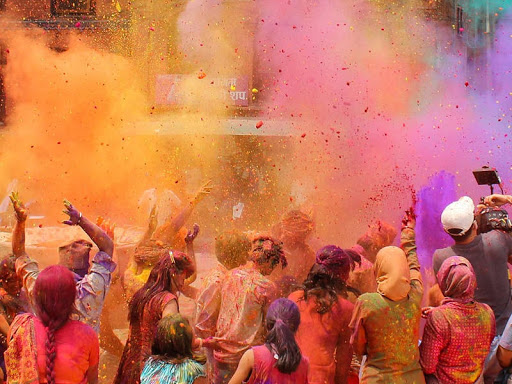 Last year witnessed one of the most successful Holi events — The Holi Tronic — at the Junction Drive in Street. Well, that is why this year it is back again and with a bang! The Punjabi style Holi event brings you DJ Emily, Dhol, tomato splash, mud pool, and lots and lots of colours and thandai. Do you think you need anything else to make your festival more fantastic?
Time of the event — 8:00 am — 6:00 pm
Entry Fees — 199 INR onwards
6. Bang Bang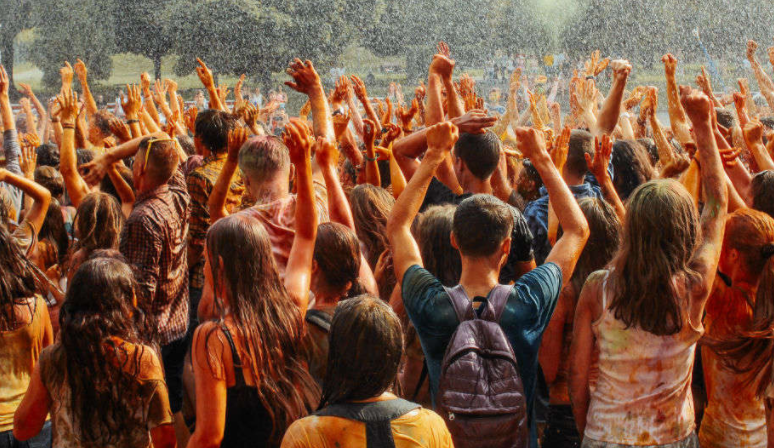 In case you want a more luxurious and safer Holi event, then just drive in your safe and sanitize car rental and reach Hotel Novotel in Hyderabad. You can meet the famous celebrities at this event apart from enjoying a scrumptious cuisine at the location. There are going to be lots of games and fun filled activities for you as well.
Time of the event —6:30 am — 4:00 pm
Entry fees — 1000 INR onwards
7. Colours Land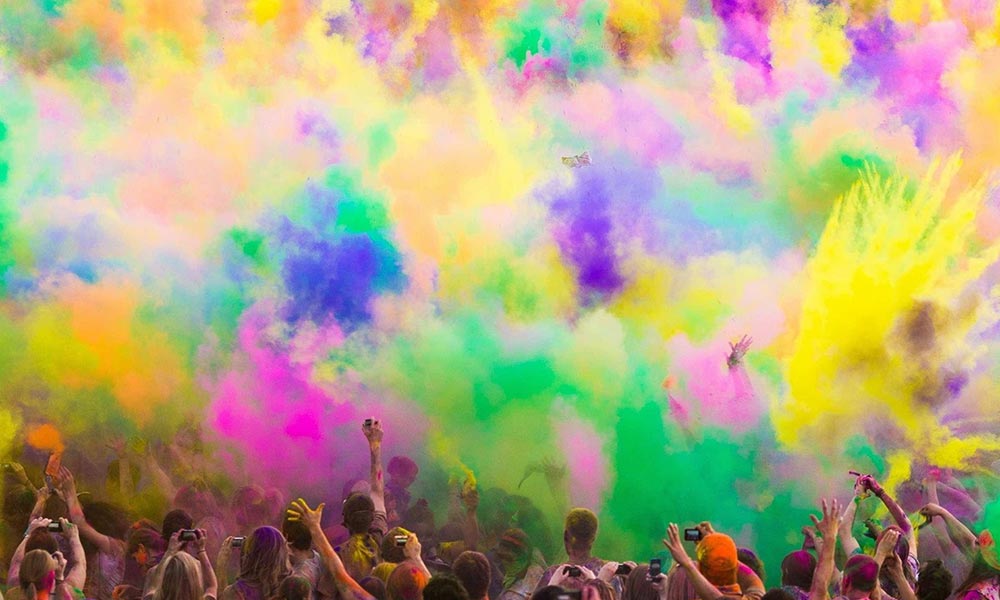 Drive towards the Image Gardens Function Hall in Hyderabad in a car rental in Hyderabad from Revv to enjoy the most massive Holi event of the city. There were at least 5500 people in this event last year. And this year it is going to be more because you'll have renowned artists like Rhea Sarkar and Moksha Mantri performing live. Even live DJ, Dhol, colour splashes, yummy appetisers and tons of bhang are awaiting you at this event.
Time of the event —7:00 am — 9:00 pm
Entry fees — 499 INR onwards
Places to celebrate Holi around Hyderabad.
If you have time, don't hesitate in visiting the best places around Hyderabad for Holi. Unique style of Holi celebrations happens at Hampi –the city of cultural heritage – where people take to the streets and also throng at the banks of Tungabhadra river playing with colours and dancing to the rhythms of drumming, at Bidar where the prominent temples are adorned with lights and whole lot of celebrations are scheduled for the festival, and at Vijayawada where you will get to celebrate Holi in the traditional style where people participate in day-long revelry complete with rain dance, tomatina, mud bath etc. with utmost joy and vigour.
We are sure you are already making plans to travel to Hyderabad to join the troops of revellers. But wait, there are some other magnificent events too. These are — a water filled fiesta – Rang Dee DJ at Pavani, Hola Holi 2021 of Marriott, and Nirvana Holi at Pitstop Go karting. Now let us know how many events you plan on attending during the Holi festival in Hyderabad and enjoy your time to the fullest!