Unique Places to Visit in Kolkata
Kolkata is not just any other city or buzzing metropolis; it's a city unlike any other in that it wears its fast yet languorous pace on its sleeve, flaunts its contemporary and hip yet historically anchored appearance at every corner and of course, tells a thousand stories reeking of its warm hospitality, love and camaraderie. To visit Kolkata is like going back in time but yet experiencing a taste of something that cannot be defined.
It is really hard to compile a list of places to visit in Kolkata. However, here's taking a look at some of the major hotspot for visitors and tourists alike.
8 Unique Places to Visit in Kolkata
1. New Market
New Market is Kolkata's buzzing nerve centre, located in the city centre and in the busiest commercial district. This is where bargaining takes on a whole new meaning of fun once again! New Market has more than 2,000 shops and stores offering almost anything under the sun. The market closes at approximately 8 PM and you will find some delicious street food alongside.
2. Victoria Memorial
The city's most famous landmark, the Victoria Memorial is where time stands still. The lovely museum has 25 galleries, showcasing a stunning collection of ancient artifacts. The grounds themselves will make you want to stay back for eternity! The Indo-Saracenic architectural style is a treat to behold. You can visit between 10 AM and 5 PM on all days with a very reasonable entry fee as well.
Must Read:- Best Shopping Places in Kolkata- Where You Can Literally Shop Till You Drop!
3. Howrah Bridge
Another famous landmark in Kolkata, the Howrah Bridge is the world's 4th busiest cantilever bridge. This bridge on the River Hooghly is the gateway to the city and links Howrah to Kolkata. The bridge was constructed from 1939 onwards and bridge is now called Rabindra Setu in the honour of Rabindranath Tagore. Relish the views on both sides which are true treats for photographers.
4. Park Street
Kolkata's party street by all means or the Street that never sleeps as it is called, will entice you at first sight! This is where you will find some of the hottest and most happening pubs, lounges, restaurants and cafes in the city, dotted with high-street stores galore! Park Street is where you party, relish lip-smacking meals with near and dear ones or simply enjoy a night or evening out. Park Street is the biggest hangout spot for residents of Kolkata and is also home to several colonial structures which will delight architecture enthusiasts.
5. South Park Cemetery
This is easy accessible from Park Street and is another landmark spot for tourists. This is one of the oldest non-church cemeteries across the globe with quite a lot of history attached to it. This is a heritage site safeguarded by the ASI (Archaeological Survey of India) and is the final resting site for several notable individuals down the ages. The memorials here are built impeccably and most sculptures and tombs are architectural marvels in their own right.
6. Dakshineshwar Kali Temple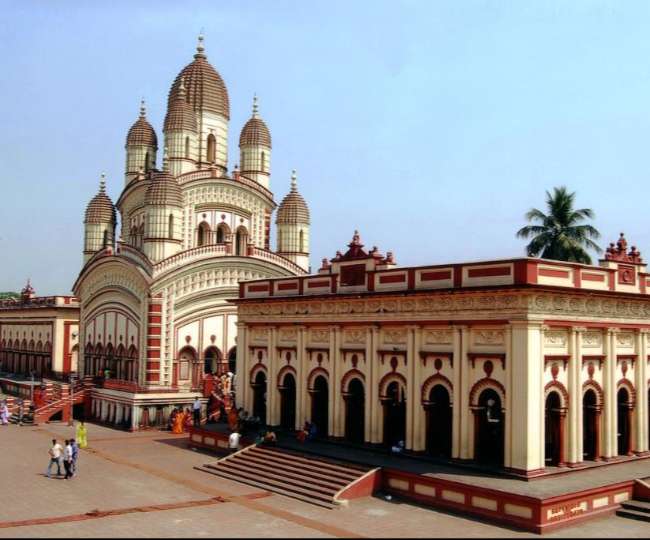 Located on the banks of the Hooghly, the Dakshineshwar Kali Temple is the famous temple built in the Nava-Ratna architectural style and was once home to the legendary mystic Sri Ramakrishna Paramahansa. It was built by iconic philanthropist Rani Rashmoni in the year 1855.
Must Read:- A Kolkata to Gangtok Road Trip Promises to be an Exciting Experience
7. Belur Math
The Belur Math, on the western bank of the River Hooghly, is a favorite destination for pilgrims all over the world. This is the headquarters for the Ramakrishna Mission and is dedicated to the legendary mystic, his wife Sri Sarada Devi and Swami Vivekananda. This is the resting place of Sri Ramakrishna and his belongings are also showcased in his room for tourists and visitors. The ambience is tranquil and will soothe you instantly.
8. Fort William
This fort was reconstructed by none other than Siraj-ud-Dawlah, the Nawab of Bengal, and stands on the Hooghly River's eastern banks. It is now the headquarters for the Indian Army's Eastern Command division and is named after King William III. The Fort is located right in front of the biggest green zone in the city, namely the Maidan. A special permit can be obtained from the Commanding Officer for visiting Fort William and it will definitely be worth it. It remains open between 10 AM and 5 PM on all days of the week.
Kolkata has several other attractions for tourists including the Prinsep Ghat, Kumortuli, Chinatown, National Library, Indian Museum, Mother Teresa's House, Jorasanko Thakurbari (residence of Rabindranath Tagore), Eden Gardens, Marble Palace, Alipore Zoo, Birla Planetarium, Rabindra Sarovar Lakes and a lot more. Finding places to visit in Kolkata is always easy; there's history and charm in almost every corner. You just need to find it amidst the maddening rush!