Experience Unseen wonders from the Pushkar Camel Festival 2021
Gorgeous is the word we should use for the Pushkar camel festival. Also commonly called the Pushkar Mela by the locals, this fair is more than 100 years old and showcases the tradition of Rajasthan. It is certainly the biggest camel festival in the world, and along with this colorful fair, you can also enjoy the beauty of the golden sand here.
If you are looking for reasons to attend the Pushkar Fair 2021, there are a multitude of them. Let us check out some of these:
By attending the Pushkar camel fair, you can witness the beauty of the state just like a local
You can participate in various entertaining competitions as well as events
You can get the chance to witness the performances of some of the most famous fusion bands in the country
As you attend the fair, you can get to stay either in a luxurious or a traditional camp
You can actually see how camels are traded
You can enjoy several types of thrilling activities.
About Pushkar Fair 2021
Pushkar Mela is usually held for five days. However, this year the fair will be celebrated for nine days. The fair will commence at 6 AM with a Harmony Marathon from Dargan Shareef, Ajmer to the Brahma Temple, Pushkar, on the first day. If you want, you can also be a part of the zeal-filled marathon. On the last day of the fair, there will be a Maha Aarti by the Pushkar Lake which will be followed by glittering fireworks on the High-Level Bridge.
Pushkar Mela date: 11th November to 19th November
Timings: 6:30 am to 9 pm
Things to do at Pushkar Fair 2021
This is one of the biggest fairs of its kind in India and you can do plenty of things here. If you are planning to cover all the 9 days here, you will have something new to do every single day. Let us discuss the things that you can do.
1. Try adventure sports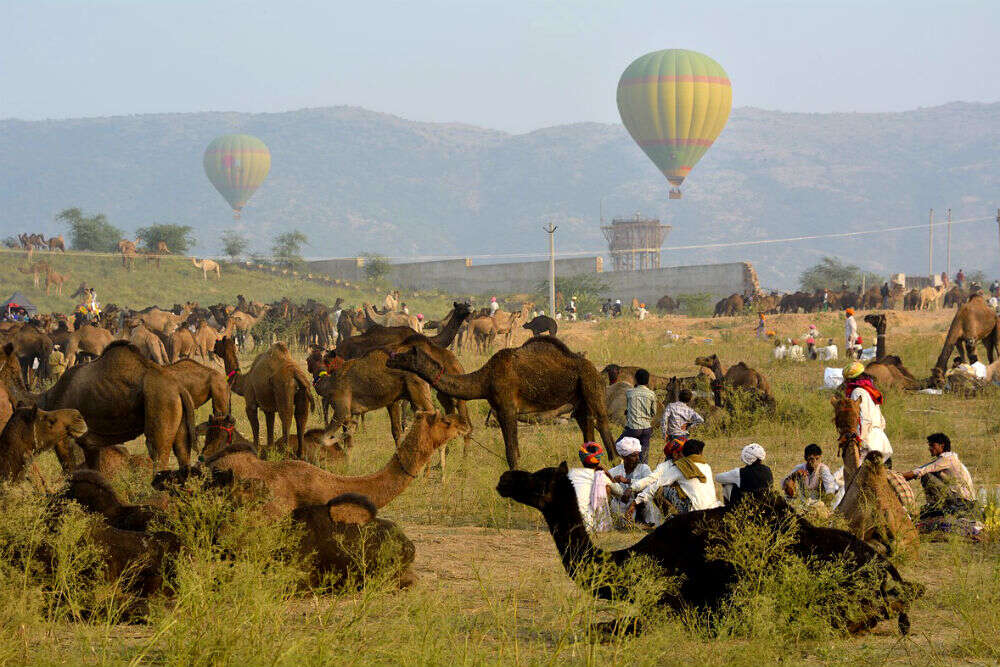 You can enjoy an aerial view of the camel fair from a hot air balloon ride. You can also go for activities like quad biking, paramotoring, camel safari, etc. The cost of the activities starts from INR 4,000 and goes up to INR 18,000. 
2. Shopping
You can come across several types of paintings and handcrafted jewelry by local artisans here. You will also find leather goods. There are lots of things that you can purchase from this fair. However, you might need to bargain a bit.
3. Photography contest
If you are fond of photography, you will get ample scopes to click countless photographs. Well, one more good news for the photography enthusiasts is that you can take part in 'Frame the Fair, which is organized by the Rajasthan Tourism and E Factor Entertainment. You can showcase your talent and even can win a prize for it.
4. Fun competitions
The list of events that are organized in Pushkar Mela is long. Matka Race, Mustache Contest, Camel Dance, and Bride & Groom Contest are some of the unique events that you can witness here. And if you want to add more fun to it, you can even participate in these contests. 
5. Trying the local delicacies
Even if you are on a diet, you must take a break when you are attending the Pushkar Mela. The local cuisines you will get here are so delicious that it is actually going to be tough for you to resist. Make sure you eat a full plate of Daal Baati Churma.
Nearby places around Pushkar
Once the Mela is over, and you still have some days to explore the place, you can take a tour of these nearby destinations.
Jaipur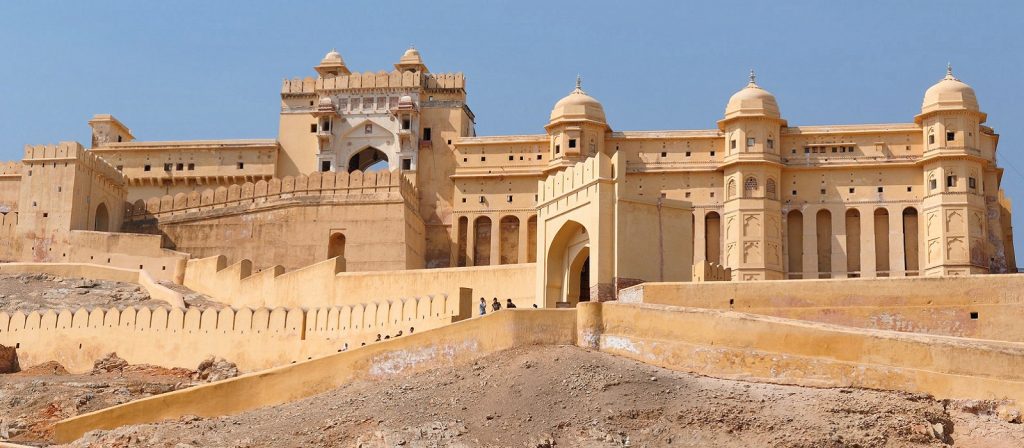 Jaipur is one of the places that you can visit from Pushkar. This is also one of the places where you will have a long list of attractions to cover. Jaipur has something for everyone. You can find historical places, entertainment options, shopping opportunities, and eat sumptuous Rajasthani cuisines here.
Distance from Pushkar: 145 km
Jodhpur
Also called the Blue City for the houses colored in uniform Blue color, Jodhpur is another destination that you can visit from Pushkar. The city of Jodhpur was built around the 15th century. Make sure you stay in this city overnight and the city looks magnificent after dusk. Some of the attractions that can be covered here include the Ghanta Ghar,   Jaswant Thada, the Rao Jodha Rock Parkthe Mandore Gardens, Phool Mahal, the Chand Baori and Osian Temples and Toorji ka Jhalra, etc.
Distance from Pushkar: 185 km
Chittorgarh
Located on the banks of Berach River, Chittorgarh was the capital city of the Sisodia clan once upon a time. You can find some of the most fascinating attractions in this city. From palaces to temples, lakes to ruins, you can see several things here. While you are here, do not miss out on witnessing the traditional dance and music performed by the local artists.
Distance from Pushkar: 213 km
Ranthambore Wildlife Sanctuary
Ranthambore Wildlife Sanctuary is a must-visit destination, especially if you are a wildlife enthusiast. You can certainly witness tigers here basking under the Sun. You can also find other animals and more than 330 species of birds. 
Distance from Pushkar: 262 km
To make your road trip to Pushkar full of convenience, you can consider taking a self-drive car rental service. With a safe care rental from Revv, you can choose the car that you feel is right for the trip. You can also extend the days of the service if you feel the need. Now visit the website or app of Revv and choose the car.