Experience Divinity & Diversity In These Holy Places In And Around Kolkata
Divinity in India is not only restricted to spirituality but is also a way of life. No wonder each place of worship has a story behind them, a history or is related to mythology. That's why when you visit these, you'll get to see an entirely different perception of religion and spirituality. In short, the trips to the holy places of India can be the catalyst to connect to your soul. And if we have to speak of one city that embraces the joy and peace essentially preached by all religions, then we should talk about Kolkata.
Kolkata is an enriched city of India that buzzes with intellectuality, culture, heritage, and spirituality. A city that celebrates Durga puja with fervour, feasts during Eid, participates in the community services of Gurdwaras, and makes merry during Christmas – all with full on zest and zeal. The city that's submerged deep in all these values has something exclusive to offer you in its each corner – and each place has a distinct story to share. 
Top things to keep in mind when travelling to the holy places in and around Kolkata!
Best time to travel to Kolkata — Kolkata bears a moderate temperature throughout the year. However, the best time to visit the religious places in Kolkata is during the religious festivals like Durga Pujo, Christmas, Diwali, Eid, and Holi.
Things to do in Kolkata and vicinity —Indulge in the things to do in Kolkata like paying homage to the deities of the temples, wildlife exploration, sightseeing, heritage and cultural trip, culinary tours, shopping expeditions, etc.
Enjoy solace and serenity at the spiritual places in and around Kolkata: 
Your road trip in Kolkata is surely going to be a journey to connect with your soul because of the spiritual places located in this city and vicinity. 
1. Kalighat Temple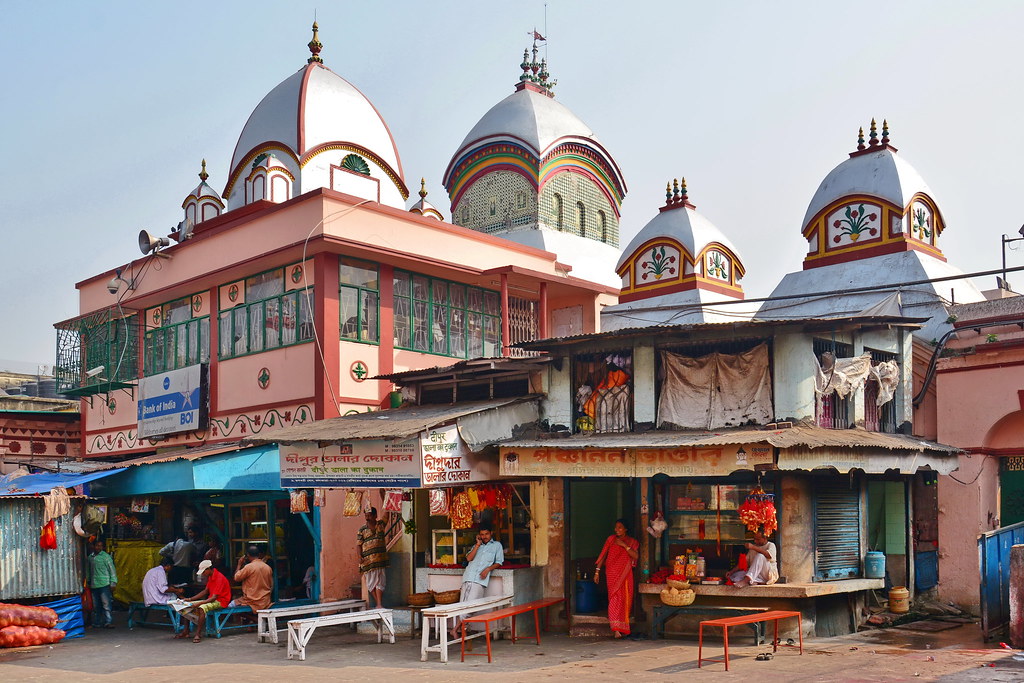 We are sure you would have heard about the great Kalighat Temple dedicated to Goddess Kali in Kolkata. It is a famous pilgrimage centre that sees thousands of devotees each day. What's more, this temple dates back to the 15th century and that is why it is also one of the best historical places to visit in Kolkata. It is also one of the 52 Shakti Peethas of the country and that's why you'll see visitors from all across the globe paying homage at this temple.
Timings — The opening time of this temple is from 5:30 am — 1:30 pm and 5 pm — 10:30 pm.
2. Birla Mandir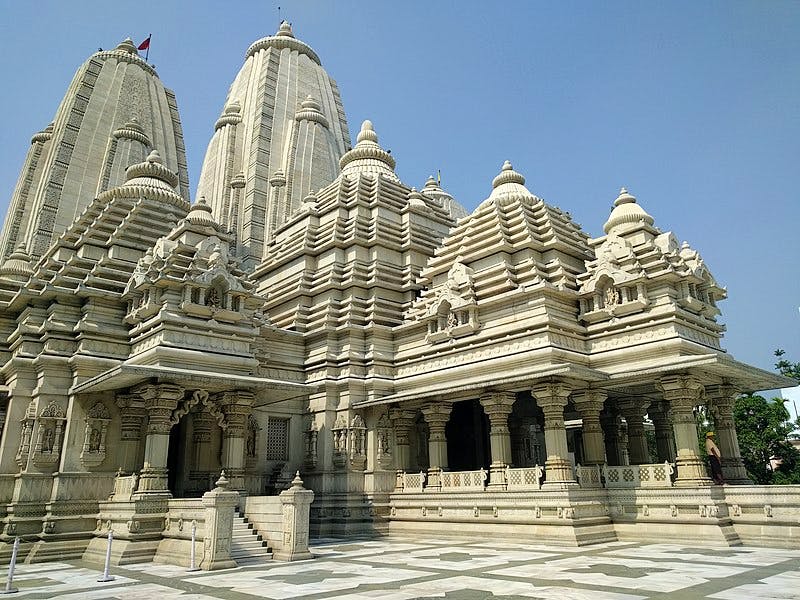 You shall experience exquisite sculpture and artistry at one of the most famous temples in Kolkata— the Birla Mandir. It's a true example of exclusive modern architecture and genuine dedication of the Birla Family in constructing this temple. It took around 30 years for this glamorous temple to get completed. Dedicated to Lord Krishna and Goddess Radha, it's a true delight for the devotees who worship them and also for art lovers who come to appreciate the beauty of the premises.
Timings — 5:30 am — 11 am and 4:30 pm — 9:00 pm. 
3. Thanthania Kalibari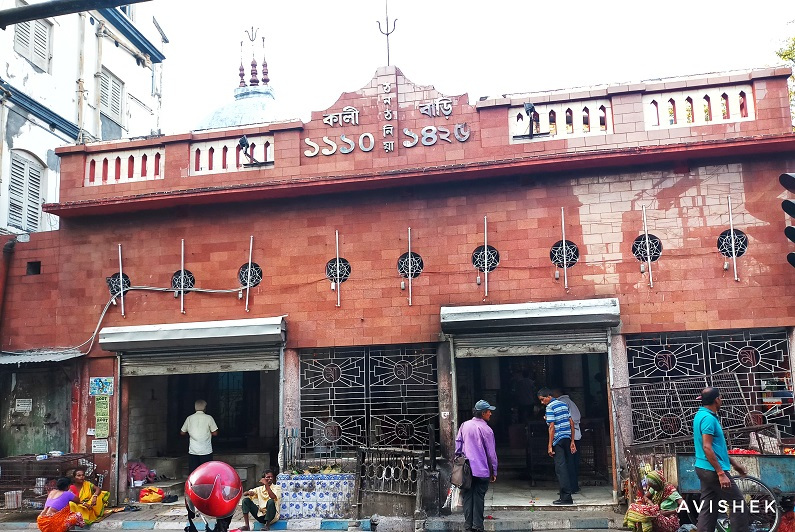 This temple is considered as one of the oldest religious places around Kolkata and is dedicated to the Goddess Kali. Built in the 18th century, this temple sees a new small clay model of the Goddess each year. Do visit this temple every Saturday and Tuesday to get some blessings from the Goddess and especially on Lunar Eclipse for the best experience.
Timings — 6:00 am — 11:00 pm and 4:00 pm — 7:00 pm.
4. Pareshnath Jain Temple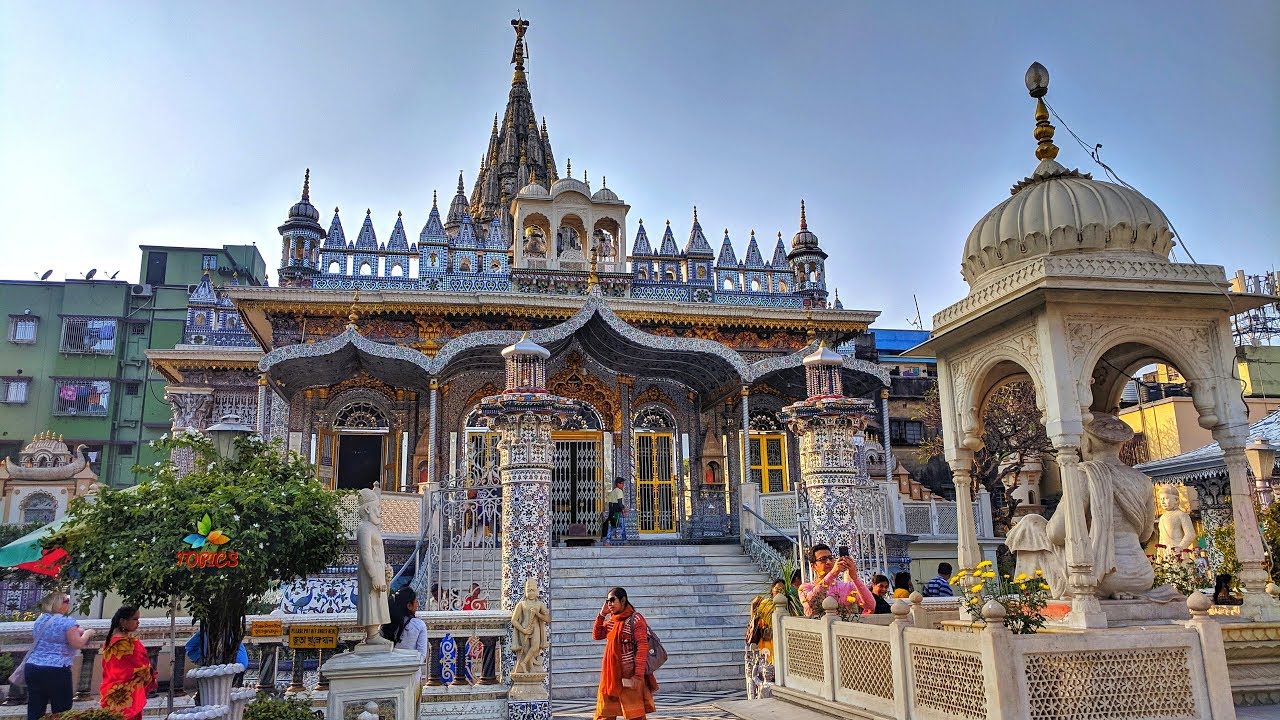 If you strongly believe in Jainism, then the Pareshnath Jain Temple consisting of 4 temples together is a must visit for you. Do pay homage at this temple and explore the exclusive architecture of this temple. Along with the religious value, the location of this temple is such that you shall be mesmerised. A beautiful stream flowing around it and a wonderful garden creates a beautiful backdrop and you shall find solace and serenity.
Timings — 6:00 am — 11:00 pm and 5:00 pm — 7:30 pm.
5. Dakshineshwar Temple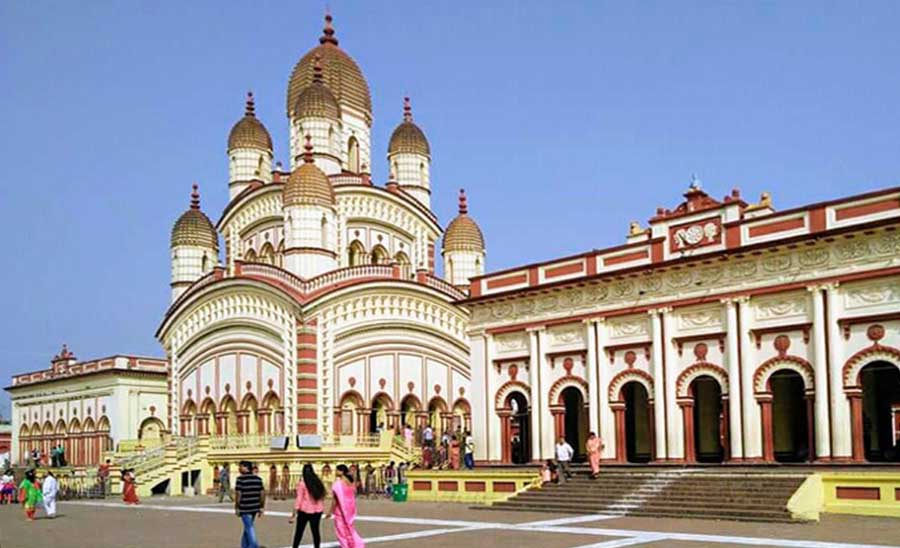 One of the holiest places around Kolkata, the Dakshineshwar Temple, is one of the famous tourist attractions around town. Located near the Bally Bridge on the banks on the River Ganga, it's a vast temple spread across 25 acres of land. It's a really impactful place where the great philosopher Shri Ramakrishna Paramhansa got his enlightenment. 
Timings — 5:30 am — 12 pm and 4:30 pm — 8:30.
6. Belur Math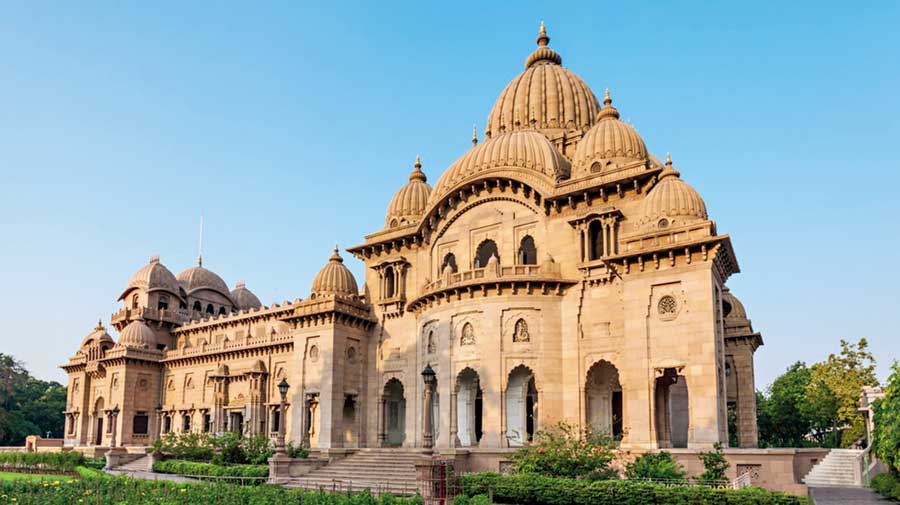 One of the most important pilgrimage places near Kolkata is the Belur Math. This is an incredibly amazing temple which celebrates unity in diversity by encompassing a medley of Hindu, Muslim, Buddhist, and Christian architecture in its design structure.
Timings — 6:00 am — 12:00 pm and 4:00 pm — 9:00 pm.
7. Agni Mandir

If you are looking for a temple to worship fire, then do visit the Agni Mandir in Kolkata where you'll find all the Parsi traditions being performed very ritualistically. You'll be surprised to see that there's a fire burning on the top floor of this temple that keeps burning all day long. 
Timings — 5:00 am — 12:00 pm — 5:00 pm — 10:00 pm.
8. St. Paul's Cathedral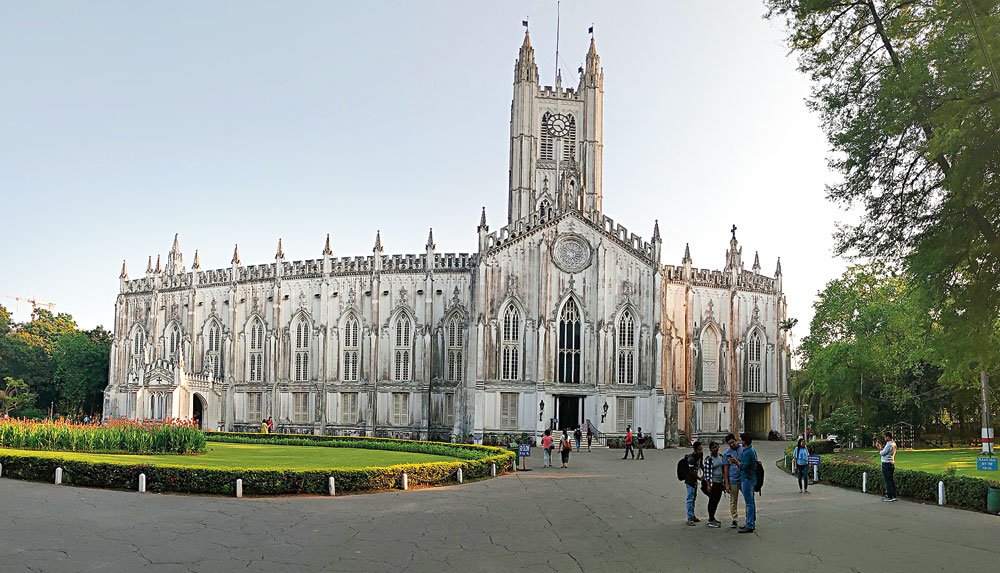 The St. Paul's Cathedral is surely an iconic religious place to head to. The extraordinary architecture of this cathedral makes it an alluring site. People from all walks of life visit this place for Christmas Mass.
Timings — 9:00 am — 12:00 pm and 7:30 — 6:00 pm.
9. Nakhoda Mosque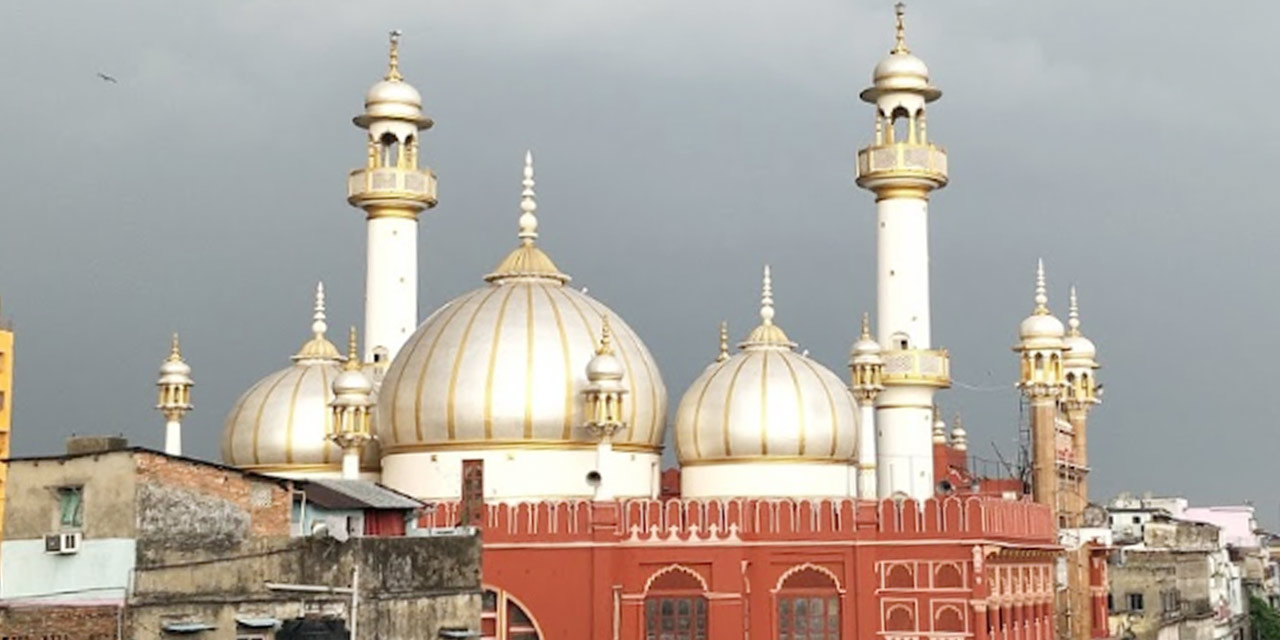 The impressive Nakhoda Mosque of Kolkata is famous far and wide both amongst locals and the tourists. Consisting of three grand domes and two minarets, this mosque has a classy architecture and simply impressive granite stones that exude solemnity. Visiting this mosque would simply be an exclusive experience of your life.
Timings — All day long.
10. Bhukailash Temple
The Bhukailash Temple of Kolkata is one of the most prominent temples of Kolkata. You'll be surprised to know that it's a 250 years old religious building and even has one of the largest Shivlinga of the country. Visit this temple to view this exceptional temple made by the oldest royal family of the country and worship Lord Shiva in a peaceful ambience.
Timings — 6:00 am to 10:00 pm.
The importance of these holy places couldn't be challenged at all. And if you want to visit these all, do get a car rental in Kolkata from Revv and get blessings from all these exceptional temples and religious places in and around Kolkata.