Road Trips From Jaipur to Ranthambore – Enjoy the Wildlife
Nestled in the greenery of Aravallis an erstwhile hunting retreat of the royals, Ranthambore is the paradise for the nature lovers. This is home to the Royal Bengal Tigers. The unique serene wilderness of Ranthambore attracts tourists from all over. If you are in Jaipur, you can plan road trips Jaipur to Ranthambore and explore this wild beauty. You can keep a day to explore the havelis and forts in Jaipur and finish your shopping trips before you start your trip to Ranthambore.
12 Best Things to do in Ranthambore
1. Ranthambore Tiger Reserve
Famous for Ranthambore Tiger Reserve, this is the best place in India to see the Royal Bengal Tiger. Start off for an early morning or an evening jungle safari and you can see the spotted deer, variety of birds and of course the royal beast which leaves it mark everywhere in the forest. Spread over a sprawling area this is a forest where the Tigers are even worshipped and they almost rule in the ancient relics of forts and havelis that are in the forest.
2. Ranthambore Fort
One of the 8th century forts, this is built by the Chauhans and is an interesting place to visit. Nestled on the Thambore Hill the eerie silence of this majestic fort inside the tiger reserve creates a haunted vibe. The big beasts are often spotted here as well. Once a sprawling palace with courtyards and step wells, right now the remains are the home to the wildlife. On your Jaipur to Ranthambore day trip plan a visit to the ancient Ranthambore Fort.
3. Surwal Lake
Amidst picturesque surroundings is the beautiful Surwal Lake the home to migratory birds like flamingoes, falcons and others. Tourists and photography lovers visit this lake for its pristine surroundings. On your Jaipur to Ranthambore road trip you must visit this beautiful lake in Ranthambore and enjoy the stillness of nature with the chirping of birds. You must stay aware as there can be animals nearby who come to this lake to drink water.
4. Trinetra Ganesh Temple
One of the famous temples in Rajasthan. It is believed that in 1300 AD the King dreamt of this Ganesha and built this temple in Ranthambore Fort that ended the war and brought back peace. From then this temple has been really an important pilgrimage in Rajasthan.
5. Padam Lake
Padam Lake is a serene beautiful lake in Ranthambore which is the water area for most of the forest's animals. One of the biggest lakes in the park this lake gets its name from the lotus flowers in the lake. You can spot the animals here too.
Must Read: Picnic Spots Near Jaipur
6. Kachida Valley
Nestled amidst rugged hills this is a unique hideout in Ranthambore that is the home to fierce animals like panthers and bears. This is the area where these animals live, and most jungle safaris go by this route.
7. Jogi Mahal
One of the hunting retreats of the royals this Mahal is in Ranthambore forest that serves as a resting place for tourists. It is believed that when the royals came to Ranthambore for hunting they would relax at Jogi Mahal.
8. Wild Dragon
If you have had your adventure with wild beasts and nature trails and jungle safari then head to the Wild Dragon theme park. This is the place where you can go for zorbing, ride an ATV and try out the horror houses.
9. Raj Bagh Ruins

Raj Bagh ruins are the ancient ruins of royalty spread across Ranthambore that gives an idea of the royal history of Rajasthan. Visit these beautiful ruins scattered in Ranthambore Forest on your trip.
10. Dastkar Ranthambore
Dastkar in Ranthambore is a project started by women to make the women of the rural areas financially independent. From home linens, artwork, patchwork to artifacts, all handmade stuff is sold at the Dastakar Kendra in Ranthambore. If you are looking to buy some authentic tie and dye, block printing you can find them here at Dastakar Ranthambore.
11. Malik Talao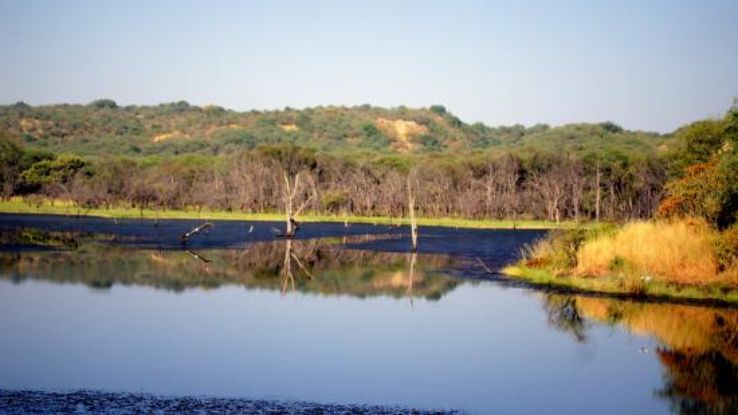 Malik Talao is one of the pristine lakes which is home to crocodiles inside the Ranthambore National Park. Bird watchers can also see variety of fish catchers, flamingoes and falcons around this lake and some migratory birds in winter.
12. Rajiv Gandhi Museum
Explore more about the rich biodiverse western part of India in this natural history museum. This is one of the most visited tourist places in Ranthambore.
Best Time to Visit Ranthambore
Ranthambore National Park remains open during October to the month of June. For tourists the best time to visit is from October to December and the best month to spot tigers is during April. The summers are excruciatingly hot in Ranthambore and it is best to avoid this season. But it is believed that during this time you can spot tigers who come to drink water at the forest lake.
Best Route to Travel from Jaipur to Ranthambore
It takes around 3 hours 25 minutes via the Jaipur-Kota road highway and then you can take a left turn at Lalsot and from there you can take another right to go towards Ranthambore in Sawai Madhopur in Rajasthan.
If you are planning a trip to the forests you can go for car hire from Jaipur to Ranthambore. You can opt for a self-drive car rental in Jaipur and take this trip all by yourself into the rugged terrains of Ranthambore.