Enjoy The Magic of Rann Utsav 2021
Gujarat is one of the oldest states in the country with a rich history and culture. From palaces to monuments, from a non-stop shopping spree to trying some of the sumptuous authentic Gujarati cuisines, a road trip to Gujarat can certainly be a memorable one. And if you are planning your trip to this unique state during the winter season, you will not only experience wonderful weather but also the unique Rann Utsav.
Rann Utsav is organized by the Gujarat Tourism Department. As the Rann Utsav dates are concerned, it is going to commence from 1st November 2021 and will continue till 20th February 2022. It is one of the biggest tourist festivals that India witnesses and people from across the world visit Kutch to indulge in the vigor of the celebration. 
What is the venue for the Rann Utsav festival?
As we talk about the Rann Utsav location, the festival starts in Bhuj and the finale is set up at the Rann Utsav tent city.  At the Rann Utsav tent city, you can find more than 400 AC as well as non-AC tents.  The final location is very close to Dhordo, which is a small village and in proximity to Bhuj Airport. 
If you are looking forward to attending Rann Utsav 2021, you must get your Rann Utsav booking done as soon as possible. You can go for packages such as 3 nights and 4 days so that you can cover several things at the festival.
Things to do in Rann Utsav
Wondering what all you can expect in Rann Utsav. Well, here are some of the highlights of all that you can witness, experience, and enjoy at this beautiful and unique festival. 
A date with the Moon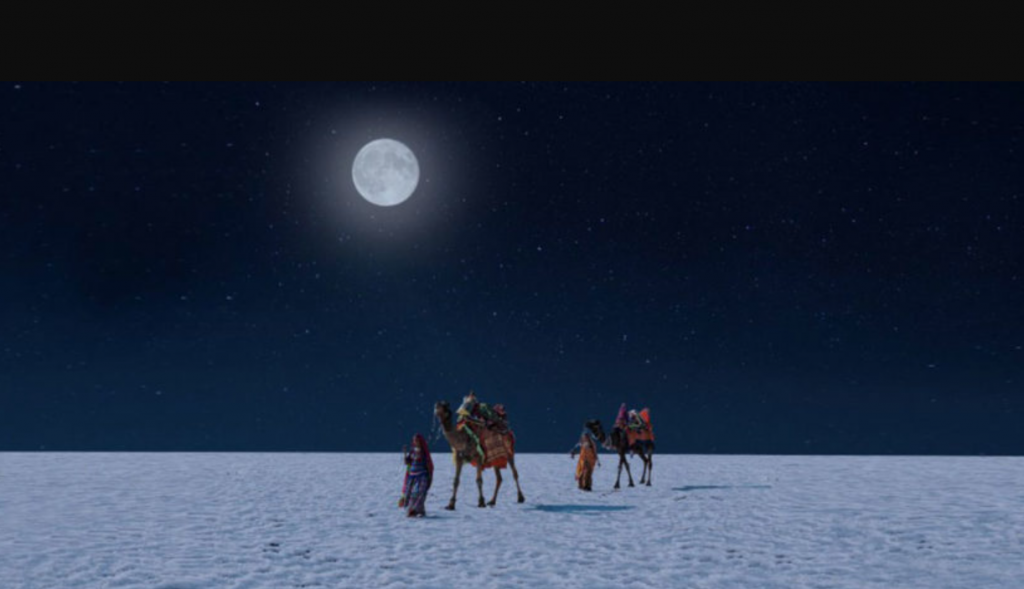 The white salt bed looks even more gorgeous under the moonlit night. You do not need any artificial light to see things. Almost everything is visible. And if you love stargazing, you will enjoy every bit of your time here. Therefore, while you are making your booking, make sure you do it around the full moon period of the month.
Witness the culture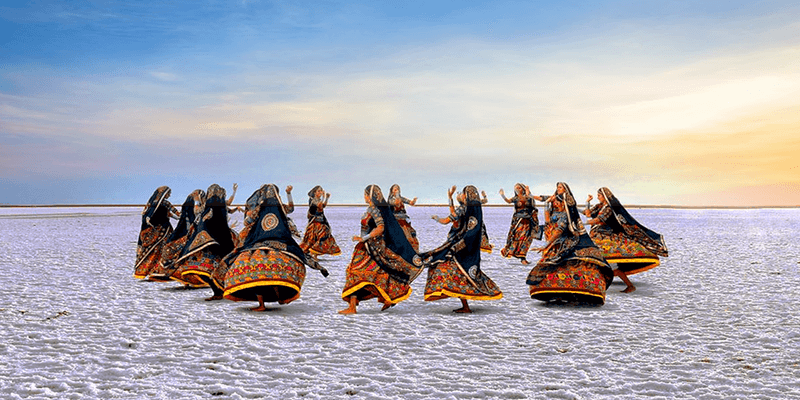 As you visit Rann Utsav, you cannot miss out on visiting the culture of Gujarat. You can attend the cultural fiesta which is hosted by folk artists from different nooks of the state.  They perform folk music by the bonfire, while you can dance to their tunes. This is one of the experiences that you are going to remember for a long time.
Sightseeing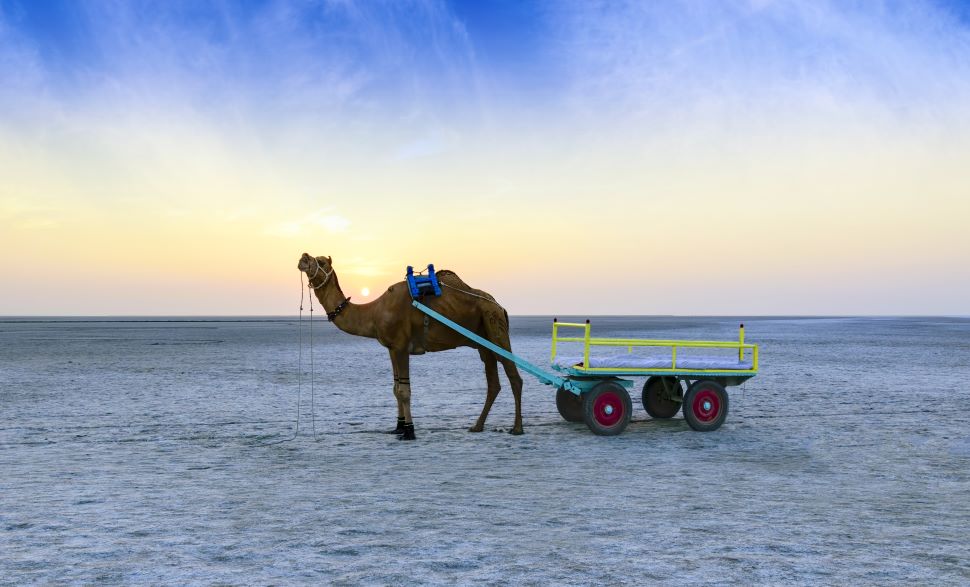 You can take a ride in the desert patrol vehicle (DPV). The Desert Safari is one of the activities which will surely give you an adrenaline rush. There are several places in Kutch that you can take a tour of during your visit to Rann Utsav.
Hot air balloon ride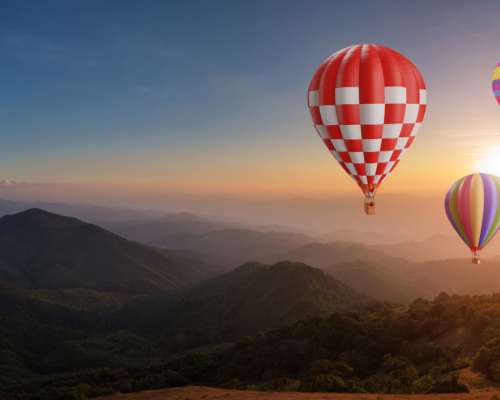 If you want to add thrill to your Rann Utsav trip, you must take a hot air balloon ride.  You can have an aerial view of the several hues of the salt bed. Even if you are not usually fond of such rides, you will certainly love this.
Exploring handcrafted textile and fabrics
You can visit the villages here such as Khavda, Bhirandiyra, and Gandhi-Nu gam. Workshops for handcrafted textile and fabrics are arranged here. You can these workshops and buy things like Rogan Art which is oil-based painting, copper bells, lacquer, bandhani sarees or dupattas, embroidered garments with mirror-work, chunky silver jewelry, gold jewelry, and Ajrakh block printing shawls.
Shopping
You attend the Rann Utsav and do not indulge in shopping; well, that does not sound very exciting. As a matter of fact, Rann Utsav has a wonderful scope to do a lot of shopping. You can find silverware, leather goods, ornaments, etc. Some of the shopping places that you can explore in Kutch include Rainbow Textiles in Ganghara, Roopalee Handicrafts, Khamir crafts store in Bhuj, Shrujan – threads of life, Bandhini Bazar, and Aslam's collection on the outskirts of Bhuj.
Indulge in Gujarati cuisines
When you are in Gujarat, you cannot miss out on trying their sumptuous cuisines. You will get a wide variety of cuisines here which will surely tickle your taste buds. Several food corners remain open till late at night. So, if you ever get hunger pangs, you can visit a food corner and grab the dishes that satiate your hunger. Some of the things that you must try are bajra and milk, bajara na rotla with butter milk, and curd.
Places to visit in Gujarat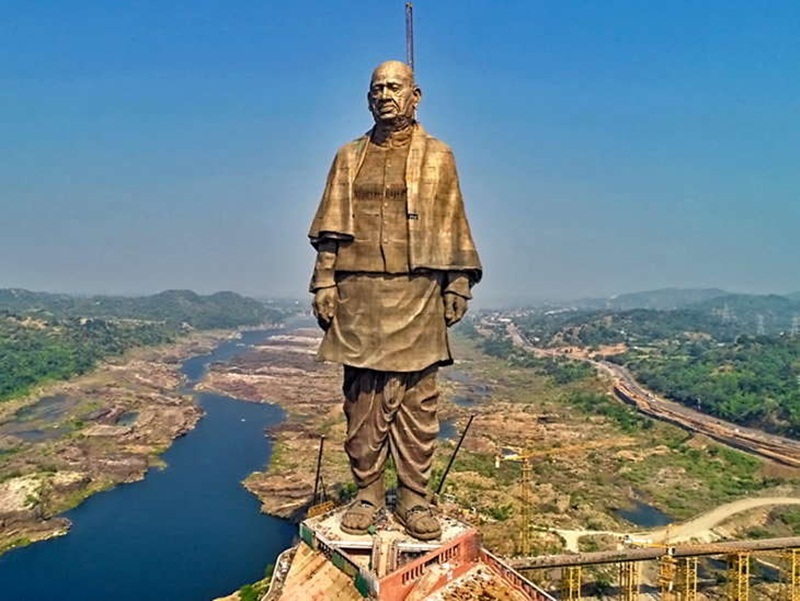 Once you plan your trip to Rann Utsav, you can also visit the other places in Gujarat. Being one of the largest states in the country, Gujarat boasts many places that you can visit. From national parks and wildlife sanctuaries to some of the oldest religious places, every place has something for everyone. Some of the must-visit places include Gir, Pirotan Island, Dwarka, Lakhota Fort, Sidi Saiyad Mosque, Zarwani Waterfalls,  Jamnagar, Statue Of Unity, Gujarat Science City, Umbergaon, etc. 
Now if you have made up your mind and are all set to visit Kutch to attend Rann Utsav, you can take a self-drive car rental service. You can get a very safe car rental from Revv and even get the car of your choice. All that you have to do is to visit the website of Revv or install their app from Google Play Store or iOS App Store and check out the cars available. You can choose the car and book it for as many days as you want.