Charming Weekend Getaways From Jaipur That Everyone Will Love
Seeking out the perfect weekend getaways from Jaipur? There are several short road trips from Jaipur and even places near Jaipur within 500 kms that you can easily visit over a long weekend or whenever you get an extended holiday that is! Jaipur offers proximity to a treasure trove of major attractions in its vicinity.
Here's taking a look at some of the best options in this regard:
1. Ajmer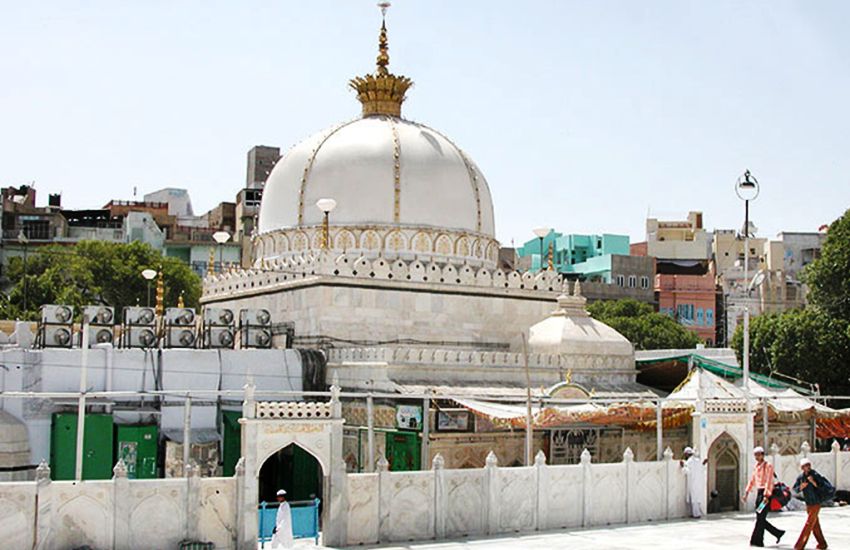 One of the best weekend getaways near Jaipur within 150 kms, Ajmer is famous for its Khawaj Garib Nawaz Dargah which is located approximately 130 kilometres away from Jaipur. This is one of the country's biggest pilgrimage spots and the death anniversary of Khwaja Muin-ud-din Chishti, Urs, is the best time to visit along with the Ramadan period. Some of the other draws for tourists here include the Ana Sagar Lake, Akbar's Palace and Museum and of course, the Taragarh Fort.
Distance between Jaipur to Ajmer- 150 Km 
Tourist Attractions: Khwaja Muin-ud-din Chishti, Khawaj Garib Nawaz Dargah, Ana Sagar Lake, Akbar's Palace and Museum, the Taragarh Fort.
2. Pushkar
Pushkar is known for a lot more than just camels! Located 144 kilometres away from Jaipur, Pushkar offers the lovely Brahma Temple, Pushkar Lake and the amazing Varaha Temple among other attractions. The Pushkar Fair is held every year between October and November. Taking a camel ride won't be a bad idea either!
Distance between Jaipur to Pushkar – 144 Km
Tourist Attractions: Brahma Temple, Pushkar Lake, Varaha Temple.
3. Alwar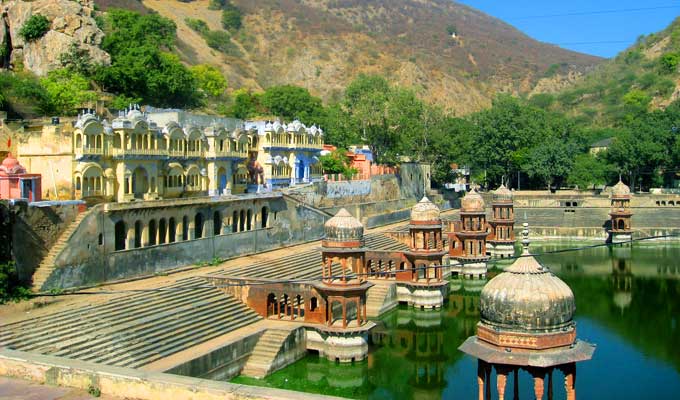 Alwar is situated approximately 138 kilometres away from Jaipur and is popular for being the gateway to Rajasthan. The city is famous for its royal monuments, forts, gardens, temples, The Sariska National Park  and lakes among other attractions. Some of the top draws include the Vinay Vilas Palace, The Government Museum and Tomb of Fateh Jang.
Distance between Jaipur to Alwar – 138 Km
Tourist Attractions: Bala Killa, Sariska National Park,

Siliserh Lake, Alwar Museum,Jaisamand Lake, etc.
4. Ranthambore
Ranthambore National Park is the Holy Grail for wildlife lovers as you may already know. Located approximately 162 kilometres away from Jaipur, Ranthambore is also home to the imposing Ranthambore Fort, a creation dating back to the 10th century. Padam Talao is the biggest pond within the park itself while you can also check out the Surwal Lake and Kachida Valley here.
Distance between Jaipur to Ranthambore – 162 Km
Tourist Attractions: Surwal Lake, Kachida Valley, Jungle Jeep Safari, etc.
Must Read: Fun Places in Noida you Should Visit 
5. Mathura
One of the best places near Jaipur within 300 kms, Mathura is an ideal choice for spiritually inclined travelers. The birthplace of Lord Krishna, Mathura is located approximately 223 kilometres away from Jaipur. It may take you around 5 hours to reach this destination. The Krishna-Balaram Temple maintained by ISKCON is a major attraction along with the Krishna Temple and Prem Mandir along with the Government Museum of Mathura. Sri Krishna Janmabhumi is a big draw along with the Dvarkadhish Temple.
Distance between Jaipur to Mathura – 223 Km
Tourist Attractions: Dvarkadhish Temple, Iskcon Temple, Krishna Temple, Prem Mandir
6. Vrindavan
Another popular spiritual retreat, Vrindavan is where Lord Krishna wooed his beloved Radha and is located 235 kilometres away from Jaipur. It will take around 5-6 hours along the National Highway 11. The lovely markets in the city will take you on a major nostalgia trip while you will love the sweets available here as well. The Bankey Bihari Temple is very famous along with the Prem Mandir and Radha Madhava Mandir. The Madan Mohan Temple and Govinda Dev Temple are also major draws for tourists.
Distance between Jaipur to Vrindavan – 235 Km
Tourist Attractions: Bankey Bihari Temple, Prem Mandir, Radha Madhava Mandir, Govinda Dev Temple
7. Agra
It doesn't get bigger than this! A trip to Agra, the home of the unbelievable Taj Mahal, is a great idea if you live in Jaipur. Located approximately 237 kilometres away from Jaipur, Agra is a history lover's treat and is paradise for romantics! The Taj Mahal, of course, does not require any introduction while you can also visit the imposing Agra Fort, situated only 5 kilometres away from the Taj Mahal and Akbar's Tomb. Other attractions include Moti Masjid and the Tomb of I'timad-ud-Daulah. Fatehpur Sikri is 37 kilometres away from the Agra Fort and is also worth a visit.
Distance between Jaipur to Agra – 237 Km
Tourist Attractions: Taj Mahal, Moti Masjid, I'timad-ud-Daulah, Agra Fort, Fatehpur Sikri is also nearest place.
8. Kota
This Rajasthan town is synonymous with educational excellence and IIT-JEE preparation institutes. You may be wondering about the need for a trip to Kota but prepare to be surprised albeit pleasantly! Kota is 255 kilometres away from Jaipur and offers some of the most fascinating palaces, gardens and temples that you will find in Rajasthan. The Jagmandir Palace is a key attraction along with the City Fort and Palace, Haveli of Deaji and Chambal Gardens and Kota Barrage. You should also pay a visit to the Rao Madho Singh Museum and Rana Pratap Sagar Dam.
Distance between Jaipur to Kota – 255 Km
Tourist Attractions: City Fort, Kota Palace, Haveli of Deaji, Chambal Gardens, Kota Barrage, etc.
9. Delhi
New Delhi is undoubtedly one of the hippest destinations to visit from Jaipur, being located 272 kilometres away. New Delhi is where you will find the vestiges of history and government alike, right from Rashtrapati Bhawan and Qutub Minar to Humayun's Tomb, Parliament House, India Gate, Rajghat, Red Fort and the Lotus Temple. Delhi is filled with attractions and will keep you engaged with ease. You should also visit the Akshardham Temple and Gurudwara Bangla Sahib along with the Jama Masjid, Gandhi Smriti, ISKCON Temple, National Museum, Agrasen Ki Baoli and Dilli Haat.
Distance between Jaipur to Delhi – 272 Km
Tourist Attractions: Qutub Minar, Humayun's Tomb, Jama Masjid,ISKCON Temple, National Museum, Delhi Haat, Chandni Chowk, Akshardham Temple, etc.
There are several weekend getaways that you can take from Jaipur as illustrated above. Jaipur offers ample scope to indulge in some of the most fun and exciting weekend trips with your loved ones for company. Vroom off without further ado and explore some of the country's most fascinating places.