11 Best Pandals To Check Out This Durga Puja in Delhi-NCR
The national capital is a destination where you will be able to enjoy all varieties of festivals, and Durga Puja in Delhi is one of them that is widely celebrated. The zeal of Durga Puja is almost like Kolkata here, and you can find people having a heap of fun in the Durga Puja pandals. Delhi witnesses some of the most spectacular Durga Puja pandals that show the creativity of the craftsmen. Durga Pooja celebration date in 2020 is from October 22-26. During this time, you can check out the following famous places for Durga Pooja in Delhi.
11 Famous Puja Pandal in Delhi-NCR
1. C R Park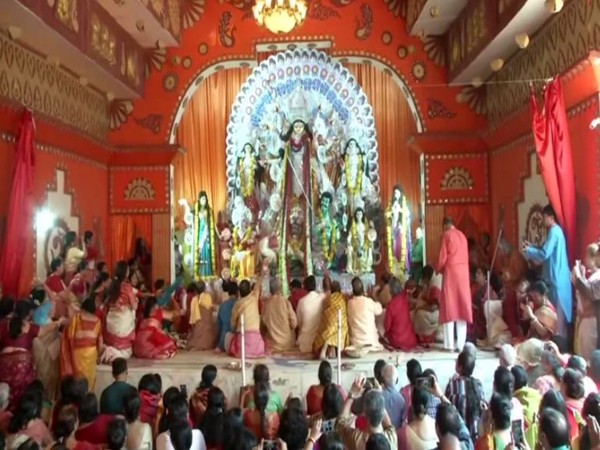 C R Park or Chittaranjan Park is one of the posh areas in Delhi, which is almost considered mini Bengal. You can see some of the best and amazing Durga puja pandals here in Delhi. This is also one of the best night out places to visit in Delhi during Durga pooja. Apart from seeing the pandals and idols, you can also witness Dhunuchi Naach, enjoy various rides, and try some delicious snacks in the stalls on the ground. 
Nearest metro station: Nehru Place
2. Matri Mandir, Safdurjung Enclave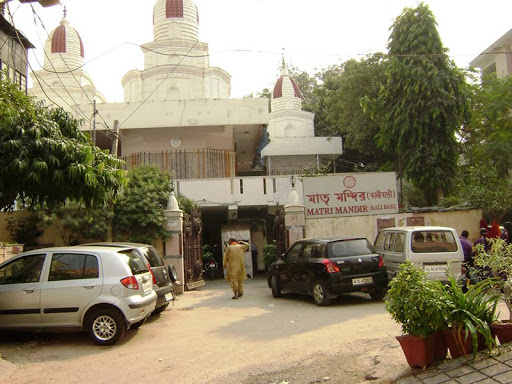 One of the best pandals to visit during Durga puja in Delhi is Matri Mandir in Safdurjung Enclave. Durga puja here is held in the Kali mandir that has a calm and quiet environment. During Durga puja, the temple is decorated in the best way possible, and Bengalis from all nook of the city visit the temple to have some nice time together. 
Nearest metro station: AIIMS
3. Minto Road, Rajiv Chowk

If you want to witness the Durga Pooja celebration in Delhi in 2020, you must not miss on visiting Minto Road in Rajiv Chowk. In this puja, you can see the Bengali culture and tradition. You can also witness the most beautiful Dhunuchi Naach and Pushpanjali here. Durga puja is celebrated here since 1940 and is one of the tourist attractions in Delhi during Durga pooja.
Nearest metro station: Rajiv Chowk
4. Timarpur and Civil Lines Puja Samity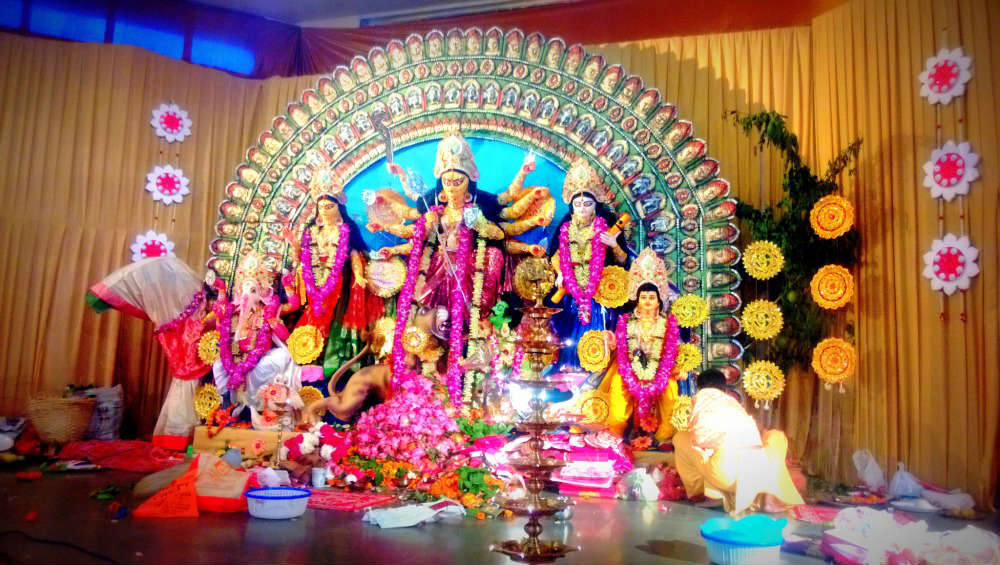 One of the places to visit in Delhi during Durga puja is Timarpur and Civil Lines Puja Samity. You can see the most beautiful and gorgeous puja pandal at this place in Delhi. The two major attractions in Durga puja are the Durga idol and the attractive pandal.  A tradition that you can witness here is carrying the Durga idol to the immersion place on a bullock cart.
Nearest metro station: Vishwavidyalaya
5. Arambagh Durga Puja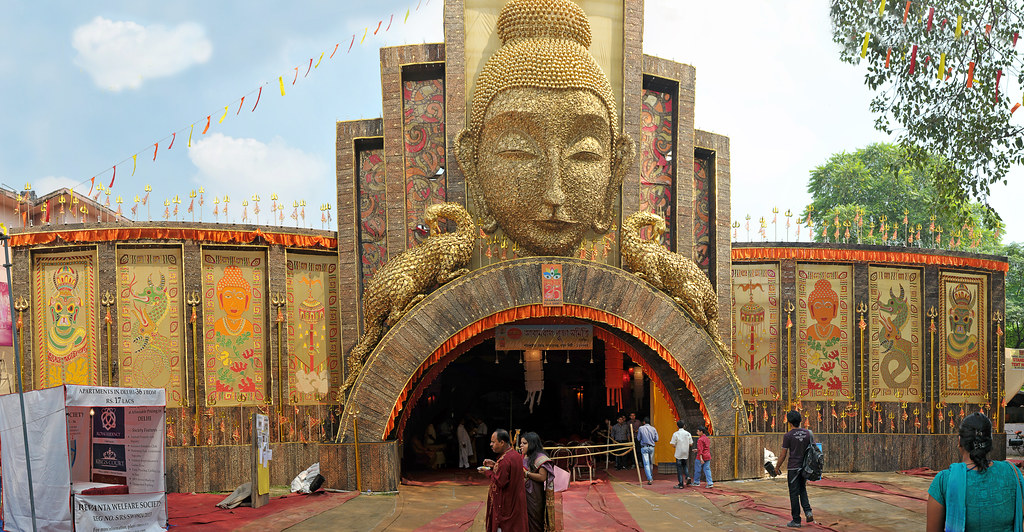 Arambagh Durga Puja is known for its big-budget decoration. In the year 2013, this pandal even came up with decoration of pandal with a huge budget of 2 crores. If you are in Delhi by any chance, you must visit this pandal to see the spectacular beauty.
Nearest metro station:  Vishwavidyalaya
6. Kashmiri Gate
Also called the Delhi Durga Puja Samiti, Durga Puja here was started in 1910. It is one of the oldest puja pandals in Delhi. You will find one of the most beautiful Durga idols at this pandal. Mostly the idol is decorated in gold as well as silver color.
Nearest metro station: Civil Lines
7. Milani Puja Committee, Mayur Vihar – 1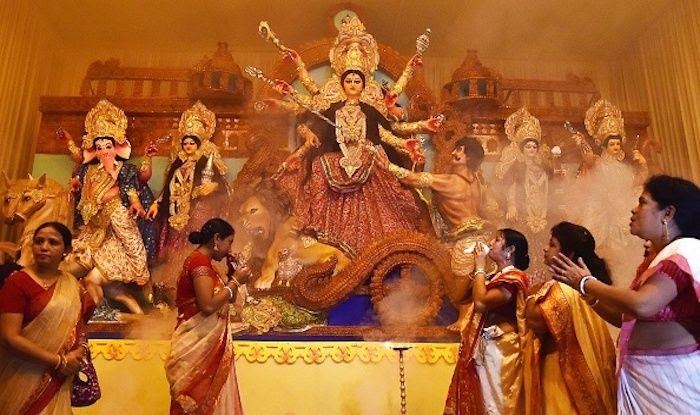 Milani Puja Committee's Durga puja pandal is one of the most attractive. The Durga idol as well as pandal are neatly designed. People not only from Delhi but also from Noida visit this pandal to admire the beauty.
Nearest metro station: Mayur Vihar -1
8. Kali Bari,
New Delhi
New Delhi Kali Bari is dedicated to the Hindu goddess Kali. However, you can also see a lot of crowd in this temple during Durga puja. You can expect to see the puja being carried out in the most authentic way here. Those, who are simply in love with the actual Bengali tradition, must visit this temple at the time of Durga puja.
Nearest metro station: R K Ashram Marg
9. Durgotsav, GK II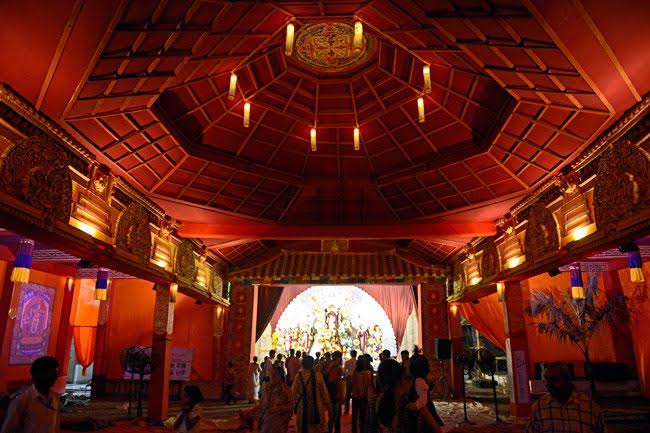 Want to see the elite Bengali crowd in Delhi?  Visit Durgotsav, GK II during Durga puja. The bhog is made with organic ingredients and olive oil. The puja pandal here is neat and attracts a lot of visitors. If you are the diet and figure conscious kind, you must try the bhog here, especially on Ashtami and Navami.
Nearest metro station: Greater Kailash
10. Sarbjanin Durga Puja Mandap,
Shipra Suncity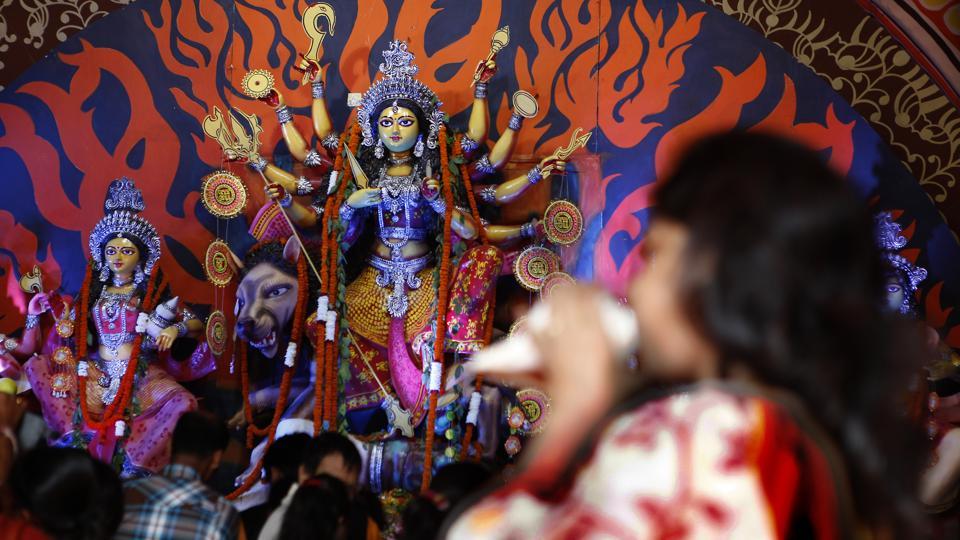 People in Noida and Ghaziabad need not be disappointed as they can visit Shipra Suncity Sarbjanin Durga Puja Mandap, which comes up with beautiful decoration every year. You will also find several stalls here offering delectable items such as Egg Roll, Chicken Roll, Lucchi, and Alu Dum, Mutton Kosha. Momos, Ghugni, Moghlai Paratha, Radha Ballabi, and Chorchori, etc.
Nearest metro station: Kaushambi
11. Kali Bari Dwarka Sector 12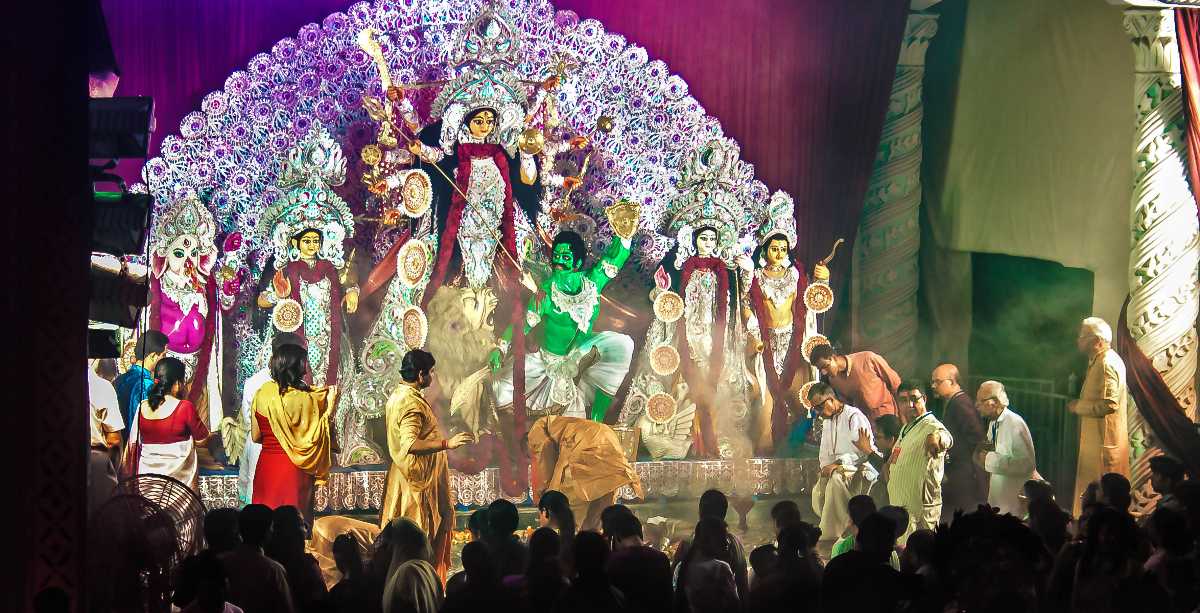 People staying at Dwarka, for whom covering other nooks of the city can be a little challenging sometimes, can visit Durga puja pandal at Kali Bari, Dwarka Sector 12. The pandal is erected on a large ground and you can even attend the cultural nights in which many celebrities perform.
Nearest metro station: Sector 12 
There are several things to do in Durga Pooja in Delhi and you can enjoy every bit of it by hopping from one pandal to the others. Choose self-drive car rental in Delhi for these days and have a fun time being part of the Durga puja celebrations in the national capital.