10 Best Places Near Bangalore Add to Your Bucket List for Road Trip
Bangalore is a famous metropolitan city of India. The modern roadways freely connect the city to various amazing destinations across the entire south India (and beyond of course if you don't mind driving for days). India is a land with myriad points of interests – every nook and corner of the country has something to offer. To pick some out of all those gems is a herculean task no doubt. A road trip from Bangalore to some chosen destinations can become a once in a lifetime experience. Let's read about these best road trips from Bangalore to multiple destinations across south India below.
Quick Tips to Remember: 
Always be very selective and thorough about the destination you are planning to visit.
Keep a list of the best places to visit near Bangalore of the place you are visiting.
Make a list of the common things to do at the destinations you are visiting from Bangalore by road.
South India is most preferably best explored between October to March due to milder climatic conditions during this time.
10 Famous places to visit near Bangalore by road
1. Chamarajanagar
Chamarajanagar in Karnataka can be reached from Bangalore in around 3 hour and 42 minutes by road, as the distance between the destinations is around 176.8 Km. The city has various famous attractions that are worth checking when you visit here. You can check the famous Chamarajanagar temple which has a history of being here since 1828. Also, the Shivanasamudram Falls make the city a little more attractive, and assure a refreshing time for travellers. You can also visit Bara Chukka which is known for its rocky alley and beautiful scenic views. There are also more such tourist places to explore when in Chamarajanagar, which could seal your journey to the city with contentment.
2. Savandurga Hills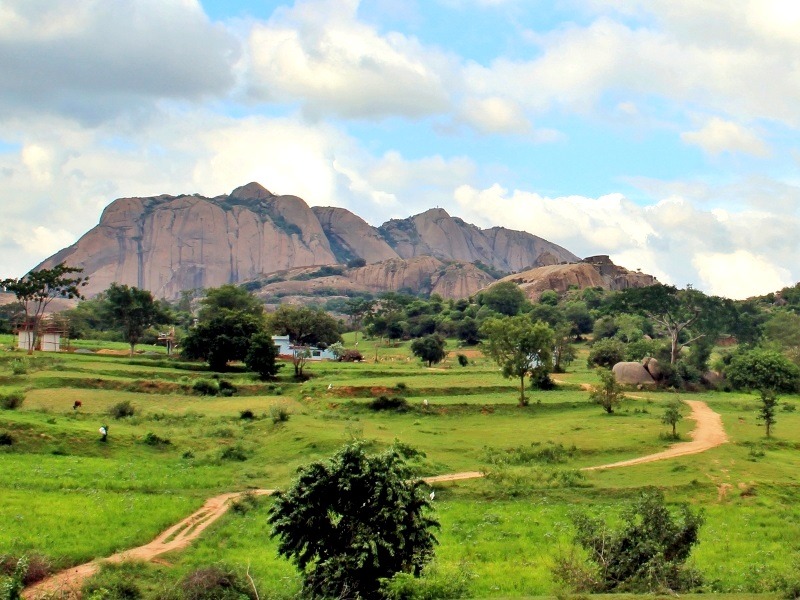 Savandurga is stated to be one of the largest monolith hills in Asia, and rises to 1226 metre above sea level. It's a favourite place for family trips and even solo ones. Hundreds of rock climbers and curious explorers find a way to the hills to discover the cool caves and enjoy the magical view from the place. If you are travelling from Bangalore to Savandurga, then it would take you probably around 1 and a half hours, as it's only 50 Km away from the city.
3. Biligiriranga Hills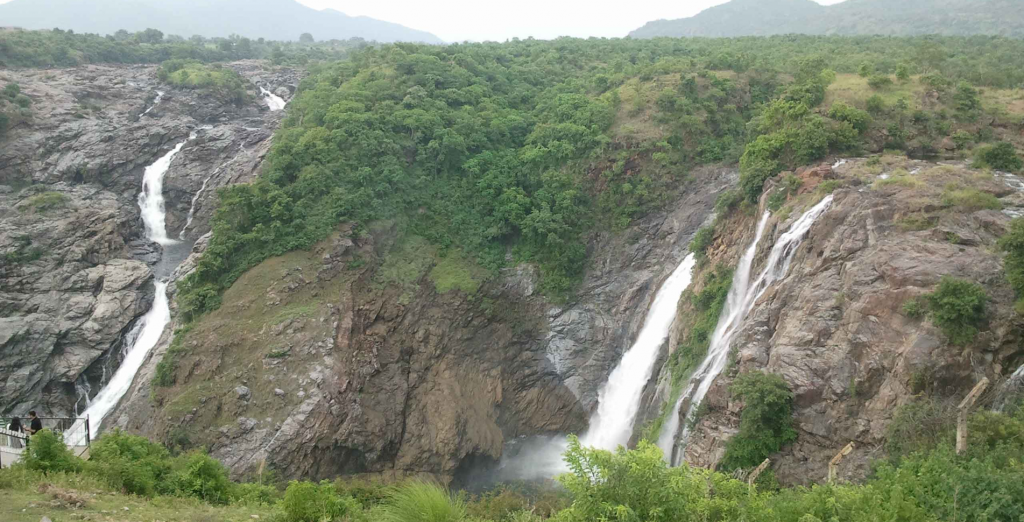 Karnataka has this captivating hill which has its borders in Tamil Nadu that is a spectacular site for all viewers. Commonly known as the BR hills, this also has the famous Biligiriranganatha Swami Temple with its own unique charm to attract travellers. Apart from this, the BRT wildlife sanctuary is a famous tourist destination near Bangalore too. It takes around 4 to 5 hours to reach Biligiriranga Hill on road from Bangalore as the distance from the city is about 185 Km.
4. Sangam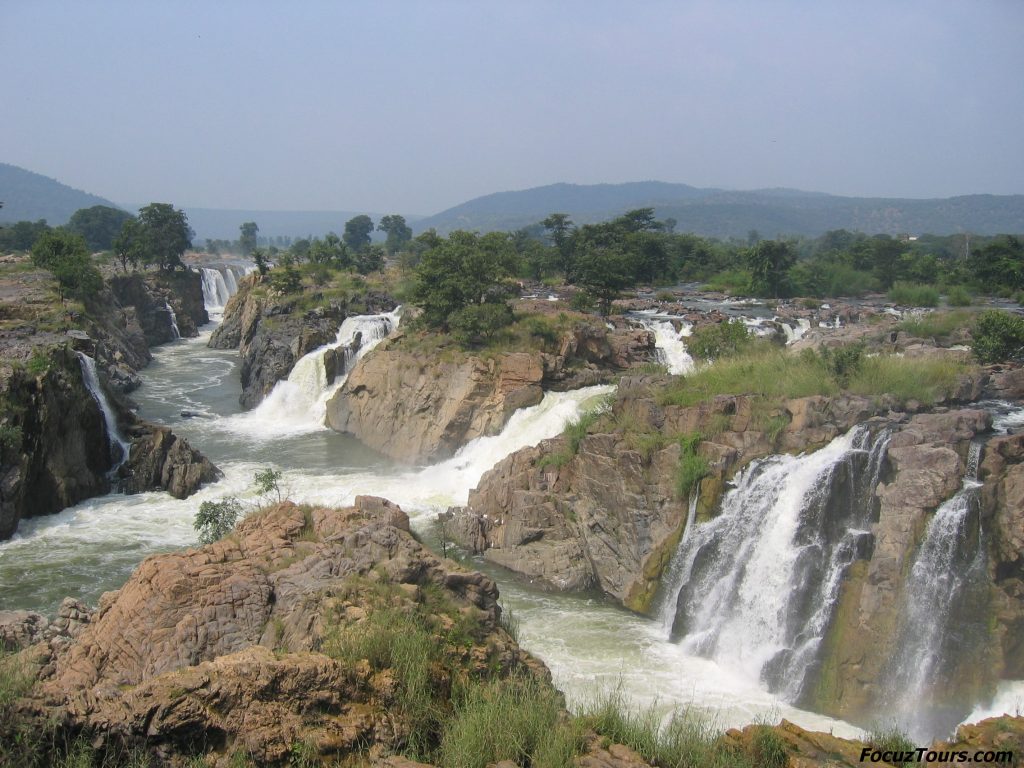 Sangam is a gorgeous tourist places near Bangalore. It's just a 1 hour and 30 minutes journey from Bangalore consisting of 83 Km of roadway between them, and is one of the favourite weekend gateways of the locals in Bangalore. You can visit this place to enjoy the tranquillity of flowing rivers, a little boating and a wonderful seaside view.
5. Mekedatu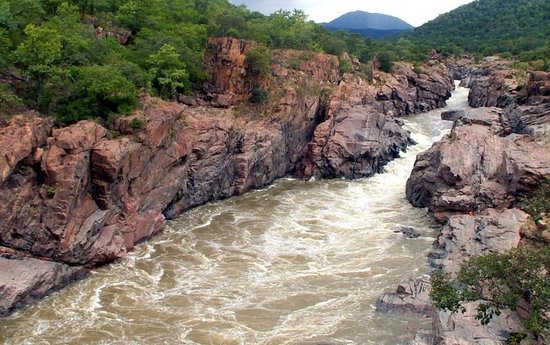 Just beside Sangam lies Mekedatu, popularly called as the Goat's Leap, because of a narrow bridge over the river where a goat (assumed to be Lord Shiva in disguise) is believed to have leapt. The place is popular as it's a confluence place of two rivers, and thus creates a beautiful eye-catching scenery for the onlookers.
6. Avalabetta Hills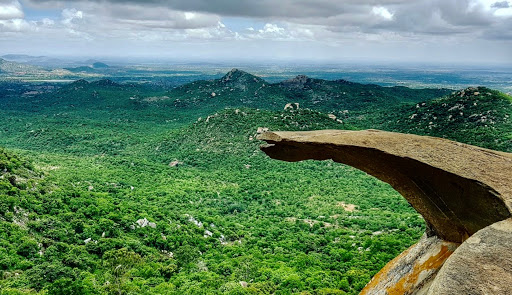 Avalabetta hills is about 100 Km away from Bangalore and is often referred to by the locals as Nandi hill, it is a famous hill near Bangalore without the maddening rush. So if you enjoy peace and serenity, this should be on your list. The hill is the best place to feel on top of the world and catch a bird's eye view of the place.
7. Gandikota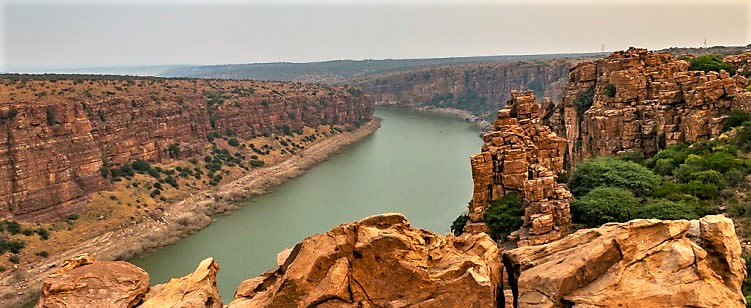 Another alluring destination which can easily be reached by a 6.5 hours drive from Bangalore is Gandikota. You can reach this beautiful place by travelling for about 283.2 Km from Bangalore. This tiny village district in Andhra Pradesh is popular for its gorge that is formed by River Pennar cutting through the Erramala hills, which gets it the name of the Great Canyon of India. It also hosts Gandikota fort – the famous historical places near Bangalore, which should be on your go to list when visiting the place.
8. Belur and Halebidu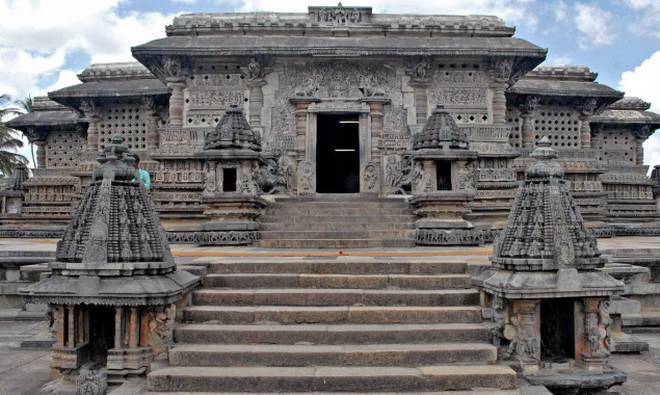 The twin cities of Belur and Halebidu are delights to visit if you are curious about the past and passionate about art. The famous temple to visit near Bangalore of Chenna Kasawa was built during the 12th century in this area which took around 103 years to get completed. Apart from this one, there are more such primitive temples from the Hoysala dynasty here, which are very much interesting for explorers.
9. Ranganathittu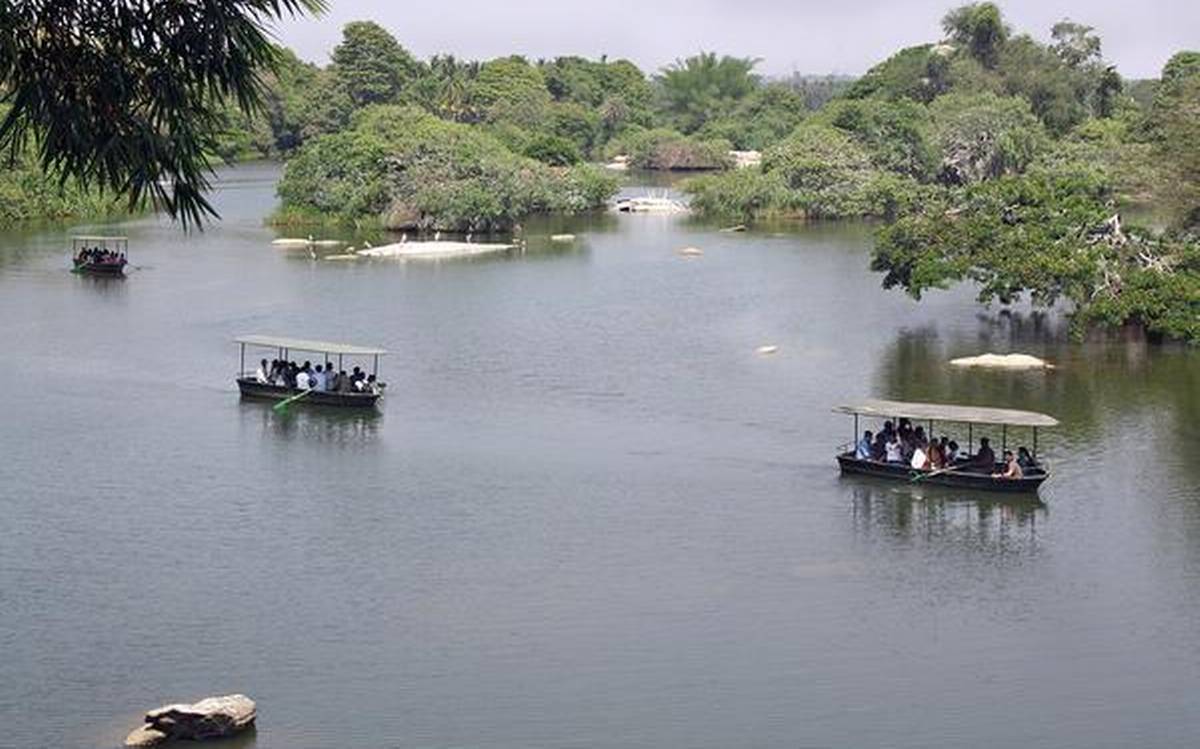 Just about 129.6 Km and 3 hours away from Bangalore is Ranganathittu. The famous and largest bird sanctuary near Bangalore, Karnataka that is spread across an area of 40 acres is located here. You have to visit here to get a glimpse of some extraordinary birds, dangerous crocodiles, bats and more. The greenery, the chirping of birds would immediately make you feel relaxed and happy.
10. Kunti Betta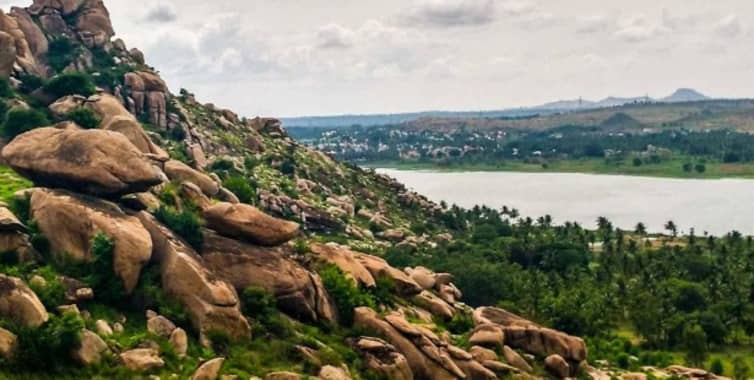 Not much far from Bangalore, Kunti Betta is just a 2.5hours journey from Bangalore with a distance of about 122 Km. It's a famous trekking site that calls all the adventurous souls to explore it. What's most surprising is that people prefer night trekking more in this area. The intriguing structure of the place, the relatively easy trekking route, and breath-taking nature views are some of the features that make visiting the place worthy.
Apart from these, you can also try taking road trips from Bangalore to other famous and magnificent destinations like Mysore, Hogenakkal Falls, Skandagiri, Lepakshi, etc. In case you do not own a suitable vehicle you can rent a car from Revv. Each of these destinations is easily reachable from Bangalore by road, and have unique specialties to attract visitors. We are sure when you are out on a drive to discover wonderful places neighbouring Bangalore, you would come across some really fascinating destinations!