10 Best Road Trips from Pune in Summer for Wildlife Lovers
This summer take an amazing road trip from Pune to the wilderness of Sahayadris and Western Ghats or may be the greenery of Madhya Pradesh. We have curated this unique list for all you wildlife lovers who want to soak in the beauty of nature.
10 Best Road Trips From Pune in Summer:
1. Bhimashankar Forest Reserve
The Bhimashankar Wildlife Sanctuary is nestled on the Sahayadris on Western Ghats. Tucked away amidst lush greenery and beautiful hills dotted with waterfalls this forest reserve is the home of Giant Flying Squirrel.
Located in Ambegaon and Khed this is an area which attract adventure tourists as well as pilgrims. The wildlife lovers head to this forest for its beautiful rich bio diversity. Nature lovers can spot the Malabar Giant Squirrel here.   Pilgrims also visit the much revered the Bhimashankar Jyotirlinga temple. It is also called the Shri Bhimashankar Jyotirlinga Wildlife Reserve.
Distance from Pune: 132 Km
Estimated Time: 2 hour 58 minutes
2. Mayureshwar Wildlife Sanctuary
Mayureshwar Wildlife Sanctuary spread across green acres in Tehsil Baramatiis is one of the smallest wildlife sanctuaries in India.  Mayureshwar Wildlife Sanctuary covers around 5 square kilometres. It is home to a variety of animals like wolves, foxes, hyenas and Chinkaras. Bird lovers also visit this sanctuary to see eagles, falcons and the Indian Courser. This is the home to scrub forests and usually it gets very hot in summer so you should plan a trip in monsoon or winters.
Distance from Pune: 70 Km
Estimated Time: 2 hour 38 minutes
3. Koyna Wildlife Sanctuary
If you are planning on things to do from Pune then you can plan a weekend retreat to Koyna Wildlife Sanctuary. Escape from the bustling city life to this UNESCO world heritage site. This is in Satara in Maharashtra near the Koyna Dam. Take a jungle safari and explore the wilderness of Koyna which is the home to tigers and bisons. There are a number of migratory birds that visit the forest too. Enjoy the comfort and beauty of Western Ghats in this beautiful wildlife sanctuary.
You can also visit the temple around Shivsagar Lake, the large Koyna Dam and Ozarde Waterfalls. Hikers usually hike for almost a few kilometres to see the Ozarde falls. It is a steep walk through the forest and it is a very interesting forest trail that attracts a lot of hikers. You must start during the day as it can get riskier during the evening. The Ozarde falls looks so good from upfront.
Distance from Pune: 146 Km
Estimated Time: 3.5 hour
4. Mulshi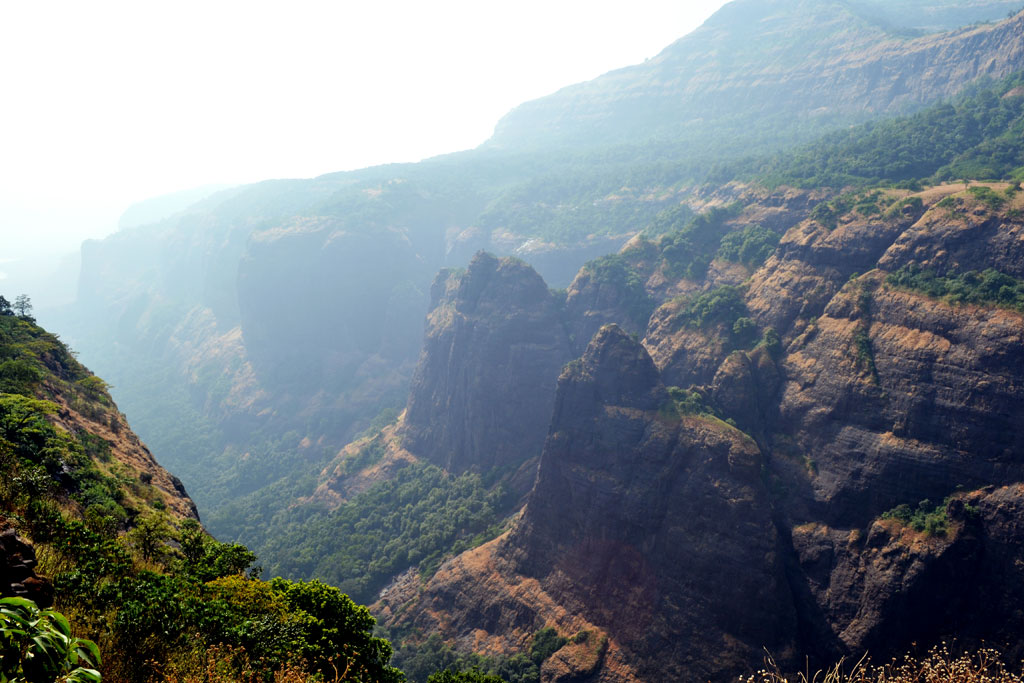 Mulshi is a serene getaway in the Westen Ghats.  This is a few kilometres away from Pune. This place is known for its beautiful dam and lake and the lush green mountains around. You can go for a camping trip in Mulshi and take a boat ride in the lake.
Distance from Pune: 30 Km
Estimated Time: 1.5 hour
5. Kanha Tiger Reserve
Situated in the Satpura range in Madhya Pradesh this is one of the famous tiger reserves in India. Covering both Mandala and the Kalaghat, this is a reserve forest that was formed in 1879. The Kanha National Park sprawling across lush green acres and it is located in the Maikal range in Satpura. Relax in the green sprawling beauty of nature and explore the wilderness by planning for safari trips inside the forest. If you are lucky you can spot the majestic beast in its full glory. This forest had inspired Rudyard Kipling to pen the amazing Jungle Book. The tiger sights are usually common during the summer months as they venture out of their habitats to drink water.
Distance from Pune: 980 Km
Estimated Time: 19.5 hour
6. Dumna Nature Reserve Park
The Dumna Nature Reserve Park in Jabalpur with its dams and forests attracts wildlife lovers from all over. Spread across 1058 hectares it is the home to civets, Chitals, deers, boars and jackals. For adventure tourists who are looking for some thrill you can go for hiking and trekking here in Dumna forest reserve. Go for camping in tents, jungle safari, angling and boating in this reserve park.
Distance from Pune: 1000 Km
Estimated Time: 19 hour 38 minutes
7. Pachmarhi Biosphere Reserve
The Pachmarhi Biosphere Reserve lies in the Satpura mountain ranges. This is a densely forested area where the highest peak is the Dhoopgarh peak. There are 3 conservation areas here which are the Bori Sanctuary, Satpura National Park and the Satpura Tiger Reserve. Explore the lush greenery in valleys and waterfalls in this reserve. The rich bio diversity of the region attracts wildlife lovers. It is also the home to variety of medicinal plants. The animals that you can see here are squirrels, bears, deer, tigers and leopards. There are also 30 reptile species here in the water bodies and almost 50 butterfly species.
Distance from Pune: 865 Km
Estimated Time: 18 hour 28 minutes
8. Bhimgad Wildlife Sanctuary
Bhimgad Adventure Camp is a serene Western Ghat escapade. This sanctuary is the home of the famous Wroughton's Free-tailed Bat. Bird watchers come here to see the Velvet-fronted Nuthatch, Malabar Grey Hornbill and Imperial Pigeon.
Distance from Pune: 394 km
Estimated Time: 7 hour 17 minutes
9. Tadoba Andhari National Park
Tadoba National Park located close to the Andhari River is the home to the tribes of the Tadoba and Andhai region. Spread across a sprawling acres of 116.55 square kilometres.  This is one of the largest tiger reserves in this region. If you are lucky you can spot the tigers here. You can also see the leopards and sloth bears and jackals here.
Distance from Pune: 782 Km
Estimated Time: 15 hour 58 minutes
10. Lohagarh Fort
One of the popular picnic spots near Pune is the Lohagarh Fort. For history buffs this fort served as the treasury for the Maratha king Shvaji. The erstwhile ruins of the Maratha warriors, this fort stands tall in the greenery of Western Ghats. It is very close to Lonavala and attracts trekkers and hikers.
Distance from Pune: 60 Km
Estimated Time: 1 hour 32 minutes
You can explore these places around by using car rental services in Pune. Your self drive trip will be hassle free and you can explore the amazing wilderness around Pune.
Must Read: Unexplored Places to Visit in Delhi