7 Best Camping Sites in Rajasthan That You Must Explore
When we think of Rajasthan, we mostly imagine local artists dancing on Rajasthani music, a huge Rajasthani thali is being served, and of course, witnessing the vibrant culture of the state. What we do not pay heed to is the nomadic life of the desert which is one of a kind. It is one experience that you are going to remember for the rest of your life. So, if you are ready for it, let us check out some of the places for picnics and camping in Rajasthan. Nevertheless, before that let us discuss some more information about the state. 
Best time to travel: The ideal time to travel to Rajasthan is during the winter months from November to February. You do not need to worry about heat; also there is no need of carrying warm clothes. 
Cuisines: You cannot get over the taste of Rajasthani cuisines. Rich in taste and healthy for the tummy, you must try as many of them as possible. Some of the must-have Rajasthani cuisines are Gatte ki Subzi, Laal maans, Bajra ki Roti and Lasun Chutney, Daal bati churma, Ker Sangri, Papad subzi, Onion Kachori, Raab, etc.
Mode of transport: You can fly to Rajasthan, take trains or even go for bus services. However, if you are fond of your comfort, you can go for a self-drive car for rent. You will be able to plan your trip at your convenience and travel to as many places as you can without making a hole in your pockets.
7 Top Sites for Camping in Rajasthan
Camping in Rajasthan has its own fun. You are going to remember this experience your whole life. 
1. Jodhpur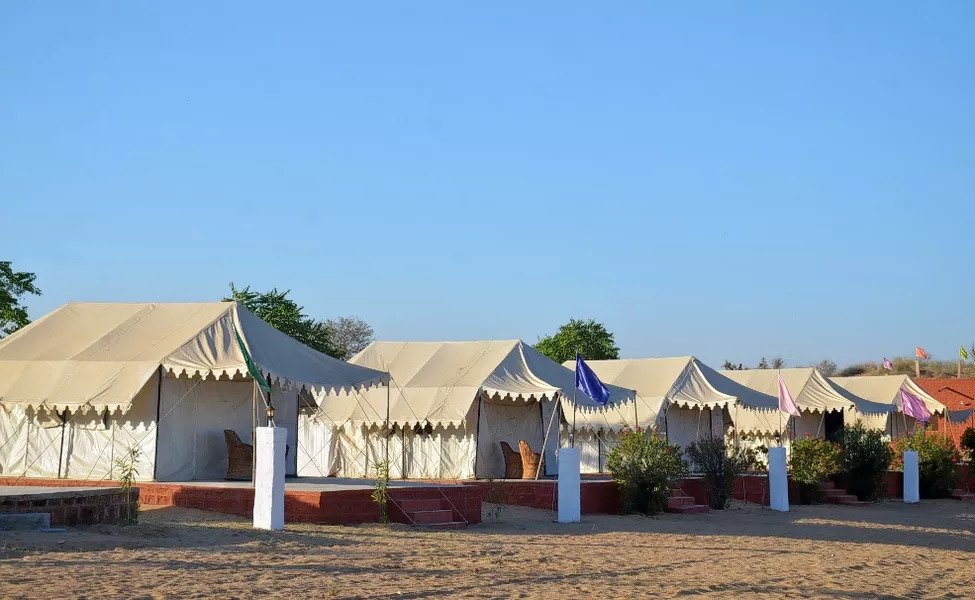 Jodhpur is bordered by the Thar Desert and the ideal destination for camping activities. You can enjoy desert camping as well as camel safari here. You can enjoy the view of splendid sunset in the evening in the desert.
Things to do: Taking a stroll in the city, visit temples, forts and palace, bazaars, try Rajasthani food, enjoy camel safari
2. Jaipur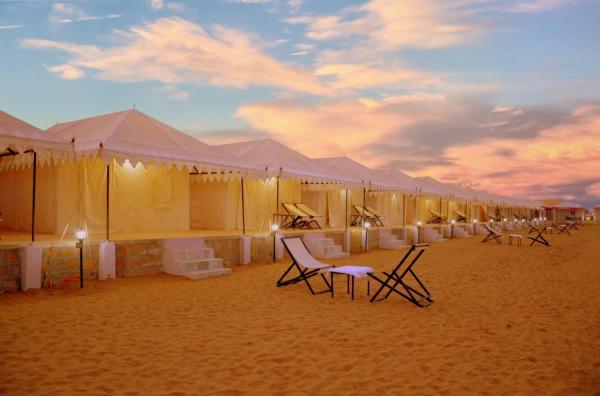 The Pink City is one of the best places to visit in Rajasthan. Amidst the vast sand dunes here, you can have a camping experience. You can enjoy the view of a sunset sitting at the back of a camel. At night, you can sit by the bonfire while enjoying the cultural music and dance.s
Things to do: Camping at the sand dunes, visiting Hawa Mahal, City Palace, Jantar Mantar, enjoying Hot air balloon rides, etc.
3. Pushkar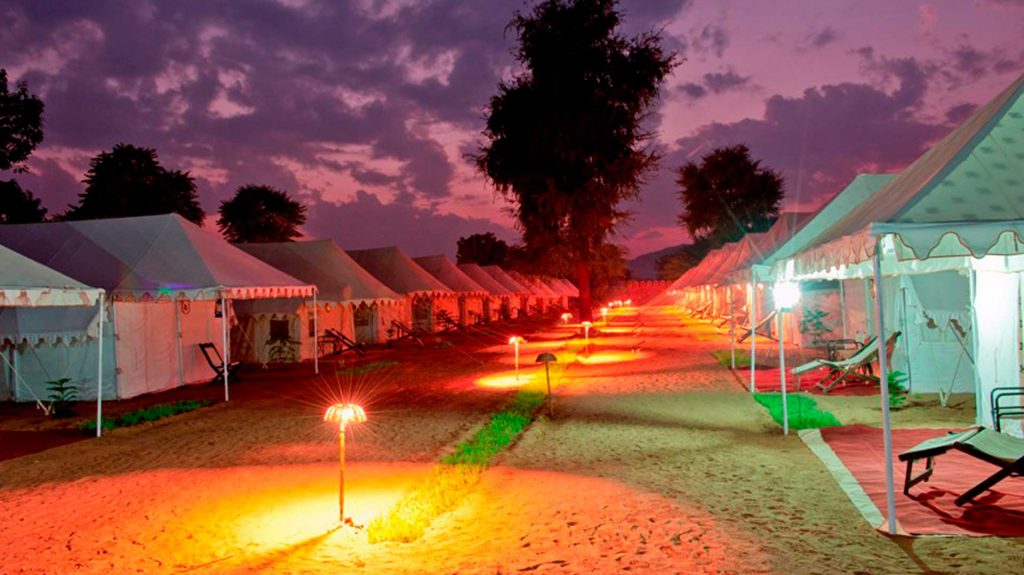 The first thing that comes to our mind when we think of Pushkar is the very popular Pushkar Camel Festival that is held during the winter. However, this old town is beyond just fairs and festivals. You can go camping in Pushkar and have a memorable time. Just imagine a camp where you can relax; outside of which you can sit by the bonfire and enjoy your Rajasthani cuisines. It is an experience that you must have.
Things to do: Visit the only Brahma Temple in the country; attend the Pushkar Camel Festival, etc.
4. Jaisalmer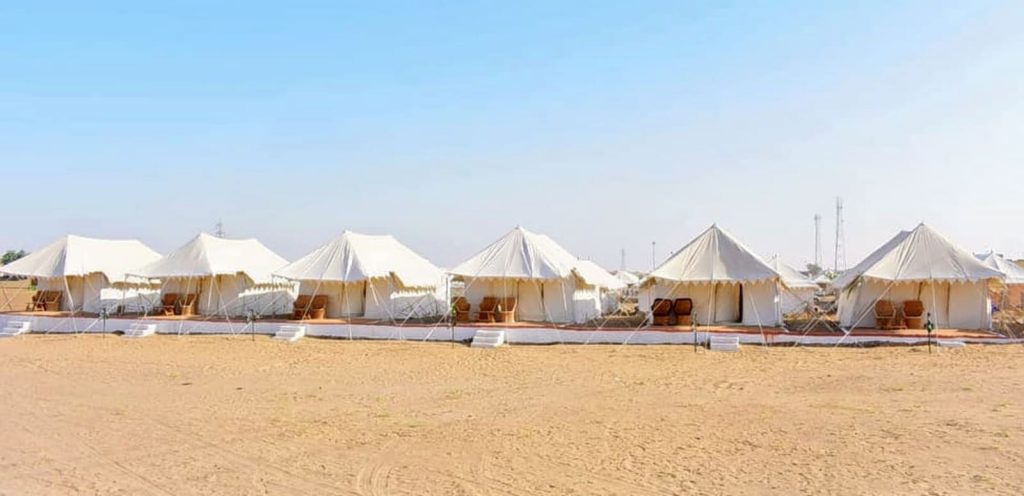 Night camping in the Golden City is one of a kind. Jaisalmer is one of the top attractions in Rajasthan and certainly one of the best places to go camping. You can head to the Thar Desert for a memorable camping experience. You can book your stay at the camps of Sam Sand Dunes which is in mid of the desert.
Things to do: Explore the city by visiting palaces and forts, shopping for mirror stitched blankets
5. Sambhar Lake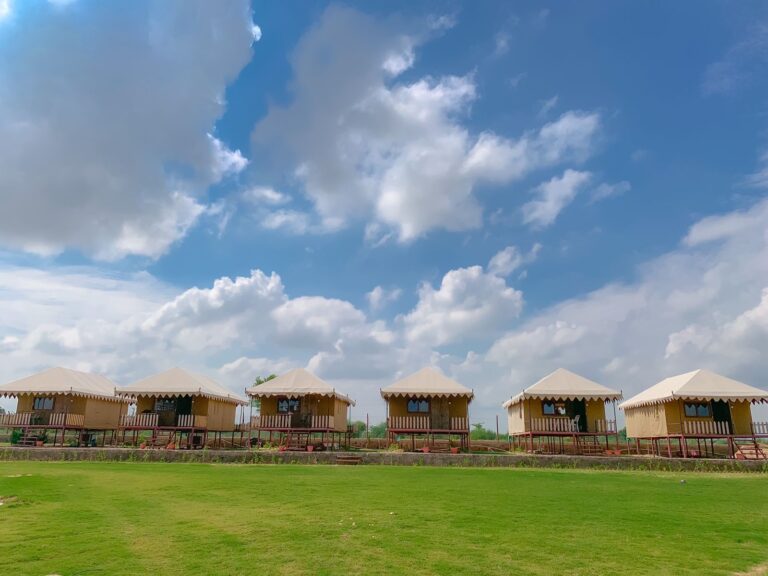 It is the largest inland salt lake in the country and one of the favorite spots for adventure lovers. You can witness several species of migratory birds here. While night camping here, you can enjoy the starlit night. Camping in Rajasthan is best enjoyed when you visit a place like Sambhar Lake.
Things to do: Take a tour of temples, lakes, take photographs of flocks of Flamingos that migrate from other countries, try the sumptuous food around the bonfire, and enjoy the folk dance of the local artists
6. Udaipur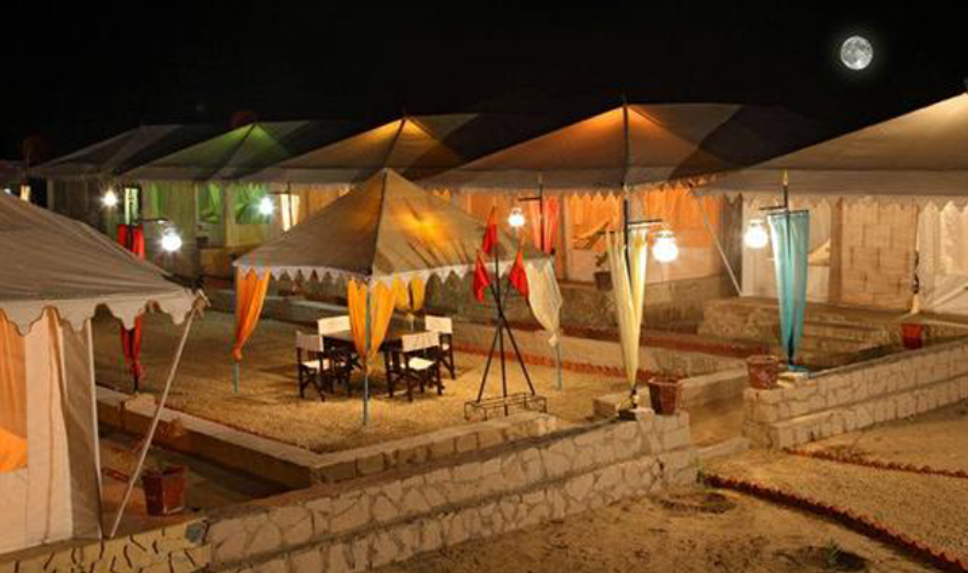 If you are looking for more options for desert camping, you must include Udaipur too in your list. The night camping in Udaipur is of course fun but also filled with thrill.  Once you are done camping in the desert, you can explore the city and its several lakes. While camping in the desert around Udaipur, you can indulge in some of the best sports and also enjoy traditional music as well as dance.
Things to do: You can visit ghats, lakes, forts, palaces; indulge in activities like rock climbing, trekking, camelback safari; enjoy the sky and its hues and also try the various mouthwatering authentic Rajasthani food by the side of the bonfire
7. Bikaner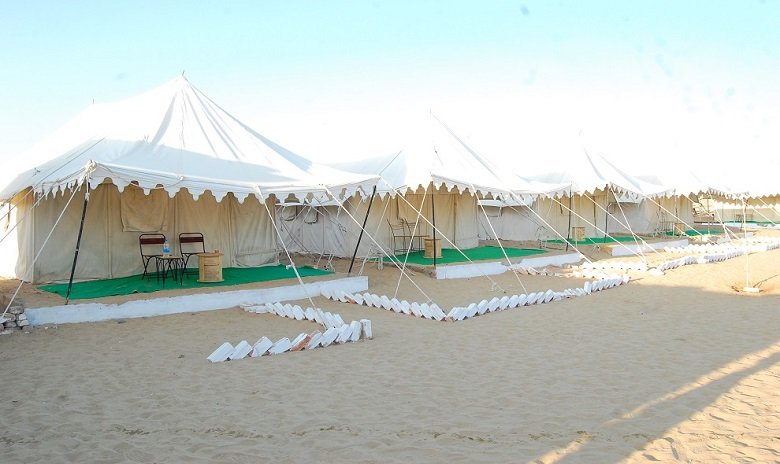 If you are considering Bikaner for camping, you will also be able to enjoy a camel safari. While you stay in the tents here, you can enjoy a bonfire and super delicious Rajasthani food. You are going to enjoy every bit of your stay at Bikaner.
Things to do: Shopping for textiles and folk arts, enjoy camel ride
If you want to cover more than one place in the state, you must go for a car rental in Rajasthan. You can download the Revv app from iOS App Store or Google Play Store without any problem and find the car that suits your taste and budget. Oh yes, once you book the car, start packing your bags and do not forget to carry some comfy clothes.