Exploring Ayodhya through a Road Trip from Delhi
Ayodhya is one of the most important pilgrimages for the Hindu and Jain communities. The Hindu community believes that Lord Rama was born here, while the Jain community believes that five of their Tirthankar (sages) were born in Ayodhya. This place witnesses a number of tourists all through the year.
If you are planning for a Delhi to Ayodhya road trip, you can opt for Revv car rental services and enjoy your journey through the smooth and well-maintained roads. The Delhi to Ayodhya distance and journey time is 687.5 km; thus, takes around 10 hours. However, it all depends upon the number of breaks you are taking on the way.
If you are going to the city for the first time, you can follow Delhi to Ayodhya by route map. The route map will guide you through, in case you get stuck somewhere or feel confused about the directions. Once you are in the city, you can visit the following places to visit in and around Ayodhya.
11 Best Places To Visit In Ayodhya
1. Nageshwarnath Temple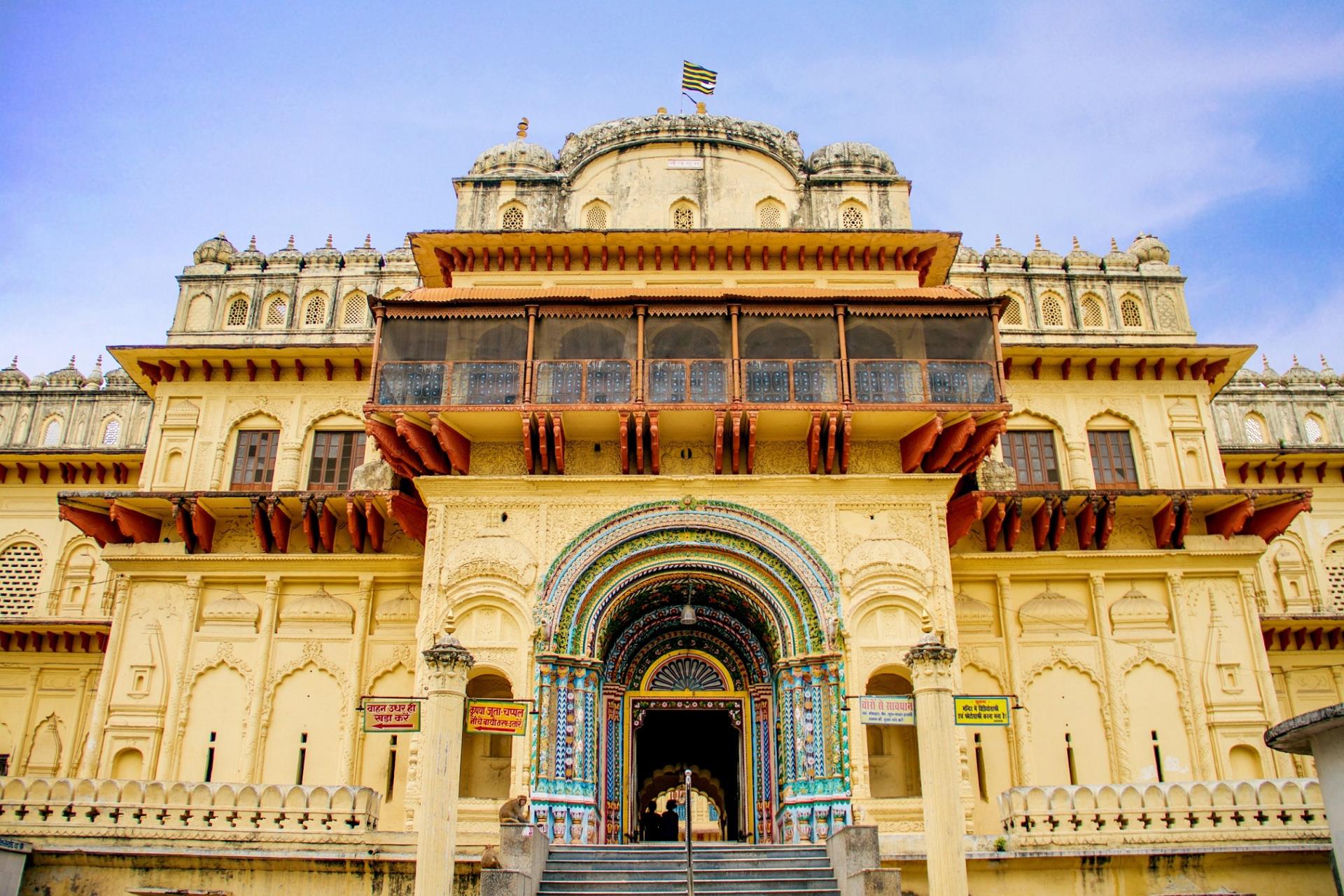 Placed at the prime location of Theri Bazaar, Nageshwarnath Temple is one of the tourist attractions in Ayodhya. It is believed that the temple was set up by Lord Rama's son Kusha. The temple is believed to be there since 750 AD and it was reconstructed by Safar Jung's minister, Naval Rai in 1750. This temple today attracts a lot of visitors, especially during Mahashivaratri and Trayodashi.
Timing: 5:00 AM to 8:00 PM
2. Kanak Bhawan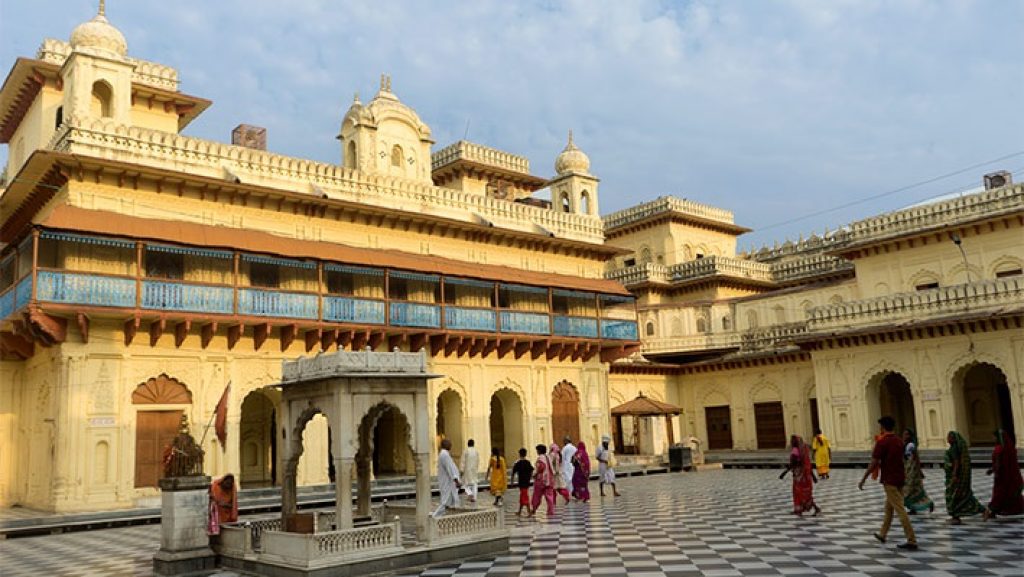 Also, popularly called as Sone-ka-Ghar or house of gold, Kanak Bhawan is located in Tulsi Nagar near Ram Janmabhoomi. The site is dedicated to Hindu Lord Rama and his wife Goddess Sita. Kanak Bhawan has its architecture in Bundela-style.
Timing: 8:00 AM to 11:00 AM; 4:30 PM to 9:00 PM
3. Gulab Bari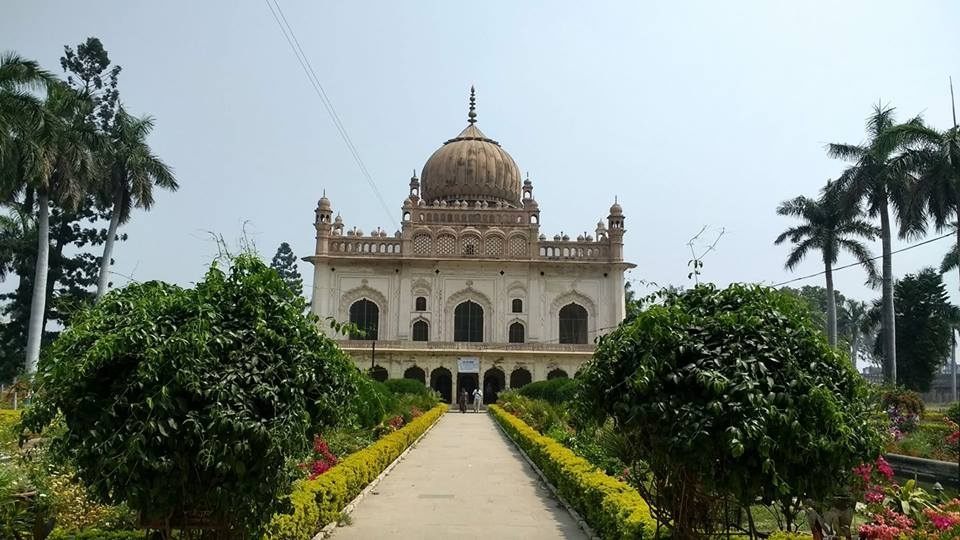 Gulab Bari, Garden of Roses is located in Vaidehi Nagar. It is the tomb of Nawab Shuja-ud-Daula, the third Nawab of Faizabad (Oudh or Awadh), and his parents. The architecture style of this 18th-century structure is that of Nawab-styled. You can find a wide species of rose, verdant greenery, and fountain. Gulab Bari is a part of national heritage now.
Timing: 4:00 AM to 7:00 PM
4. Treta Ke Thakur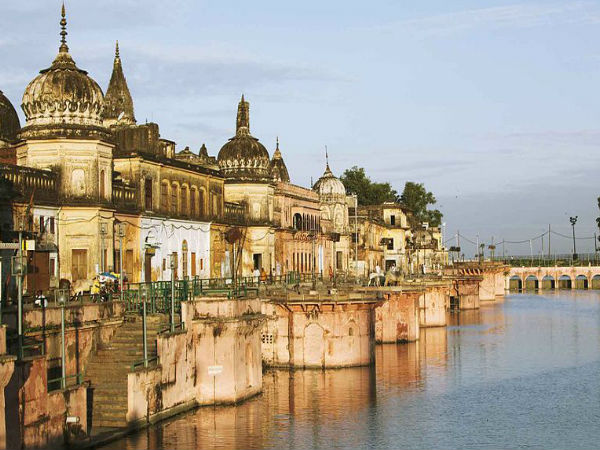 Treta Ke Thakur is a temple located in the Naya Ghat of Ayodhya. Once you are there, you will be able to see several idols such as Hanuman, Lord Ram, Sita, Lakshman, Bharat, and Sugreev. It is believed that these idols have been sculpted out of a single black stone. The temple was constructed nearly 300 years ago and reconstructed by the Maratha queen of the time, Ahilyabai Holkar in 1784 AD. The temple remains open to the public only once in a year, on the day of Ekadashi.
Timing: 24X7 on the day of Ekadashi
5. Choti Chawni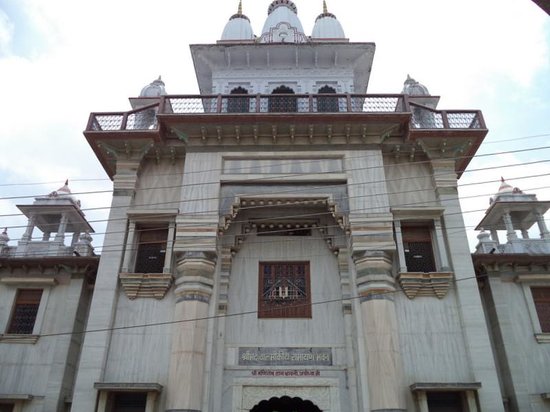 Often called as Valmiki Bhawan or Maniramdas Chawni, Choti Chawni is a famous structure in the city of Ayodhya that was crafted out of white marble.
Timing: NA
6. Tulsi Smarak Bhawan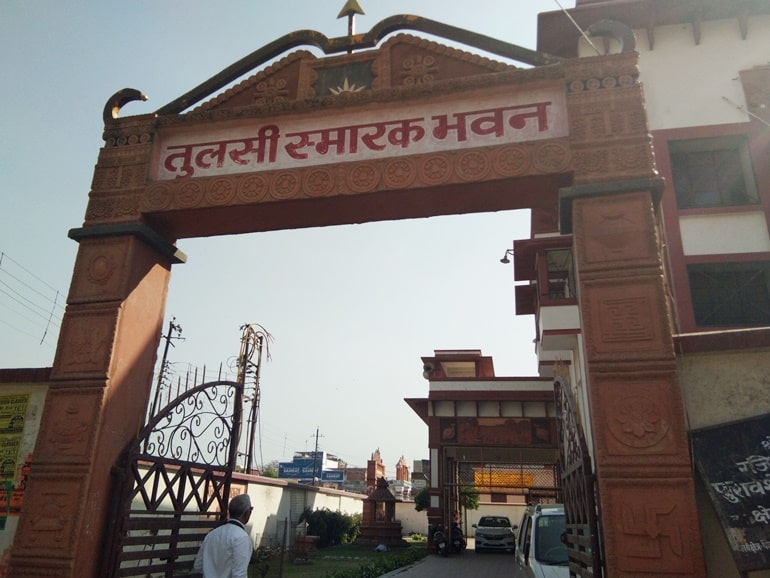 It is believed that 16th-century saint-poet composed the Ramcharitmanas here; thus, Tulsi Smarak Bhawan was built in his memory in 1969. Some of the things that you can witness in the Smarak include the massive library and a research center, which is popularly called as the 'Ayodhya Research Sansthan'. You will also find Ramayana art and craft and recitation of Ramkatha take place daily.
Timing: 10:00 AM to 9:00 PM
7. Bahu Begum ka Maqbara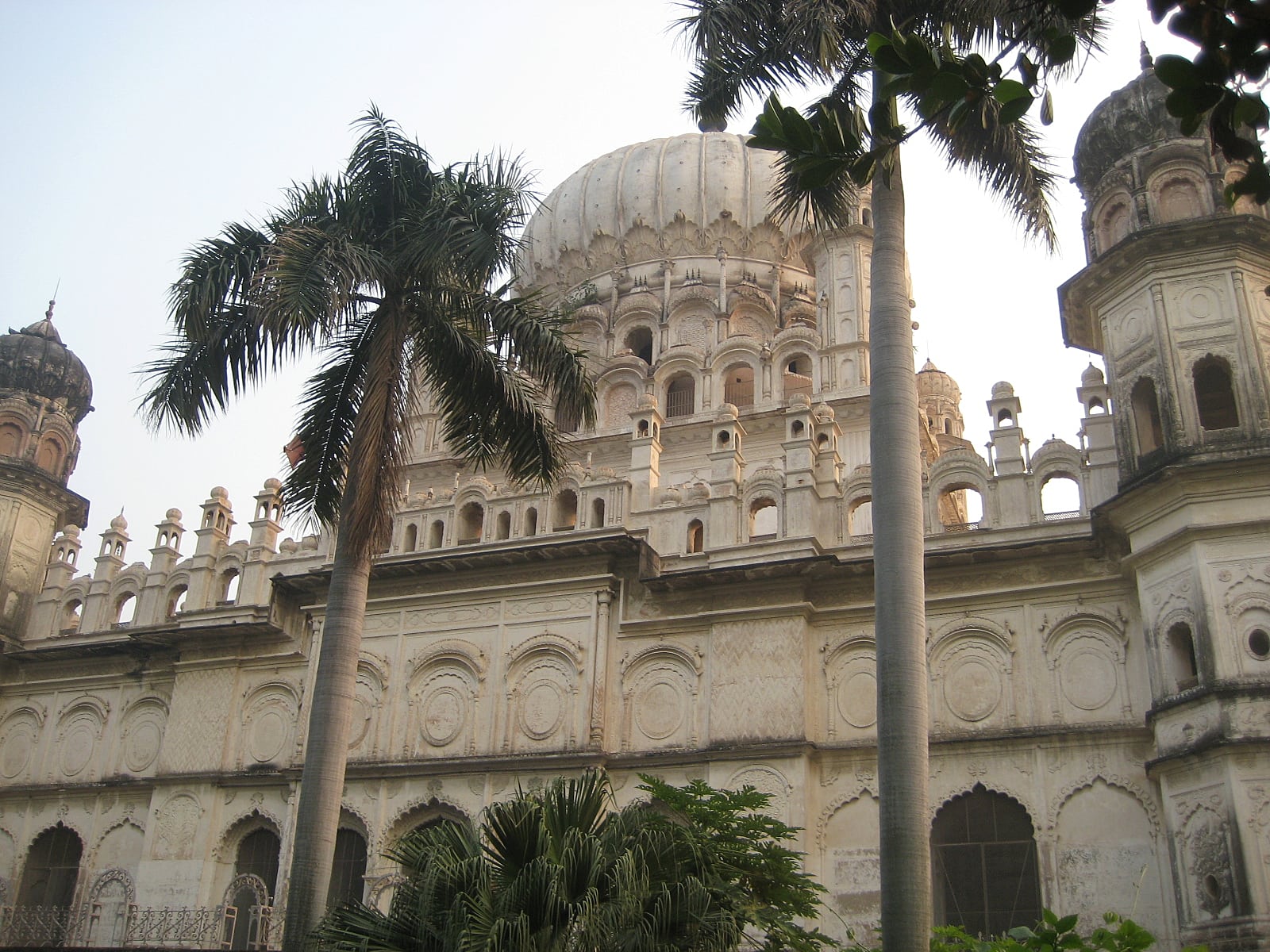 Bahu Begum ka Maqbara is dedicated to Nawab Shuja- ud- Daula's wife Queen Bride Begum Unmatuzzohra Bano. It is located in the Faizabad area and the tallest structure there. The structure is a fine example of Awadhi architecture. At present, the structure is protected by the Archaeological Survey of India (ASI). If you climb up to the top of the tomb, you can have a view of the entire city of Ayodhya.
Timing: 7:00 AM – 4:00 PM
8. Raja Mandir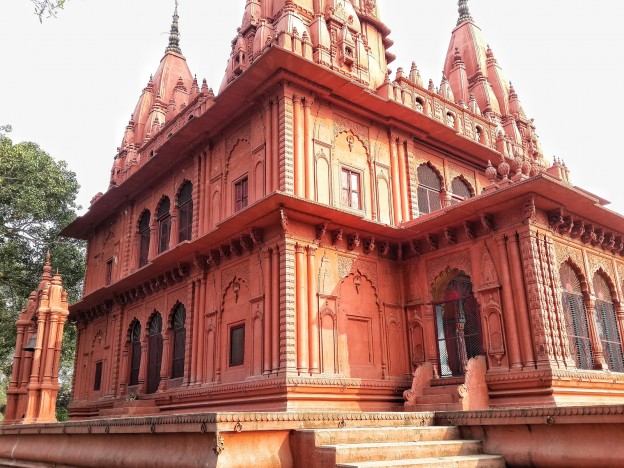 If you want to see what a Hindu architecture building looks like, you should visit Raja Mandir. There are carved idols of many Hindu Gods and Goddesses in this temple. The temple is regularly frequented by devotees and even tourists.
Timing: Sunrise to Sunset
9. Ram Katha Park
Ram Katha Park is one of the most sought after places for the religious people in the city. The place offers open-air theatres as well as well-maintained lawns. Here, Katha recital sessions, religious events, devotional programs, cultural performances, dance, and poetry recitation take place.
Timing: Sunrise to Sunset
10. Moti Mahal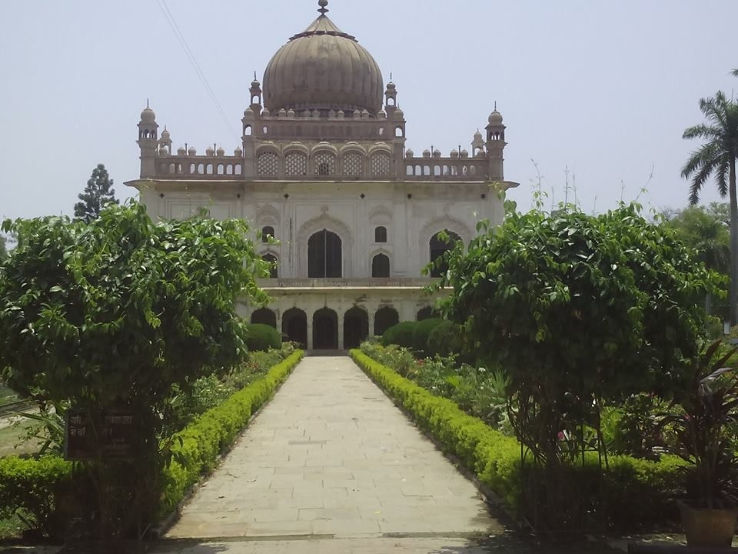 Moti Mahal was built in 1743 AD and was the residence of Nawab Shuja-ud- Daulah's wife, Queen Begum Unmatuzzohra Banu. Styled in Mughal architecture, Moti Mahal showcases the rich culture and heritage of the Nawabs.
Timing: 5:30 PM – 11:00 PM
11. Dashrath Bhavan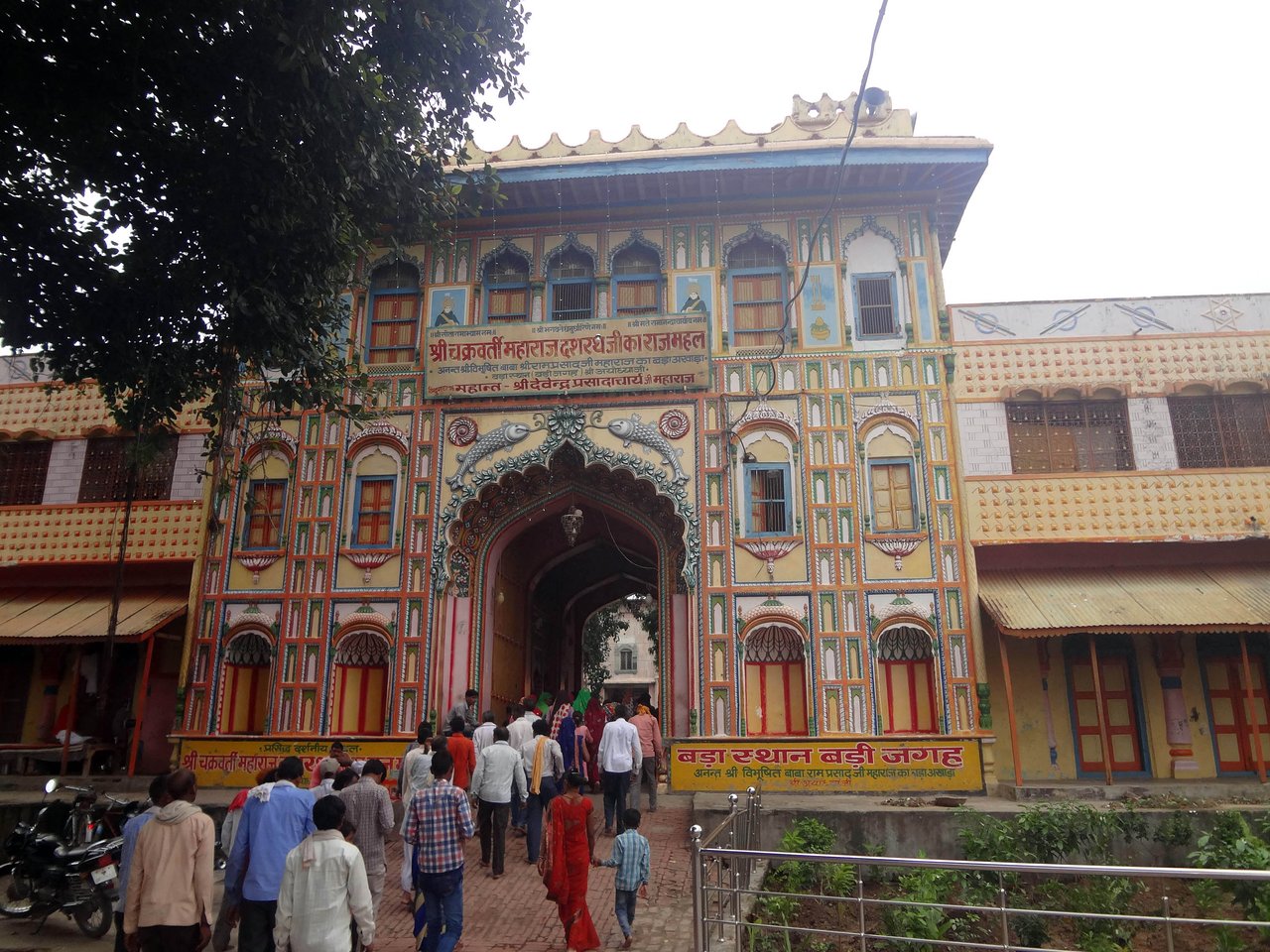 Dashrath Bhavan is the residence of King Dashrath, father of Lord Rama. This is one of the major tourist attractions in Ayodhya where you can still find shrines of Lord Ram. Within the premises, you can find monks in saffron clothes, singing and dancing, and chanting mantras.
Timing: 8:00 AM – 12:00 PM, 4:00 PM – 10:00 PM
If you want to enjoy your trip to Ayodhya, the best time to travel is from October to December. You will not only be able to enjoy the weather but can be a part of various festivities during those months. If you are familiar with the Delhi to Ayodhya driving directions, you can also opt for car rental services by Revv. You can take as many breaks as you want on the way and can explore every nook of the city.