Road Trips From Bangalore to Goa – The City of Beautiful Beaches
Goa is called India's party state.  The beautiful beaches, the laid-back vibe and the beach bazaars attracts tourists from all over. Be it sunbathing or practicing Yoga in the serene setting, Goa is the place to be. There is a deep Portugese influence in the art and architecture of Goa that is also loved by history buffs. In South India often students and youngsters take a break from college and stressful office hours and take trip from Bangalore to Goa by road.
12 Best Places to Visit in Goa:
1. Dudhsagar Falls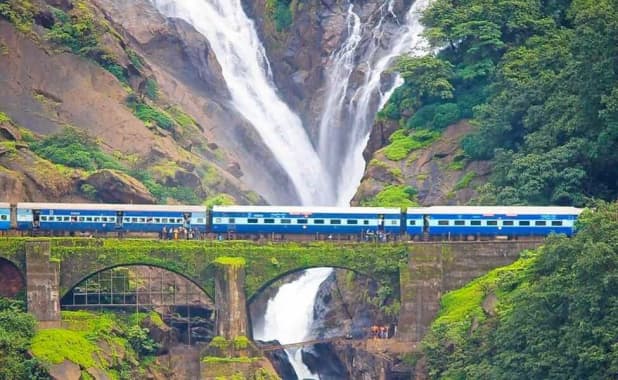 Dudhsagar that means the sea of milk, is the tallest waterfall in Goa that descends from a height of 310 meters. It has three streams and it is a four-tiered waterfall that is located on the Western Ghat Mountains. Dudhsagar stands nestled amidst lush green forests and attracts hikers and trekkers from all over. If you are planning to go Bangalore to Goa via road then you must visit this waterfall.
2. Basilica of Bom Jesus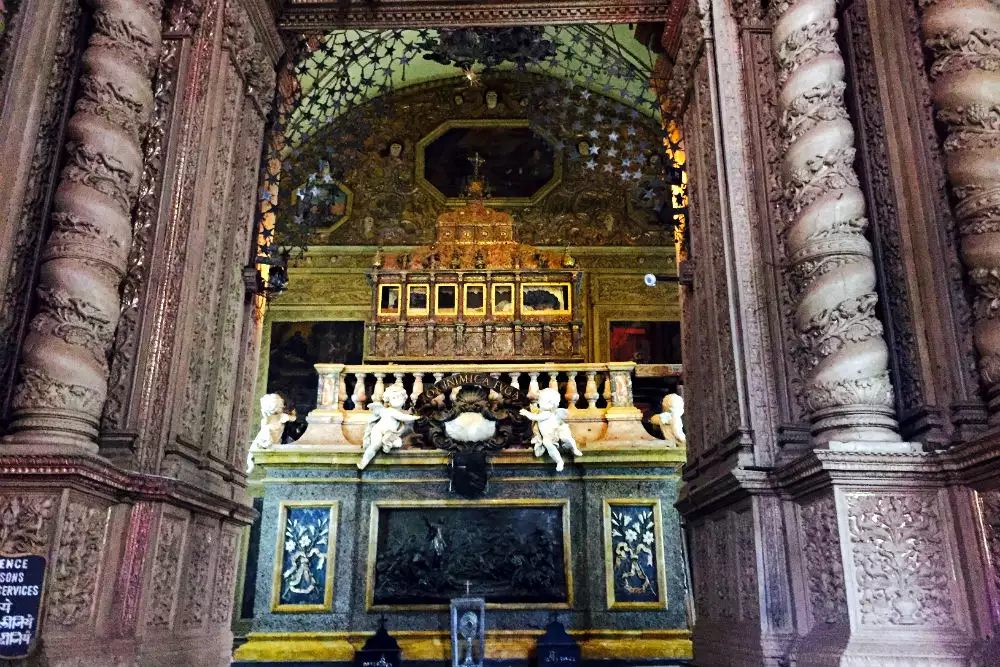 This was built in the year 1605. This is regarded as one of the much loved Goa's churches. It has the remains of St. Francis Xavier also regarded the Apostle of the Indes among Roman Catholics. This is a UNESCO World Heritage Site that reflects Goa's religious traditions. The majestic architecture, ornate altar, and exclusive carved structures attract history and art lovers.
3. Sahakari Spice Farm
Explore the vast range of spices and medicinal trees in this acres of plantation.  In the lush green farm you can see cardamom, nutmeg, turmeric plants and also a number of medicinal herbs that are used in Ayurveda.
4. Artjuna Garden Cafe and Lifestyle Shop
Tucked away in a Portuguese villa, this is a unique café which gives priority to health food. Relax in its sprawling garden in any of the hammocks you choose.
5. Ashiyana Yoga Centre
If you are planning a Bangalore to Goa by road and you want to relax away from the bustling city life. This is a yoga center on the Mandrem Beach that offers holistic treatments to heal your body and mind. You can also rejuvenate at the Ayurvedic spa.
6. Fontainhas
This is one of UNESCO heritage sites that still exudes the old world Portugese charm. Their villas and churches and chapel still conjures Portugese vibe that started in 1880.
Must Read: Popular Tourist Places Near Bangalore
7. Vagator Beach
Vagator is one of the most serene luxury beaches in Goa. You can relax at one of the luxury resorts here and visit the nearby Chapora Fort.
8. Big Foot Cross Museum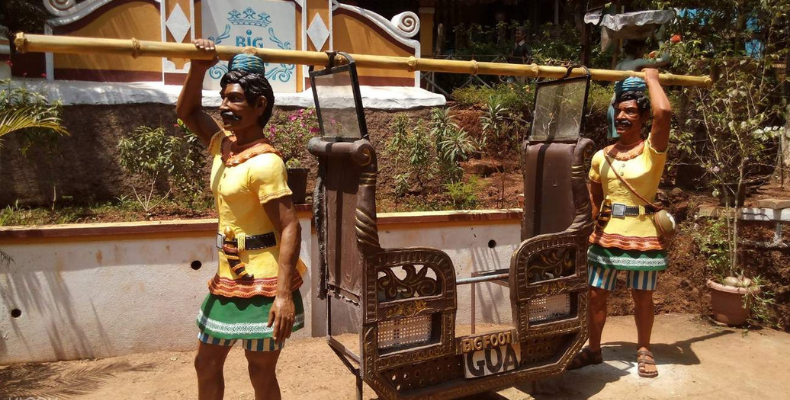 This is a unique museum that is the home to 1,500 Christian crosses collected from all over the world. It is in the sprawling compounds of Ancestral Goa, which is an artificial vintage Goan village.
9. Se Cathedral
Se Cathedral the largest church in Asia is one of the oldest churches in Goa. This church had two towers but one collapsed in 1776. The church also has a giant Golden Bell.
10. Arpora Saturday Night Bazaar
This is one of the open air markets with live music and amazing liquor in bars. You can buy souvenirs, designer clothes, handicrafts from here.
11. Anjuna Flea Market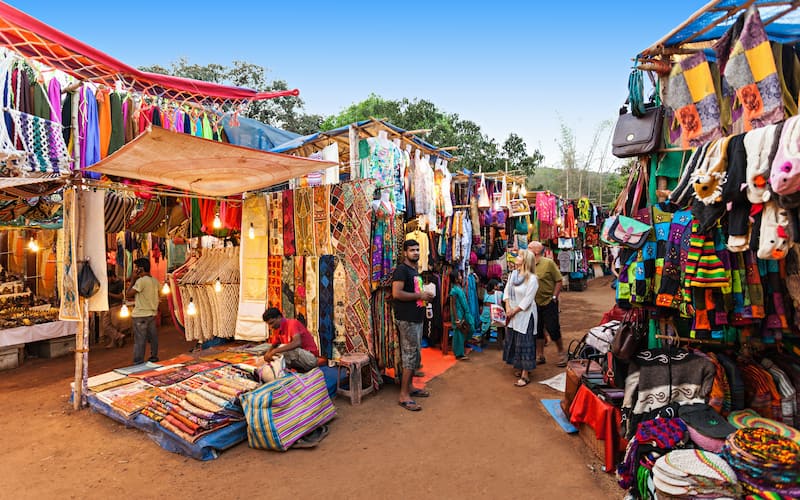 This beachfront flea market is the choice of tourists looking for a good bargain. Famed as the Goa's best flea market it was started years ago and is still a favorite amongst shoppers.
12. Mahadeva Temple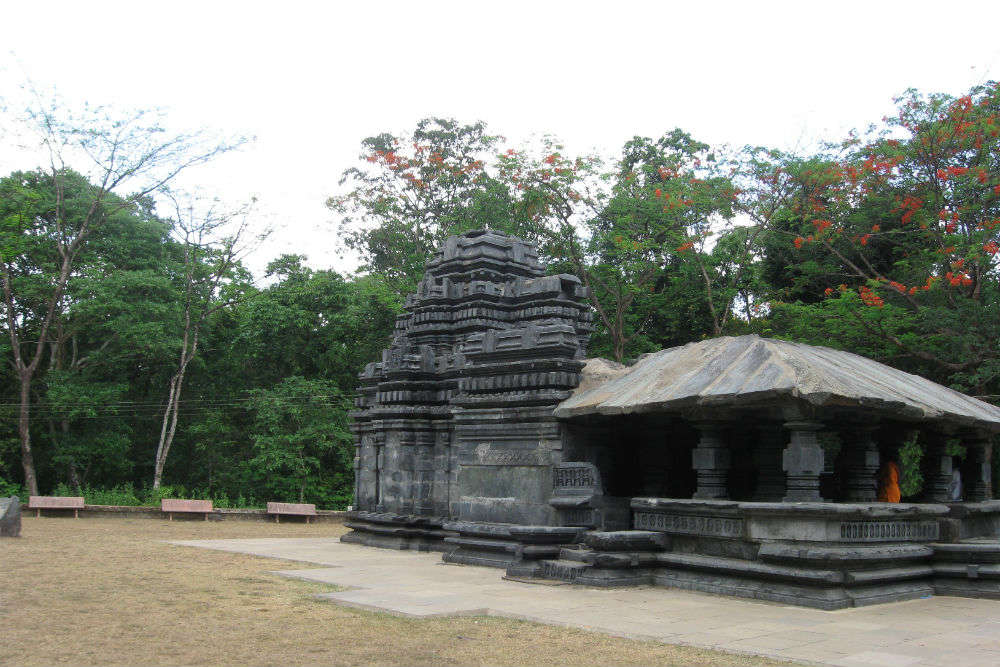 This is one of the oldest temples in Goa. This is dedicated to Lord Shiva. This is a structure that is located in the forests of Western Ghats.  This was mostly built by the Kadambas, who ruled the area.
Best route from Bangalore to Goa by road
1. Hubli -Anmod Ghat Road
One of the most picturesque routes is the Hubli-Anmod Ghat if you are travelling to North Goa. Drive along the winding misty Western Ghats and smooth roads that will make your road trip experience way better. The distance from Bangalore to goa by road  on this route will be the following:
Distance: 600 km
Estimated Time: 9 hours
2. Karwar Route
On your Bangalore to Goa car trip you can take the Karwar route. This route is famous for the beauty of the Western Ghats and you can travel via NH 48 and NH 66. You can also visit the Karwar Warship Museum.
Distance: 620 km
Estimated Time: 12 hours
3. Belgaum Route
One of the most popular route is the Belgaum route. This is known for its lush green roads that give you a very smooth ride. Once you reach Belgaum from Bangalore the entire stretch is green and a treat to the eyes.
Distance: 630 km
Estimated Time: 11 hours
4. Twin Falls Route
The Twin Falls route takes a lot of time to reach Goa from Bangalore. This is usually taken by the Bangalore Goa bus route and you can drive via the NH 4, NH 63, and NH 17. You can enjoy the beautiful waterfalls on the trip, the Magod Falls and Vibhuti Falls.
You can take a Bangalore to Goa car rental and explore the beauty of lush green Western Ghats and Arabian Sea. Hire self drive car rantal in Bangalore by Revv and start off on this road trips from Bangalore to Goa. It will be a beautiful journey as you wind past the twists and turns of green plantations and beautiful Western Ghats. And as you draw closer to your destination you get to witness the beautiful blue waters of the Arabian Sea.