Best Road Trips from Ahmedabad to Kutch – The Adventurous 'Wild West' of India
Gujarat brings with it, its rich history and colorful culture. Kutch is one of the largest districts in India and it is known for the Rann Festival that happens in November and attracts tourists from all over the world.  The tourists usually plan road trip from Ahmedabad to Rann of Kutch specially during the festival
 15 Best Places to Visit in Kutch
1. Rann Of Kutch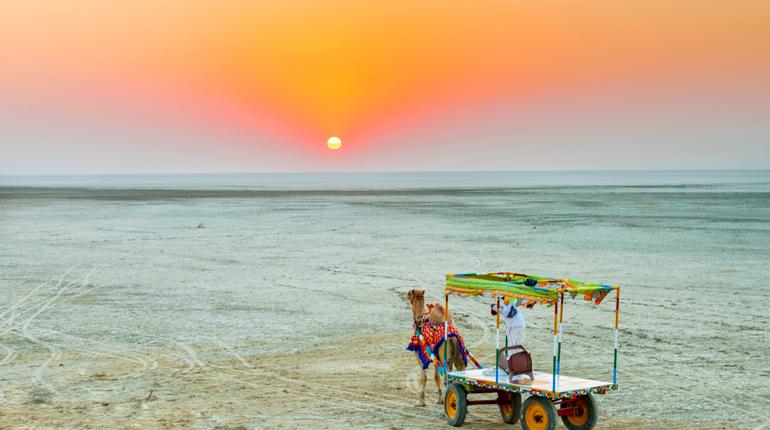 Nestled amidst the Thar Desert and Arabian Sea this is a beautiful location that is made of sand and salt. Tourists often take a trip from Ahmedabad to Rann of Kutch by car to witness the gorgeous full moon nights and spend a romantic getaway at the desert. Tourists also visit this place for the beautiful Rann Festival. One can camp in the desert tents or try out the camel safari.
2. Kalo Dungar
Image Source: Wikipedia
One of the highest points in Kutch it attracts the experienced hikers and trekkers and offers an amazing view of the entire region. This is located close to the India Pakistan border and from here you can almost get a view of the stunning Rann of Kutch. This is also famous for the Lord Brahma temple.
3. Topansar Lake
Situated at the heart of Mandvi city; the beautiful Topansar Lake is an amazing picnic spot. In winter it is visited by a number of migratory birds. If you are planning to visit Ahmedabad to Kutch by car, do not miss this place.
4. Kandla Port
Gujarat has long been a commercial port and Kandla has been the major trading port in the west coast. You can see beautiful views of Gulf and huge commercial ships loading and unloading cargo.
5. Mandvi Beach
Mandvi beach is a popular place for the tourists. This is a beautiful beach with serene tranquil vibe that is good for a day tour away from the bustling city. The wind turbines with the sea in the background make for picturesque sight.
6. Kutch Museum
This is the oldest museum of Gujarat established by Maharao Khengarji. This was built in 1877. A haven for history lovers this has amazing collections of Kshatrapa inscriptions, tribal artifacts, ancient scripts and precious metalwork.
7. Dholavira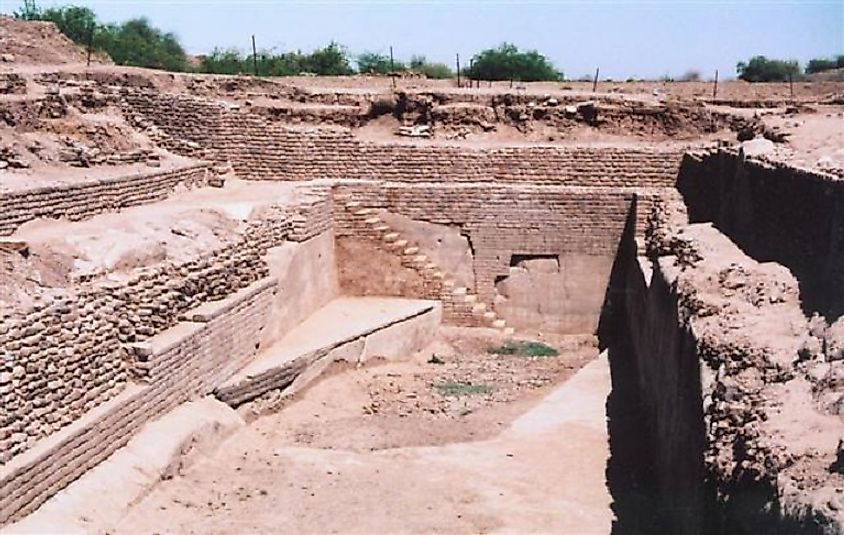 Dholavira is a historical site that was founded by the Archeological Survey of India. Dholavira has the remnants of Harappan timeline that spans from 2900 BC to 1500 BC. This place has immense importance for history lovers. Witness the ancient water conservation and urban architecture in Dholavira.
8. Siyot Caves
Siyot Caves reflect the Buddhist influence and depict the Chinese migration to India. It has some ancient cave carvings and sculptures that creates folklores on Chinese people coming to India.
Must Read: Top 15 Places to Visit in Vizag
9. Bhadreshwar Temple
This is a temple in Bhadravati which is a beautiful place in Bhuj. This is a beautiful temple which has a gorgeous architecture with pillars engraved with unique craftsmanship. The building is renovated and there are around 52 monuments.
10. Aina Mahal – Stunning Mirror Work
One of the beautiful palaces of Kutch is the Aina Mahal or Palace of Mirrors. This is also known as the Madan Singhji Museum. This shows different types of mirror work made of Venetian glass, marbles, and mirror ornaments.
11. Indian Wild Ass Sanctuary
Indian Wild Ass Sanctuary in is the home to varied animals like Chinkara, hedgehog, fox, desert cats, jackal, jungle cats, wolf, and blue bulls.
12. Kutch Great Indian Bustard Sanctuary
Lala-Parijan is a beautiful Kutch tourist place that is a bird sanctuary that attracts a lot of migratory birds. Home to the heaviest bird of India The Great Indian Bustard; one can also spot a wide variety of birds like merlins, partridges, floricans to name a few.
13. Marine National Park
Marine National Park has a lot of marshy shores, marine animals and birds, estuaries, and mud beds.
This place is an ecologist's paradise. You can see kingfishers, osprey, avocets and giant leatherback turtles here along with beluga whales.
14. Kutch Desert Wildlife Sanctuary
Kutch Desert Wildlife Sanctuary is an important place in Kutch region for nature lovers. This is the home to some extinct wild animals like chinkara, jackels, wild boar. You can also visit the flamingos here and feed them.
15. Narayan Sarovar
Narayan Sarovar has water reservoirs, mangrove forests, and two streams Kapurasi and Kali. A wildlife lover's delight this place is the home to around 250 kinds of floral species like gorad, babul, kerdo, among others.
Ahmedabad to Kutch by road
The Ahmedabad to Rann of Kutch distance by car is almost 97 km and it takes around 2.5 hours. According tourists who have opted for Ahmedabad to Kutch car rentals, they suggest since Ahmedabad is a busy city it's better to start your trip early. Visit the Little Rann of Kutch early and pack your breakfast so that you enjoy the day unfolding in the serene desert setting. The fastest route will be from Ahmedabad to Dasadaand then via Viramgam that is on NH947.
Explore the beauty of the Rann and the serenity and solitude that comes with it. It is also said that with folk music groups in moonlight the Great Rann looks beautiful and you must make a trip to enjoy that ethereal experience. You can take a self-drive car rental in Ahmedabad and take a drive through the winding rustic roads of Gujrat and reach your destination at the Rann of Kutch. From bird safaris for bird lovers to camel safaris exploring the beauty of the desert, the Rann has something for every tourist. So kick start your plan and take a memorable road trip from Ahmedabad to Rann.