Explore the Magnificent Ranikhet with a Quick Trip from Delhi
Delhi deserves a place among the most culturally diverse cities in India. When you are in this lively city, you will have a host of options to explore over the weekends. Some of these options can be visited over and over again, and they will still remain equally interesting. Another amazing thing about this city is that it is also a center from which you can visit so many states, famous places, historical destinations, and hill stations. Since the brutal summers are just around the corners, hill stations are actually a good choice for anyone living in the city.
As we talk about hill stations near Delhi, one of the ideal choices is Ranikhet. As a matter of fact, a road trip from Delhi to Ranikhet will surely be a memorable one. From the moment you start your journey, till the time you reach this beautiful place, you will come across a heap of fascinating things and of course restaurants and roadside eateries and dhabas that serve some of the most mouthwatering food that will keep your tummy calm. The best time to travel to Ranikhet is between March and June. The hill station receives rainfall at the starting of July and it continues till September. If you happen to visit the place in the winters, you may even get a chance to witness the entire town blanketed under the snow. Therefore, you can choose the season as per your preference.
The distance between Delhi to Ranikhet is 350.5 km via NH9, and this will take you approximately 9 hours. Although it totally depends upon the pit-stops you are taking. As the route map and road condition are concerned, the roads are smooth, especially when you are traveling through the highway. You will hardly come across rough patches on this road.
As you reach Ranikhet, the beauty of the place will explain to you all the reasons why Ranikhet is considered to be one of the most popular attractions in Uttarakhand. You can actually make memories with your loved ones in this hill station as there are several things to do in Ranikhet. From visiting temples to strolling through the apple orchards, from soaking in the serenity of the lake to enjoying the view of the majestic Himalayas, you can indulge in so many things and yet have a relaxing holiday there. Let us take a look at the top attractions around Ranikhet that you must visit.
10 Top Places to Visit in Raniketh with Pictures
1. Golf Ground

Located at a height of 6132 feet, this Golf Ground is surrounded by tall verdant trees and the Kumaon mountains. This golf course is not only famous in India but Asia as well since it is one of the highest golf courses on the continent.
Timings: Remains open throughout the day but if you want to play, you have to be present here between 9 am to 2 pm
2. Chaubatia Garden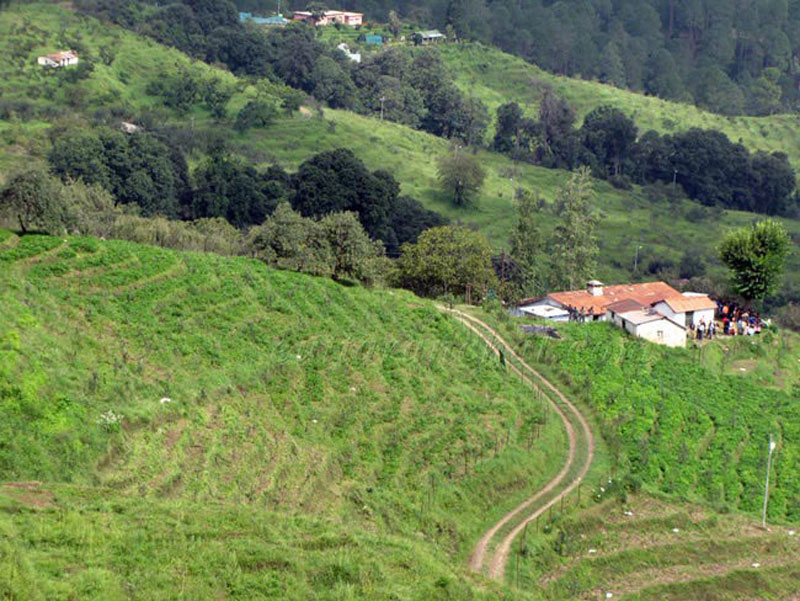 Covering an area of 600 acres of land, Chaubatia Garden is famous for housing plums, pears, apples, and apricots orchards. On a clear sunny day, you can even admire the view of famous peaks from here, which include Nanda Devi, Trishul, and Nilkanth.
Timings: 10 am to 5 pm
3. Ashiyana Park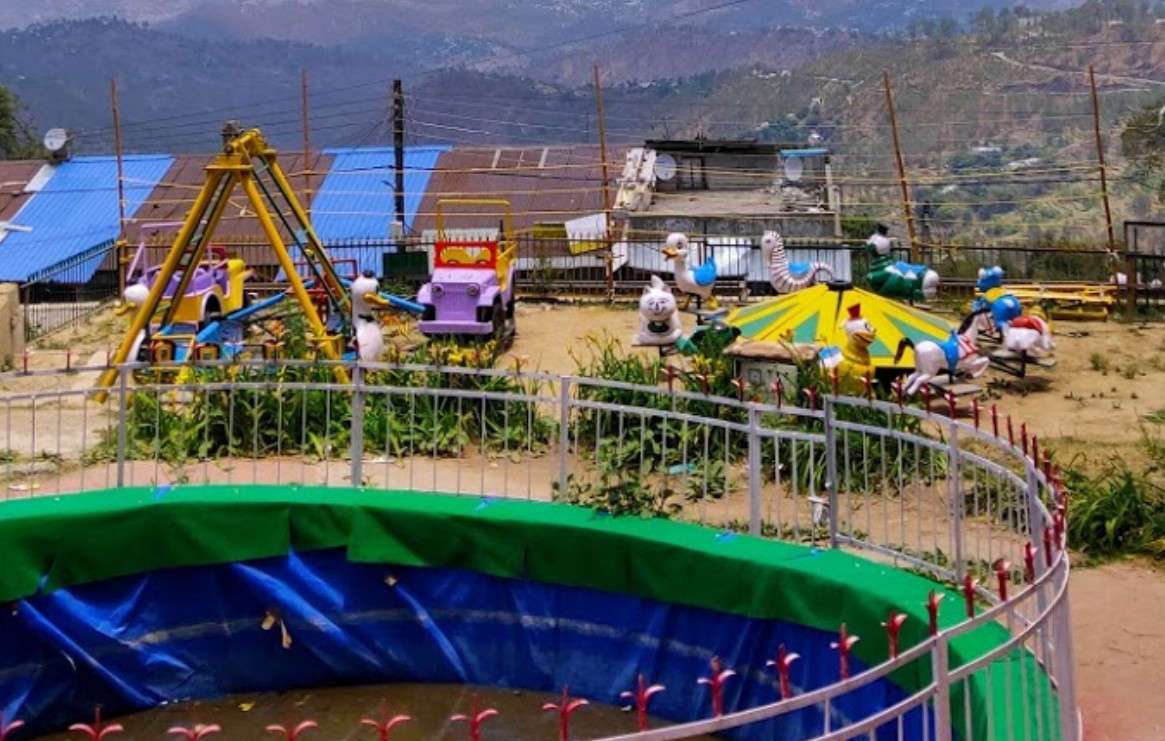 If your kids are traveling with you, they will be happy to visit this garden after a long journey. There is enough space for kid's play area where they can spend some good time. Apart from that, there are also fountains, manicured lawns, and herbal orchards where you can take a tour.
Timings: 7 am to 7 pm
4. Rani Jheel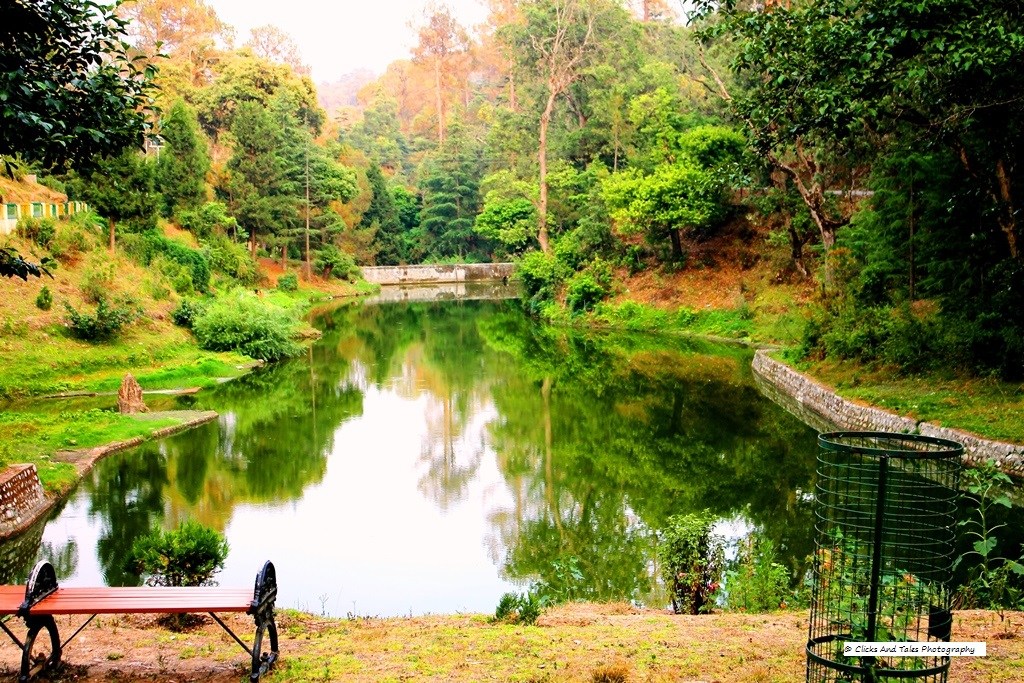 It was made by the Cantonment Board of the Indian Army for rainwater harvesting, but over the years it has become one of the key attractions in Ranikhet. You can enjoy boating here. And in case you are not comfortable with the idea of boating, you can also take a stroll along the lake.
Timings: 10 am to 5 pm
5. Majkhali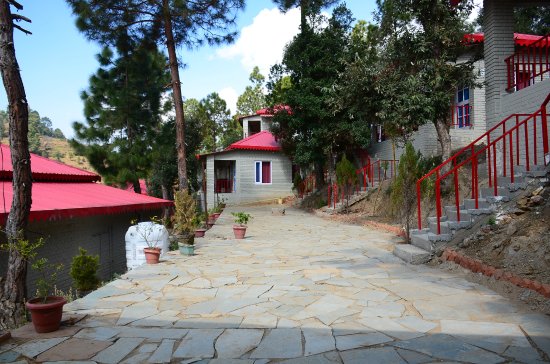 Located at a distance of 12 km from Ranikhet, Majkhali is the place that you must visit if you are seeking peace. You can enjoy the view of Himalayan peaks from here, while also spot several types of flora and fauna. Do not forget to visit the vintage Kali Mandir here.
Timings: 24X7
6. Kalika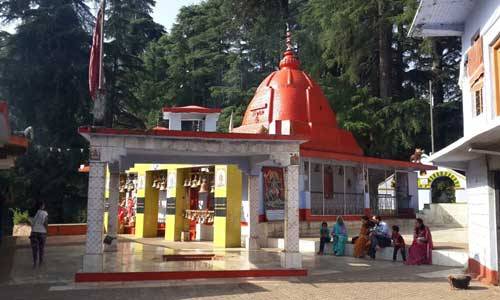 If you are staying in Ranikhet for 2-3 days, you can visit Kalika. It is a village situated near Ranikhet, which is renowned for Kalika Mandir and the golf course. The architecture of the Kalika Mandir is famous around this region.
Timings: 24X7
7. Manila Village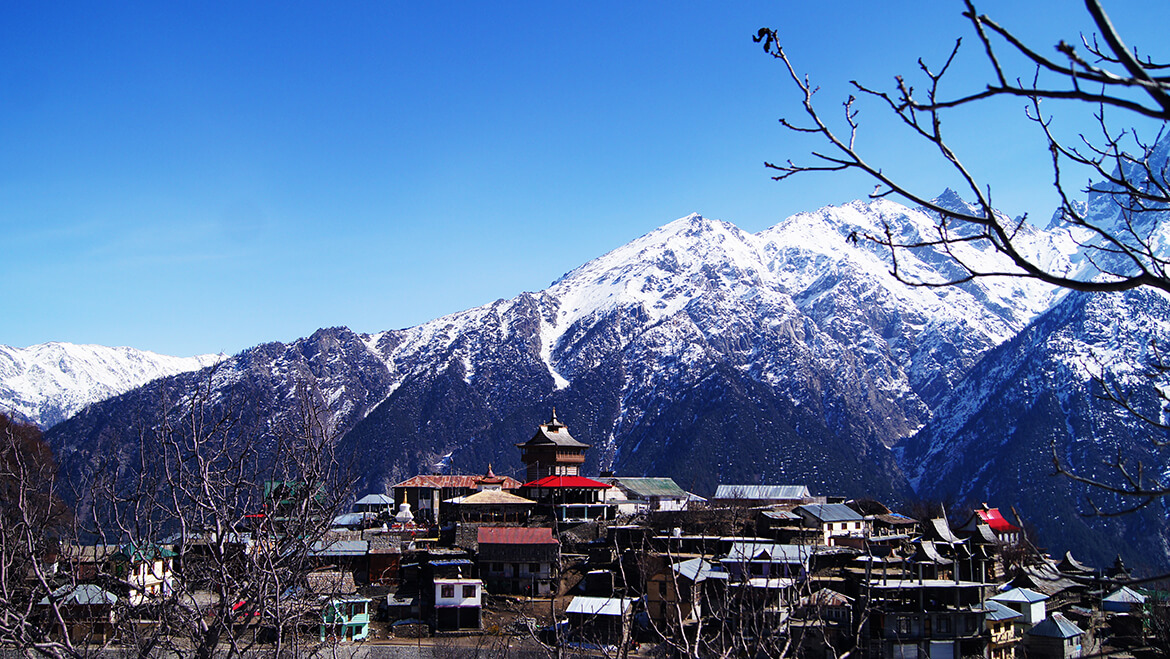 Gained fame for Maa Manila Devi Temple, Manila offers picturesque beauty. You will actually be able to revive your soul and throw away all the stress that has been burdening you for so many days.
Timings: 24X7
8. Kumaon Regimental Centre Museum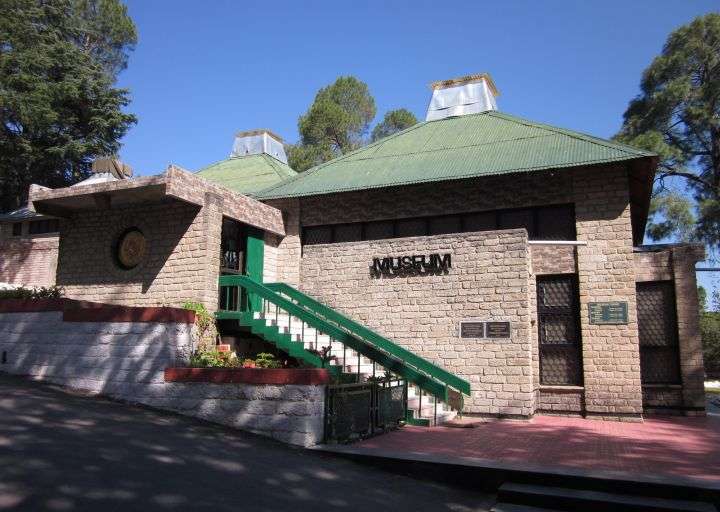 Dates back to 1970, this museum was established by the Kumaon Regiment of the Indian Army, and now showcases war artifacts. You can find some silver scepters of Rani Laxmi Bai and a few documents related to the Kargil War.
Timings: Opens at 9 am
9. Tarikhet Village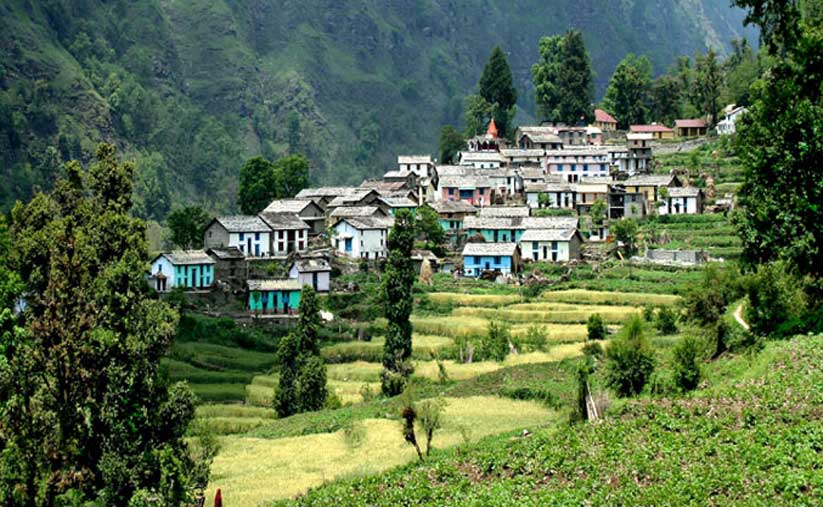 Make sure you visit Gandhi Kutiya here. Wondering how come Gandhi Kutiya or anything related to the father of the nation is here? Well, Mahatma Gandhi used to stay here during the pre-independence period of India. You can also try trekking in some of the best trails here.
Timings:  24X7
10. Sadar Bazaar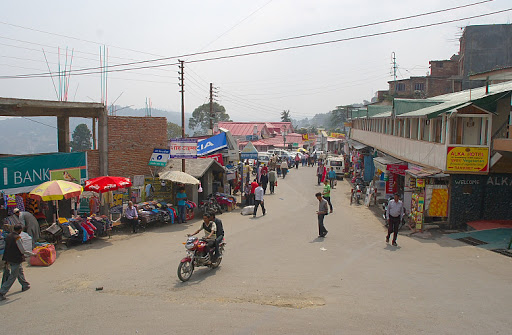 Whether you want to get home some souvenirs or want to buy some local Kumaoni food, you can head to Sadar Bazaar, one of the famous places in Ranikhet. The colorful market area will certainly woo you.
Timings: Opens at 10 am
Well, if you are traveling with friends or family and the tourist group size looks large, you can consider car rental in Delhi from Revv. To make things even easier, you can install the Revv app from Google Play Store or iOS App Store and choose the car of your preference and need, and book it in just a few clicks. It is as easy as it sounds. Give it a try and discover firsthand the reason behind their immense popularity!