Exciting Trip from Delhi to the City of Lakes Udaipur
One of the best things about living in Delhi is you can plan a quick tour to many of the nearby famous places in the country that are known for attracting tourists all through the year. One such place is Udaipur. Also known as the Lake City, Udaipur was founded by Udai Singh II of the Rajput Sisodia clan in 1558. The city was made the capital of the Kingdom of Mewar after Chittorgarh until it became a British princely state. After the Independence of India, the Mewar region became a part of the state of Rajasthan. When you visit the city now, you will still be able to find the reminiscence of the bygone era.
A road trip from Delhi to Udaipur is one of the most interesting trips you can have. You will come across several dhabas on the way and can enjoy the sumptuous and lip-smacking Rajasthani cuisines and snacks.  The distance between Delhi to Udaipur is 662.9 km and will take around 11 hours for you to reach via NH 48 and NH 58. Since it is a long road trip, you need to plan everything well and be mentally prepared to travel for such long hours. You can follow a route map from Delhi to Udaipur to be sure that you are on the right roads. The best time to travel to Udaipur is between November and March since the weather remains pleasant during these months.
Once you reach Udaipur, you can explore all the nooks of the city and enjoy staying at some of the most magnificent hotels. Just make sure your hotel is booked before you reach the city. There are several amazing hotels and resorts in Udaipur of varied rages where you can stay at. Some of the most popular attractions in Udaipur that you must visit include:
10 Best places to visit in Udaipur
1. City Palace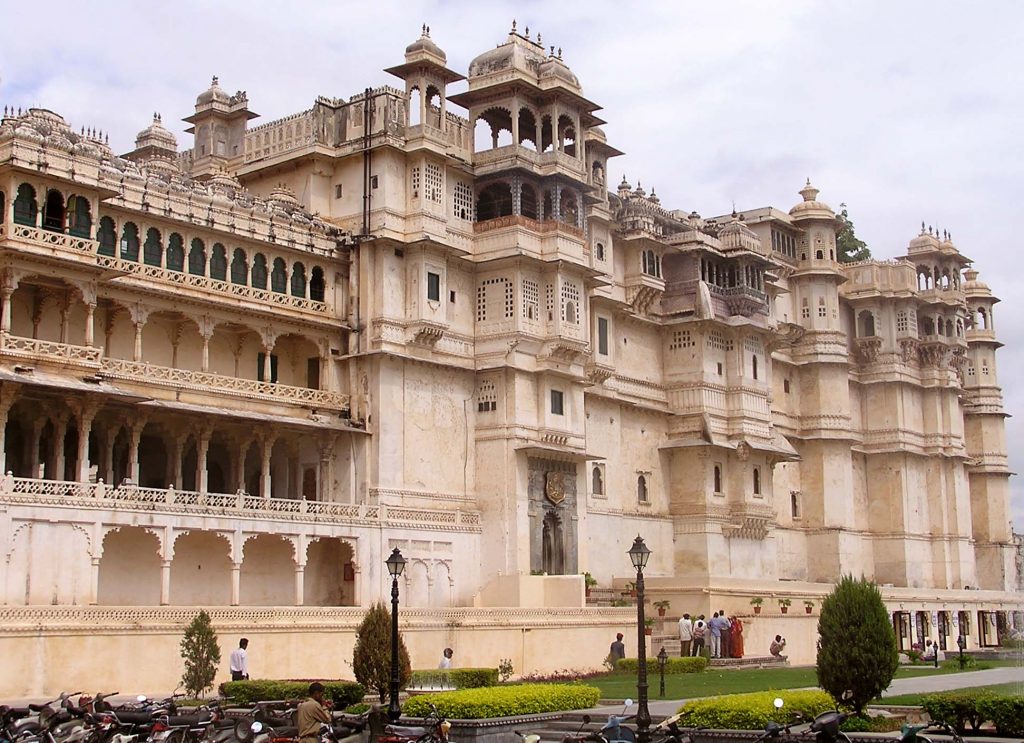 One of the most famous places in Udaipur, City Palace is perhaps the first place in the city that you must head to. Situated at the banks of Lake Pichola, the palace will give you a fair idea of the taste of the erstwhile Mewar ruling family. The mirror work, murals, marble work, gorgeous paintings, and antique furniture; every single thing in City Palace is worth seeing. City Palace is one of the largest structures you will find in Udaipur, and there are several heritage properties and palaces within its complex. The palaces and vilas properties here include Amar Vilas, Krishna Vilas, Bhim Vilas, Manak Mahal, and Moti Mahal.
Timings: 09:30 am to 05:30 pm
2. Lake Palace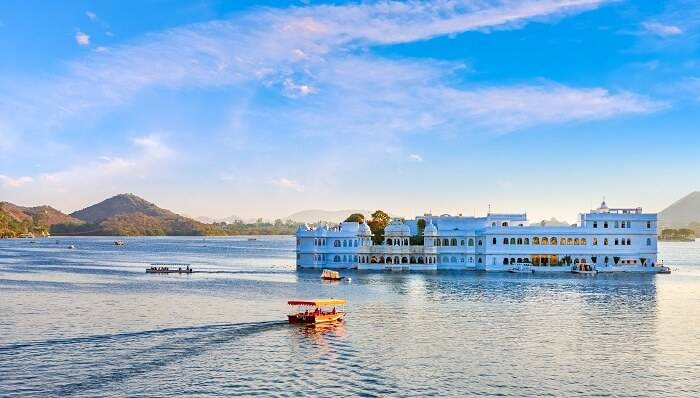 Placed in Lake Pichola, the beauty of Lake Palace cannot be described in a few words. You can enjoy the captivating view of the Aravali Hills while admiring the sculpted marble and moldings of the palace. You can also enjoy a nice time boating at Lake Pichola here.
Timings: 09:00 am to 06:00 pm
3. Jagdish Temple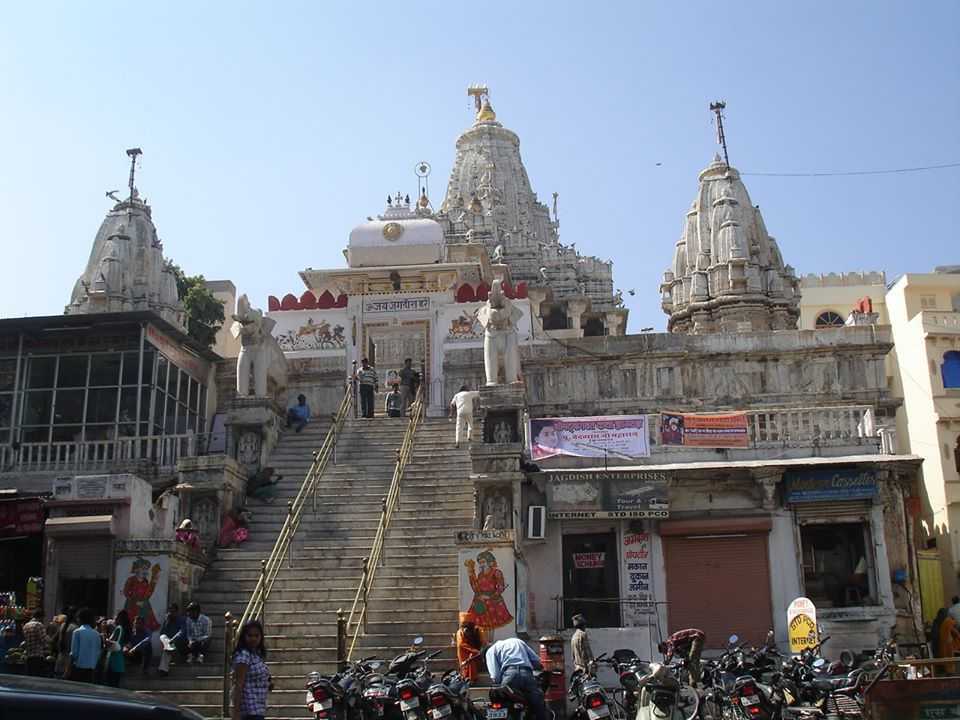 Situated at the Badi Pol entry of City Palace, Jagdish Temple was built by Maharana Jagat Singh. The black stone idol of Lord Vishnu placed in the temple looks absolutely gorgeous. You will also find the idols of other deities. If you can stay here for some time, you can experience the evening Aarti which is worth witnessing.
Timings: 05:00 am to 02:30 pm; 04:00 pm to 10:00 pm
4. Saheliyon ki Bari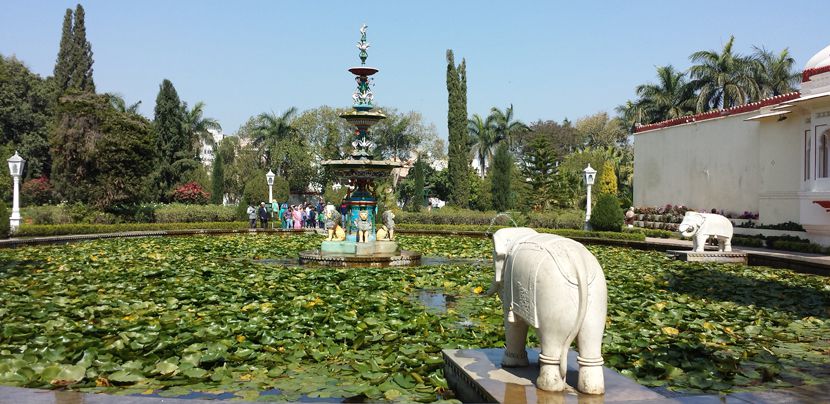 Also called the Garden of the Maidens, it was the creation of Maharana Sangram Singh in the early 18th century. This garden was made for women who would sing, dance, and have a nice time here.
Timings: 9 am to 7 pm
5. Sajjangarh Palace
Perched at the hilltop, Sajjangarh Palace or The Monsoon Palace offers a picturesque view of the Fateh Sagar Lake as well as Sajjangarh Wildlife Sanctuary. The building looks like a castle from a fairy tale. It is one of the top attractions around Udaipur that you must visit.
Timings: 8 am to 6 pm
6. Fateh Sagar Lake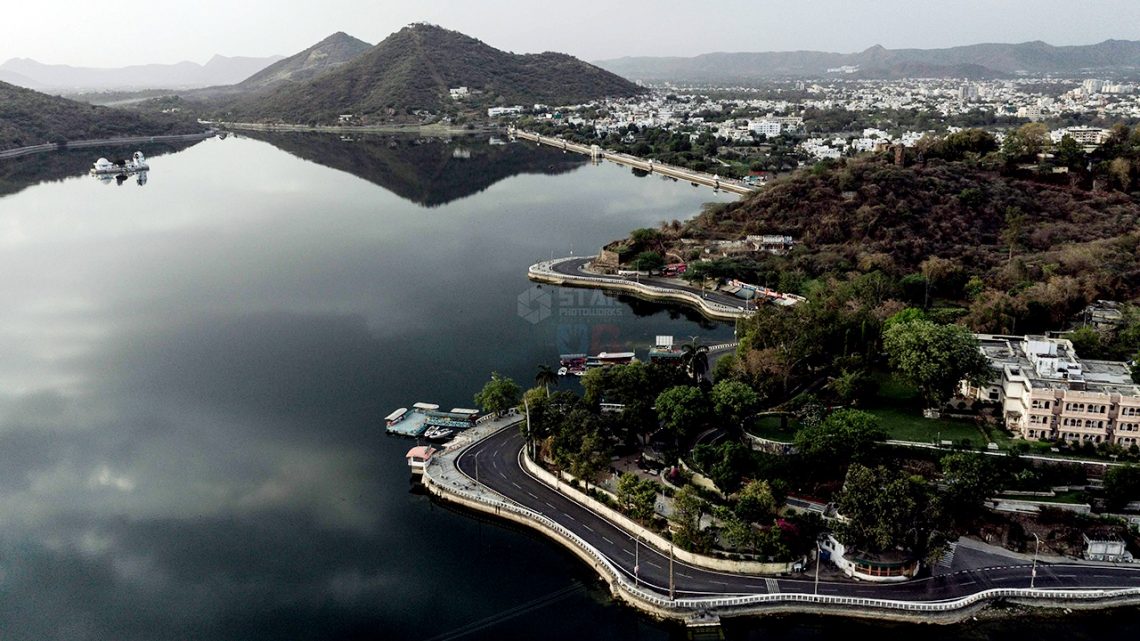 One of the famous lakes in Udaipur, Fateh Sagar Lake is a man-made lake that looks tranquil with its blue-hued water. There are four islands in the lake which can be visited by boat. You can find parks and solar observatory on the islands.
Timings: 8 am to 6 pm
7. Lake Pichola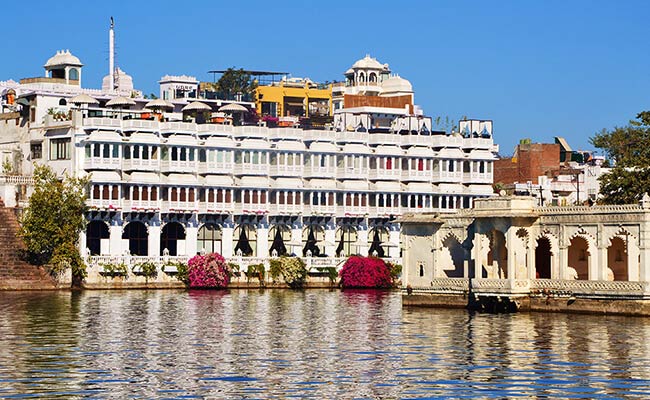 This is also a man-made lake that dates back to 1362 AD. Several palaces, temples, ghats, chabutaras are made around the lake. Whether you are visiting Jag Mandir or Lake Palace, you will see this lake.
Timings: 9 am to 6 pm
8. Maharana Pratap Memorial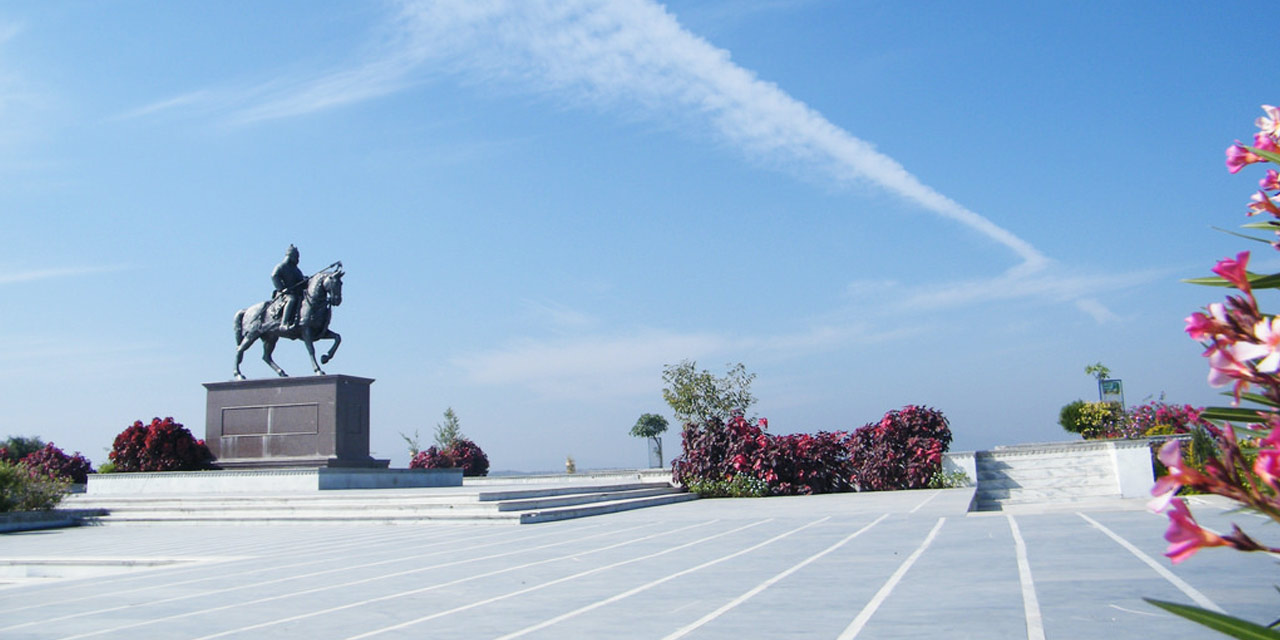 Visit Maharana Pratap Memorial to see the lifelike statue of the most celebrated ruler of Udaipur and his beloved and loyal horse Chetak. Located very near to this memorial are the old fort and Japanese Rock Garden. 
Timings: 9 am to 6 pm
9. Vintage Car Museum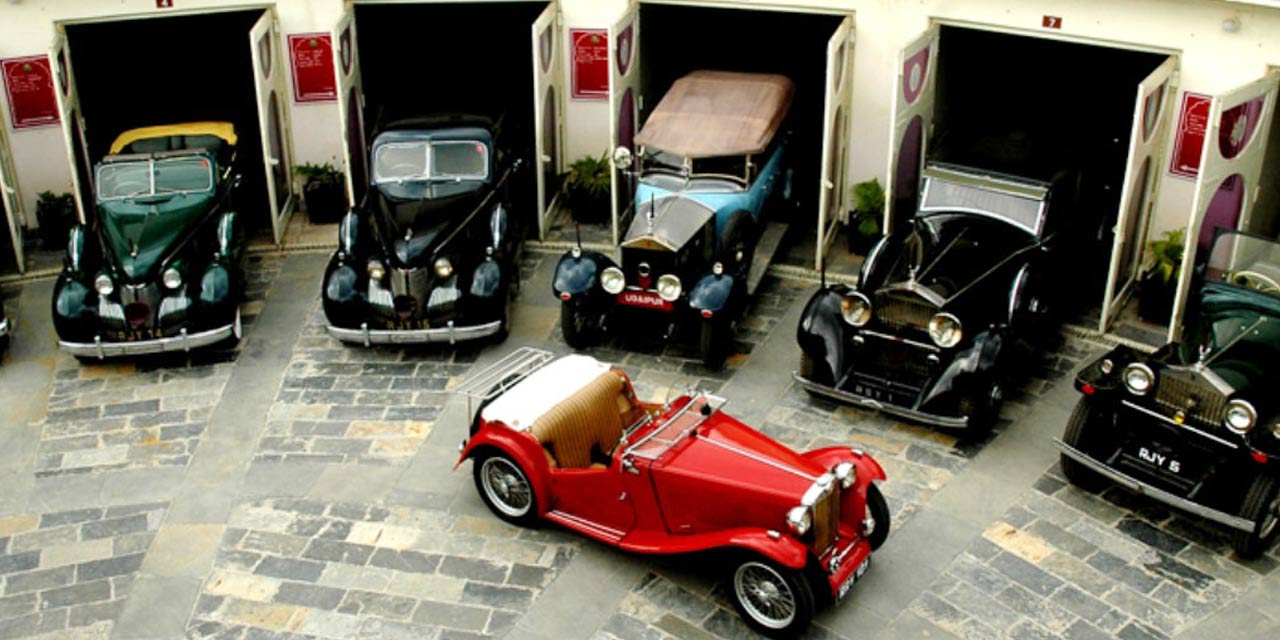 Whether you are a car lover or not, you will definitely be excited to see the several vintages and most expensive cars at this museum. It is one of the things to do in Udaipur that you should not miss.
Timings: 9 am to 9 pm
10. Hathi Pol Bazar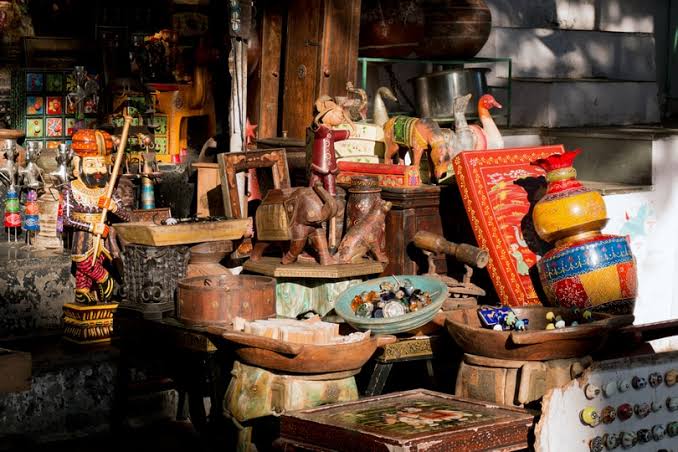 One of the main shopping places in Udaipur, Hathi Pol Bazar is the place where you should head to buy some ethnic silver jewelry, intricately embroidered and colorful block-printed apparel, textiles, accessories, traditional home decor items, etc. You can buy as many things as you want from here and do not have to think about your pockets.
Timings: 10.30 am to 8 pm
There are many amazing things to see and experience in Udaipur, from warm hospitality to sumptuous cuisine. To easily plan the transport arrangements you can opt for a car rental in Delhi from Revv. The Revv cars are completely sanitized and you can opt for a plan with or without fuel. Download the Revv app or visit the Revv website today and discover why so many people from all over the country have been considering opting for the Revv car rental service.