Divine Spirituality: Plan a Road Trip to The Temples of South India
Today, the world is under a lot of stress and tension due to the pandemic. Perhaps once it is safe to be out and about, you like to pay homage for peace and safety. Perhaps you would like to take a spiritual tour to seek inner peace and composure. Lucky for you, India is dotted with some very prominent religious places. It goes without saying that the outcome of such trips are always peace and harmony in your life. But do you know the right places to head to? Let us focus on South India for now. We are here to help you plan trips to the mesmerising and most revered temples of South India.
Top things to keep in mind whaen travelling to South India!
Though there are various ways to commute across the country, the road trips to South India are most recommended for safety and convenience. However, keep these things in mind when heading to these places for a spiritual tour in South India.
★ Best time to travel to South India — The best time to travel to South India is from October to March. But you can plan a trip here even during the prominent religious ceremonies held in the temples.
★ Other things to do in South of India — Apart from visiting the prominent religious centres, you can even get a chance to try these things to do
Beach time 

Water sports opportunities 

Wildlife exploration 

Heritage tour 

Sightseeing 
Your quest to utmost salvation drives you to the religious places in South India:
After you've reached South India for your spiritual journey, you would definitely require the details of these significant places and the important information like opening and closing time of the temples, etc. For all these details, keep reading.
1. Ramanathaswamy Temple, Rameswaram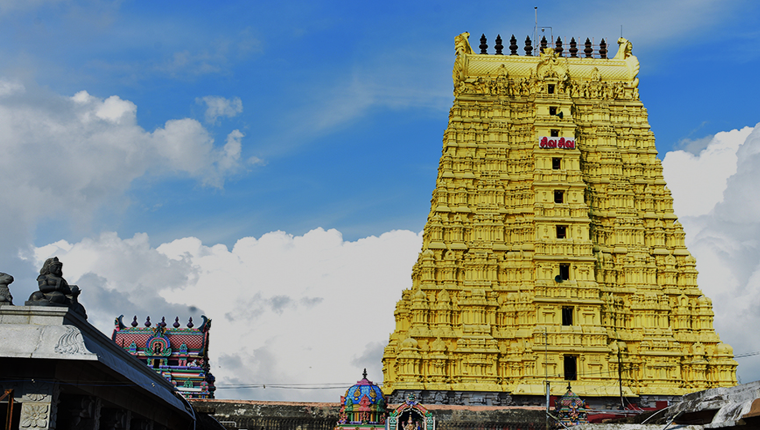 One of the famous temples in South India, the Ramanathaswamy Temple holds crucial importance in the Hindu religion because it's one of the 12 Jyotirlingas in the country. Dedicated to Lord Shiva, the artistic architecture of this temple is stunning as well.
Timing:- 4:30 am – 1:00 pm and 3:00 pm – 8:30 pm.
2. Ranganathaswamy Temple, Trichy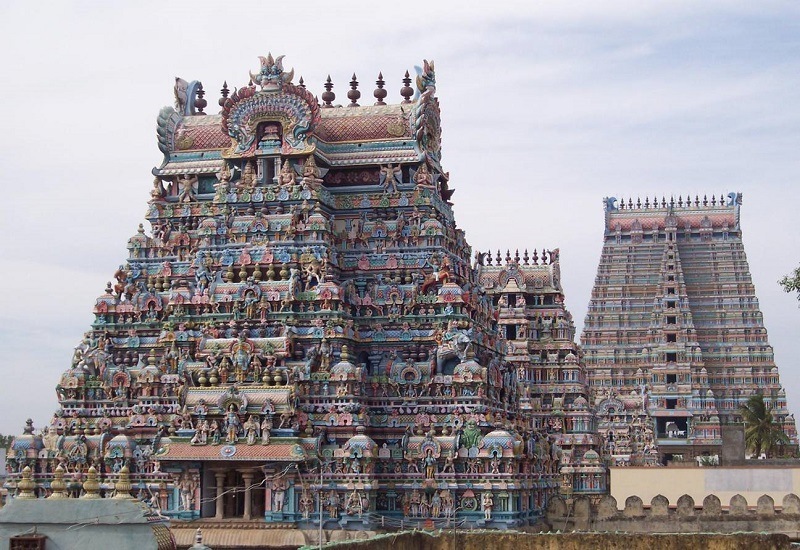 Constructed in the 6th century, this temple is dedicated to Lord Ranganatha. The impressive point of this temple is that its carefully constructed keeping in mind the Dravidian style of architecture. You'll also find descriptions of this temple in the Tamil ancient scriptures.
Timings — 9:00 am – 9:00 pm
3. Venkateshwara Temple, Tirupati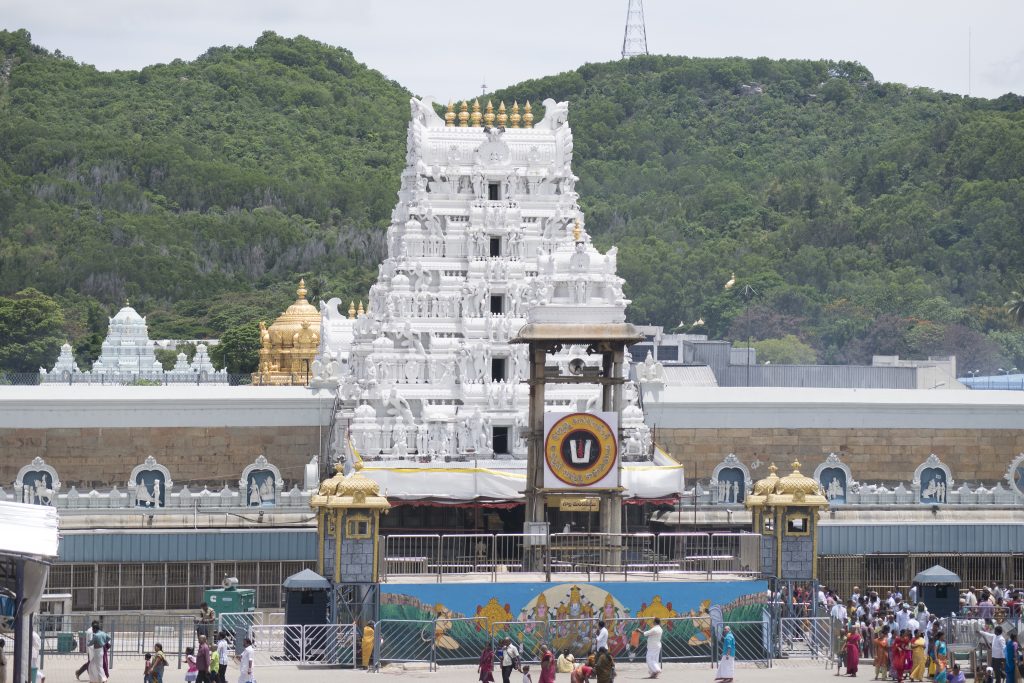 Considered as one of the important religious places in South India that's very frequently visited by devotees and tourists equally, the Venkateshwara Temple in Tirupati is surely a celebrated spiritual centre of South India. You can visit here at any time of the year to pay homage to the deity here and even admire the beauty and architecture of the temple.
Timings — 9:00 am – 9:00 pm
4. Brihadeeswarar Temple, Thanjavur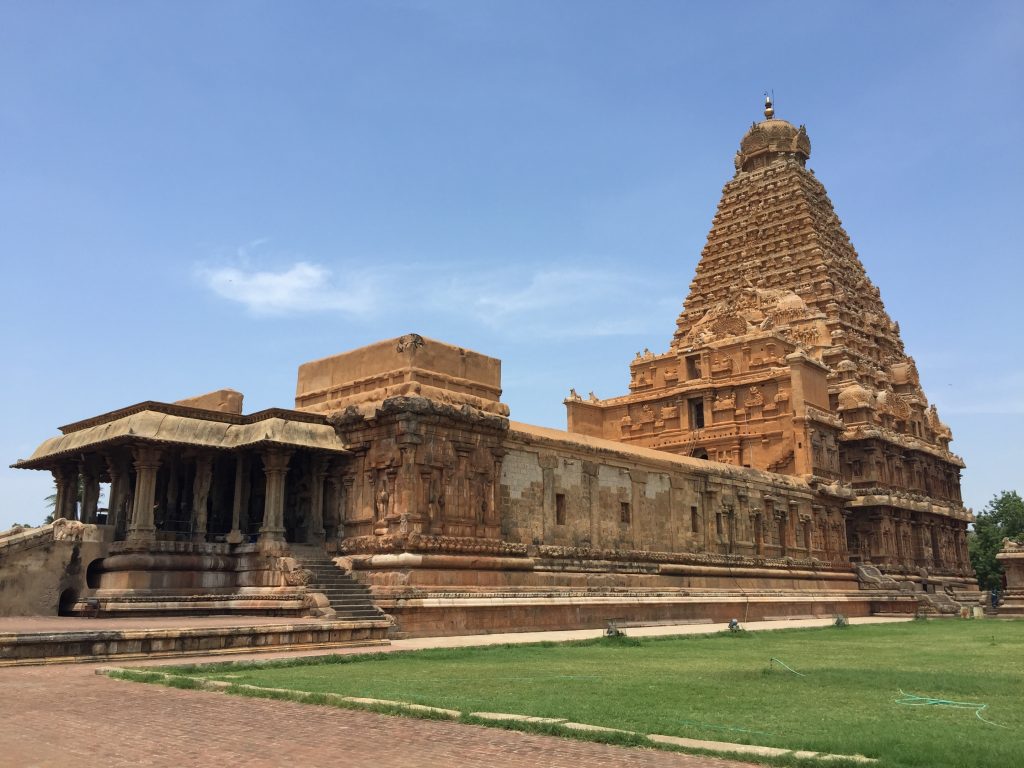 A nearby tourist attractions from city and also a very important heritage centre since it recently completed its 1000 years of existence, the Brihadeeswarar Temple is a very significant spiritual centre of the south. It's also a very famous UNESCO World heritage site of the country that was built by the Chola Dynasty. Dedicated to Lord Shiva, it's a temple to visit for your prayers and heritage exploration.
Timings — 6:00 am –12:30 pm and 4:00 pm — 8:30 pm.
5. Meenakshi Temple, Madurai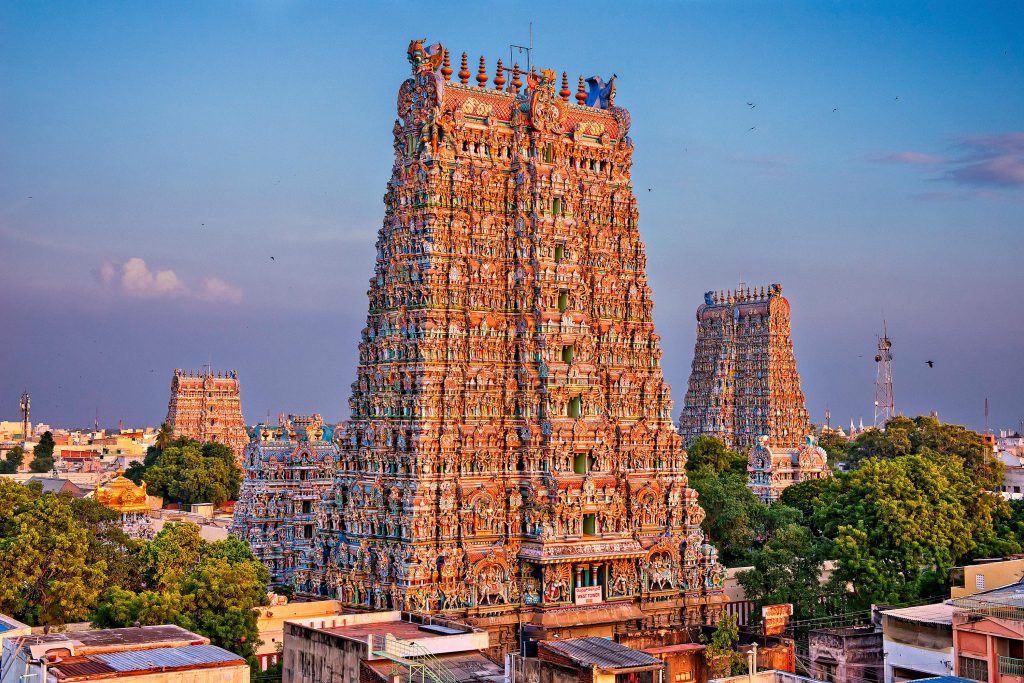 Constructed in the 7th century AD, the Meenakshi Temple is one of the most profound and artistically wonderful temples of South India. Dedicated to Goddess Parvati, it's considered highly important in the Hindu religion. 
Timings — 5:00 am –12:30 pm and 4:00 pm –10:00 pm
6. Ekambareswarar Temple, Kanchipuram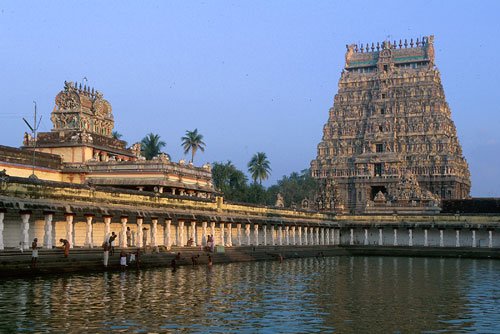 One of the famous Hindu pilgrims sites in South India, Ekambareswarar Temple is another great temple dedicated to Lord Shiva. Spread across a massive area of 25 acres of land, you'll find a rush of devotees continuously flocking this temple. It is because there are around 12 festivals celebrated each year at this temple and six prayers are offered every day.
Timings — 6:00 am –11:00 am and 5:00 – 8:00 pm
7. Annapoorneshwari Temple, Horanadu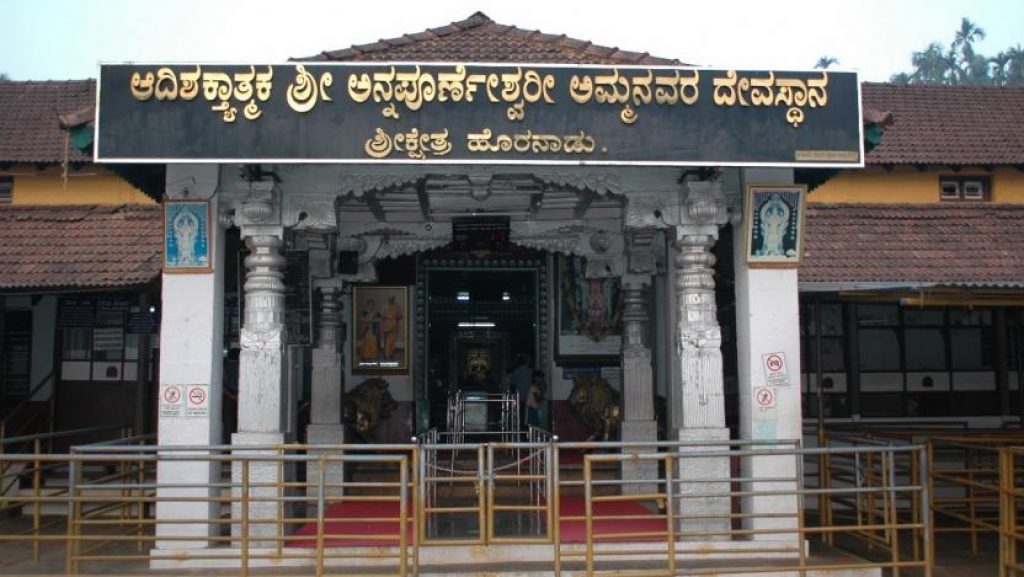 Dedicated to the Goddess of food, Annapoorneshwari, this is one of the oldest and most significant temples of Karnataka.  As it's located at the banks of River Bhadra, you'll find a beautiful view awaiting you while you pay homage to this temple.  
Timings — 6:00 am –9:00 pm
8. Shore Temple, Mahabalipuram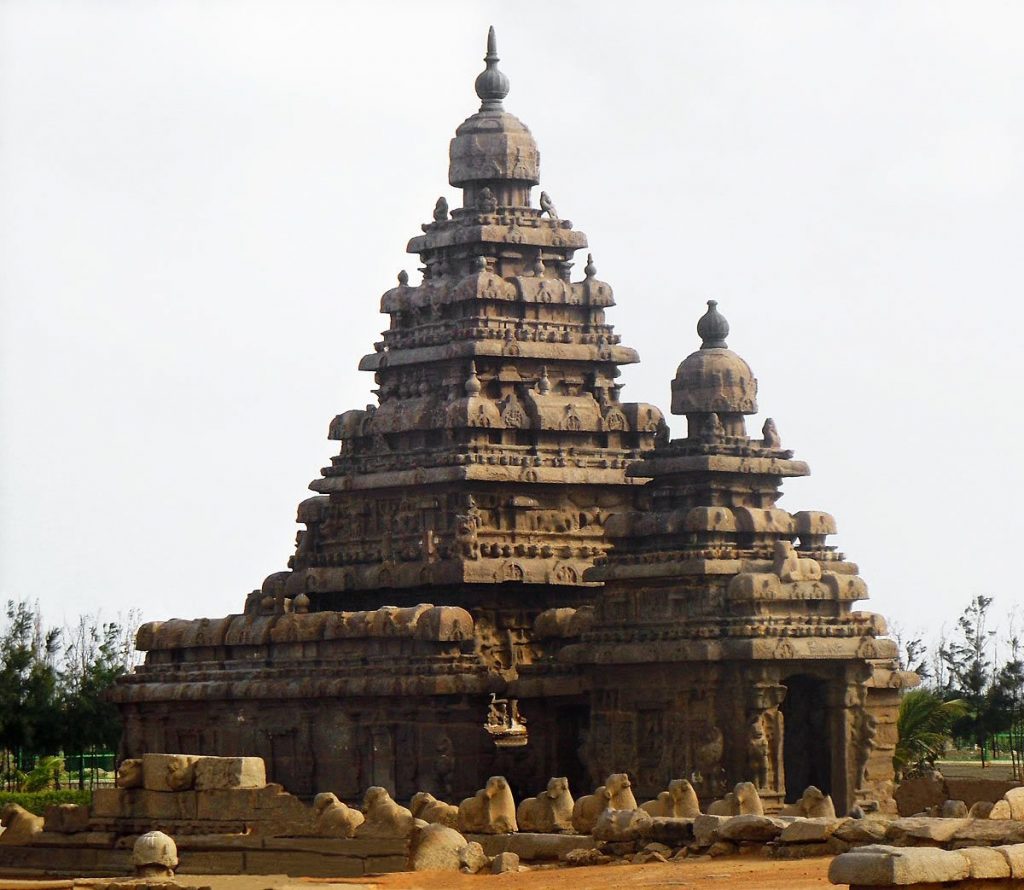 When you take a car on rent from Revv in South India, do travel towards Mahabalipuram without fail. The Shore Temple here is of prominent importance because of being recognised as the UNESCO World heritage site of the south. Dedicated to Lord Shiva, Vishnu and Brahma, it also has 3 shrines dedicated to each of them. The temple complex in itself offers admirable view, but this centre is famous especially for the Mahabalipuram Dance Festival held in this complex each year.
Timings — 6:00 am – 6:00 pm
9. Mahabaleshwar Temple, Gokarna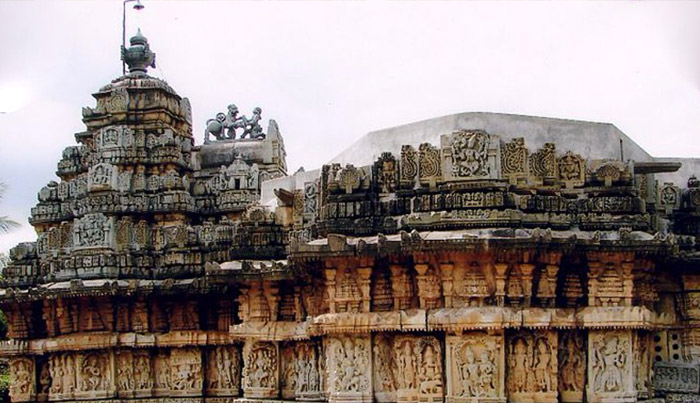 While you are heading towards the beaches of Gokarna, do visit the very important spiritual centre of South India – the Mahabaleshwar Temple. Dedicated to Lord Shiva, the Dravidian style of architecture of this temple is really worth viewing. Apart from the ideal location of temples (as its located very close to the beach) and its architecture, you'll love to hear the spiritual stories related to it.
Timings — 6:00 am – 12:30 pm and 5:00 pm – 9:00 pm
10. Bhutanatha Temple, Badami
Badami is a fabulous location of South India that has some incredible architectural sites. The Bhutanatha Temple complex amidst the lake near the Badami Rocky Mountains make a stunning view. Dedicated to Lord Vishnu, this temple is a perfect blend of Northern and Southern type of architecture. 
Timings — 6:00 am –7:00 pm
These temples of South India are very well known for both their religious importance and the architectural beauty. But there are more such profound spiritual centres like Murudeshwara Temple at Murudeshwar, Shri Krishna Temple of Guruvayoor, and Aihole Durga Temple at Aihole, and Shri Krishna Temple at Udupi. Ensure you are visiting all of these during your visit to the South to make your journey complete and satisfactory.