Best Road Trips to Varkala, Kerala Places to Visit
Varkala is an enthralling tourist destination in Kerala (God's own country). Every year, a chunk of tourists used to visit this place to spend their holidays amidst a tranquil and scenic natural ambience. This is the sole place in Kerala where you can find stony cliffs adjacent to the sea. You can't leave Varkala without experiencing its diverse culture and historical marvels.
Road trips to Varkala
There are multifarious ways to reach Varkala via road.
From Bangalore
The distance between Bangalore and Varkala is nearly 700 km via NH44. If you hire a self-drive car rental from Revv for Varkala from Bangalore, it may take 13 hrs. to reach your destination.
From Kochi
The distance between Kochi to Varkala is 169 km via NH66. If you can hire a self-drive and sanitized car from Revv, you can reach Varkala within 4 hrs from Kochi.
From Trivandrum
The distance between Trivandrum to Varkala is only 46 km via NH66. If you take a self-rental car from Trivandrum, you can reach Varkala within 1 hr 15 mins.
Best time to Visit Varkala
The winter season is the best time to visit Varkala. The temperature is very pleasant in the winter season and that's why it is the ideal time to explore nearby places around Varkala. October, November, December, January, and March are the best months to visit Varkala.
Things to see in Varkala
Whether you are travelling with your loved ones or you want some me-time or want to explore your spiritual side, you will be blessed with everything that you are looking for in Varkala. Let's take a look at some of the popular Varkala tourist places.
1. Varkala beach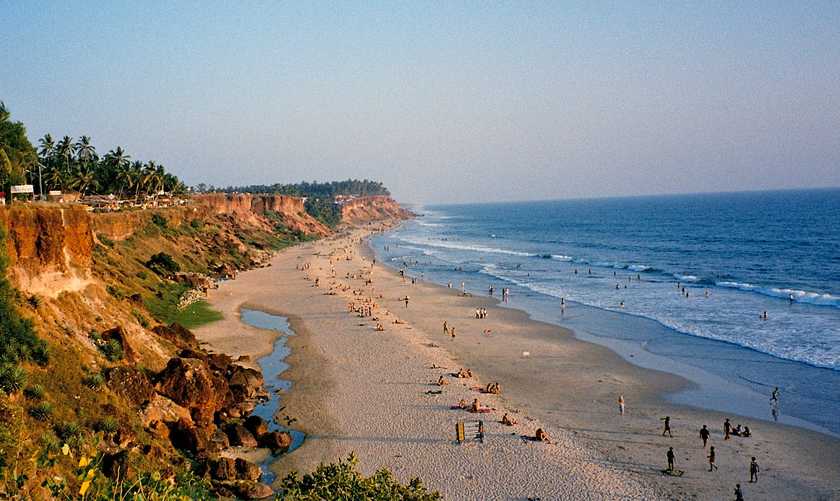 This is one of the most intriguing places to visit near Varkala. This beach is only 10 km away from the quaint hamlet and offers astounding views of the turquoise waters of the sea. Many people believe that taking a dip in the holy waters of the beach will overcome them to get rid of all ailments and the soul of its sins. Every year, a plethora of tourists used to visit Varkala to purge themselves of their misconduct.
Varkala beach activities
Varkala beach is famous for various adventurous activities.
Windsurfing: This beach is ideal for those who are ardent lovers of windsurfing. You can enjoy wonderful windsurfing at this place with 2 to 5 feet long tides.
Parasailing: due to the incessant flow of wind, parasailing is one of the most-loved activities at Varkala beach. To enjoy a perfect parasailing experience, many tourists come to this place.
Sunbathing: This is another sought-after activity at Varkala beach. This beach embraces tourists with a unique experience of sunbathing with its stunning landscape and promising weather.
 Sunset: Say goodbye to the departed sun with the perfect blended colors while sitting on the beach.  This beautiful experience you never want to forget in your entire life.
2. Varkala Cliff
Varkala Cliff is just beside the Varkala beach and offers a serene environment where you can indulge in natural beauty and enjoy some quality time. The long and zigzagging stretch of cliffs is adorned with tall and lovely coconut trees on both sides. To make your road trip more memorable, you can enjoy some local snacks on the cliff and even purchase a bunch of trinkets and knick-knacks from local handcraft shops. You can reach the pristine Varkala beach by climbing down to the top of the cliff.
3. Ponnumthuruthu Island
If you are planning to enjoy Varkala sightseeing, then don't miss this island. This is an uninhabited island that is located 20 km away from Varkala. Spread over 5 hectares, this island offers eye-soothing panoramas. The immaculate azure waters of Akathumuri Lake surround the island and make this entire island an extremely tranquil and peaceful feeling. This place is crammed with exotic migratory birds, rare water birds and other wildlife. It is an ideal place for bird watchers and nature aficionados.
4. Varkala Aquarium
If you are travelling with your kids, then this is one of the popular Varkala attractions. Here, you can see large water tanks that are thronged with exotic species of aquatic life. The zigzag walk along the premises of the aquarium embraces you with astonishing views of various fish, like scorpionfish, angelfish, koi, the local karimeen, and many more. This is a favorite place for animal lovers and inquisitive souls.
5. Kappil Beach
This gorgeous beach is an ideal place where you can spend a day wholeheartedly. Enjoy the glittering waters of the Arabian Sea and dip your toes in the immaculate waters of the sea. You may go for a pleasant walk with your partner on the golden sand or just lay down on the beach with a glass of cocktail and enjoy how the day passes.
6. Anjero Fort and Lighthouse
 Anjero Fort and LightHouse are the two nearby places that you must visit in Varkala. The fort was the first British establishment in India and thus, it is popular among tourists. The architectural design of the fort is stunning and the beautiful picturesque of the fort makes this place an ideal picnic spot. It was believed that the lighthouse was used to guide British ships to shore and from the vantage point. This lighthouse offers breathtaking views of the sea.
7. Kilimanoor Palace
This palace is famous for astonishing paintings and artwork created by one of the eminent artists in Kerala, named Raja Ravi Varma. The area of the palace is 15 hectares, and it also has a studio where Raja Ravi Varma spent time creating his magnificent art pieces. This palace is a must-visited place for art aficionados as well as cultural connoisseurs.
These are Varkala near tourist places that you must visit on your road trip.
Things to do in Varkala
Water spots: This is one of the popular activities to do in Varkala. Jet skiing, banana boat rides and parasailing are some of the most exhilarating things to do in Varkala to make your trip memorable.
Varkala Culture center: Varkala is a place that offers modern and conventional culture distinctively. Enjoy Kathakali dance performance and various styles of Kalaripayattu at the Varkala Culture Center.
Yoga: Yoga and dabbling are the most popular activities in Varkala that you can't shun. Many ashrams at Varkala offer tourists to attend various yoga sessions.
Enjoy scrumptious local cuisine: Many cafes at Varkala offer you some mouth-watering South Indian and Kerala cuisine including seafood, filter coffee and romantic dates. Don't miss these dishes on your trip.
Shopping: The winding streets of Varkala are the perfect places for shopping lovers. From perfumes to clothing, bamboo products, funky jewellery, and soaps, you find much attractive stuff here. Tibetan handmade products like the flutes, Dorjee, and conches are the most popular shopping items at Varkala.
Now, you have an adequate idea about Varkala and its nearby tourist places that you must visit on your road trips to Varkala. Hire a self-drive rental car from Revv and explore this small land of paradise in Kerala.