Self-Drive Road Trips from Bangalore to Bandipur Forest
If you love rare wildlife and lush green forests, then you are in for an astounding surprise at the Bandipur forest in Karnataka, south India. An extensive area covering about 874 km of large expanse, it boasts of having the largest number of wild elephants in south Asia. Also, many endangered species on the brink of extinction have found solace in this park. It's one of the most preserved places in Asia, because one of the rare and essential tiger reserves lies around the Bandipur forest near the Mysore-Ooty highway, and can be best explored through roadways. A trips to Bandipur guarantees fun, adventure, excitement and rare animal spotting, along with a number of resorts and tourist attractions that host tourists from all over the world. Though there are lots of local rental cars and vans ready to take you to the trips, a self driven car trips is something you may love to experience if you love road-trips, especially if you are driving from Bangalore.
Quick Information About Bandipur Forest:
Distance from Bangalore to Bandipur – 224 kms approx.
Estimated Duration of the drive – 4hrs 30mins approx.
Ideal Season – October to March
Safari Hours – 6:00am to 9:30am and 2:30pm to 6:30pm
Special Instructions to Remember:
Always be on time for the safari or else you can miss the slot.
Since you are on a road trip, inquire about the road conditions well in advance.
Always be sure to go for the safari with a guide, an expert.
Never try to go against the instructions of your guide. 
Distance From Bangalore to Bandipur Forest:

You can explore this forest and its attraction more if you drive from Bangalore to Bandipur forest by a car or a jeep. The total distance from Bangalore to Bandipur forest is about 224kms, and may take you approximately four and half hours to reach your destination, if you are driving as per the instructions of Google maps.
Things to do in Bandipur Forest:
Believe us when we say that a road trips to Bandipur forest can be a fulfilling holiday experience, as you get to do lots of things here, some of the best tourist activities that can be carried out here are mentioned below:
1. Jeep safari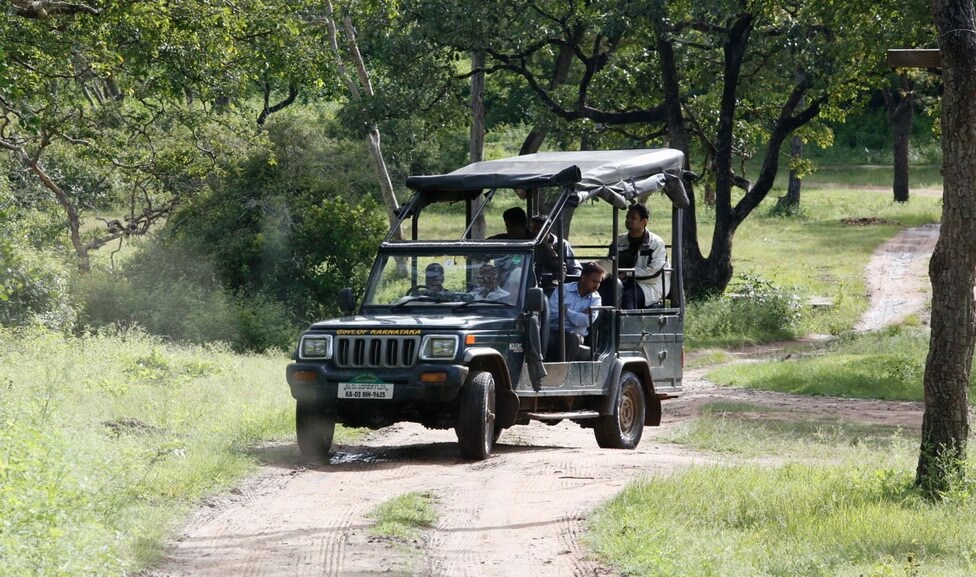 You couldn't enjoy your trips to Bandipur if you aren't taking the jeep safari to explore the forests. The officials of the forest or the park organise daily jeep safari in Bandipur under the guidance of an expert and trained guide from their team. Apart from this, they also allow third party safari jeeps with special permission, but only during the stipulated Bandipur forest safari timings (that is from 6 to 9:30 in the morning and 2:30 in the afternoon to 6:30 in the evening). The total duration of the completion of the safari is about 90 minutes, and you can get really lucky and spot some rare wildlife and capture them through your camera lenses. You can enjoy this safari thoroughly by spending around 3500 INR for one trips that includes not more than 6 people in the vehicle.
2. Enjoy Kabini Riversides
One of the most breathtaking attractions at Bandipur can be a boat ride. Flanked by the Kabini river in the north and the Moyar/Mayar river in the south, the forest can offer visitors an alluring view of the sunrise and sunset, along with lots of lush greenery. Also, you can actually enjoy watching the wild elephants and deers quench their thirst in groups around the rivers.
3. Go For an Adventure Camp
If you are going to such a mesmerising place for a road trips, you can add tons of excitement by opting for an adventure trips. You can sign up for the Bandipur adventure camp, offering trekking, hiking and river rafting options for you. The added bonus? A spectacular view of nature and the serenity of the mountains.
4. Mayar or Moyar Canyon 
Mayar or Moyar canyon is a totally magnificent place to visit near the Bandipur forests. The guzzling river falls across the canyon offering a ravishing view of nature that is a must check when in this area.
5. Hill Stations Around The Bandipur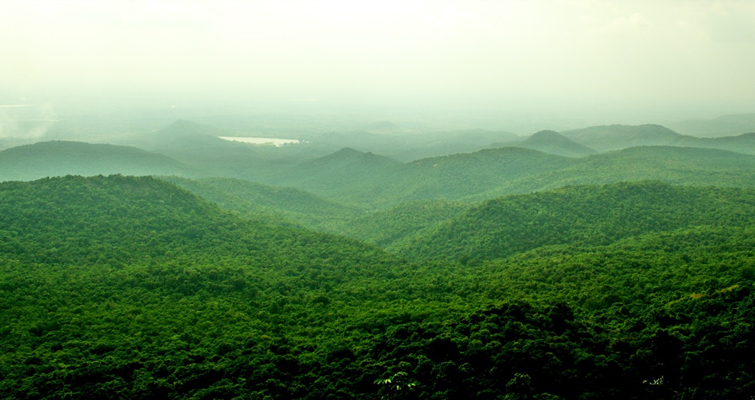 With Bandipur, comes the opportunity to discover the enchanting valleys and greens of Ooty. Just a 100km away from Bandipur forest, Ooty has so much to offer — from gushing waterfalls to rare flora and beautiful tea gardens. You can extend your trips to include Ooty. When you plan your trips, make sure to check about more such place ideas to visit near Bandipur forest.
6. Visit The Pykara Falls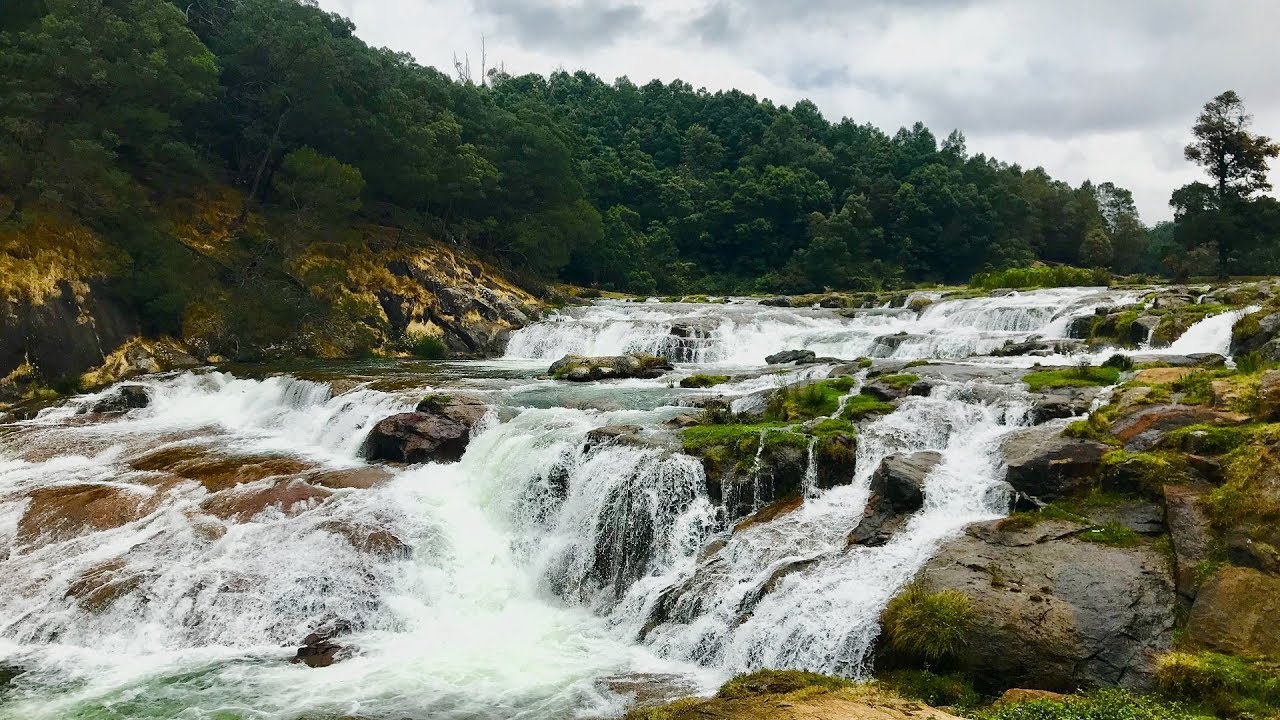 About 82km from Bandipur forest, the Pykara falls has a history of being considered as a sacred place. Standing here since eternity is also the Pykara temple which is again a place worth a visit. You can go visiting the ancient and famous Todas settlement here, or just enjoy boating and spend some carefree hours – an extended road trips to the Pykara falls can be called anything but boring.
7. Stay-in Resorts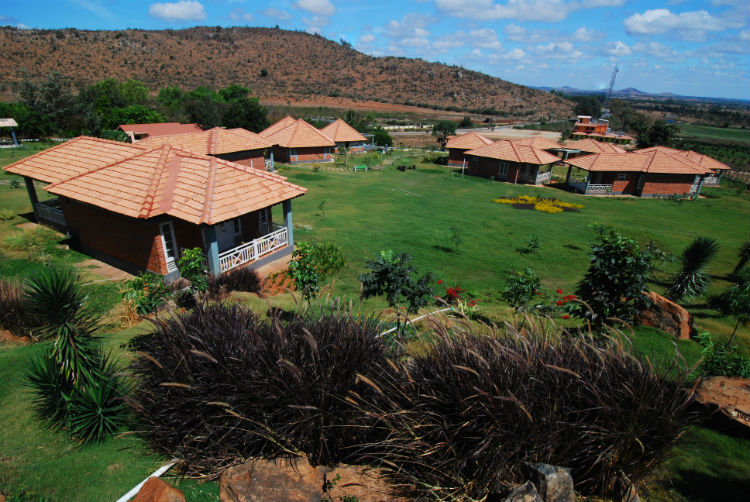 If you think Bandipur is just a primitive forest with no modern-day luxury and comfort, think again! There are a lot of resorts ready to accommodate you while you are in the forest. They provide exclusive safari, bird watching experience, and informative guided tours across the forest and so much more, apart from luxurious stay and sumptuous meals. But while you are enjoying your modern pools and comfort out here, nature and raw, unadulterated beauty isn't compromised in any way – the resorts take care of that. You can hear the cricket during the night, early morning chirping of the birds and even the call of the wild life that's to be seen in the park.
Best Time to Visit in Bandipur Forest:
The best time to visit the Bandipur is between October to March. It's that time of the year when the flora is blooming, the temperature and weather stays pleasant for you to travel through the road, and even the animals find it comfortable to roam freely.
Bandipur is an enchanting blessing of nature. Annually, there are thousands of tourists visiting the place to feel one with nature. It is best to rent a car which is suited for the roads and terrain like the ones available at Revv Car rental in Bangalore. A road trips to this destination is worthy if you love viewing rare and exceptional wild life, experience spectacular flora and fauna, or just need a break from the concrete jungle to relax in the lap of nature. Just be sure to check in advance about the weather (rains may disturb your safari) and set off for your journey with your camera, extra pair of trekking shoes and create lots of happy memories!