Road Trip From Jaipur to Jaisalmer
Jaisalmer is the golden city in the heart of the Great Indian Thar Desert. The home to royal palaces and temples made of yellow sandstone, Jaisalmer is also called the Golden City for this reason. One of the most popular places in Rajasthan, this desert beauty attracts tourists from all over to get the real feel of living in a desert amidst historical relics. Tourists often take road trips from Jaipur to Jaisalmer to explore this beauty.
16 Best Places to Visit in Jaisalmer
1. Jaisalmer Fort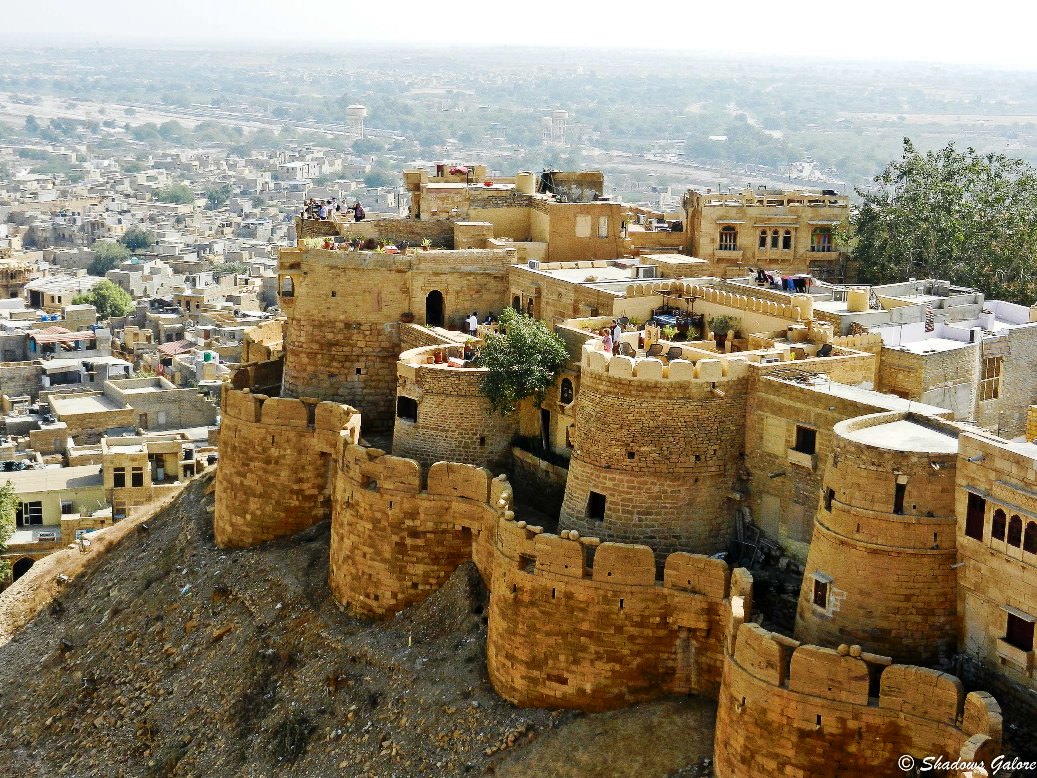 Jaisalmer immortalized in Ray's memory in his film Sonar Kella is one of the oldest living forts in Rajasthan. From restaurants, houses, shops this is a thriving city inside the fort that was built by the Rajput king Rawal Jaisal. Attacked by Afghans, Mughals, the Jaisalmer Fort managed to live to its glory even after the British left India. Explore this famous fort on your Jaipur to Jaisalmer road trip.
2. Jaisalmer City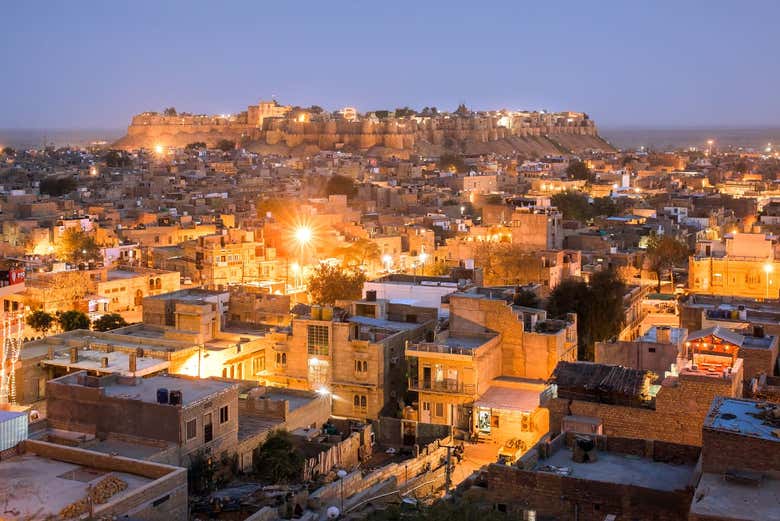 Take a tour of this desert city built by the Rajputs that exudes intricate Rajputana craftsmanship in its creations. Walk along the lanes dotted with classic royal Havelis, offer your prayers at the historic temples, and take pictures of the majestic forts with sand dunes at the backdrop.
3. Gadisar Lake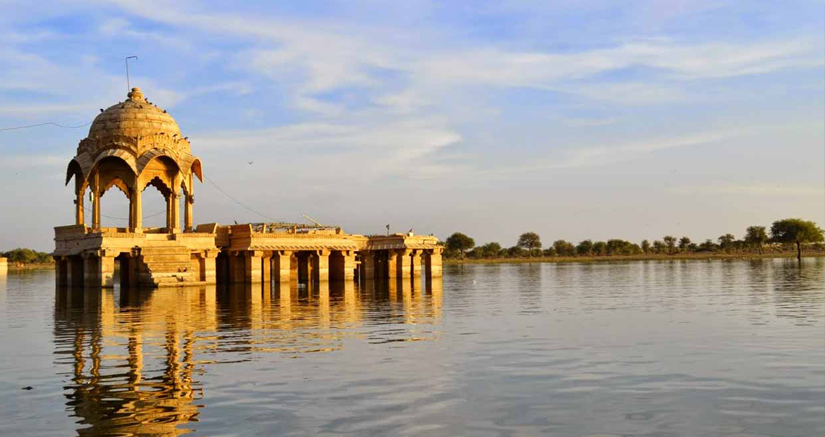 Gadisar Lake is an artificial reservoir made for water conservation purposes by Maharawal Gadsi Singh. This was built in the year 1367. Take a boat trip on this beautiful lake and listen to the stories of this ancient desert city as the sun sets on Jaisalmer.
4. Jaisalmer Shopping
Jaisalmer fort has so many options for shoppers. The intricate Rajasthani handwork on handlooms and home lines, the jewelry, accessories bags keep attracting shoppers to the Sadar Bazaar in Jaisalmer. You can also check out Bhatia Bazaar and Pansaari Bazaar here. So, if you are looking for things to do in Jaisalmer then make a trip to these bazaars for some exotic souvenirs from your desert trip.
5. Kanoi – Parasailing
On a Jaipur to Jaisalmer by road if you are looking for something beyond camel safaris and royal memorabilia then try out the parasailing in Jaisalmer. Fly above the golden sands and forts of this royal city and get a bird's eye view of this beauty. One of the most offbeat adventures in the desert city, this is quite favorite among the adventure tourists.
6. Paramotoring
For adventure tourists who have checked out all Jaisalmer tourist places, and are looking for some thrill and fun, paramotoring is one of the activities you can try as well. This is motorized parasailing where you can control the flight and this very safe.
7. Sam Sand Dunes
Quad Biking is also one of the thrilling things to do in Jaisalmer. Hop on to a quad bike in an enclosed area in the sand dunes and keep grooving to the ups and downs of the dunes. Leave behind a trail of dusty sand as you zoom through the desert.
Must Read: Romantic Road Trips from Mumbai 
8. Thar Desert
Rent a SUV and you can go for dune bashing in the deserts of Thar. This is an adventure sport that is done under professional guidance and adds to the adrenaline rush.  
9. Winds Desert Camp
The deserts at night look completely ethereal. Miles of sand dunes and the pitch-black sky studded with constellations make it an out of the world experience for desert campers. Plan a night of desert camping and eat the lip-smacking kebabs and parathas, or dal-batti in the sand dunes of Thar with the melody of Rajasthani music that fills in the air.
10. Tanot Mata Temple
Located at the India Pakistan border this is one of the sacred temples of Rajasthan. You will need a permit from the army to visit this area as it is close to the borders. If you are planning a trip from Jaipur to Jaisalmer via Jodhpur, you can make a trip to the Tanot Mata temple located 122 kilometers from the city of Jaisalmer.
11. Desert National Park
Desert National Park with its sprawling acres of desert vegetation and rugged terrains and saltwater lakes is home to Indian Fox, Desert Cat, Chinkaras and so on. Bird watchers can also see the Great Indian Bustard here.
12. Desert Culture Centre & Museum
Rajasthan's folklore and myths are weaved in its colorful puppet shows and if you are in Jaisalmer you must try and visit the puppet show. On your trip to Jaisalmer watch one of the puppet shows that through folklore and fairytale cover our socio economic issues and our current life scenarios as well.
13. Famous food in Jaisalmer
Just as the terrain gets rugged the food prepared here also has a distinct flavor that mainly is made from easily obtained vegetables that grow here and the spices to work during the harsh winters. Try out the exotic Ghotua Laddoos, Kachoris and Dal Batti here in Jaisalmer.
14. Desert Jeep Safari
Take a sneak peek into the rustic desert life of Jaisalmer as you cover miles of Thar desert in a jeep and experience the adverse dry climate in this part of the world. Check out the desert vegetation or the antelopes that are a part of the local village habitat here.
15. Camel Safari
For tourists planning a trip to Jaisalmer, the camel safari must be one of the topmost attractions. Known as the ship of deserts the tall camels with their slender feet take you miles into the sands of Thar where you can get lost in the beauty of wilderness and sand dunes.
For traveling to Jaisalmer from Jaipur you can take a drive to Jodhpur and then via Pokhran you can reach Jaisalmer. Jaisalmer is around 559 km from Jaipur, and it takes almost 9 hours 19 minutes if you take a drive to Jaisalmer from Jaipur. Tourists love the time between October to March to visit Jaisalmer for its pleasant weather. Summers can be very hot as this is a desert region and be sure to avoid those months. You can go for car rental services from Jaipur  by Revv to get the freedom of movement without compromising on the joy of self drive. So get to the planning of taking this road trip and explore the rustic beauty of these desert towns.