15 Weekend Gateways from Ahmedabad
Ahmedabad is well known in the world as a commercial hub and a shopping destination. It is also a great place to explore the many tourist destinations that surround the city. Whether you are looking for a quiet place to relax in the lap of nature or visit a historical place with a link to the ancient tales, a short drive from Ahmedabad can take you there. The great thing about these trips is the fact that most of them boast of robust infrastructure and great roads so reaching them is not a difficult task.
Here are a 15 places to get you started:
1. Thol Lake Bird Sanctuary
One of the popular weekend getaways in Ahmedabad, Thol Lake Bird Sanctuary is a much sought after place for the peace lovers. You will find over 100 species of birds here, including cranes, pelicans, spoonbills, etc.
Distance from Ahmedabad: 25 km
2. Velavadar Blackbuck National Park
This is a perfect place for the animal lovers to spend a weekend at. Here you can see the rare sight of galloping blackbucks. You can opt for a safari to see the animals in their natural habitat.
Distance from Ahmedabad: 143 km
3. Gir National Park
Spread over 1412 square km of dense forest, Gir National Park is home to the regal lions and one of the most exciting weekend getaways from Ahmedabad. By opting for a jeep safari here, you will be able to spot Asiatic lions, Indian leopards, striped hyena, and mugger crocodiles. You can also spot more than 250 varieties of birds here.
Distance from Ahmedabad: 325.3 km
4. Nal Sarovar Bird Sanctuary
It is the largest wetland bird sanctuary in the state and home of various species of birds, where you may take a short trip from Ahmedabad. This is a perfect place for the shutterbugs and nature lovers.
Distance From Ahmedabad: 66 km
5. Lothal
It is one of the perfect weekend getaways near Ahmedabad, especially for the history buffs. Lothal is a famous archeological site as the ancient Indus Valley Civilization flourished here. The remnants of the Harappan culture can still be witnessed in this town.
Distance From Ahmedabad: 78 km
6. Modhera
Visit this place to see the exquisite Sun temple, which is believed to be more than thousand years old. Another attraction at this place is the iconic step-wells. You can also visit Modhera during Modhera Dance Festival, held annually.
Distance From Ahmedabad: 98 km
7. Patan
Patan was the historical capital of the state for 650 years. There are many monuments and structures in the town that you can see here, but the Rani ki Vav or the Queen's Stepwell is one of the major attractions.
Distance From Ahmedabad: 125 km
8. Mount Abu
Mount Abu is one of the places to visit near Ahmedabad for 2 days. It is the only hill station in the vicinity of the state border, and also an important place of pilgrimage for the Jains in the country. The neatly carved Jain temples are centuries-old, especially the temples of Dilwara. You can also visit the forests, rivers, lakes and waterfalls here.
Distance From Ahmedabad: 235 km
9. Junagadh
Junagadh is one of the best weekend gateways from Ahmedabad for the history aficionados. You can see Ashokan Rock Edict, Buddhist Caves, Mahabat Maqbara here. The town is situated on the foothills of the famous Girnar hills, which are considered to be even older than the Himalayas.
Distance From Ahmedabad: 315 km
10. Rajsamand
The town was named after the artificial Rajsamand Lake, built in the 17th century by the Maharaja of Mewar. The sunrise and sunset at Rajsamand is worth witnessing. If you are a shutterbug, you must visit this place for some awesome photographs.
Distance From Ahmedabad: 321 km
11. Bhuj
We all have read about Bhuj in our history books. The place is known for many significant historic events. Some of the major attractions here are Aina Mahal, Prag Mahala, Hamirsar Lake. You must take a tour of the markets of Bhuj to buy the colourful Kutchi handicrafts.
Distance From Ahmedabad: 333 km
12. Dholavira
Dholavira is the site where the ancient Indus Valley civilization flourished. It is one of the places to visit near Ahmedabad, where the structures and layout of the town will take you to the bygone era of Harappan civilization.
Distance From Ahmedabad: 360 km
13. Mandu
Also known as Mandavgad, it is an ancient fort city in Madhya Pradesh and weekend getaways around Ahmedabad. Some of the major tourist attractions in this city are Rani Roopmati Palace and Pavilion, Jami Masjid, Baz Bahadur Palace and Rewa Kund, etc.
Distance From Ahmedabad: 371 km
14. Silvassa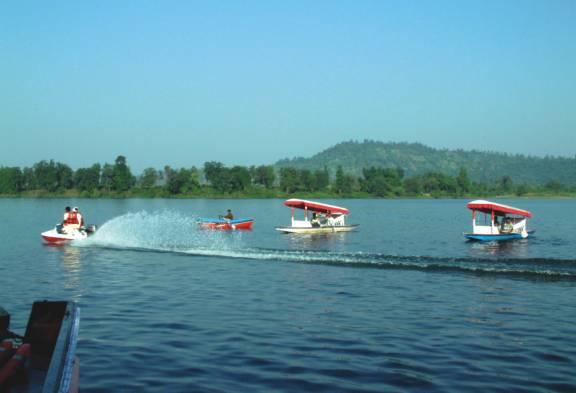 This is one place where you can go for a picnic, trekking, exploring beaches or visiting wildlife sanctuaries. You can also enjoy boating or several water sports here. There are many resorts in this city where you can spend your vacation relaxing around.
Distance from Ahmedabad: 375 km
15. Rann of Kutch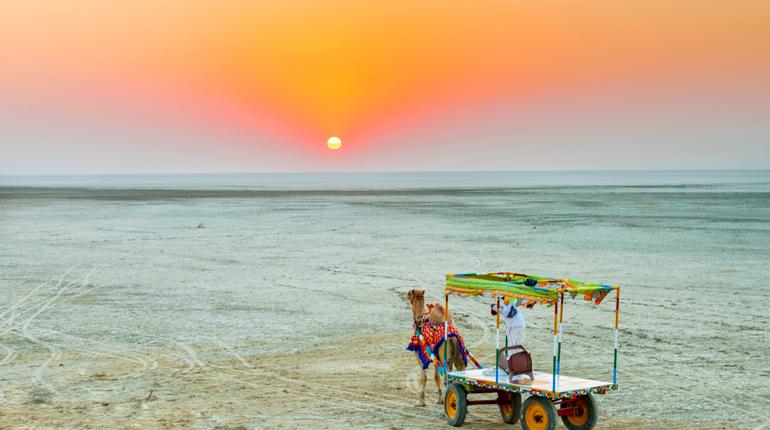 Surround yourself with the beauty of white sands here. Try visiting this destination during the Rann Utsav. You must also explore the handicraft shops and tickle you taste buds with the delectable Kutchi cuisines.
Distance from Ahmedabad: 390 Km
As evident from the examples above, you have a host of places to explore by driving from Ahmedabad.  Now the smart way of doing it is by using the friendly car rental in Ahmedabad by Revv. By using this service you can get rid of the extra risk of using your own car on unknown roads as well as have fun driving a new car that you don't have to buy and maintain. Ahmedabad and the many nearby attractions will be waiting for you.
Must Read: Unexplored Places to visit in Ahmedabad