15 Best Must-Visit Weekend Road Trips from Hyderabad
The mere mention of Hyderabad brings up the thoughts of Nizam, Charminar, Osman Sagar Lake and of course Hyderabadi Biryani. There are so many places of tourist attraction and things to do in Hyderabad that you will not be bored for even a single weekend. In case you want to visit some places around the city, you have number of options. Let us check out the choices we have for the places that can be visited from Hyderabad over the weekend.
15 Best Places to Visit near Hyderabad:
Famous Temples and Shrines near Hyderabad:
1. Srisailam, Hyderabad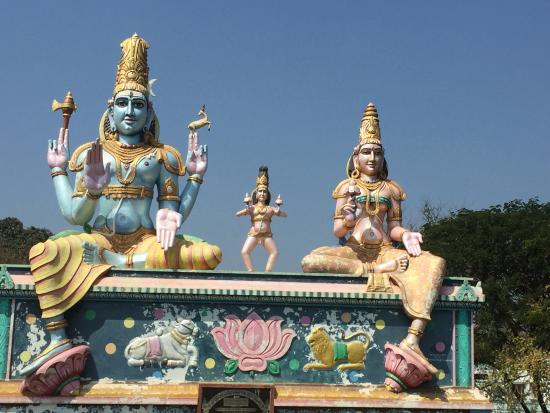 Srisailam is usually associated with temples, but you can take boat tour till the caves, go for wildlife spotting at Srisailam-Nagarjuna Sagar Tiger Reserve, and do much more. There are many activities for you to explore at Srisailam; thus it is famous for One Day Trip from Hyderabad.
Distance from Hyderabad: 215 km
2. Sri Rama Chandra Temple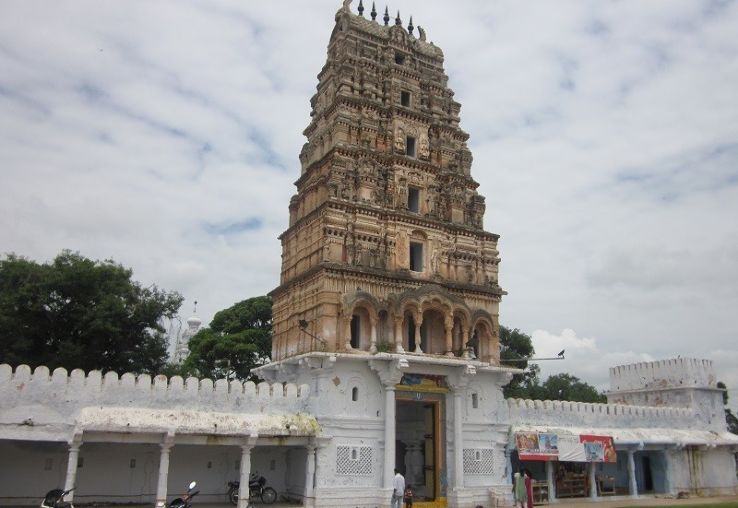 Sri Rama Chandra Temple is located in Ammapalli. It is a very ancient temple where various film shootings were also done. It is said that the temple was built in the 13th century, while the idol is more than 1000 years old.
Distance from Hyderabad: 30 km
3. Wargal Saraswati Temple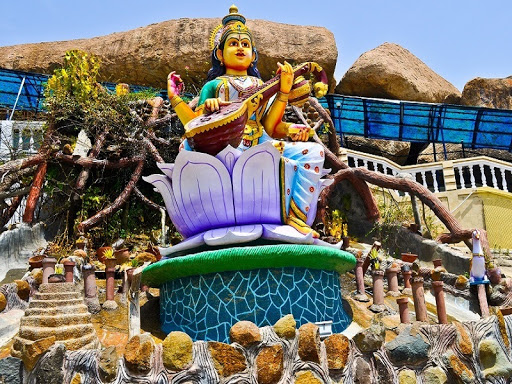 Wargal Saraswati Temple is one of the most visited temples near Hyderabad. Vasant Panchami and Sharad Navratri festivals are celebrated here every year. Devotees are provided free meals in the temple premises. It is also one of the top places to visit near Hyderabad within 100 km.
Distance from Hyderabad: 68 km
4. Yadagirigutta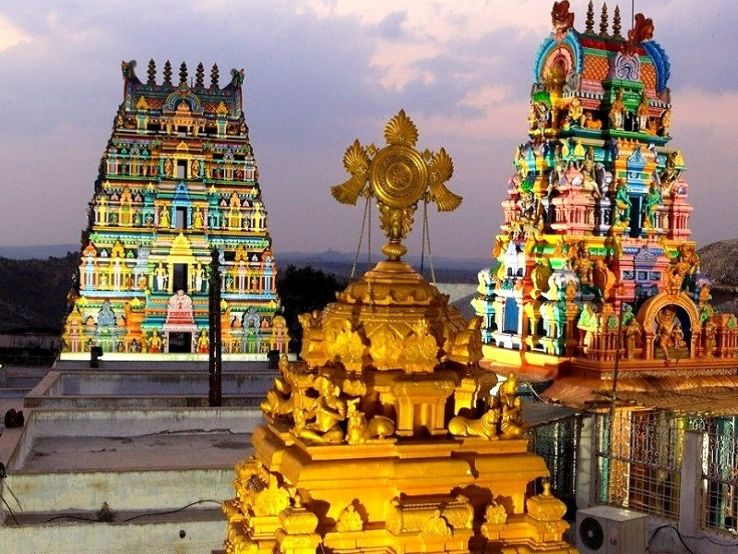 This temple is famous for being the abode of Narasimha Swamy, who according to the Hindu mythology is an incarnation of Lord Vishnu. This is a cave temple and located at an altitude of 300 feet on top of a hillock.
Distance from Hyderabad: 66 km
5. Basara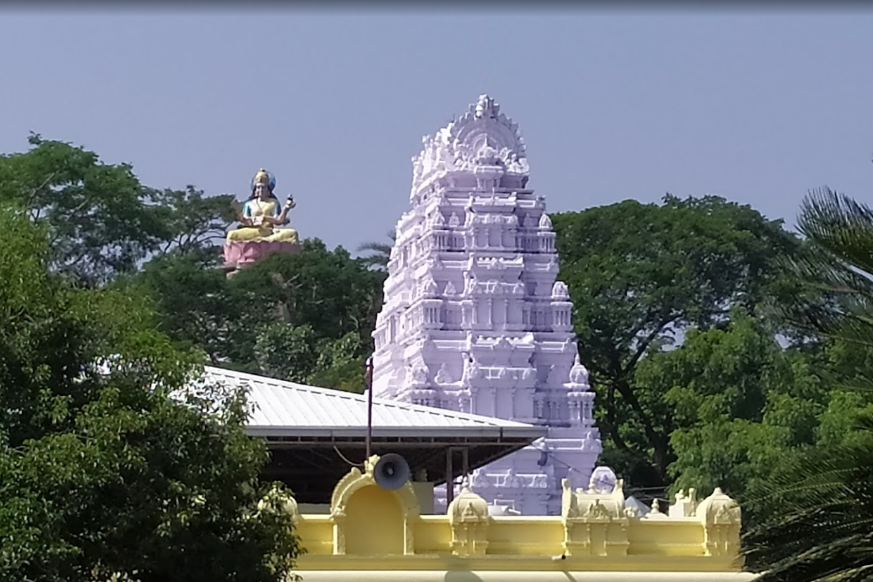 Situated at the bank of River Godavari, this popular Saraswati temple is frequented by tourists and devotees all round the year. It is one of the oldest temples of Goddess Saraswati in the country.
Distance from Hyderabad: 212 km
6. Chilkur Balaji Temple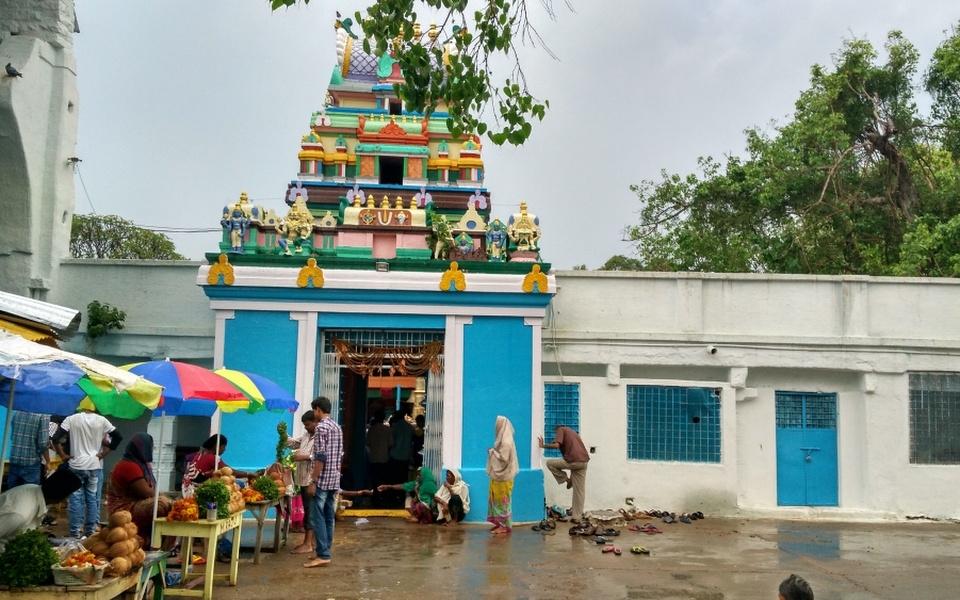 Located on the banks of Osman Sagar lake, Chilkur Balaji Temple is one of the oldest temples in the city of Nizam that is often frequented by devotees and tourists. You can put it on your list if you haven't visited the temple yet.
Best Heritage Sites near Hyderabad:
7. Nalgonda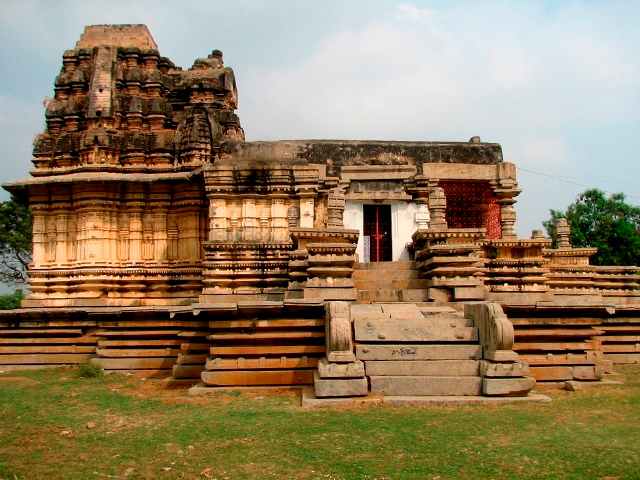 Mainly famed for the ancient ruins, Nalgonda is one of the nearest places to Hyderabad where you can go over the weekends and spend some quality time. While you are here, you must visit the famous forts such as Bhongir Fort, the Rachakonda and Devarakonda forts.
Distance from Hyderabad: 83 km
8. Warangal

Warangal is one of the most popular heritage sites near Hyderabad. Even if you are on a tour to Hyderabad, you must try visiting Warangal. The city was once under the rule of Kakatiya dynasty, in between 12th and 14th centuries. The entire town was carved out of a single rock.
Distance from Hyderabad: 149 km
9. Hampi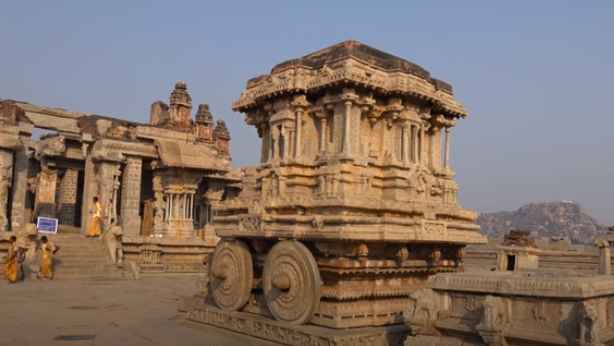 A famous UNESCO World Heritage Site, Hampi is regularly visited by tourists throughout the year. Ruins of the historical city of Vijayanagara can still be spotted in Hampi.
Distance from Hyderabad: 377 km
10. Badami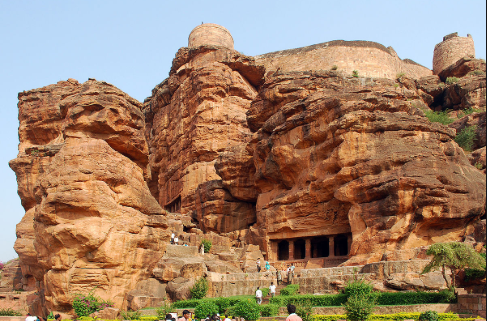 Badami is one of the famous tourist destinations, known for its cave temples, fortresses, fine carvings, and magnificent architecture. Apart from the heritage sites, the scenic beauty in Badami is worth appreciating.
Distance from Hyderabad: 419 km
11. Mahabubnagar
Mahabubnagar apparently witnessed many wars between the 14th and 16th centuries. Rulers of Chalukya dynasty, Bahmani sultanate, Vijayanagara empire, and Golconda nawabs have ruled this land from one time to another.
Distance from Hyderabad: 105 km
Best Sites of Scenic Beauty and Adventure near Hyderabad
12. Horsley Hills

Situated at a height of 4,312 feet above the sea level, Horsley hills is the apt place for all adventure lovers. Activities like rappelling, zorbing, and trekking give visitors an opportunity to explore their limits. You can also visit the Horsley Hills Zoo, Whisper Winds View Point, and Kaigal Falls for a picturesque setting.
Distance from Hyderabad: 540 km
13. Dandeli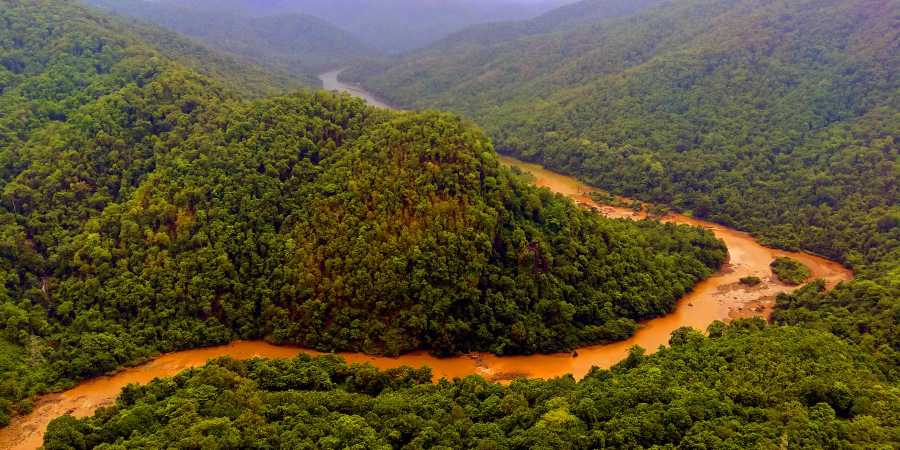 After the long drive from Hyderabad, the various activities in Dandeli will surely give an adrenaline rush. Rafting is one of the most sought after activities here by the tourists. You can also opt for a moonlight boat ride, adventure jungle stay, and rock climbing.
Distance from Hyderabad: 575 km
14. Pench National Park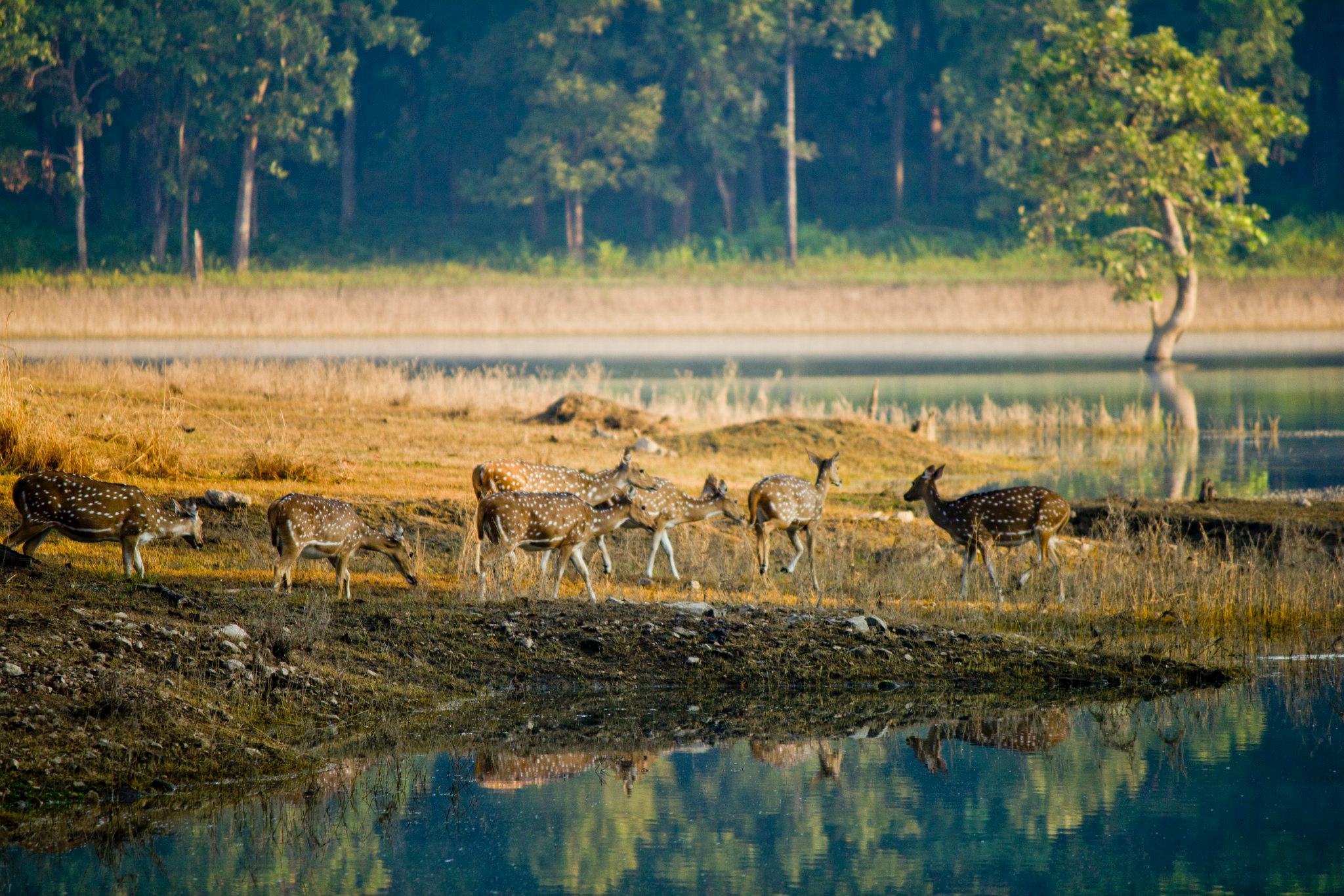 This is just the right place for the wildlife lovers.  Rich in flora and fauna, this national park also has areas where you can enjoy a nature walk. The drive from Hyderabad to Pench National Park is renowned as one of the smoothest and you will certainly like the time spent during the trip.
Distance from Hyderabad: 660 km
15. Ananthagiri Hills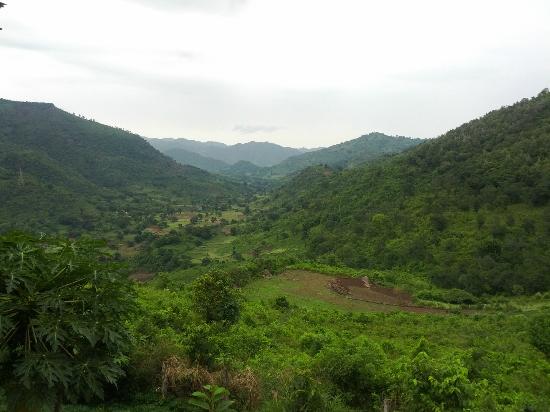 Ananthagiri Hills are just the right place for everyone who is seeking some time away from the hustling city. From verdant coffee plantation to scenic landscape, there is so much to see in this beautiful place. If you are a nature lover, this place is for you.
Distance from Hyderabad: 80 km
If you are in no hurry, you can take some time out and stay at some of the best resorts and outing places near Hyderabad and relax. To unwind, you can visit places like Sanghi Temple, Hussain Sagar, Golconda Fort, Ramoji Film City, Keesara Gutta, etc. Whether, you are taking your weekend trip in or around the city of Hyderabad, you are certainly in for a great time filled with pleasant memories especially you have booked yourself the self drive car rental in Hyderabad from Revv.