Delhi to Amritsar Road Trip – A Must Visit Trip For Every Travel Enthusiast
Northern India is in itself a spectacular destination to explore for people with wanderlust! But the very name Amritsar rings a bell of reverence in our minds – not only for religious references, but also for historic significance. The city situated to the North side of Punjab is an important place for all the Sikhs across the world. It's also tagged as the city of the Golden Temple because it hosts this world-famous shrine that sees thousands of visitors of all religions, castes or creeds. A Delhi to Amritsar road trip not only takes you through a panoramic view of picturesque Punjab and Haryana in between, but also provides a better view of the city itself that otherwise could be missed by flying to the destination or taking a train for the same. This city has a charming infrastructure, can be called as one of the cleanest places in India, and also holds a prominent place in the history of Indian independence.
How to reach there
The distance from Delhi to Amritsar is around 470 Km. A Delhi to Amritsar car trip keeps you on the road for around 8-9 hours. You can take your own car or hire a self-driving car from Revv to reach there.
Distance Between Delhi to Amritsar
| | |
| --- | --- |
| Distance between Delhi to Amritsar by Road | 470 Kms |
| Travel Time from Delhi to Amritsar by Road | 7:30 hrs |
| Nearest Airport in Delhi | Indira Gandhi International Airport |
| Nearest Airport in Amritsar | Sri Guru Ram Dass Jee International Airport |
| Nearest Railway Station | New Delhi (NDLS) |
| Nearest Railway Station | Amritsar Jn (ASR) |
Best time to visit Amritsar
Peak Time: Generally the best time to visit the Amritsar is from October to March. Although in winters too the temperature reaches around 4-degree celsius.
Optimal:  July to September are the optimal months to Amritsar. 
Avoid: The hottest months of Amritsar are April and May, so it's best to avoid road trip during these months.
Best 3 Routes to Travel from Delhi to Amritsar by Road
The Ludhiana Route

The Rohtak-Patiala Route

The Meerut Route
Here are the best 3 routes you can take to reach Amritsar from Delhi by Road as mentioned below:-
Route 1: The Ludhiana Route
Ludhiana Route Map
Delhi → Panipat → Karnal → Kurukshetra → Ambala → Ludhiana → Jalandhar → Amritsar
Route 2: The Rohtak-Patiala Route
Rohtak-Patiala Route Map
Delhi → Bahadurgarh → Rohtak → Uchana → Patiala → Ludhiana → Jalandhar → Amritsar
Route 3: The Meerut Route
Meerut Route Map
Delhi → Meerut → Muzzafarnagar → Karnal → Kurukshetra → Ambala → Ludhiana → Jalandhar → Amritsar
Best Places to visit during Delhi to Amritsar Road Trip
There are some great places that you traverse on your way from Delhi to Amritsar. The major stopovers to take while travelling from Delhi to Amritsar by road are mentioned below:
1. Banni Khera Farm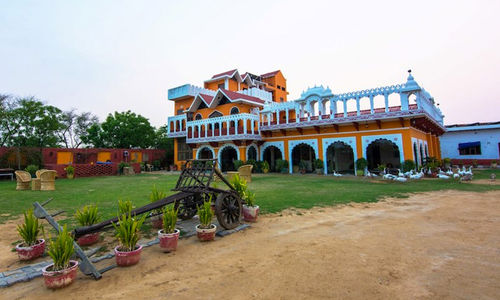 Just around two hours away from Delhi, you can visit the Banni Khera farm at Rohtak, which is a comfortable resort offering you both rural experiences surrounding the resort and luxury when you are in it. A comfortable one day and night stay here en-route Amritsar can help you rejuvenate before you hit the road again.
2. Tilyar Lake
A beautiful, peaceful and clean lake that can be visited while driving towards Amritsar from Delhi. A boat ride here is necessary to soothe your senses before you drive further.
3. Qila Mubarak
A beautiful Qila located at Patiala can be visited on your way to Amritsar too in case forts interest you – they surely share a slice of history.
4. Moti Bagh Palace
Take a trip to the Mughal era in the country as you visit the Moti bagh palace in Patiala. Make sure you don't miss a glimpse of sheesh mahal, for it is sure to mesmerise you.
5. Sarai Forts
When you are further traveling towards Amritsar from Delhi, you can visit the Sarai Lashkari Khan fort and the Mughlai Sarai fort which were constructed by the Mughals and are often used as attractive backdrops in famous movies too.
6. Famous Temples on The Way
When driving towards Amritsar, you also couldn't miss visiting the famous temples in the region like Augarnath Temple which was built during the revolution of 1857. Also, Shri Hanuman temple and Jayanti Devi temple which are known to be around 500 years old come on your way.
When in Amritsar, sightseeing is something you ought to do. There are numerous places to visit in Amritsar which can turn into beautiful memories.
7. The Golden Temple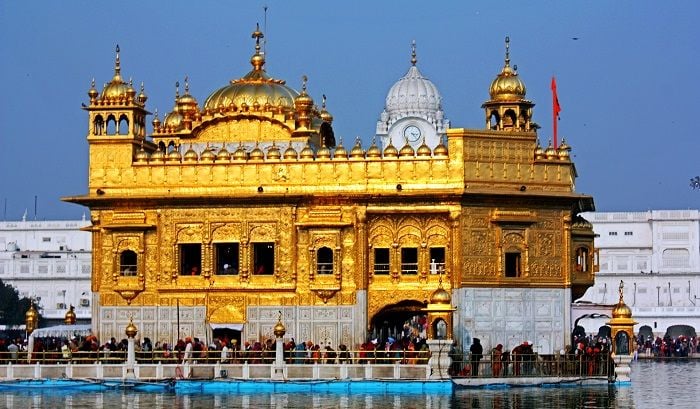 As the name defines, the temple is actually golden. But no, it isn't just painted in gold, but real gold has been used in building this iconic temple. You can also view a beautiful manmade lake that is about 5 metres deep surrounding the temple which makes it more astounding to look at. Even the interior of the Amritsar Golden Temple is equally spectacular. But not just this, the golden temple holds a special place in Sikhism, and that's why you'll find lakhs of devotees visiting the temple daily. There is also this tradition of Langar where meals are continuously served to all the people visiting the temple. The sight of watching such a large number of people being served is something that would surely move you. 
8. Partition Museum
Wondering what sort of name is it for a museum, are you? Well, it takes you back to the history of Indian Independence and the journey thereof, and the most important part of the phase — the partition of India and Pakistan. This museum has everything that's related to the great Indo-Pak partition — from newspaper articles to the posters and so much more. You can almost time travel and feel the emotions of people as a line was drawn between two lands.
9. Jallianwala Bagh
Another important event of India's independence is the Jallianwala Bagh massacre. The garden over here pays tribute to all the martyrs of the incident and naturally holds a place of utmost importance in the city's culture and history. There is also this martyrs' gallery and museum that hosts portraits of martyrs, artefacts used by them, newspaper cuttings and letters related to the aforesaid massacre. The Flame of liberty is a beautiful sculpture that would make you stoop your head as a mark of respect as you read the names of the martyrs.
10. Baba Atal Tower
The tower that is slightly shadowed by the Golden Temple has nine stories and is 40 metres high, which makes it the highest tower in Amritsar. It was built in the honour of Atal Rai, son of a Sikh guru who is believed to have brought back someone from the clutches of death.
Local Markets in Amritsar for Shopping
You just couldn't miss the famous shopping places in Amritsar like the Hall bazaar, Guru Bazaar, Katra Jaimal Singh bazaar, Lahori gate market, Shastri market, etc. These markets offer you some astounding handicrafts items, rare stone jewellery, colourful fabrics, etc. Also, these markets surrounding the famous temples in the city offer you some items which you could rarely find at any other destination. 
Local Restaurants in Amritsar for Foodies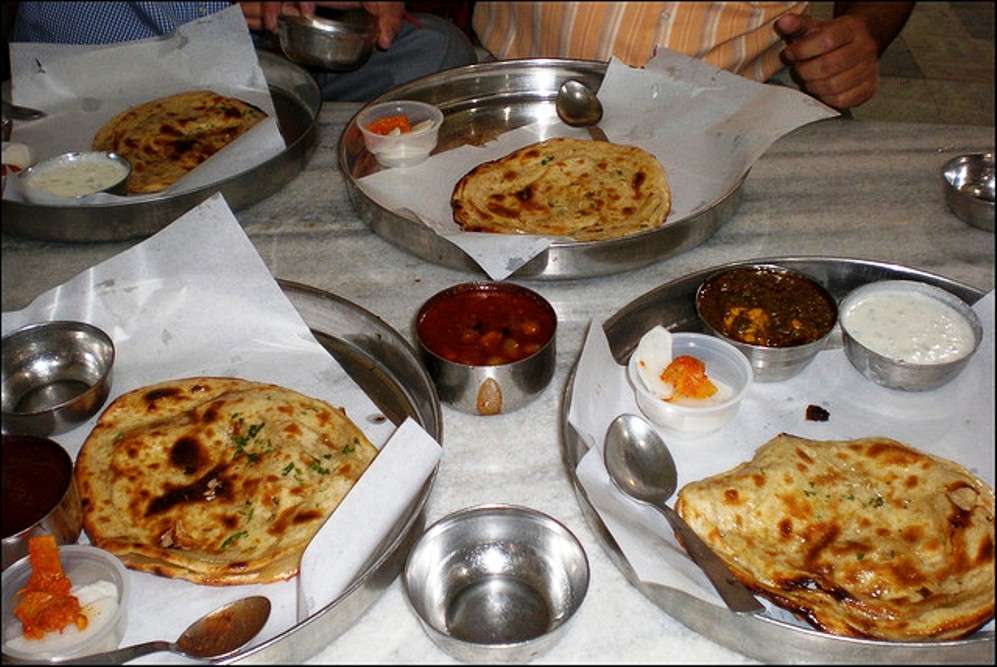 After so much of sightseeing, food is a must! And where else other than Amritsar can you get healthy and tasty Punjabi food? There are innumerable dhabas, small and big restaurants serving authentic cuisine of Amritsar — food in their traditional manner. Their famous dishes like Amritsari kulcha, their traditional jalebi, chhole- puri, lassi, makke di roti and sarso da saag, etc. should be tasted for the amalgamation of flavours.
Whether you are traveling alone or with family/friends you can get your choice of vehicle from the car rental from Delhi of Revv. Their flexible plans and pricing make them a popular choice. Amritsar as a city has a lot in store than what meets the eyes of a casual onlooker. From the Wagah border to the Golden temple, it speaks loads about our traditional culture and heritage and even national pride. Even if we leave aside the historical importance of the place, the diverse and vibrant shopping markets and the exotic food can be really entertaining and worth trying when in this city.