Gregarious Lathmar Holi Celebrations of Vrindavan and Barsana
Holi, 'the festival of colors' is one of the main festivals of the Hindus in India. From East to West and from North to South, you will find every city and every town and village is celebrating this festival in its true spirits. This is in fact one such festival when people forget all their differences among them and play Holi with colors. The celebrations of Holi in India are carried out in various ways. In Punjab, it is called Hola Mohalla in which the locals celebrate the event displaying their physical strength, and is followed by songs and dance. In West Bengal's Shantiniketan, students dress in yellow clothes and play with colors, in which many folk singers and musicians also participate.
Nevertheless, when we talk about the top places to celebrate Holi in India, nothing can beat the fun and rituals of Vrindavan and Barsana. The interesting thing about Holi in Vrindavan & Barsana is the ritual of beating boys with sticks while they try to throw colors on the girls.
To witness Holi one of a kind in Braj, you can quickly plan a road trip to Vrindavan & Barsana. If you are driving from Delhi, you can reach these places in around 3 hours and stay there for some days until the festival is over.
Lathmar Holi in Barsana and Vrindavan is the reason why so many people from across the country visit these places during this time of the year. According to legends, Lord Krishna along with his friends would visit Nandgaon to color Radha and her friends. Radha and her friends would reciprocate by beating them with sticks and playing with colors later. The tradition is still followed.
Holi celebrations in Barsana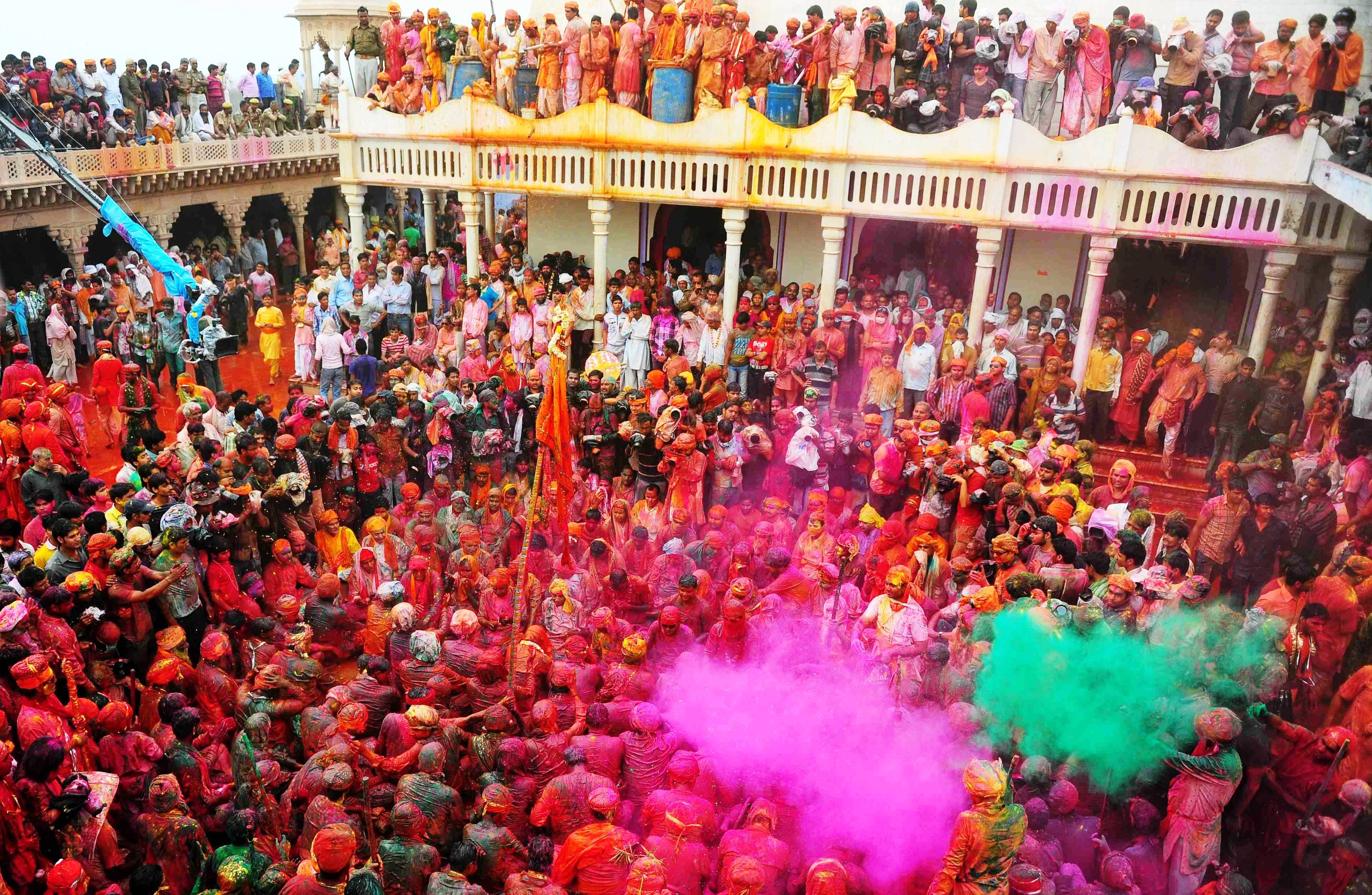 Holi celebration in Barsana is famous because of the Lathmar ritual. While you visit this place, you can still find people indulging in the Lathmar ritual and later putting color to each other. Usually, boys come from Nandgaon to Barsana and enact the role of Lord Krishna and his friends while the girls play the role of Radha and her friends. Holi in Barsana and Nandgaon is celebrated for 5-6 days.
Holi in Vrindavan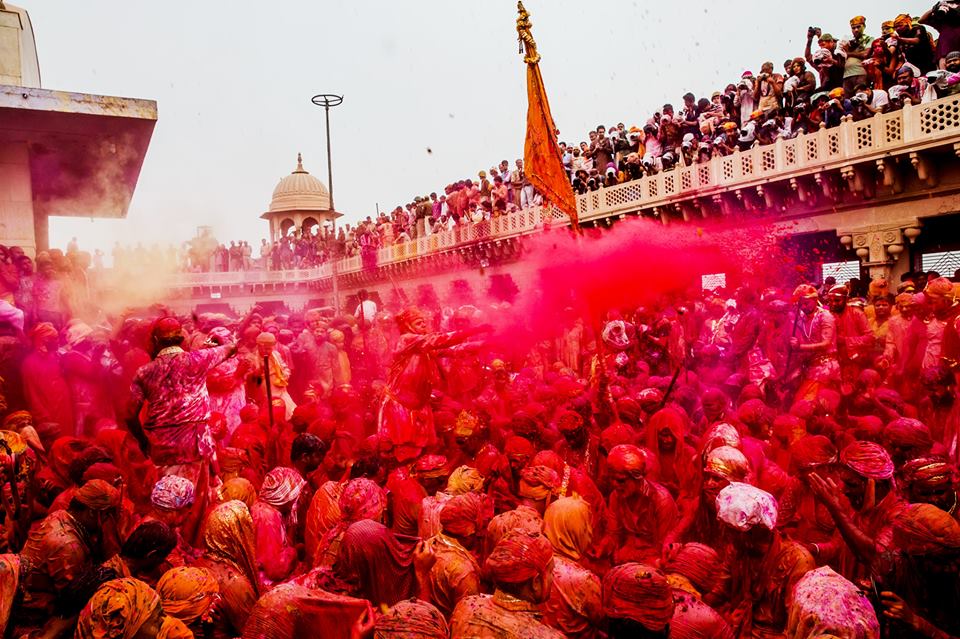 Just like Barsana, Holi in Vrindavan is also something you must witness as you will enjoy the unique traditions here. Vrindavan is the place where Lord Krishan grew up and therefore it has a lot of culturally significant customs. When you plan for a road trip to Vrindavan or Braj, you should try to spend at least a week here to enjoy the festival in its full swing.
You can reach the place a week ahead. The towns in Braj are decorated a week in advance which you can admire. You can find almost all the shops selling gulaal. On the day of Holi, you can make yourself available at Banke Bihari temple. The priests of this temple dress the idol of Banke Bihari in white and bring it closer to the devotees so that they can play Holi. The priests sprinkle color, water, and flowers on all the visitors, while bhajans are played and visitors dance to the tunes.
Another best attraction during Holi in Vrindavan is the widows celebrating this festival. It is perhaps the only place in the country where Hindu widows are allowed to play with colors and flowers. This is the day when they celebrate Holi just like others and devote themselves to Lord Krishna.
Other places in India that are famous for Holi
1. Hampi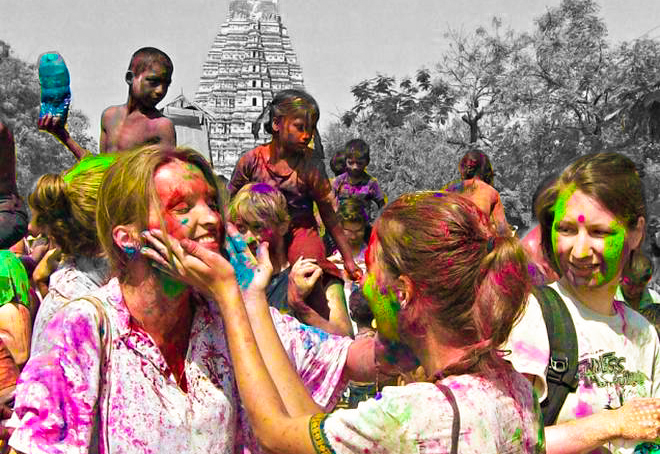 Located in the South Indian state of Karnataka, Holi is celebrated with full energy and enthusiasm in Hampi. You will find here people using both powder and liquid colors to play Holi.
2. Shantiniketan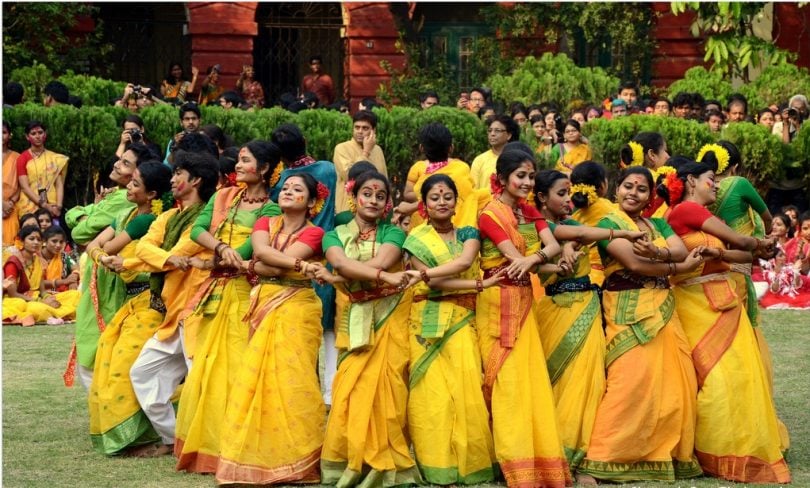 Basanta Utsav in Shantiniketan is famous and not only the students of the university participate in it, but also local artists are found performing their art. This is an event here that you must not miss.
3. Udaipur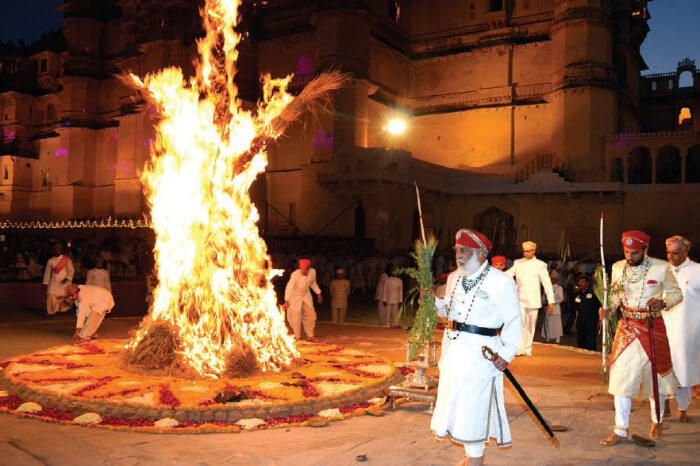 Head to the City Palace in Udaipur on the day of Holika Dahan to see the king lighting up the pyre. The next day is started with the music of the DJ, long tables of sweets, and people putting color on each other.
4. Manipur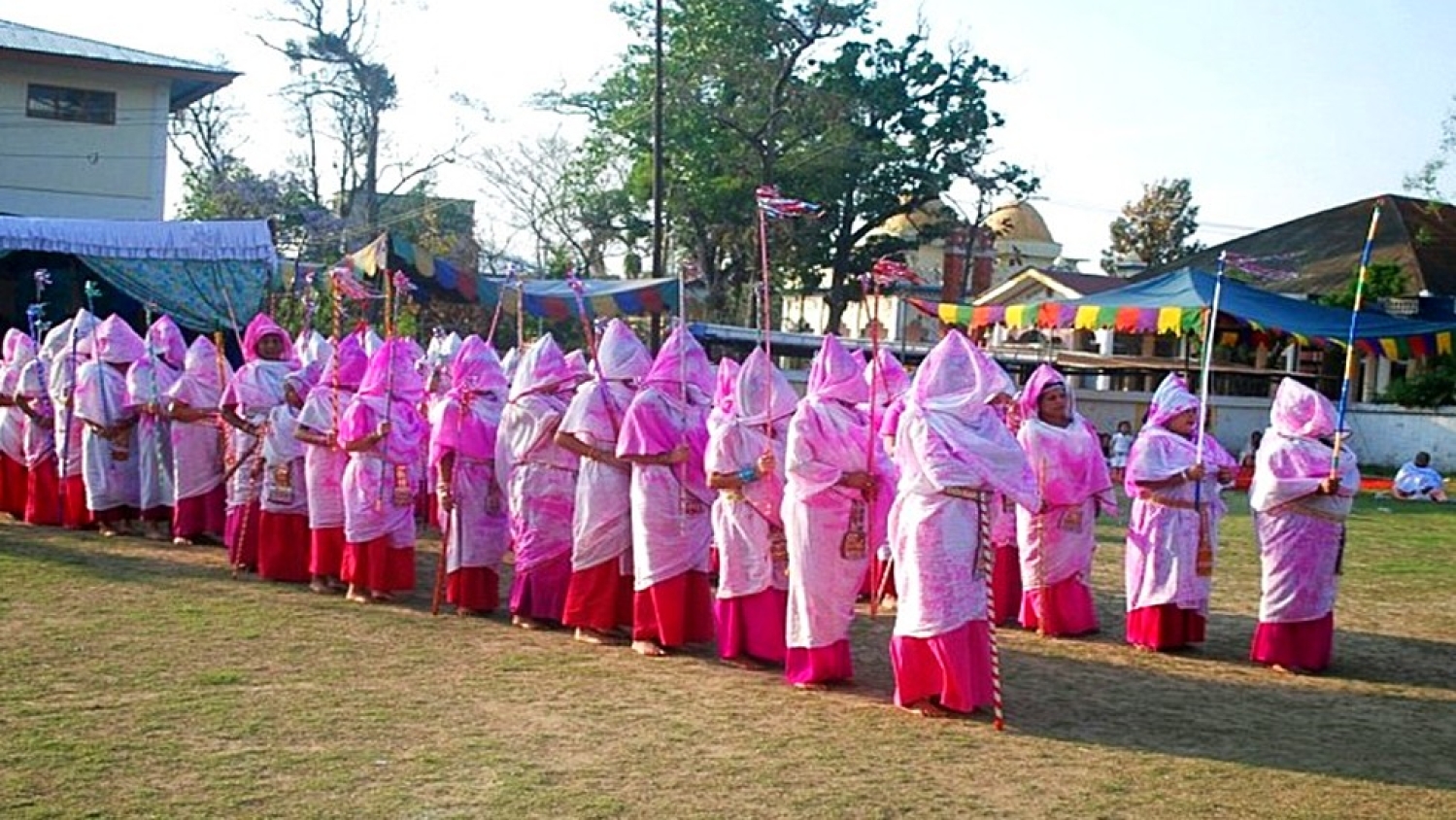 In Manipur, people call it the Yaoshang festival. It commences on the day of the full moon in Phalguna. The festival is celebrated for 6 days and you will find locals performing folk dance and music while playing with colors.
5. Punjab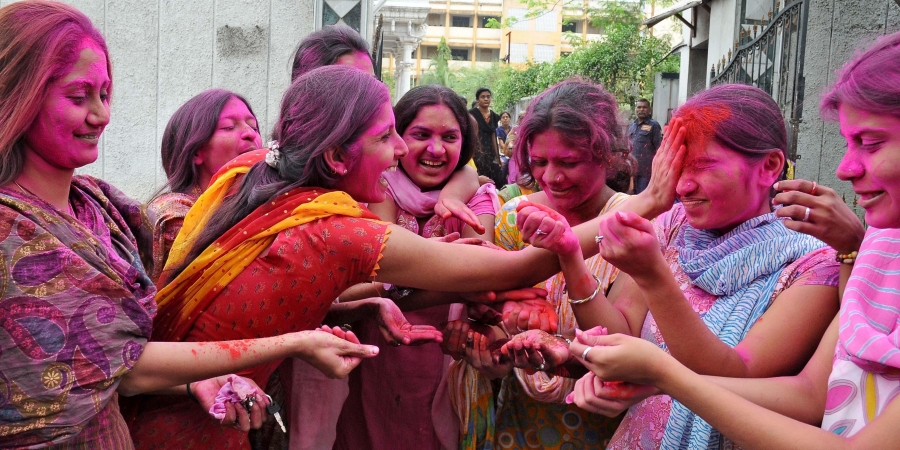 Hola Mohalla, as they call it in Punjab. The locals display their physical strength and martial arts on this day. They play with colors with family and friends, while a wide variety of sweets and snacks are served.
Famous food in Holi
As we talk about famous food in Holi, it depends on the place you are celebrating the festival in. Gujiya is considered the main item without which Holi is incomplete. However, the other items that you will find common in almost all the states are Malpoa, Laddoo, Kachori, Dahi Vada, etc. If you are in Punjab, you will definitely get a tall tumbler of Lassi. Another drink that is popular and made especially on the day of Holi is bhang. You may get intoxicated; therefore, make sure you drink only a little amount.
The date of the Holi celebration in 2021 is 29th March, although it will start from the evening of 28th March. If you are planning for a road trip to any of these places, especially Vrindavan and Barsana, you can rent a car from Revv and get started for the journey. You can choose the car depending upon the friends or family members accompanying you on the trip. To book the car, you can visit the website of Revv or install the app from Google Play Store or iOS App Store.