Enjoy The Most Magnificent Holi in & around Delhi via Road Trips
The festival of colours and joy is just around the corner. No doubt you are excited to celebrate it in the most fantastic way. But have you made any plans as to how you'll celebrate this festival differently this year? We suggest – take a break from the usual Holi celebrations that you experience each year. This time, why not travel to a fantastic destination and participate in the most fun filled and gripping Holi celebrations? Like, the sensational Holi parties happening in Delhi! 
After staying indoors during Holi the previous year (phew, the pandemic!), you definitely are looking for a fun filled Holi celebration in 2022. And there definitely shouldn't be any halts and hiccups while playing with colours this year. So, don't think much, just get a nice car, take your friends, family, or partner along and head towards the capital to attend some mind-blowing parties being held there. 
Stay informed about these things when travelling to Delhi for Holi!
Holi celebrations date in Delhi for the year 2022 — The festival is on the 18

th

March in 2022.

Other things to do in Delhi during Holi — When you are traveling to Delhi during the Holi festival, you can even check the wonderful tourist destinations of the capital like the iconic Red Fort, Majestic Qutub Minar, amazing Jantar Mantar, and even the very famous Lotus Temple. You can also participate in very spiritual and traditional Holi celebrations happening near New Delhi at Barsana, Nandagaon, and Vrindavan. The temples here are adorned with lights and lots of spiritual activities take place during the course of this festival.  
The Holi parties places in Delhi–NCR in 2022
Holi celebration is a joyous way to welcome Spring. But this festival doesn't only involve praying to the Goddess Hollika and playing with each other with bright colours, but there's also lots of other fun activities involved. And if you want to know the details of these activities that you can enjoy during Holi in Delhi, then read on. 
1. Holi India Colour Festival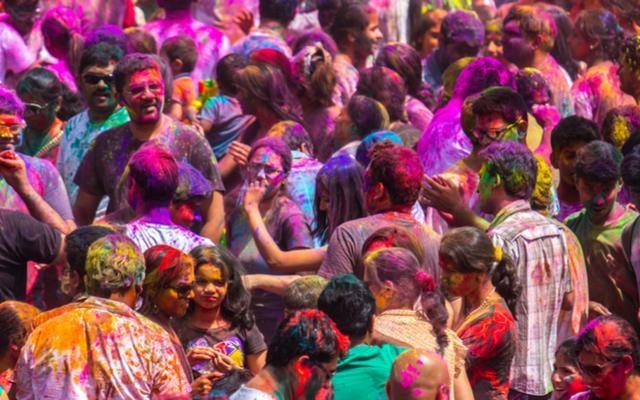 One of the most happening and much talked about Holi parties in Delhi NCR is the Holi India Colour Festival happening at the Golden Triangle Tourist Circuit in New Delhi. The popularity of this event can be gauged by the fact that innumerable international tourists visit India during this time just to participate in this event. There is a huge rush of enthusiastic locals in this event along with some celebrities and prominent personalities who indulge in the fun game of playing Holi and dancing on the tunes of the famous songs related to this festival.
Date of the event – 18

th

March 2022

Entry fees — To be disclosed.
2. Holi Moo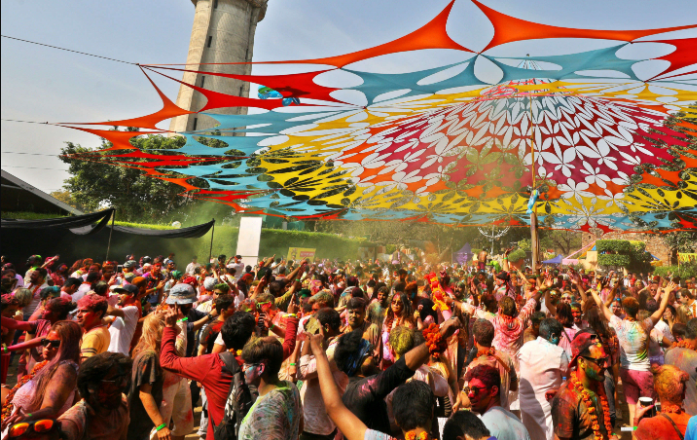 Want to enjoy the festival of colours in a multi arena stage festival? Then Holi Moo is a fantastic event just for you.  There would be lots of locals and tourists alike crowding the capital just to participate in this event and the fun-filled multi genre performances amidst lots of colours, thandai, and music.
Date of the event —

18

th

March 2022

Entry fees — To be disclosed.
3. Balam Pitchkari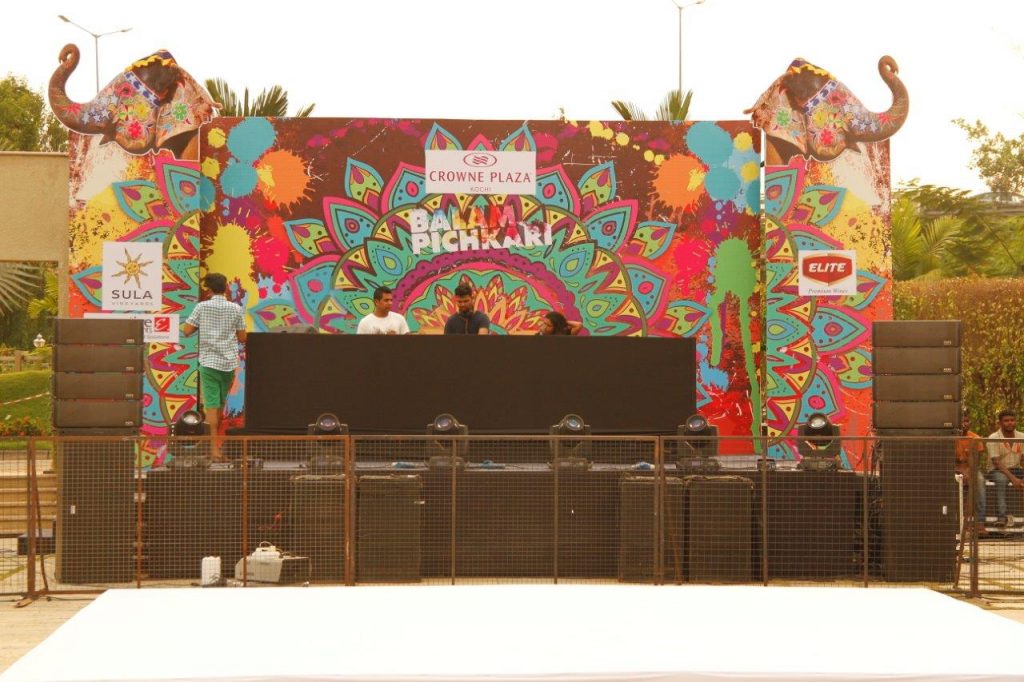 There are some really famous farmhouses in the outskirts of Delhi NCR which hold amazing galas. One of the most famous one which made quite a name to fame last year was the Balam Pitchkari event held at the Budhh Farms in Noida. Though the venue of this festival this year is going to be changed, but the electrifying activities remain the same. Just keep an eye on the announcement of the venue and take a self-drive car rental to that destination and enjoy a flood of colours, fascinating rain dance, mind blowing performances, lots of dance, good food, and unlimited thandai! 
Date of the event – 

18

th

March 2022

Entry fees — To be disclosed.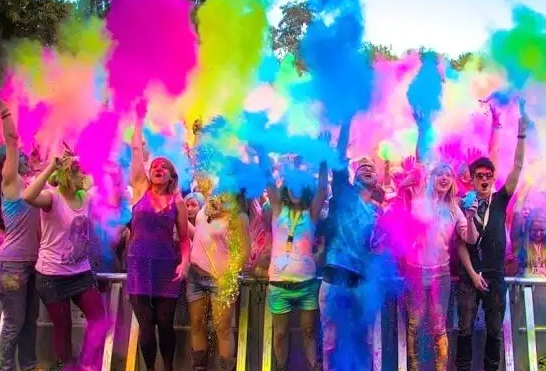 Heard a lot of Ras Leela, didn't you? Now it's the time to know more about the massive Holi festival of Delhi – Rang Leela. You'll be surprised to know that this event lasts for around 12 hours with unlimited fun and electrifying activities. There would be live Bhangra, rain dance, camel ride, baggi ride, and lots and lots of colours. Well, it's also a great culture and traditional festival in Delhi held at The Friends Republic Café in Gurugram. P.S – don't forget to devour the traditional Indian cuisine served in wide variants here as well.
Date of the event — 

18

th

March 2022

Entry fees — To be disclosed.
5. Unite Holi Music Festival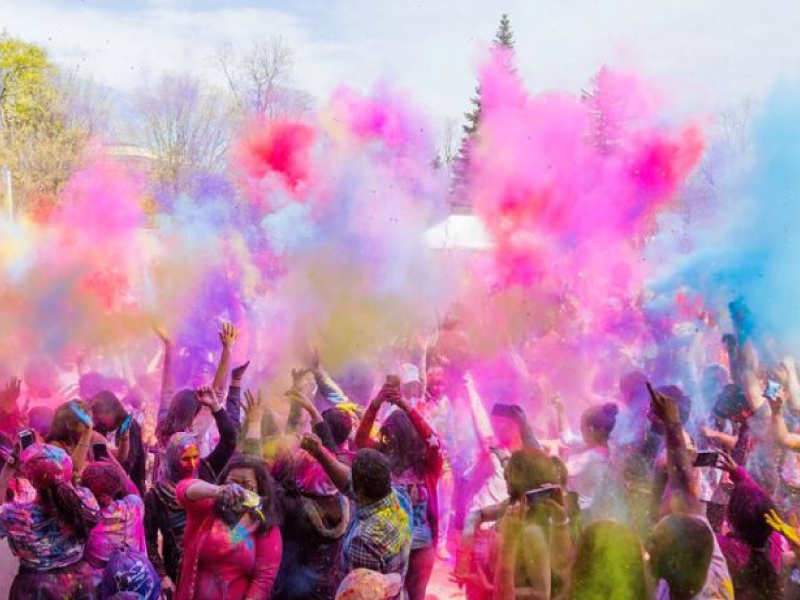 The Jawaharlal Nehru Stadium is one of the best Holi celebration destinations in Delhi-NCR. And there is this famous Holi event happening here each year which makes your festive spirit all the more beautiful. It is the Unite Holi Music Festival. You will get to see lots of celebrities and artists performing uniquely on the stage. The music never stops at this place and neither does the rush of colours. You can enjoy the party for hours unstoppable while eating and drinking the traditional fares. And stay tuned — the crowd count of this festival can rise up to 5000 each year. 
Date of the event —

18

th

March 2022

Entry fees — To be disclosed.
6. Holi Sangria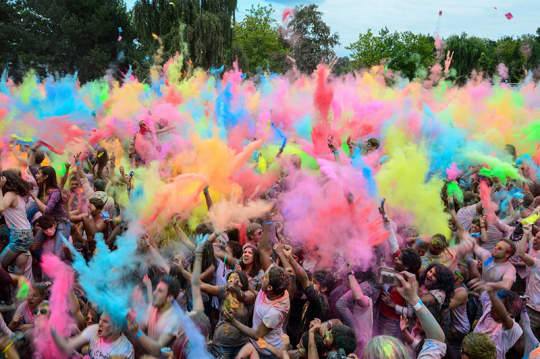 If you are looking for really explosive Holi celebrations, then take your car rental during Holi from Revv and head towards The Game Forest Club at Gurugram in Delhi on the big day. You won't believe the fun and excitement awaiting you at this event. Everything would be truly magical and enticing. From rocking music to the over enthusiastic crowd, from cheers in the air to the food in the menu – nothing is going to be less than fabulous in this party. So be there with your gang without fail if you want to celebrate Holi like never before! 
Date of the event —

18

th

March 2022

Entry fees — To be disclosed.
These are the list of most famous and very popular Holi parties, events, and traditional festivals happening in Delhi NCR this year. But there are some tentative events too which are sure to make your day joyous. Do check for the Water Gun Dhol festival happening at Ram Leela Maidan each year, Holi Moly festivals that take place in the suburban farmhouses of the capital, Rang Barse – a very special Holi festival arranged especially for kids and teenagers at Gurugram, and Rang De – a very traditional event held at Dwarka in Delhi each year. Do choose your preferences from these amazing and happening events and celebrate the festival of colours and music in the most astounding way.