The Pleasant Road Trip from Delhi to Nainital
North India is a treasure trove of some exquisite gems! Be it the National capital Delhi — that has been a centre of attraction from the days of the royals to the present day — or the spellbinding Nainital, the gems of beauty are immense and diverse. From heavenly natural beauty to historical remnants – you name it, and you have it. But hey, just because you fixed your attention towards the two very glittering jewels, you just can't ignore the other esteemed and adorable places in between them. The road between Delhi to Nainital is full of some delightful scenarios, prepossessing mountains and valleys. So, when you plan a road trip towards Nainital from Delhi, you are actually acting smart, as you are going to enjoy the fullest benefits of your trip by driving through some really stunning natural scenarios on your way as you wheel from Delhi to Nainital by car.
Quick tips for a road trip from Delhi to Nainital: 
Best time to visit Nainital — If you are travelling to experience snow at a lovely destination, visit here between November to February. Otherwise, if you are not too keen to experience the chill, March to June is just the perfect time to spend a carefree time here.
Type of visit recommended— Holiday, adventure, family gateway, honeymoon trips.
Delhi to Nainital Distance by road 
The distance between Delhi to Nainital by car is 316.1 Km that takes around 6 hours 55 minutes to get covered.
How to plan your car ride to reach Nainital from Delhi?
Lucky for you, Nainital is easily connected to various highways and roads, and that's why reaching there from Delhi is pretty easy. There are two best routes to drive through, and you can choose your preferred one.
1. Delhi – Nainital through Rampur 
This route takes your from Delhi to Ghaziabad leading to Hapur, then Garh Mukteshwar, Gajraula and   Then you should drive to Rampur towards Haldwani and Kathgodam finally reaching Nainital. The journey till Moradabad can be really good and swift, but after you cross this town, you'll encounter lots of rush and crowd. This can impact your total time behind the wheels.
2. Delhi — Nainital through Kaladhungi 
When you take this route, you'll be traversing from Delhi to Ghaziabad, then Hapur towards Garmukteshwar heading to Gajraula, then Moradabad leading to Tanda, then Bazpur and Kaladungi — finally reaching Nainital. As compared to the former route, this way is a lot better. Since it is somewhat isolated, it gives you the privilege of breath-taking views along your drive, and avoiding traffic congestion too. And since the condition of the road is great, you may even reach before the estimated time.
5 Best Places to Visit in Nainital
The heavenly town located in Kumaon region of Uttarakhand is a very renowned hill station. When you are here after travelling for so long in order to explore its heavenly beauty, enjoy your holiday here to the hilt, and ensure to check the following top sights in Nainital without fail.
1. Eco Cave Garden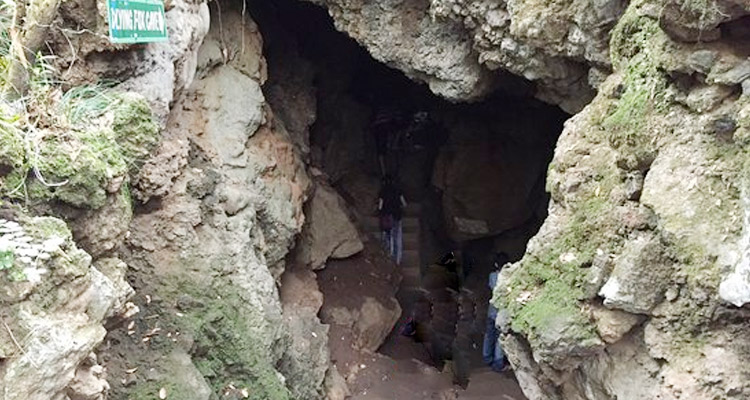 A unique concept of caves famous for its interconnected caves and charming hanging gardens. Being shaped as animals, these are wonderful sites to visit in Nainital. You'll be amazed to see the six caves that resemble animals. These caves have been named after the wild beasts like panther cave, bat cave, tiger cave and so on.
Quick Information:
Time to visit — 10:00 am – 4:30 pm
Entry fees — Adults – 20 INR children – 10 INR
Best way to reach — Walk or drive just 1 Km from Mall Road to reach here.
2. Naini Lake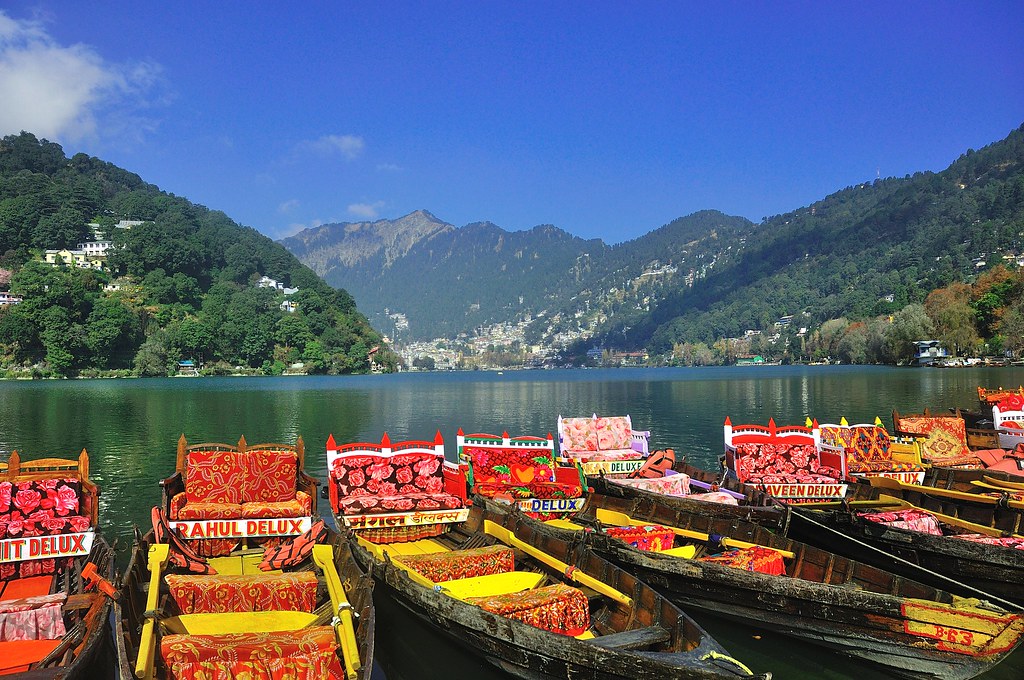 You couldn't imagine Nainital without the Naini lake. It's a captivating crescent shaped lake situated at the heart of Nainital and surrounded by gorgeous snow filled peaks. The beauty of this lake alongside so many spectacular locations isn't something that you get to see elsewhere.
Quick Information:
Time to visit — 6 am – 6 pm
Entry fees — none
Best route to reach here — Since it's closer to the Nainital bus station, you can easily drive to the Naini lake.
3. Naina Devi Temple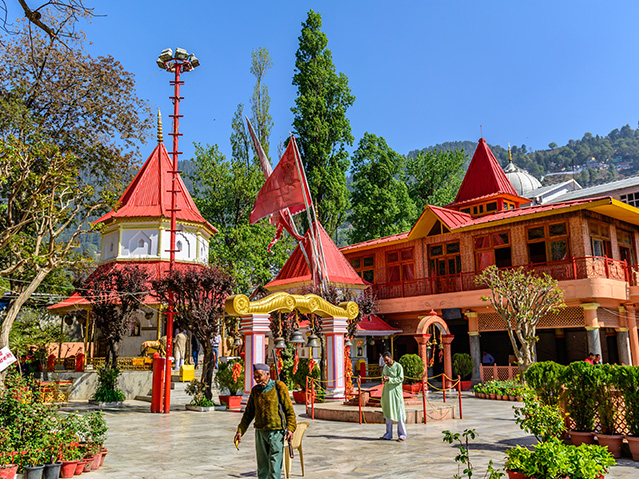 The reason behind Nainital getting its name is the profound Naina Devi Temple in the hills of the town. This temple is dedicated to Goddess Sati and you'll get to view lots of devotees visiting it throughout the year to worship her. Being one of the oldest and important temples in the Hindu religion, it's a must visit place for you in Nainital.
Quick Information:
Time to visit — 6 am – 10 pm
Entry fees — none
Best route to reach here — As this temple is located at a hillock, you'll have to climb the way up. But to reach the main point, you can hire a cab or walk easily.
4. Snow View point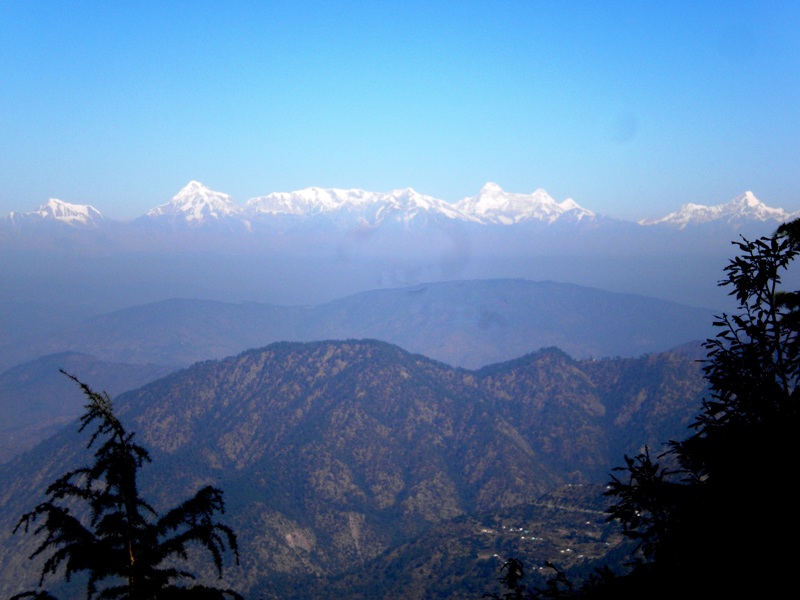 As the name suggests, it's an alluring point from where you can view the esteemed Himalayan ranges all clad in milky white snow. You will also get to view all the attractive peaks and destinations of Nainital from here.
Quick Information:
Time to visit — 10:30 am – 5:00 pm
Entry fees — none
Best route — Though this point is accessible through a cable car, you can reach the cable car station via a cab or car from the Mall Road.
5. The Lands End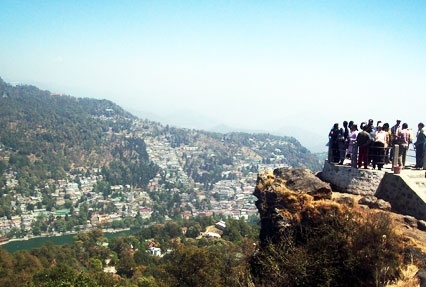 Just across the Khurpa Tal is the vast expanse of space that is aptly called the Land's End. We mean it, the land literally ends here and you couldn't see anything else other than steep cliffs and large White Mountains. If you love trekking, it's a first-class option for you to explore. Otherwise just to capture the view, you can even take a ride to reach here.
Quick Information:
Time to visit —When allowed due to the clear climate.
Entry fee — None
Best route to visit — it is 4 Km from the town — so you can cover the distance through a car before trekking up or hiring an animal for a ride.
Things to do in Nainital:
After exploring so many attractive sites in Nainital, you would also want to enjoy some time with your family here. That's when you should try the following things to do in Nainital. 
1. Shop at Mall Road 
The Mall Road in Nainital is just parallel to the Naini lake and is a buzzing hub attracting lots of travellers and shoppers here. You can get some really fantastic wooden items, scrumptious food items and handcrafted goods while shopping in this iconic market.
2. Boating at Naini lake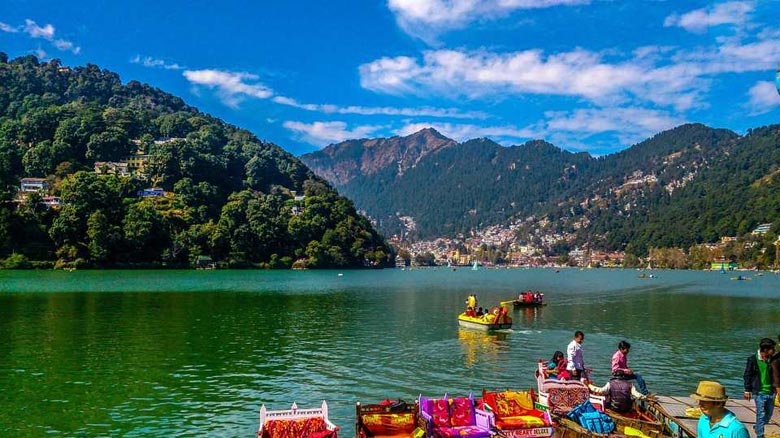 The Naini lake is truly a visual treat for you. But it's a fabulous place to enjoy some serene time boating.
3. Adventure Sports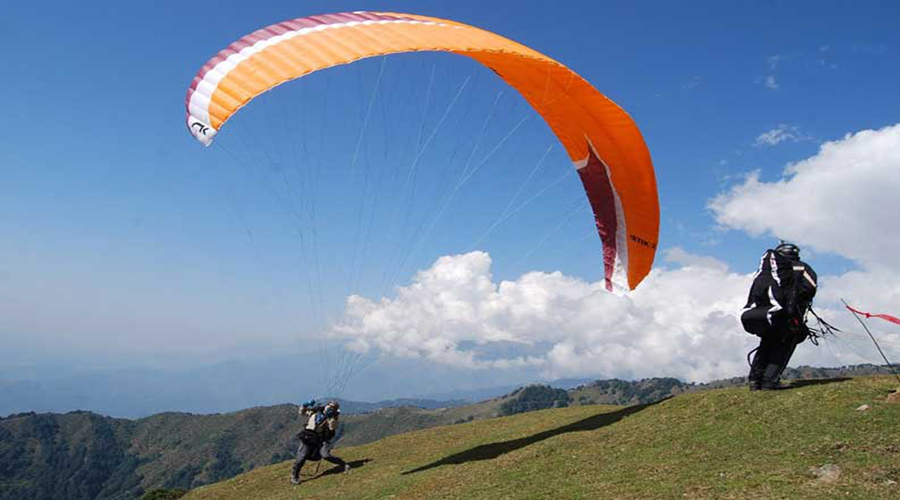 Nainital has got lots of adventure options for enthusiastic people like you. You can go trekking up the high snow-clad mountains or just paragliding to enjoy the view. You can even view the famous Naini Peak after you trek for hours towards the China peak.
The trip to Nainital can't be tagged as an ordinary journey. Why? Simply because the place is going to leave an indelible mark in your mind. It has got something for everyone and that's why it should be in your bucket travel list too. Make the trip even more memorable with the comfort of a self drive car rental from Revv.