Visit the Surreal Alleppey for a Memorable Vacation
Often called Venice of the East, Alleppey is the pride of God's Own Country, Kerala. Mostly famous for its backwaters and houseboats, Alleppey is one of the most beautiful places in the country that you can visit on a holiday. The mesmerizing scenic beauty will leave you with a yearning to visit this destination again. If you have been thinking of visiting this one-of-a-kind holiday destination, here is some information about this place that will help you to plan out your road trip to Alleppey properly.
Top things to keep in mind when travelling to Alleppey
Best time to travel to Alleppey: The best time to travel to this extraordinary place is between October and March. This is the time of the year when the temperature does not rise beyond 33 degrees, which is comparatively pleasant. You will also often feel a breeze caressing your face.
Alleppey is famous for: This beautiful town is famous for backwater canals, lagoons, paddy fields, and beaches.
Must-try food in Alleppey: Some of the famous food in Alleppey which you must try when you are in the place are Grilled Shrimp, Malabar Biryani, Kerala Fish Curry, Idiyappam, Ela Ada, and Kerala Sadya, to name a few.
Shopping in Alleppey: There are some malls in this town from where you can do your shopping. You can also buy some local handicraft items from here.
10 Best Places to visit in Alleppey for Perfect Vacation
1. Alappuzha Beach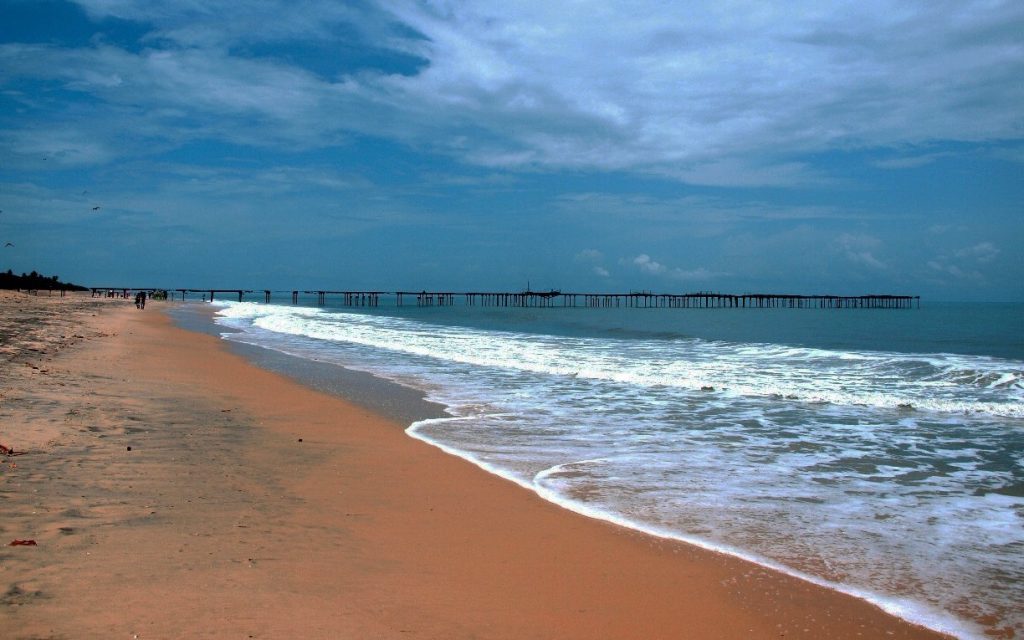 Alappuzha beach is one of the top destinations to visit in Alleppey. The beach is surrounded by palm groves, there is a park nearby, and you can also find a lighthouse. You can enjoy a lot of watersports, and other sports like beach volleyball as well, here.
Nearby places to visit: Amaze World, Alleppey Lighthouse
2. Marari Beach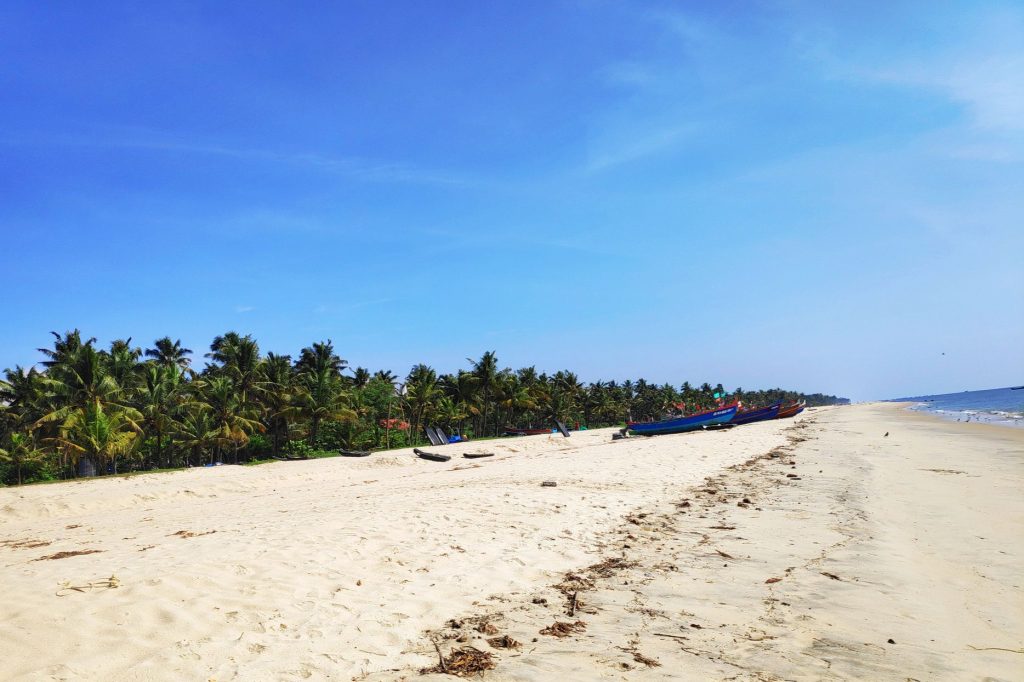 Marari Beach is situated at a distance of 11 km from Alleppey and is the right place for a relaxing time to spend with your family. You can also try swimming in the seawater. There are several beach resorts near to this beach where you can even stay for some days.
Nearby places to visit: Alleppey Beach, Punnamada Lake
3. Ambalappuzha Sri Krishna Temple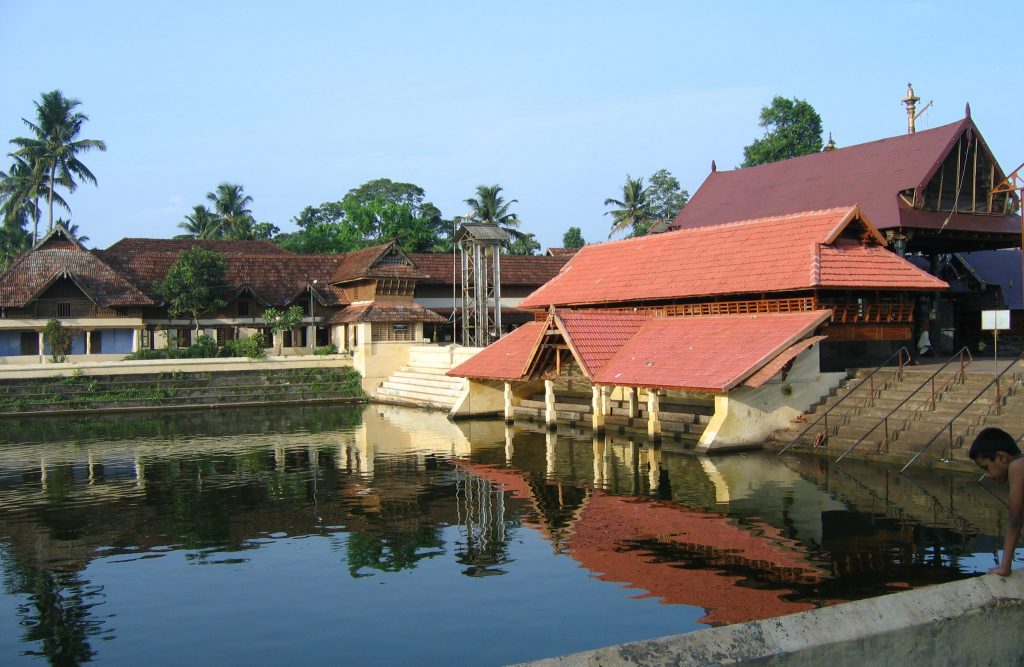 Ambalappuzha Sri Krishna Temple is one of the major tourist attractions in Alleppey. The temple was built in 790 AD and dedicated to Lord Krishna. Apart from worshipping the deity, one of the main things about this temple is palpayasam, which is a sweet pudding that is made of milk and rice. This is offered to the deities in the temple and followed by distributing it to the devotees.
Nearby places to visit: Alleppey Beach, Punnamada Lake
4. St. Mary Forane Church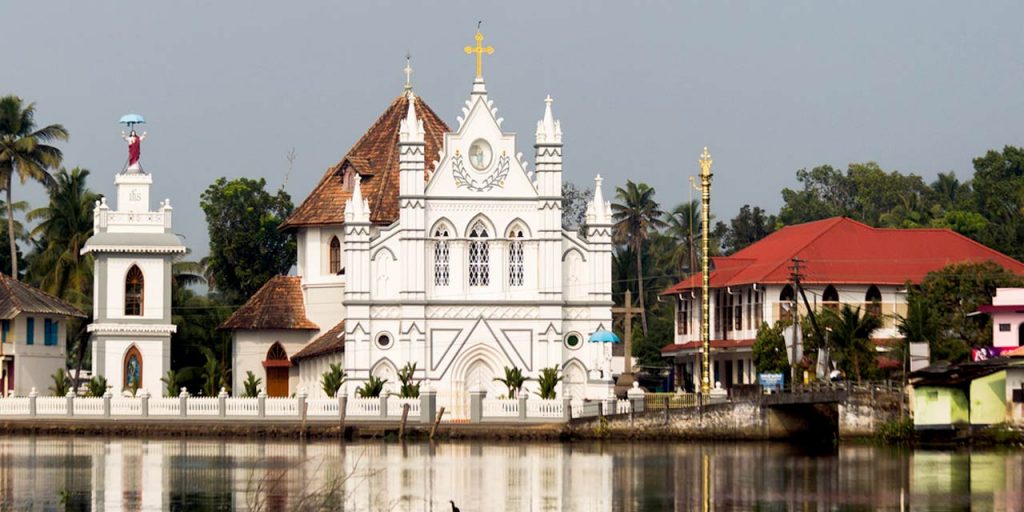 Backwaters and beaches in Alleppey are of course the most famous attractions, but you cannot miss out on visiting this church because of its beauty. It is not only one of the oldest and most beautiful churches in this town but the entire country. From the sculpture to murals, and the view of backwaters, everything is amazing about this church.
Nearby places to visit: Anchu Vilakku, Alleppey Beach
5. Mullakkal Bhagavathy Temple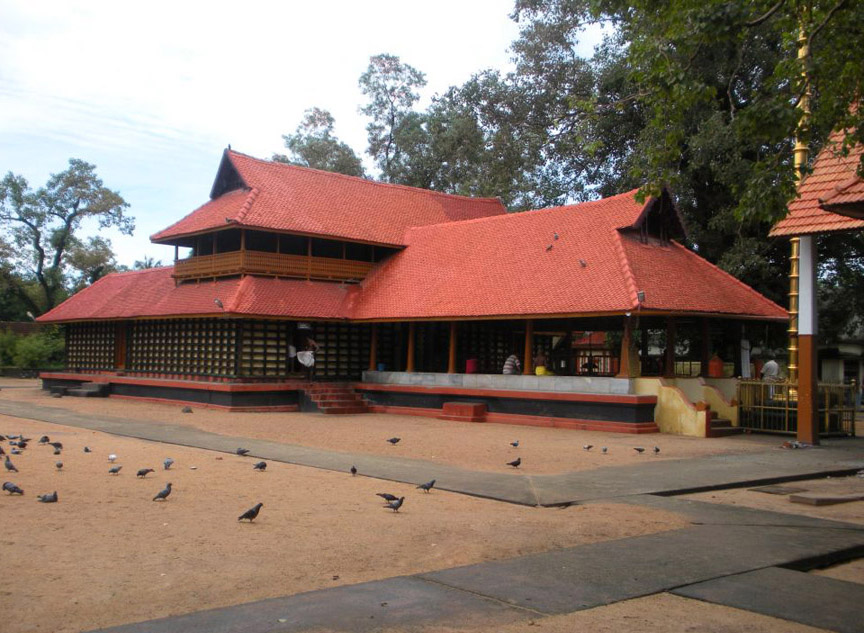 Mullakkal Bhagavathy Temple is not only visited by the devotees but by the history buffs as well. The temple is around 500 years old and counted among one of the places to visit in this town. The 20 feet tall idol of the goddess is one of the attractions of this temple.
Nearby places to visit: Krishnapuram palace
6. Krishnapuram Palace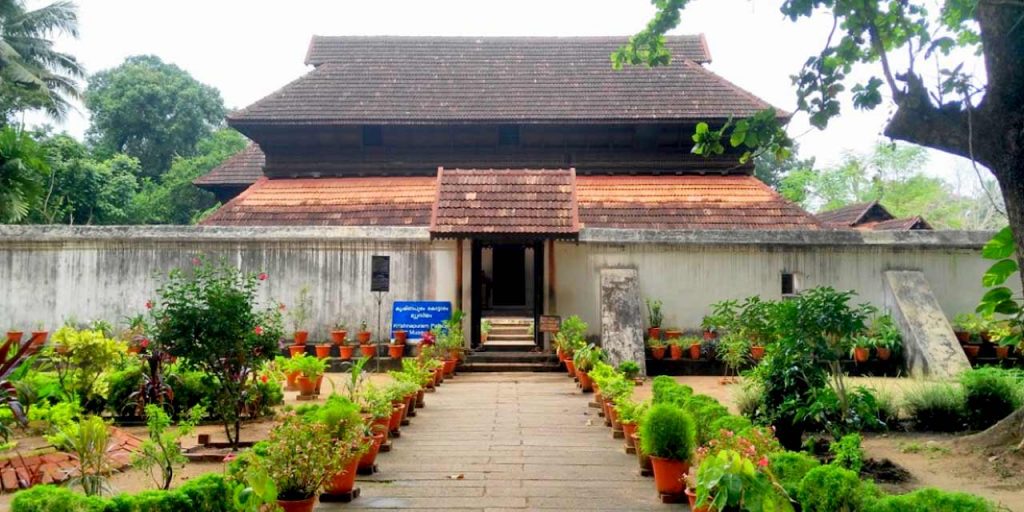 If you ever wanted to see Kerala architecture, you can fulfill that wish by visiting Krishnapuram Palace. The gabled roof, narrow corridors, and dormer windows, huge wall paintings make this palace one of the most-visited places in the town.
Nearby places to visit: Mermaid Statue, Alleppey Beach
7. Vembanad Lake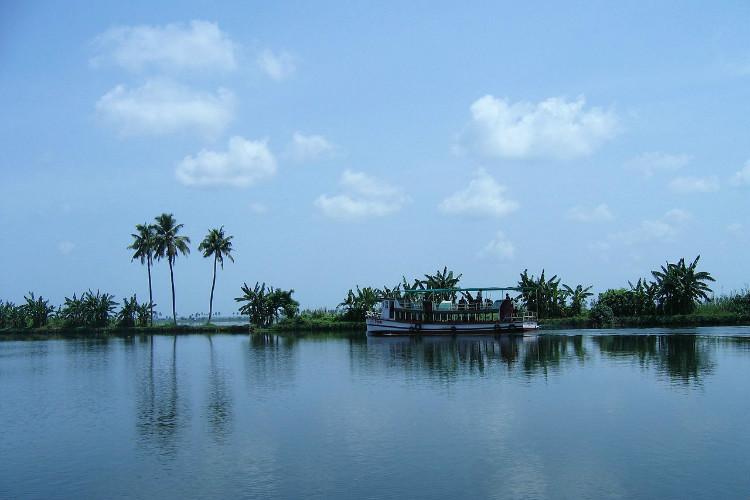 The second largest lake in Kerala; there are many resorts located on the bank of Vembanad Lake. Apart from this, the lake has always been praised for its scenic beauty.  Even if you stay in this town for one day, you must visit Vembanad Lake.
Nearby places to visit: Kumarakom Bird Sanctuary Observatory Tower, Alleppey Beach
8. Triveni Floating Market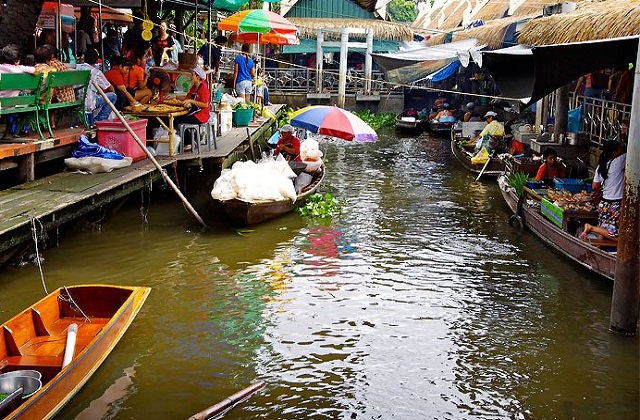 You must have heard about the floating market in Bangkok. Well, you can find a similar one at Alleppey, which is owned by the state and floats on the river. This is one of a kind market from where you can buy many things such as food, stationery, toiletries, etc.
 Nearby places to visit: Vembanad Lake
9. Attukal Waterfalls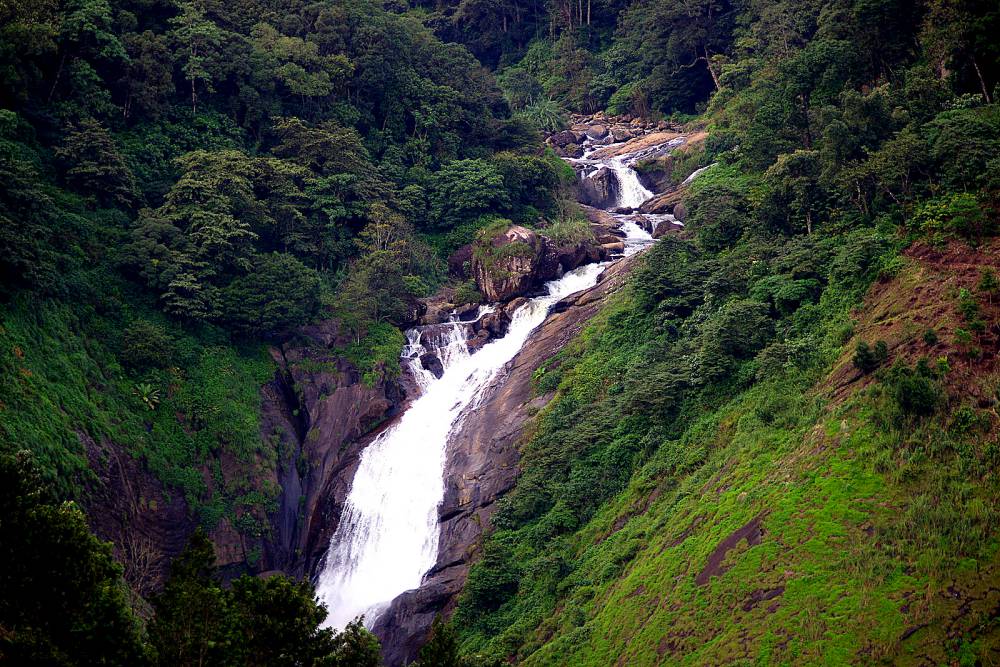 It is one of the most gorgeous waterfalls in Alleppey that looks even more stunning during the winters. The fall cascades from between lush greenery and giant rocks and forms a pond as it falls. It is a sight to behold and you must carry your camera to click some nice pictures while visiting this place.
Nearby places to visit: Eravikulam National Park
10. Eravikulam National Park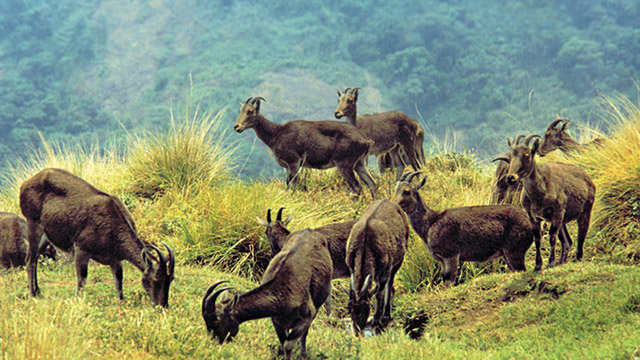 Eravikulam National Park is the first national park that was established in Kerala. Spread across an area of 97 sq km, the national park houses a large variety of flora and fauna. If you are visiting Alleppey with your family and kids, this is a place you must go.
Nearby places to visit: Attukal Waterfalls
Apart from these places, if you decide to stay the night here, you can choose to stay at a houseboat for a truly authentic experience. If you decide to rent a car from Revv, you will be able to plan things with even more certainties and zero surprises. The dependable and cost-effective car rental service of Revv provides you with sanitized and safe car rental. You can install the Revv app and start browsing for the right car for the magical trip.