Top 10 Drivable Luxury Resorts near Kolkata for an Exciting Weekend
Kolkata in itself is a warm and hospitable city. When you are residing in this place or visiting the "City of Joy, you shall be basked in the warmth of the aura the city exudes. But sometimes the need to just get away from the city is tremendous. And if you are facing such a hangover, then there are some really magnificent places near Kolkata where you should head to. And if you are looking for some luxurious and comfortable self-pampering time near the city, then you won't be disappointed. Kolkata prides itself on having some really elite and elegant resorts which can be the best retreat providing you the most exclusive experience of your life.
Detox trips are in vogue. Naturally are staycations. You are tired from your daily rigours as it is. Running from pillar to post kind of sightseeing no longer appeals to you perhaps. You are looking solely to spoil yourself or spend some quality time in a luxurious way with your friends or family or even in solitude. If you think we read your mind, then don't delay. Plan road trips around Kolkata this weekend itself and head to some really magnificent resorts dotting the peripheries of this elegant city. 
Top resorts near Kolkata for a fun filled and luxurious stay!
Whether you are looking for an ideal short weekend holiday or you're in a quest for the exciting resorts near Kolkata for a day outing, there is always a solution (and more!) for you near this city. And if you want some strong recommendations, then keep reading. Here is a list of some famous and enticing resorts near Kolkata; and believe us, each of these are inviting, fascinating, and worth visiting. 
1. Palm Village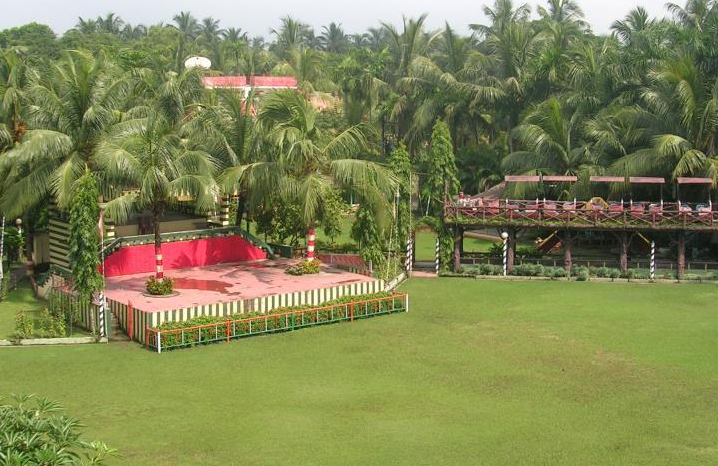 You'll love this exotic resort in Bhasa near Kolkata which is the perfect example of prime hospitality. If the prompt and luxurious services of the resort like deluxe rooms and fine dining weren't enough, the huge spacious green lawns spell the magic. The pool area surrounded by an alluring landscaping makes this resort an even more refreshing retreat to head to. 
Distance from Kolkata — 24 kilometres.
2. F Fort Resort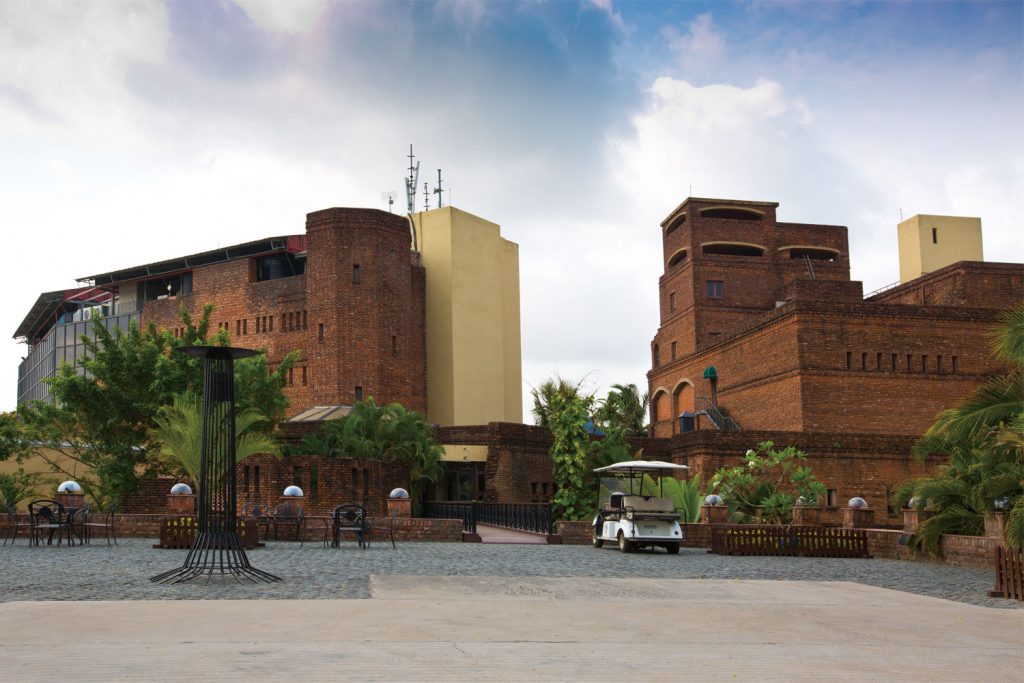 The magnificent and majestic F Fort Resort with all its might and charm is located on the riverbanks at Raichak.  The incredible scenery it creates along with the clear river and greenery is definitely impressive. But here we are more impressed with its sports bar pub that is definitely the hottest feature of the resort. But only partying isn't healthy, isn't it? So, you can as well try the outdoor sports facilities they have for the guests like badminton, basketball, tennis, etc. Pro- tip – Take a ferry towards this resort after driving to the nearest point for added fun.
Distance from Kolkata — 52 Kilometres.
3. Fortune Park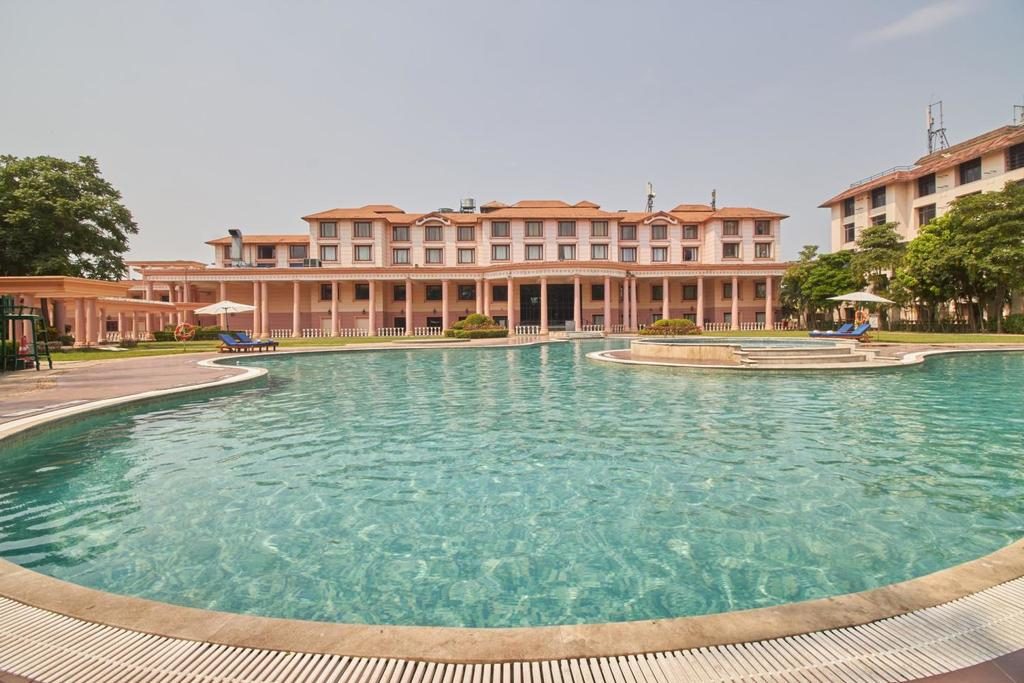 If you are looking for some resorts around Kolkata that are just round the corner, then try the Fortune Park Resort at Panchwati. Since it is very close to the city, it is a fabulous place to head to after a hectic week. You can enjoy lots of amenities in this resort like spa, ballroom, swimming pool, and bar – apart from the plush rooms and delicious dining experience. Pro tip – the campfire arrangement with scrumptious food and refreshing drinks is the best part of this resort.
Distance from Kolkata — 16 kilometres.
4. Vedic Village Resort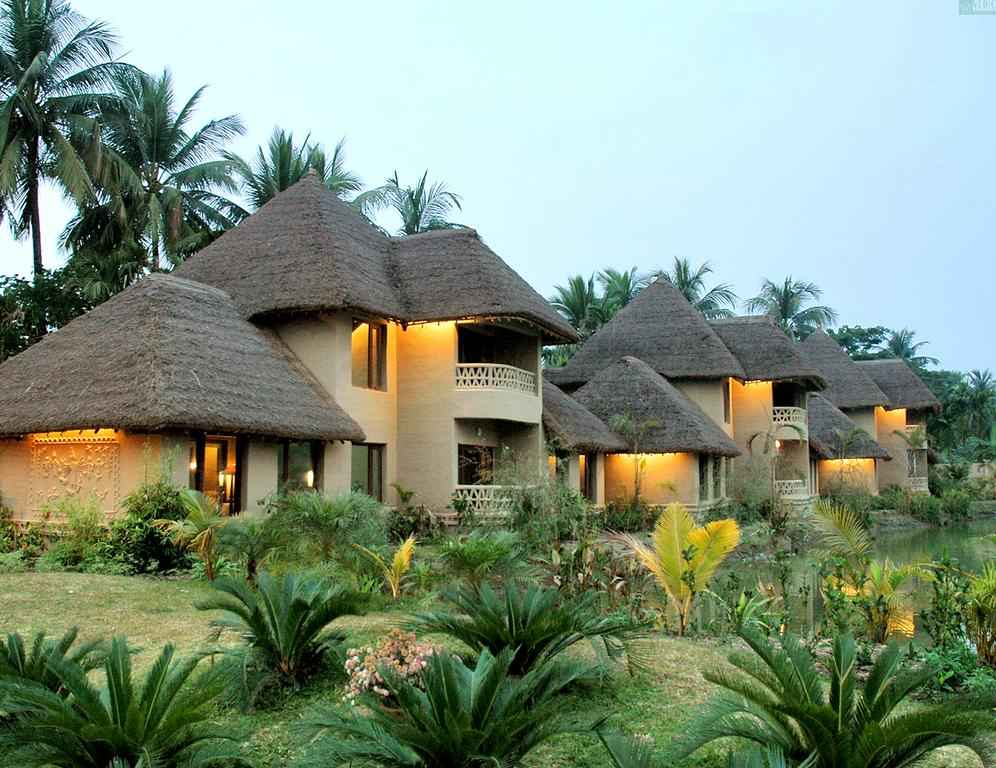 For a unique but holistic experience near the city that includes both nature therapy and exotic modern luxury, you should visit the Vedic Village Resort at Rajarhat. You'll get some fabulous amenities here that are really refreshing such as horse riding, archery, pool, air hockey, etc. Pro tip – do visit the medical spa that provides a nice therapeutic massage that is certainly worth trying.
Distance from Kolkata — The distance from Kolkata to this resort is 26 kilometres.
5. Solitary Nook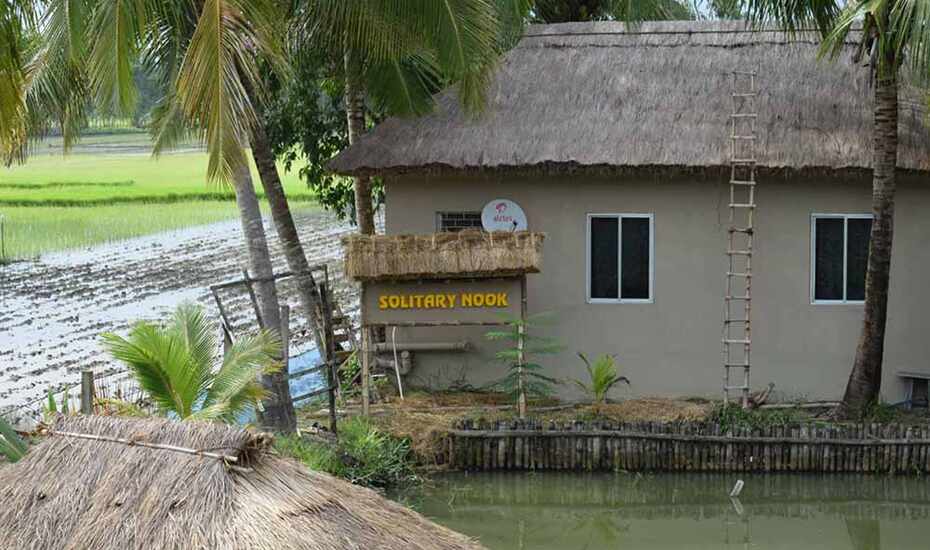 One of the best picnic resorts near Kolkata is the Solitary Nook at the Sunderbans. Just the location of this resort makes it popular and famous among the locals and the tourists alike. You can enjoy a great Tiger spotting experience from this open air resort. Event dining in the backdrop of nature is another great experience here. Pro tip — Try bike riding in the resort to refresh yourself a bit.
Distance from Kolkata — 95 kilometres.
6. Sunderban Tiger Camp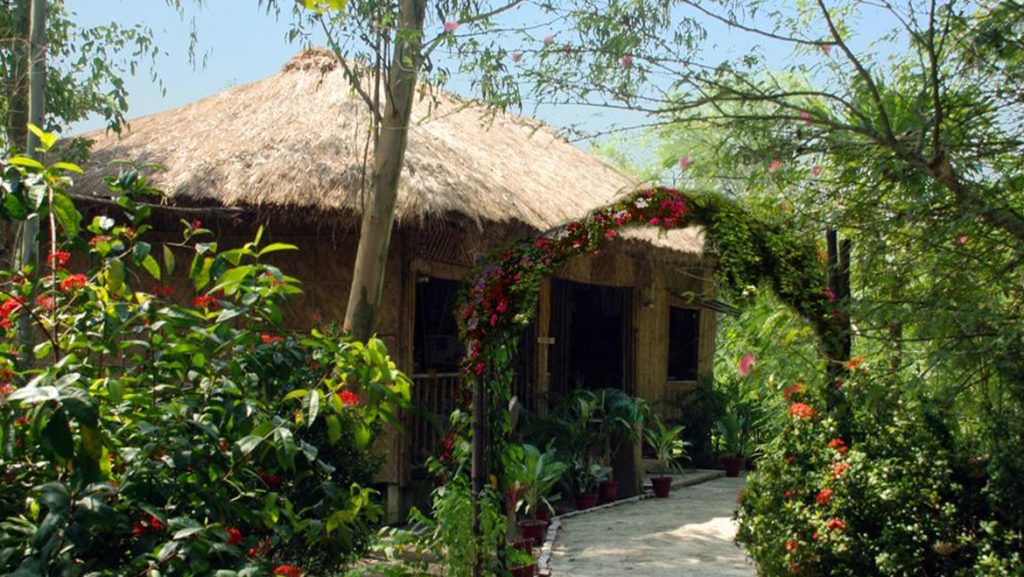 Another great resort that allows you to escape to the lap of nature is the Sunderban Tiger Camp. Basically, it is a very eco friendly and natural setting wherein you can choose the options to stay — tents, huts, luxurious rooms, etc. – you just have to name your choice. You can try some exciting activities at this resort like the private cruise rides, bird watching, mangrove walks, etc. Pro tip — Bonfires near tents during the night are truly amazing.
Distance from Kolkata — 95 kilometres.
7. Victoria Beach Resort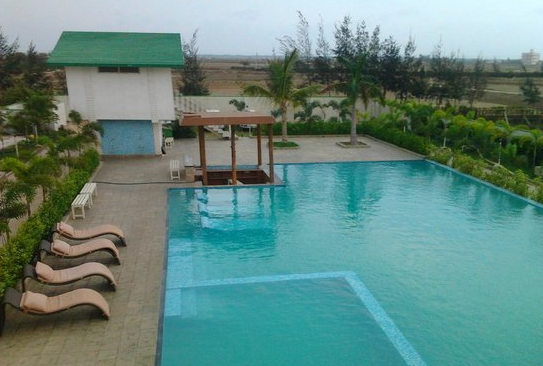 Isn't the idea of a beach near your resort really enticing? Well, if you want to experience something this luxurious and outstanding, why don't you visit the Victoria Beach Resort at Kalindi near Kolkata? Well, one of the top attractions of this resort stays the white sand beach with the calm sea around it. You'll love the activities organised by the hotel staff for kids at the beachside along with picnics and exciting games. Pro tip – Relax at the wonderful beach garden of this resort each morning to get your dose of Vitamin D. 
Distance from Kolkata — 177 kilometres.
8. Sana Beach Resort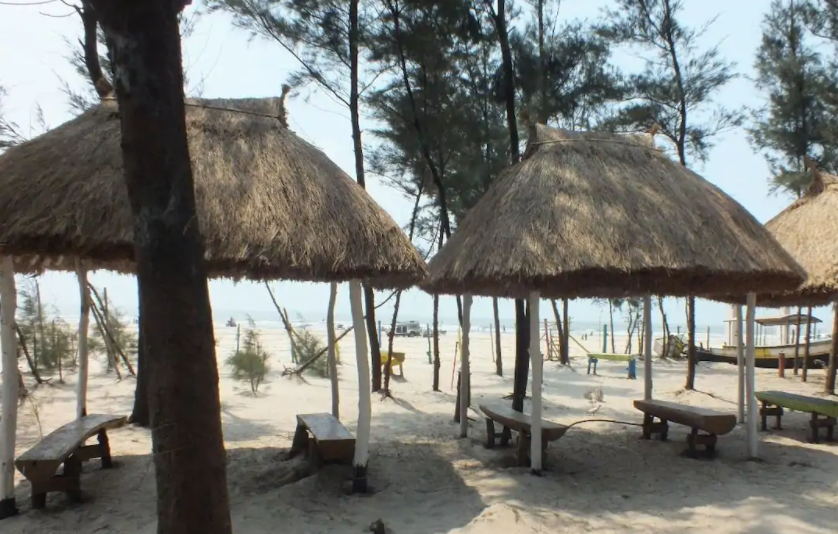 If you have the comfort and safety of a self-drive car rental, a resort near Kolkata that's definitely a must visit is the Sana Beach Resort at Mandarmani. The best part of opting for this resort is that it is a very budget friendly option that offers you an extremely luxurious experience without any compromise. Apart from other facilities of great food and comfortable rooms, you'll love the vast lounge and entertaining space. Pro tip — The beach near the resort is a fantastic gateway to enjoy some boating time. 
Distance from Kolkata — 178 kilometres.
9. Country Roads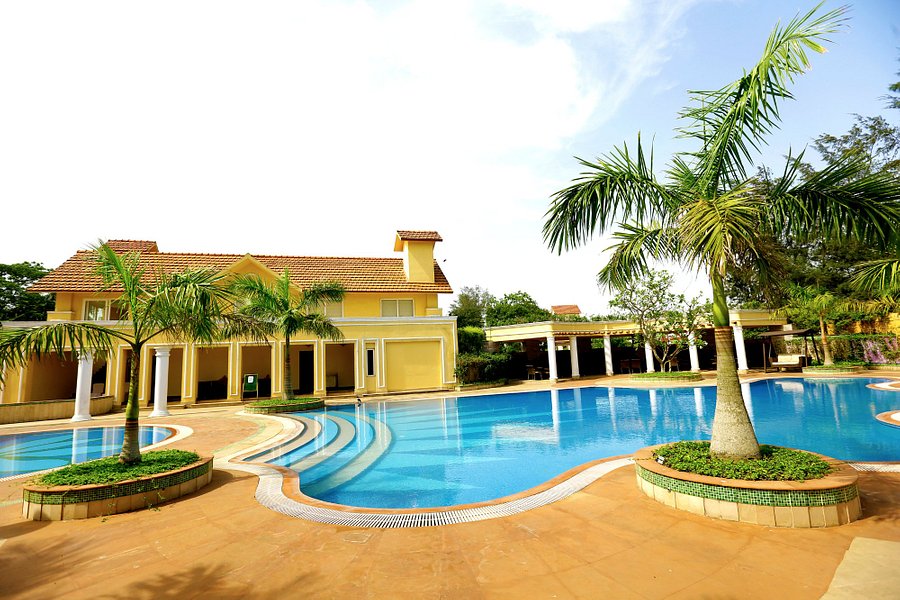 Just as the name suggests, it is a country resort with everything basic and natural. What else do you want in a refreshing getaway from the busy city life? We won't brag about anything extraordinary, but yes, there are lots of wonderful things to do for you here like swimming in the vast pool, enjoying a fabulous game time, and getting the most perfect country vibes. Pro tip — Try the fitness centre of this resort which is certainly the most attractive feature of this place.
Distance from Kolkata — 26 kilometres.
10. Rajbari Bawali and its sister-concern Arshinagar Farmhouse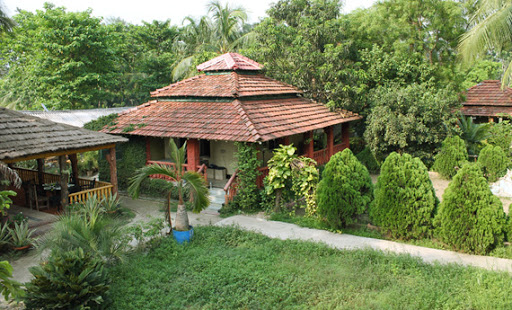 If luxury could be defined in visuals, you have seen it at the Rajbari Bawali Resorts near Kolkata. Just staying in this 300-year-old heritage site is opulent and regal to say the least. Adding to its awesomeness, the luxury dining and self-pampering facilities are something worth cherishing at this resort. Pro- tip – Forget everything, just feel like a royalty as you stay in one of the royal suites of this place. If you now crave to go back to the roots, visit its sister concern, the farmhouses near Kolkata, beautifully named Arshinagar. The mud house and cottage living experience would bring you back to ground reality and fishing, bird watching, cycling round the village, indoor games shall keep you busy during the day. You shall also be intrigued by their NGO initiative that works for the upliftment of the local underprivileged children. End your trip with a magical barbeque under the stars. 
Distance from Kolkata — 34 kilometres.
It looks like you are already enticed! Then why wait and mentally drool? Just get a sanitized car rental from Kolkata via Revv and drive towards these magnificent resorts at the earliest, what say?