10 Ultimate Devotional Road Trips to the Religious Sites in Gujarat
Out of all the states in India, Gujarat has a unique topography having a desert, a coastline, dense forests, and even beautiful hills. All of these make Gujarat an incredible place to visit and explore through some well-planned roar trips to Gujarat. Apart from these, this state has also had one of the most unique cultures, customs, foods, and heritage to provide a rich and immersive experience to the tourists. Gujarat also has several places of religious importance and pilgrimages that are worth seeing if you are planning a trip to Gujarat. Here are some of the best pilgrim sites in Gujarat that you can visit and experience firsthand the diverse culture of this state.
10 Best Religious Places in Gujarat with Pictures
1. Somnath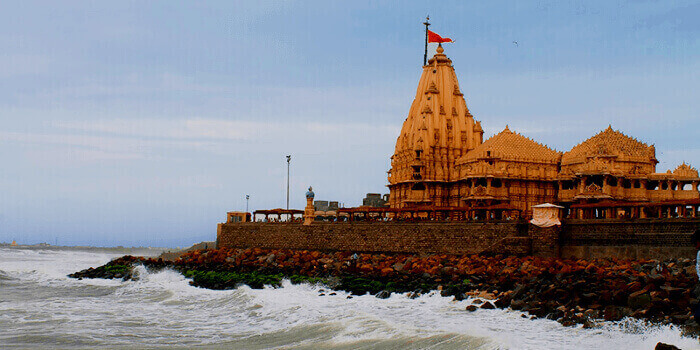 Somnath is one of the biggest pilgrimage sites in Gujarat, which is usually famous for Somnath Temple, dedicated to Lord Shiva. It is one of the jyotirlingas in the country. Somnath is also the place where Lord Krishna put an end to his 'Leela' and took his last breath. Apart from the Somnath Mandir, you can also take a tour of other temples here such as Rudreshwara Temple, Gita Mandir, Suraj Mandir, Bhalka Tirtha, Parshuram Temple, Kamnath Mahadev Temple, Triveni Sangam Temple, etc. There are several other things to do here as well, such as exploring Panch Pandav Cave, Somnath Museum, to name a few.
Tourist attractions: Somnath Beach, Junagadh Gate
2.Dwarka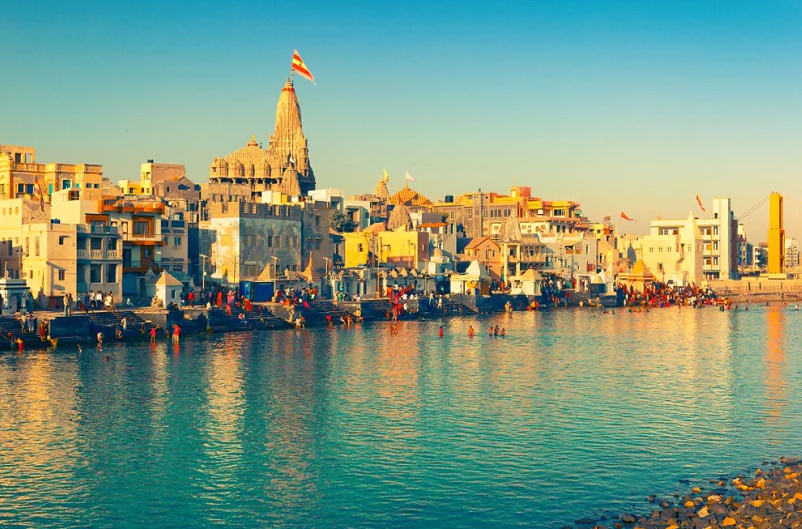 Among the old temples in Gujarat, one of the most prominent ones is Dwarkadhish Temple, which is around 2000-year old. This is also one of the peethas, called Dwarka or Sharada peeth that was established by Adi Shankaracharya. Apart from Dwarkadhish Temple, there are other temples as well that you can take a tour of; and those are Nageshwar Jyotirlinga Temple, Gopi Talav, Gomti Ghat, Rukmani Devi Temple, Bhadkeshwar Mahadev Mandir, Beyt Dwarka, and Swaminarayan Temple, etc.
Tourist attractions: Shivrajpur Beach, Dwarka Beach, and Okhamadhi Beach
3. Gandhinagar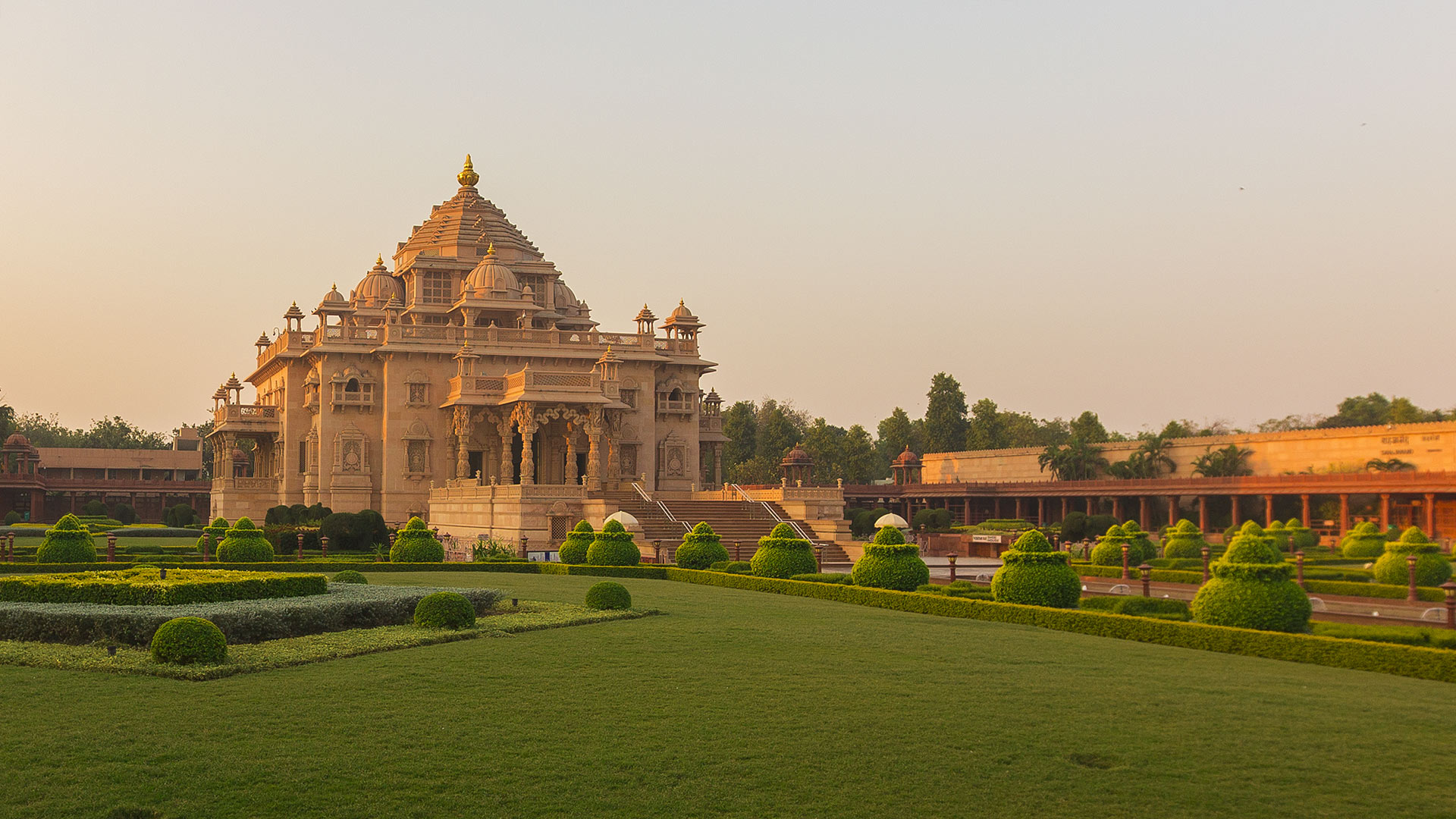 When we talk about a list of all Hindu temples in Gujarat, how can we miss Swaminarayan Akshardham Temple in Gandhinagar. This is one of the most beautiful temples that took 13 years to be completed. Dedicated to Swaminarayan, you can find a 1.2-ton gold-plated idol of Lord Swaminarayan at the sanctum sanctorum. The temple's premises cover an area of 23 acres of land, and there are large halls for prayer, a lush green garden, exhibition halls, and a research center. It is one of the religious places in Gujarat that you should not miss visiting.
Tourist attractions: Indroda Nature Park, Dandi Kutir
4. Rajpara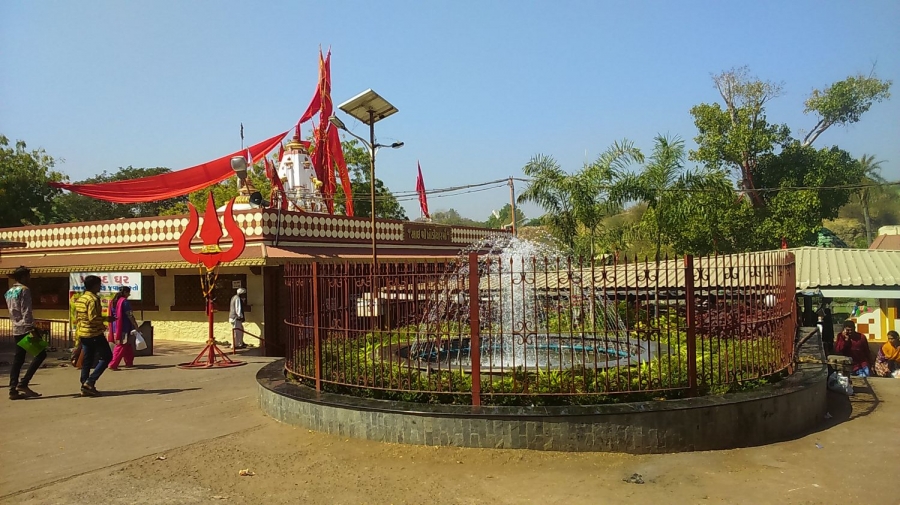 Rajpara is known for housing Khodiyar Mata Temple. It is one of the ancient temples in Gujarat which was built in 1911 CE. The temple is dedicated to Khodiyar Ma, who is a Hindu warrior goddess. While you will find a big mandap inside the temple along with the beautiful idol of Khodiyar ma, you can also enjoy the verdant vegetation, crystal clear lake, and the mountains that surround the temple.
Tourist attractions: Bortalav Lake
5. Bhavnagar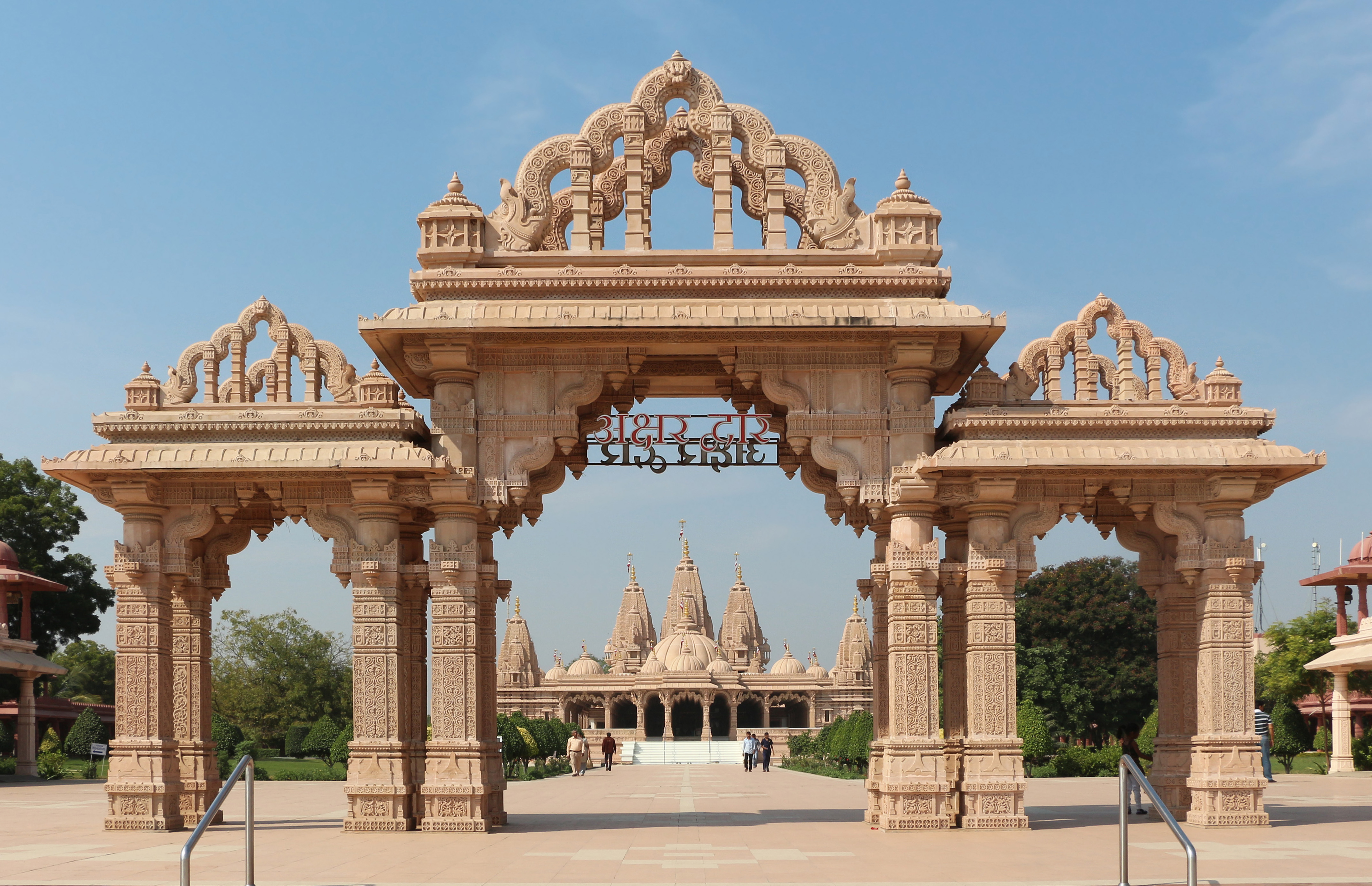 One of the fascinating pilgrimage sites in Gujarat you will find is at Bhavnagar, Nishkalank Mahadev Temple, which is also called the sea temple. During the days of high tides, the temple submerges into the sea. Believing the legends, Pandavas built this temple after the Kurukshetra War.
Tourist attractions: Ganga Deri, Gandhi Smruti, Victoria Nature Park
6. Porbandar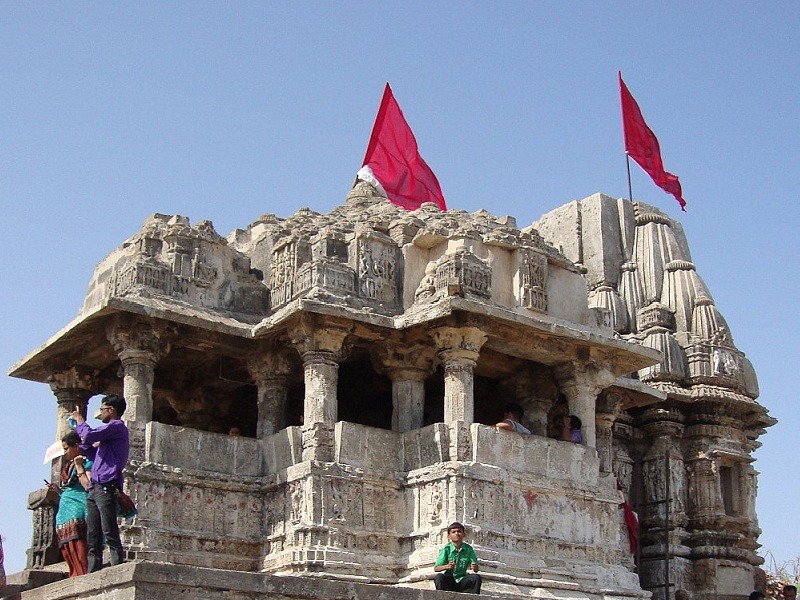 One of the places in Gujarat that are known for a famous temple, Harshal Mata Temple is Porbandar. The temple is dedicated to Goddess Harsiddhi. There are two temples in the city; one is perched atop the hill. However, the goddess is worshipped in the temple located in the market area.
Tourist attractions: Mahatma Gandhi's Birth House, Raj Mahal – Huzoor Palace, Sudama Temple
7. Rann of Kutch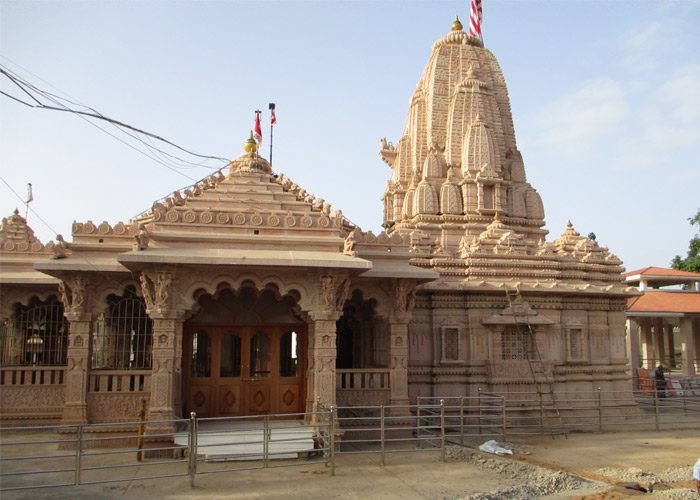 You can visit Rann of Kutch to see the beautiful Mata No Madh Desh Devi Maa Ashapura temple. The temple was built in the 14th century and is still visited by several tourists who admire the architecture of the temple. You can see the traditional Indian architecture in this temple.
Tourist attractions: Kalo Dungar, Kutch Fossil Park, White Desert of Kutch
8. Mandvi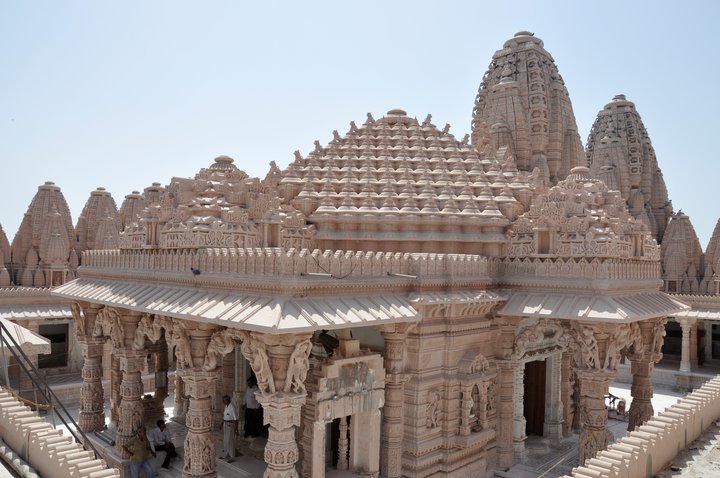 While you are looking for Jain temples in Gujarat, you must pay a visit to Shree Bhadreshwar Jain Temple in Mandvi. It is also one of the ancient temples in India. There are 53 shrines within this temple complex. The temple has always been praised for its architecture.
Tourist attractions: Mandvi Beach, Vijay Vilas Palace, Shyamji Krishna Varma Memorial
9. Ahmedabad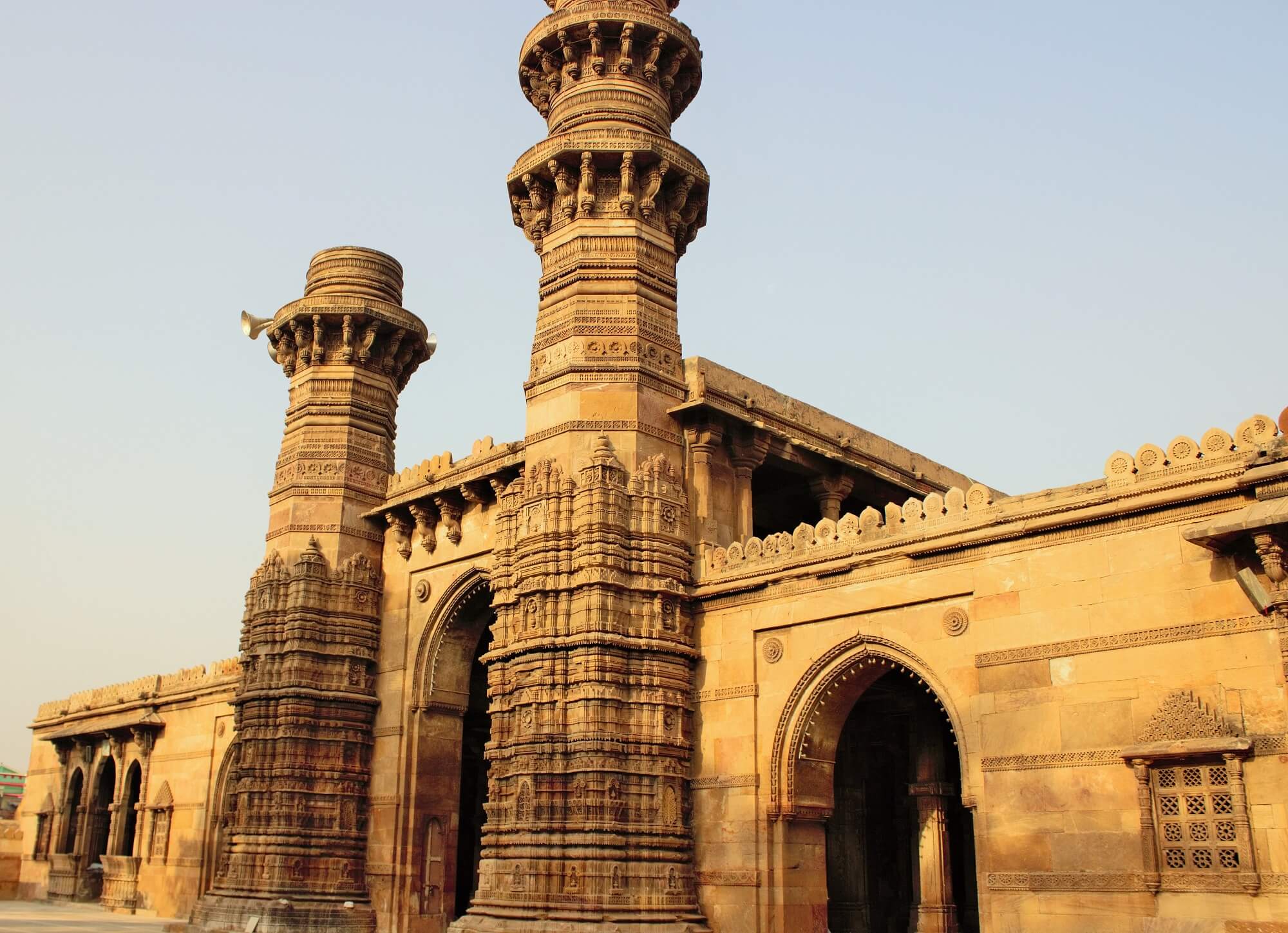 Ahmedabad, one of the largest cities in the state, also houses Jhulta Minara or Sidi Bashir Mosque. Apart from being one of the spiritual places in Gujarat, this mosque is famous for its shaking minarets. This is a wonderful and unique mosque that attracts a lot of tourists and pilgrims.
Tourist attractions: Sabarmati Ashram, The Adalaj Stepwell
10. Jamnagar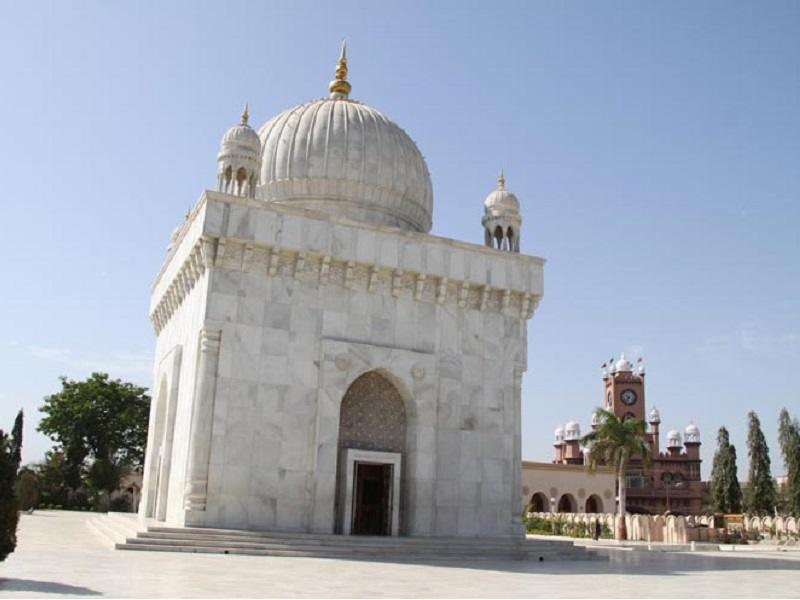 When you are in Jamnagar, you must visit Bohra Hajira. The mosque is dedicated to a Muslim saint; the structure is made of marble. The surroundings of this mosque are very peaceful and you can spend hours here.
Tourist attractions: Lakhota Lake, Khijadia Bird Sanctuary, Lakhota Palace and Museum
All of these pilgrim sites also have some of the most incredible nearby places to visit where you can have some adventures or head out for a picnic. To ensure that you get enough time to spend at these places, you can get a self-rive car on rent from Revv which can be taken on hourly, daily, or weekly rates. Just install and log into the Revv App or visit their website to get started on your religious road trips today.