Road Trips to World Heritage Sites in Karnataka
If you love greenery, ancient art, and rich heritage and culture, you just couldn't say no to a road trip to Karnataka. Having a large area under its possession on the map of India, there are also some of the most reputed UNESCO heritage sites in Karnataka. This state is enriched with beaches, lush greens, deep valleys, glorious mountains and some jaw dropping architecture. Many of these have seen centuries under the sun on this land. A history aficionado can never ignore the rich culture portrayed on each of the sites. Appreciate the incredible monuments left behind by the prominent leaders who once ruled the place.
Some quick tips to remember:
Best time to visit Karnataka – October to April.
Important stopovers while going for a road trip to the heritage sites in Karnataka – Gardens of Bangalore, Bhadra wildlife sanctuary-Mangalore, Suratkal Beach, Bandipur Forest, Karavali, Udipi, Devbagh Island, Murudeshwara.
Number of world heritage sites in Karnataka – 2 
Visit to UNESCO world heritage sites in Karnataka
We are sure you are eager to enjoy the experience of visiting and exploring the best heritage sites in Karnataka. And believe us, the trip would be nothing short of a journey across the history of time and the heritage of the Indian soil. You'll just love the captivating monuments and ancient structures on this land which are truly a mark of excellence, perfectly erected by the talented craftsmen of the bygone eras. Check below the UNESCO listed historical places in Karnataka and ensure to visit them when you're travelling in Karnataka to discover the land.
1. Hampi – Group of Mountains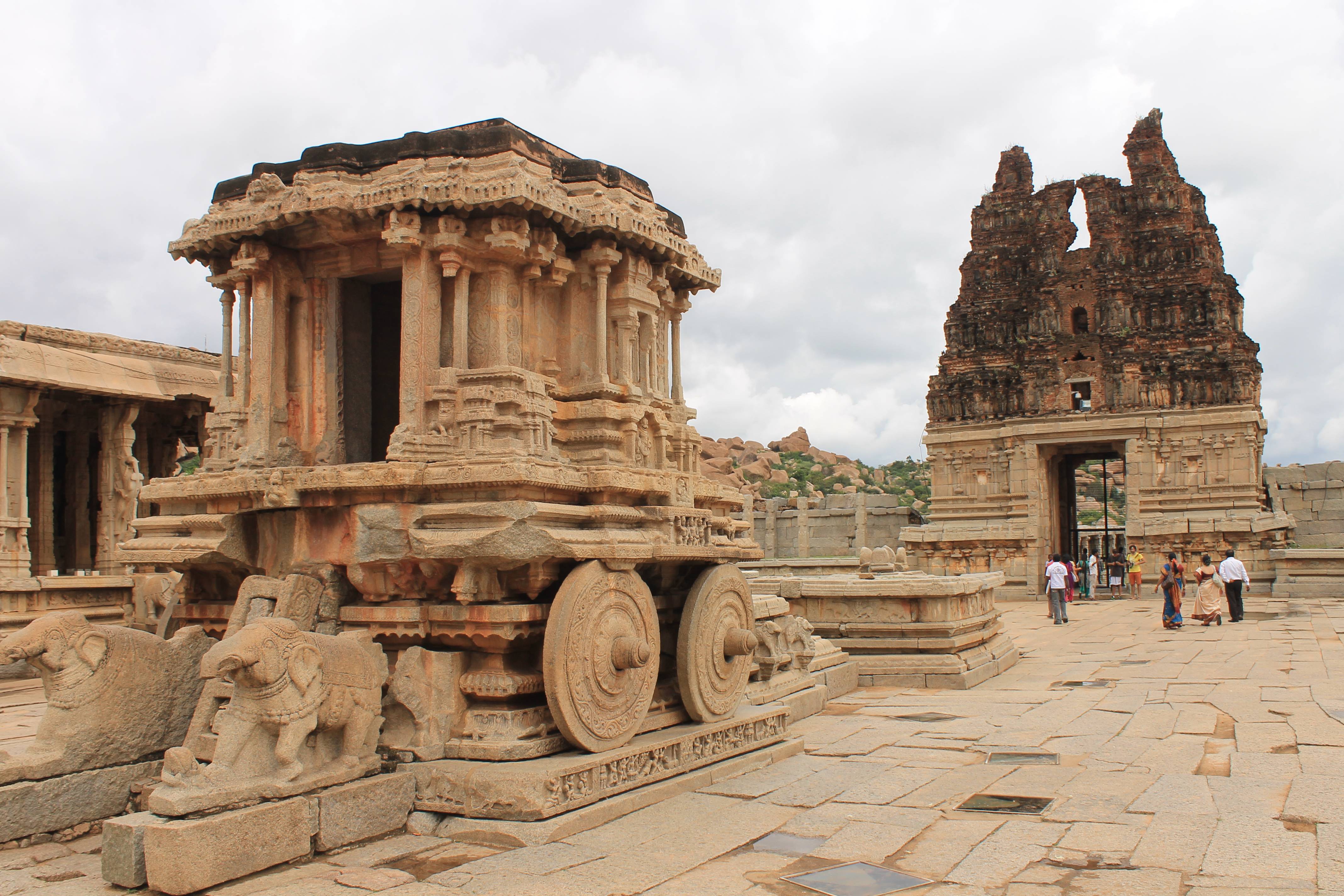 The ancient ruins of the powerful Vijaynagar Empire are spread along the group of monuments at Hampi. It's an ancient village located in northern Karnataka along the banks of the river Tungabhadra. This village is the most popular UNESCO World Heritage Site in the State. Believed to have been the capital of the Vijayanagara Empire, it is one of the sites that attract maximum tourists from all across the globe. If you are wheeling around Bangalore, you simply cannot miss visiting this site. This village is said to have existed in the 1st century AD. These ruins of Vijayanagara Empire surrounding Hampi are spread over an area of 26 Sq.km. it's an essential religious centre of the Vijayanagara Empire because of the historic Virupaksha Temple.
Tourist guides have marked some places that top the popularity chart, and they are – the Hampi Bazar and the adjoining area, the Royal centre around Kamalapur, and of course the Hemakuta Hill. When you're done with exploring this ancient ruin, and have checked every stall in the market and even bowed your head to the great deities in the ancient Temple, visit the south of the main Hampi Temple. It contains some oldest of the relics, Jain Temples and an exceptionally captivating monolithic sculpture of Lord Narasimha. From the market place, you can drive about 2kms East and explore the renowned Vittala Temple.
Quick Information About Hampi:
Visiting time of Virupaksha Temple – sunrise to sunset
Visiting time of Vittala Temple – 6 am -6 pm
Heritage Museum and Hampi Bazaar visiting time – 6 am -6 pm
Zanena enclosures, stables, Lotus Mahal visiting time – 6 am -6 pm
Archaeology museum visiting time –10 am -5 pm
Visiting time of Queens bath – 6 am -6 pm
Best ways to reach Hampi – take a car from Hospet, Tungabhandra, that is around 13 km away.
Entry fees range – it's different for each monument ranging from 2 INR -30 INR for Indians and 500 INR for foreigners.
2. Pattakadal – Group of monuments
Built in the 18th century by the Kings of the Chalukya dynasty, this monument has got a unique blend of Dravidian and Indo-Aryan designs which makes it an exquisite site. The fabulous designs of the temples in this area were a strong reason for it to get listed as one of the prominent historical places to visit in Karnataka by the UNESCO. Surrounded by the river Malaprabha in the north, and having gorgeous green beauty surrounding it along with a line of temples in its premises, it's also called the holy city of Karnataka. These temples are in themselves examples of architectural excellence and fabulous splendour. These are some of the oldest ones in the country and were frequently used by the ancient kings for worshipping. You should pay a visit here in order to view the extraordinary art work alongside the most gorgeous natural backdrop.
Quick Information About Pattakadal :
Visiting time – 6am-6pm
Entry fee – Indian visitor -35 INR, SAARC citizen -35 INR, Foreigner -550 INR
Best route – Take a car from the city of Badami as its 22km away from it. The site can be accessed easily even from Badami railway station and Airport.
Other important heritage places to visit in Karnataka that deserve mention 
Though UNESCO only verified these two above mentioned places under Karnataka heritage sites, but there still some really great places to visit here. We selected two for reasons of their own. Vadami because it has been proposed to be a UNESCO world heritage site; and Mysore because it is unique that an entire city is considered as heritage. Read about them briefly below:
1. Mysore – The City of Palaces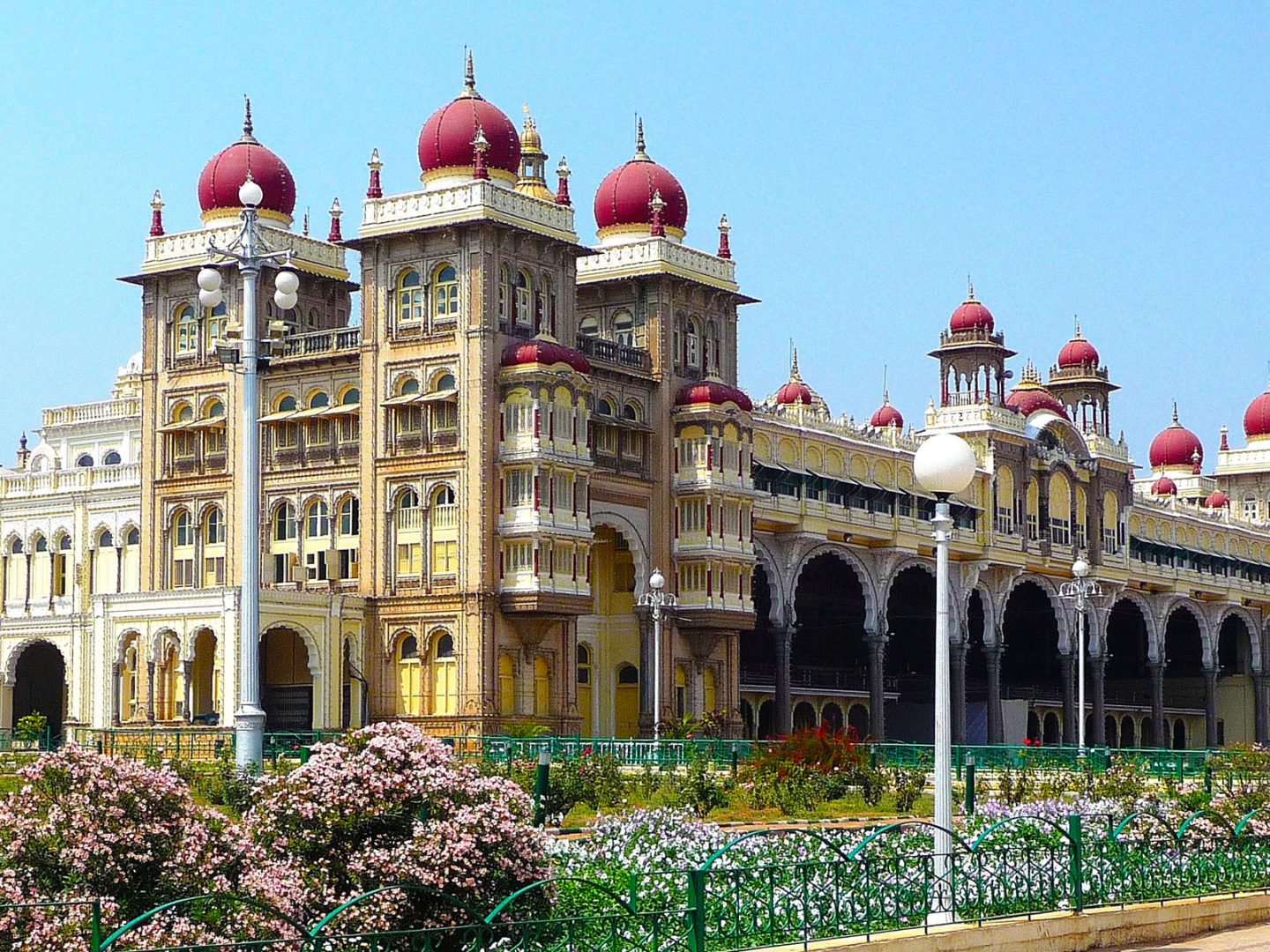 They call it the city of palaces. The city was ruled and deemed as the capital of various prominent rulers from 1399 to 1947. No doubt it has an essence and touch of all these kinds of rulers in each of the nooks and crannies. Mysore has forts of Karnataka which are totally exceptional in their structure and architecture, magnificent gardens, jaw dropping palaces, and also a zoo that adds to its royal grandeur and explicit charm. You will need at least a whole day or even two days to explore the city thoroughly on the road, as you are sure to encounter a heritage site at almost every second intersection.
2. Badami – The Anicent Temples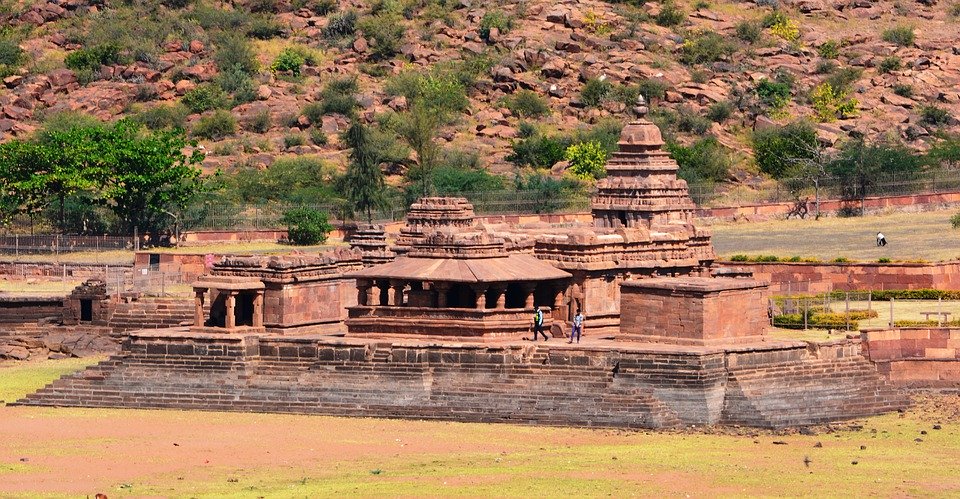 Also known as Vadami, its one of the most prominent historical destinations of Karnataka. It has remained the capital of the most powerful and mighty rulers, the Chalukyas, from 540-757 AD . This place is known for its bewildering cave temples, remarkable fortresses, exquisite fine carvings, astounding architecture and captivating views. Vadami is also idyllically located in a valley that is cradled by red sandstone rock, just near the Agastya Lake. You can also visit some temples which are opposite the Badami fort. Many temples even dot along the shores of the Agastya Lake. There are few of the cave temples here that belong to the Vedic faith, there's also one Jain temple that is dedicated to Tirtankara Adinatha. Visit this structure to view the ancient and artistic carvings, impressive mural paintings and carved figures of Lord Vishnu and other religious characters in different forms from the Hindu mythology.
There are still many more historical places around Bangalore which would leave you awestruck especially if you are interested in religion, arts and architecture, sculptures, et al. Each place has its own salient features making them famous amongst tourists from all over the world. When you embark upon your trip across the various notable places in Karnataka, try a self drive car rental to explore at your own pace, it is surely going to be a humbling experience and would enrich you as a traveller.