5 Awesome Bollywood Inspired Road Trips to Embark on
No matter which mood you are in, a road trip can never be a bad idea, especially if you are planning it with a bunch of your close friends. Especially if you are a Bollywood movie buff, you will surely want to take road trips with your buddies and have a great time just like the movies. A Bollywood road trip can come as a great opportunity for you to relive the tinsel town vacations around the country in real life. Whether it is recreating the scenes from your favorite movies for an amazing photo shoot or the thrill of visiting the great locations that have played host to the B-town stars, a Bollywood road trip is sure to create some fabulous memories. Here are some Bollywood road trip movies that will inspire you to take one.
5 Best Road Trips Straight out of Bollywood Movies
1. Highway (Rajasthan to Kashmir)
Highway is one of the Bollywood travel movies that will woo you to the point that you will want to start your journey from Delhi to Kashmir. The way Mahabir Bhati drives his truck all the way through Delhi, Haryana, Rajasthan, Himachal Pradesh, and Kashmir; you will fall in love with the road trip. Well, if you want a similar kind of road trip, you can take a shorter one from Delhi to Himachal. You can start from Delhi and your end point will be Kasauli high up in the lap of Himalayas. Some of the famous places that you will come across in this trip are Chandigarh, Kalka, Shimla, Kufri, Mashobra, etc. The journey will provide you some of the best locations for a photo shoot for the social media accounts and you can even stop at similar locations from the movie where some of the famous scenes were shot.
2. Jab we Met (Ratlam to Bhatinda)
The road trip from Ratlam to Bhatinda in Jab we Met has inspired many travelers to take the same route. You can start your tour from Ratlam and end it in Bhatinda. In the trip, you will cross several places, where you can even stop over and explore them. The story of Aditya and Geet has been something that many people of all generations have been able to relate to and the road trip can be a great option for couple who have Jab we Met as their favorite movie. The other road trip from Bhatinda to Manali to meet Anshuman, the guy that Geet is in love with is equally interesting if not more picturesque and provides the much needed break from the city life.
3. Piku (Delhi to Kolkata)
In the movie Piku, the lead character Piku (Deepika Padukone), her father Bhaskor (Amitabh Bacchan), and the cab company's owner Rana (Irrfan Khan) take a trip from Delhi to Kolkata. Well, this can be a really long trip and a tiring one, but this is not something that you cannot do. In the movie, they stopped over Varanasi and stayed for a night. You can take many more stops at several places in between these two cities. Although the road trip is a long one it also gives a lot of different routes that you can explore. As you pass through the beautiful landscape, you can experience the tranquility and serenity that is instilled in the hearts of the travelers. The movie also features the budding love between Rana and Piku and can be a great relation goal or an essential item in a travel bucket list.
4. Finding Fanny (Goa)
The sweet hope that Ferdie gets when he gets an undelivered letter addressed to the women he was in love with; Fanny is enough to make even the most practical of us feel a tinge of romance. Each of the character develops during the trip in their own unique way and the road trip they take in Goa is a great homage to this amazing movie. The best part about this trip is that it gives the opportunity to experience the less seen and visited beautiful countryside of Goa, away from the crowded beaches. The beautiful churches and monuments that are covered during this trip can acquaint you with the rich cultural heritage of Goa.
5. Dil Chahta Hai (Mumbai to Goa)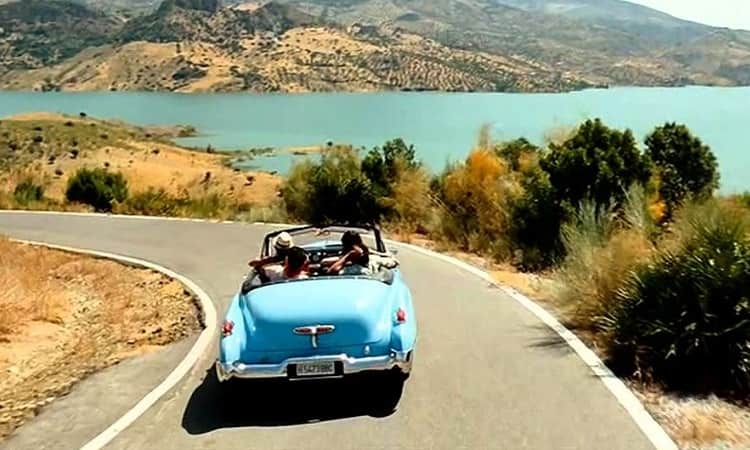 The iconic road trip embarked by the three best friends has been since repeated in the movies such as Go Goa Gone and later used a similar road trip in Zindagi Na Milegi Dobara although in Spain. The beautiful roads that take you there make for an amazing drive and it can be the perfect trip for friends who have been planning a reunion and to add more excitement to it, you can even get the similar car with open roof for a great road trip experience. If you too have a trio of friends, such as Akash, Sid and Sameer that great fun that you can have will definitely make for some amazing memories.
The best part about these iconic Bollywood inspired road trips is that it will let you recreate some great movie memories without breaking the bank. The many road trips in Hindi movies make for a great vacation for the movie buffs and film aficionados. The travelers can get the perfect vehicle for their trip through the Revv car rental services and get a fully maintained and serviced ride. They can choose the best make and model of their vehicle whether a sedan, hatchback or even SUV matching the needs of their road trips and their budget.