Delhi to Mussoorie – Road Trip to Heaven
2020 has been a year of long weekends; certainly, a bliss for road trip enthusiasts like me!
There are so many hill stations and getaways from Delhi that you can visit one each month and still be left with more options to explore: Shimla, Chandigarh, Kasauli, Dehradun, Nainital, Mussoorie and many more.
Last weekend, I and my friends decided an impromptu road trip to Mussoorie. We didn't want to be touristy, rather seeking real adventure and hence zeroed in on The Nag Tibba trek. Our main aim was to enjoy the Nag Tibba trek which would take 2 days, but we also decided to enjoy the beautiful drive to Mussoorie. It's just a few hundred kilometers away from Delhi and is also known as the "Queen of Hills".
The ideal time to take the trip is during little or no rainfall. Since we all are road trip freaks and were travelling from Delhi, we decided to go by car. The most hassle-free self-drive car rental service we found online was Revv. It's not only affordable but also offers doorstep delivery and pick up facility which lessens my work a lot.
Coming back to the trip, once you reach Dehradun, there are 3 routes to consider while starting your trek to Nag Tibba:
1. Pantwari Village (17-20 kms approx.)
Located in the Dhanaulti tehsil in the Tehri Garhwal District, Pantwari is a popular choice as the base camp for Nag Tibba trek. It is at a distance of about 140kms from Rishikesh and 95kms from Dehradun. You will find a few shops, guesthouses and home-stay options. The area also has its own attractions to offer, in the form of many species of birds, beautiful landscape, and oak and rhododendron trees. You won't find any railway station within 10kms of Pantwari. The closest railhead is the Dehradun Railway Station which is 33kms from here. One can hire a taxi or avail a bus from there to reach Pantwari.
Located near Mussoorie, Nag Tibba is one of the best weekend trek options that are also not very difficult for beginners. If you simply want to take a walk in nature's lap, this is the ideal option for you, thanks to the spectacular views it offers of Bandarpoonch peak, the Gangotri group of peaks, Kedarnath peak in the north, Doon Valley and the snow peaks of Chanabang.
Also known as Serpents Peak, Nag Tibba is the highest peak in the Nag Tibba range of the Garhwal Himalayas. Popularly held as the abode of Nag Devta, this range is great for a trek since the base camp can be reached by jeep, which means you will take less time to complete the trek. The trek will also treat you to oak and deodar forests bustling with birds, giving you an opportunity to explore the Garhwali village and their culture. Another advantage of this trek is that it can also be undertaken in winters, when most of the treks in the higher Himalayan ranges are closed. You can finish the trek in 3 days, which makes it best-suited for weekends.
2. Devalsari village (28-30 kms approx.)
3. Aunter Village (Longer than Devalsari but easier)
All the three hamlets are motorable to some extent. There are ample lodges and hotels on the way where you can easily book a room, take rest and park your car before beginning the trek.
We took the Pantwari village road since we had our own tent to pitch and had no worries about spending the night on the hills.
But first, let me walk you through our incredible road trip leading to Mussorie.
We had no choice but to start early at around 5 AM to avoid the troublesome traffic. We were almost successful in getting to the highway on time. Trucks driving in the middle of the road were a nuisance though, but as we went further, traffic started thinning.
While most of the roads were in very good condition, we were greeted by some roads that were not roads at all; just a mixture of potholes and mud. The drive is quite scenic with fields, free animals and distant mountains on both sides of the road. Adding to the fun was our frequent breaks on various local dhabas to have tea and Maggi. We road trippers are food junkies too and we never miss a chance to indulge in some yumminess. For me, cold weather, steaming hot food and the mountainous surroundings make a perfect cocktail.
As we passed Dehradun, the temperature started to drop and the mountains started appearing nearer. We drove past many breath-taking view-points and stopped by all of them to take amazing shots. We also had fun taking a dip in a few waterfalls. Considering our on-road excursions, we were not at all surprised that we reached Mussoorie late at night. But it was a well enjoyed road trip.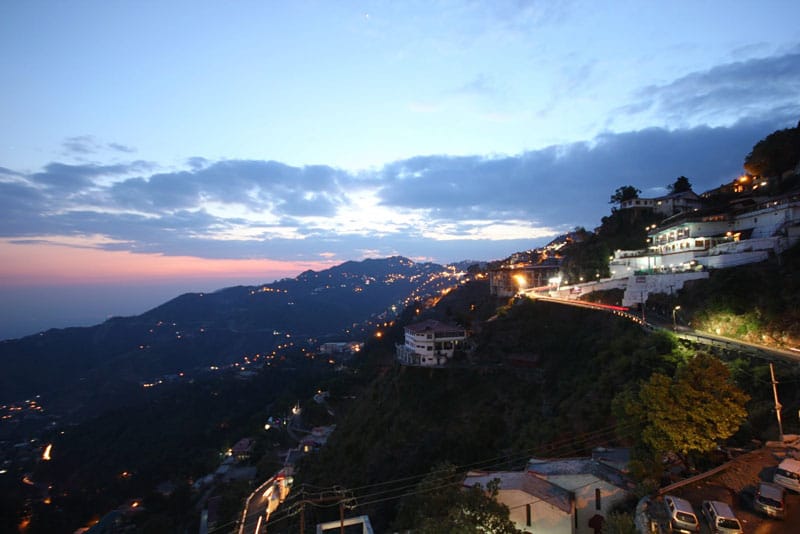 Next day was the trek day. Now, here let me tell you a few things to keep in mind to avoid bumps on your journey.
Prefect Plan for road trip from Delhi to Mussoorie
First things first, hire a guide.
Plan your stay for the night during the trek. Either take your own tent or reserve a room in the only guest house at the base of Nag Tibba camp.
Don't pack your bags too heavy, but don't forget essentials either. Energy-rich foods like energy bars, chocolates, nuts and fruits will help you keep up.
Packaged food for dinner will serve you well as there is little availability up there.
A raincoat or a windcheater is a must. You never know when it'll start raining.
Lastly, put on a smile and face adversities courageously. Contingencies are inevitable in hills.
Our trek was somewhat tiring but largely refreshing. We were constantly met by passing clouds, misty fog, lush green plains, dense forests, scary wolf whistles and almost extinct species of birds; not to forget stunning sunrises and sunsets. It did not rain much for which we thanked heavens.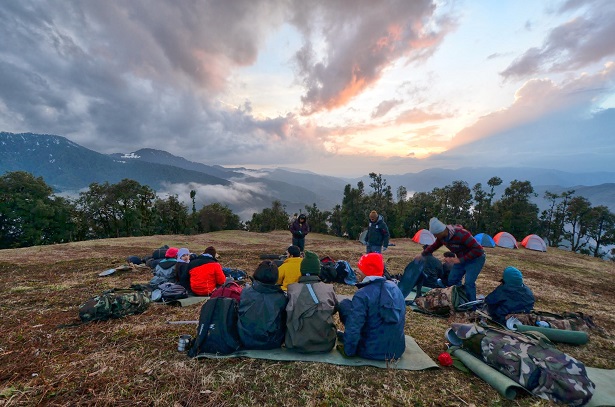 All in all, after this trek, we emerged rejuvenated with lungs full of fresh unadulterated oxygen and wide smiles to take us through at least another month. We should possibly have another road trip planned by then to recharge our batteries.
Stay positive and happy tripping!