Unforgettable Holi Celebration Trip from Delhi to Mathura
Holi is one of the most widely celebrated festivals in India by not only the Hindu community but also enjoyed by other religions and communities. No matter where you go in the country during this time, you will find people enjoying the festival with full enthusiasm. However, no matter how much you enjoy Holi in other places in the country, visiting Mathura will bring a unique flavor of the festival for you. And if you live in Delhi, it is also very convenient for you to visit Mathura during the festival of Holi.
If you have participated in the Holi celebrations in Delhi, the trip to Mathura will give you a great opportunity to witness the rich diversity of this region and its unique customs. The date of the Holi celebration in 2021 is 29th March, which is a Monday. Therefore, you can reach Mathura on Saturday, 27th March to witness how people are preparing for the festival. A day before, Holika Dahan is held, after which people start their preparation for the next day to play with colors and flowers.
Being one of the well-traveled road trips in India, Delhi to Mathura drive is around 183 km, which will take you around 3 hours and 15 minutes to reach. To witness everything and take active participation in the celebration, you can start the road trip from Delhi to Mathura during Holi early in the morning.
Why Holi in Mathura is so special?
Believing the legends, Mathura is the place where the love between Lord Krishna and his beloved Radha flourished. It is believed that Lord Krishna was upset about the fairness of Radha's skin compared to his own and to balance both of their skin tones; Lord Krishna would throw colors on Radha and paint her face with colors.
Nandgaon, a village close to Mathura, was the place from where Lord Krishna and his friends would go to throw colors of Radha and her friends at Barsana. To stop them, Radha and her friends would playfully beat them with sticks.
Following the tradition, the locals in Nandgaon and Barsana still celebrate Holi every year with colors and sticks; therefore, it is called Lathmar Holi. The celebration runs for at least 6 days and starts a week in advance of the final day of Holi.
Places to celebrate Holi in Mathura and Vrindavan
The first place you should visit is Barsana. This is where you can witness Lathmar Holi mainly. You can spend a day here to feel the platonic love and romance of Radha and Krishna during this time. The next stop can be at Nandgaon. Boys from Nandgaon go to play Holi with girls in Barsana.
You can next go to Vrindavan and Braj. In both these places, Holi is usually played at the temples. The priests shower holy water and colors on the visitors at the premises. The riot of colors on Holi is something to witness on this day.
Things to do in Holi
The 5-6 days celebration of Holi in Mathura and Vrindavan is worth witnessing. There are several things to do in Holi in these towns. Here is a list of things you can do here during this time.
Barsana and Nandgaon: Enjoy Lathmar Holi 
Vrindavan: You can visit the Banke Bihari temple to see the Holi celebration with flowers and colors within the premises of the temple. Another thing that you will find anywhere else in the country is Widow's Holi. Widows gather at the Gopinath Temple complex to play Holi on this day.
Mathura: You can witness Holika Dahan, Dhulandi Holi, Huranga, and Rang Panchami in temples in Mathura.
As you visit Vrindavan and Mathura during this beautiful festival you can also take a tour of all the places that are famous here. The tourist attractions in Mathura include:
1. Sri Krishna Janmabhoomi Temple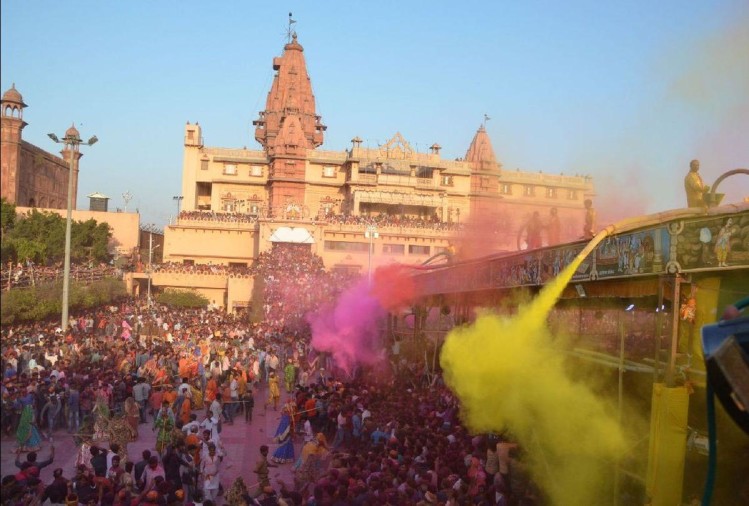 It is considered to be the holiest place in Mathura since it is believed that Lord Krishna took birth here. The marble statue of Lord Krishna is something that you can see here along with shrines of several gods and goddesses.
Timings: 5 am to 12 pm; 3 pm to 8.30 pm
2. Dwarkadhish Temple
The temple is dedicated to Lord Krishna, while the Rajasthani architecture of the temple is something worth appreciating. It is one of the most beautiful temples you will see in Mathura with an open courtyard, carved pillars, and gorgeous painted ceiling.
Timings: 6.30 am to 10.30 am; 4 pm to 7 pm
3. Gita Mandir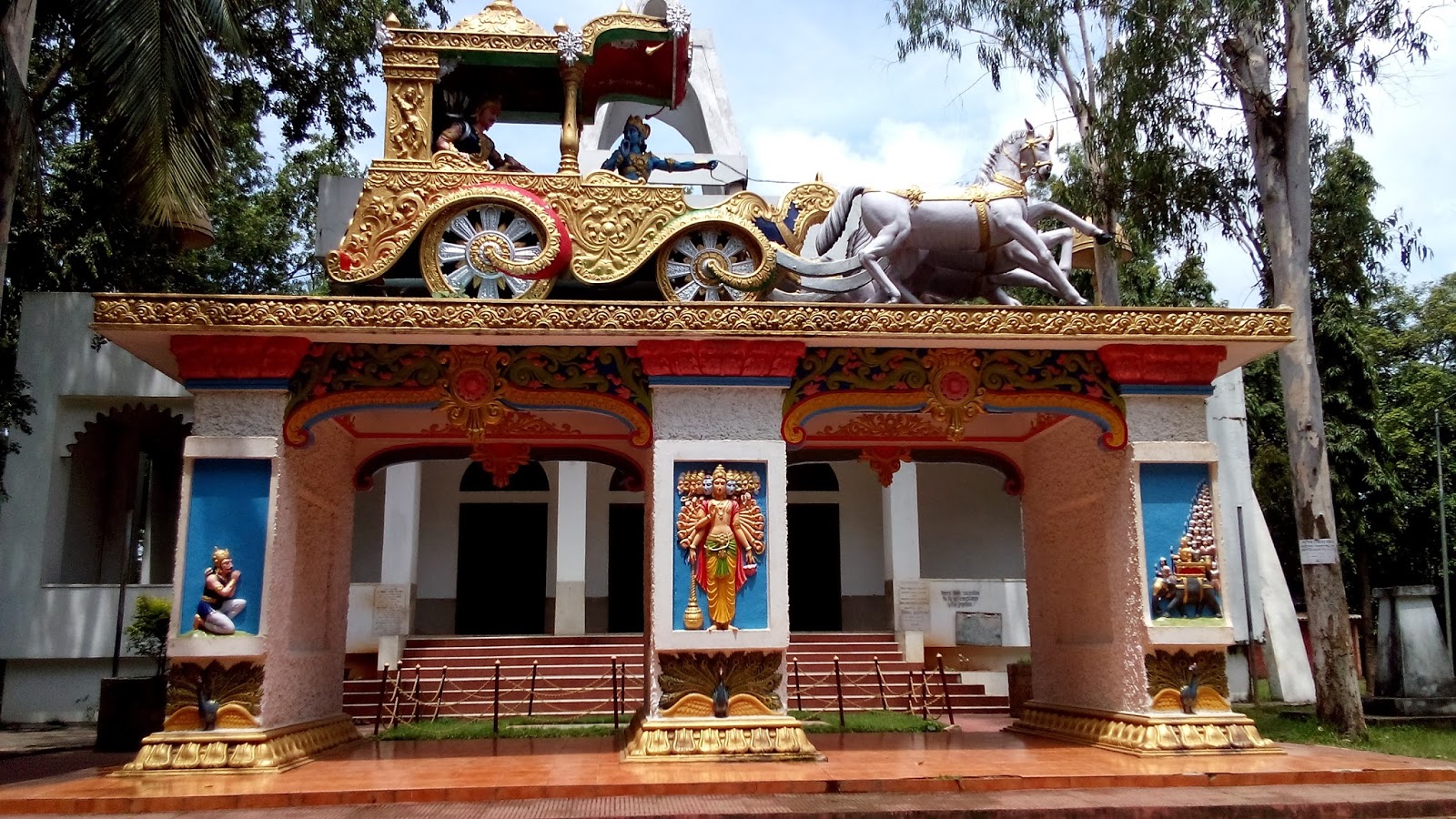 Gita Mandir or Birla Mandir is famous for the 18 chapters of Bhagavad Gita that are illustrated on the pillars of the temple. The temple has idols of various Hindu gods and goddesses such as Lord Krishna, Lord Narayana, Goddess Lakshmi, Lord Rama, and Goddess Sita.
Timings: 6 am to 7 pm
4. Vishram Ghat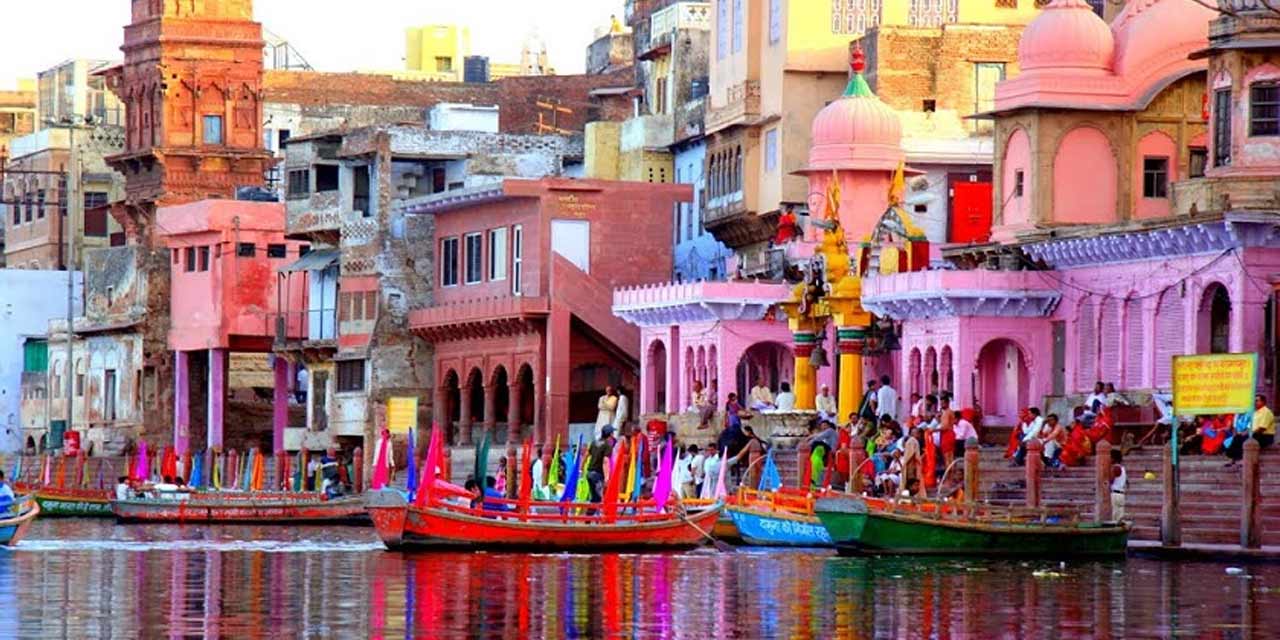 It is one of the most important ghats in Mathura as legends say Lord Krishna rested here after killing his maternal uncle Kansa. Several temples are surrounding this ghat. During the evening aarti, thousands of oil lamps are lit here which float in the river.
Timings: Aarati 7 pm to 7.15 pm (summer); 6.45 pm to 7 pm (winter)
5. Elephant Conservation & Care Centre
This is a rehabilitation center for elephants who once were abused. Here they are taken care of. You can see the elephants eating, walking, and even splashing water here.
Timings: NA
6. Kans Qila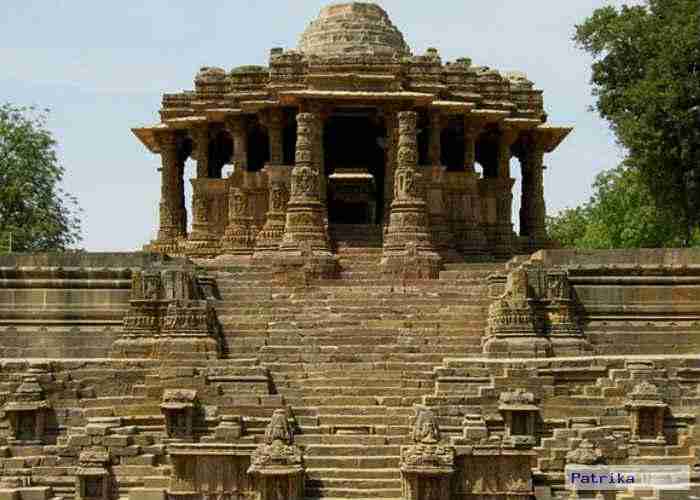 Situated on the banks of River Yamuna, Kans Qila is an example of rich Hindu and Muslim architecture. While you visit here, you can also take a tour of Vaikuntha and Brahma Ghats.
Timings: 8 am to 4.30 pm
These amazing places have a deep link with the stories from the life and childhood of Lord Krishna, and therefore those with a religious inclination can find particular significance visiting these places during Holi. To conveniently reach here you can take a car rental from Delhi and enjoy the comfortable drive. Keeping your safety in mind, taking a sanitized car rental by Revv is a great option. Just install the Revv app and book the perfect car on rent in just a few steps.