Explore some of the Best Holi Party Venues in Delhi-NCR
One of the most awaited celebrations of the year is none other than the festival of Holi. Even though it is a religious festival of the Hindus but lately it is recognised as one of the grand celebrations where all Indians groove and enjoy with their near and dear ones. In some parts of the country, especially Delhi, there are events held at various sites that thoroughly celebrate this festival. Let us check out some of the best Holi party in Delhi.
Some of the best holi party venue in Delhi-NCR
1. Hyatt Regency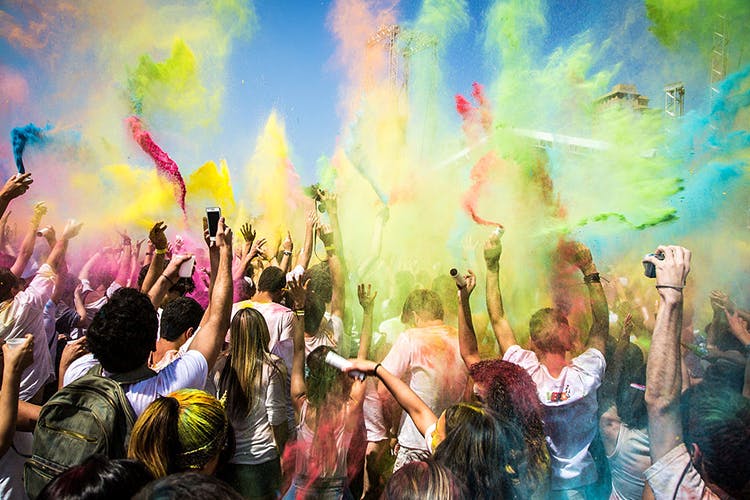 This place gives the festival of colours a whole new elevation by hosting it at the poolside. Some of the things that make the party a hit are the War of DJs, Music, Holi Brunch, Live Stations and Traditional Delights. Entrance fees for this grand event are pretty reasonable. You can also stay over at the Regency for the party. Buffet breakfast along with Holi special festivities and brunch comes complimentary with your room booking.
Must Read: Unexplored Recreational Spots for Camping near Delhi That You Ought to Try in 2020
2. Adventure Island
Inspired by the Bollywood movie "Zindagi Na Milegi Dobara", Adventure Island in Delhi hosts a Holi Tomato Festival to make the party more happening and unique. Other than launching tomatoes at each other, this place also features a romantic rain dance. It is indeed one of the best venues to spend your Holi this year. You will also sight celebs at this venue, grooving and enjoying on Holi songs.
3. Rajwada Farms
As grand as their name, the party which Rajwada Farms hosts is also on an exclusive scale. From welcoming you with Dhol and Bhangra to providing you with lunch and adventure, this place looks out for all the needs to make your day happening and memorable. You can also enjoy a pool party here. From breakfast to evening snacks, the entire day will be packed with celebrations and parties. Get ready to dance on your favourite songs and enjoy with your near and dear ones to the fullest.
4. Kalagram, The Garden of Five Senses
Gang up with your girl gang and head to the Supermoon Holi held at Kalagram in Delhi. Celebrate Holi at this eco-friendly zone with some well-known musicians like Jasmine Sandlas, DJ Barkha, Hari Sukhmani, Nina and Malika who will perform this year. There is a new feel in celebrating Holi here as this place also hints at the celebration of International Women's Week.
Must Read: Places to Visit in Delhi That Will Leave You Mesmerized, to Say The Least
5. Durga Pooja Park, Dwarka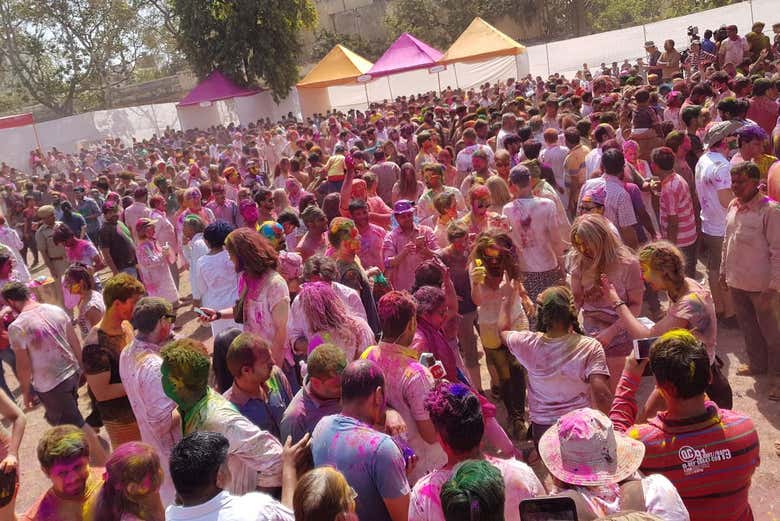 Hosting the party by the name "Rang De", this place is another site to have a blast on the festival of vibrant colours. Some features of this place for the Holi Party include Live Music and Dhol, Pool and Rain Dance, Photo Booths, Food and Thandai Counters and Games. Well-known celebs like Bigg Boss 13 contestant Himanshi Khurana will be attending this party. Some of the other well-known celebrities performing at this party include Jibran Dar, Fazilpuria, Dilbagh Singh and Dark Knight Band.
6. Aqua, The Park Hotel, Delhi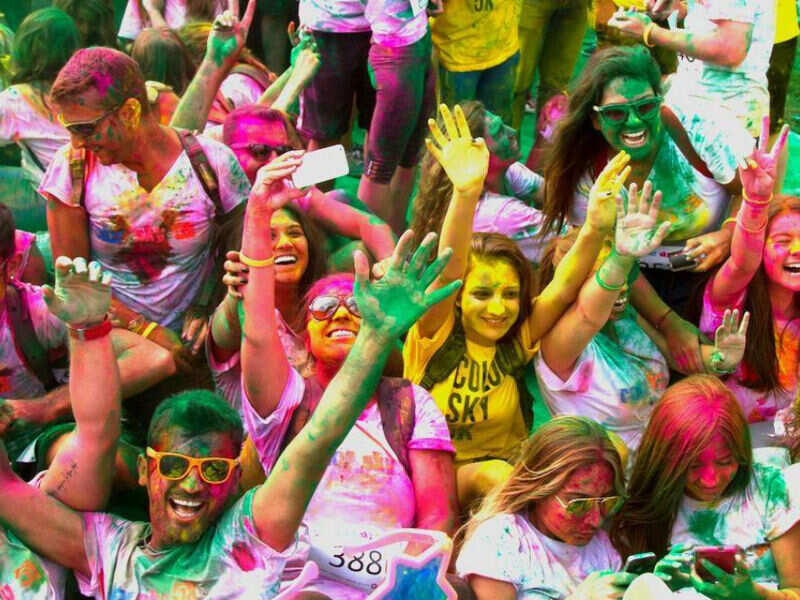 The Park Hotel in Delhi is not excluded when it comes to exploring the best venues for attending a Holi party in Delhi. The Park indeed hosts the most exclusive Holi party in the city and this year too, it will witness the festival of Holi, which is to be celebrated on a grand scale. From witnessing a pool party to live performances of DJs, you will not get bored even for a moment here. Holi parties held here have been the most successful ones over the years and we look forward to the same this year as well.
Must Read: 15 Best-One Day Tours From Delhi By Road
7. Ambria Tivoli Pushpanjali, New Delhi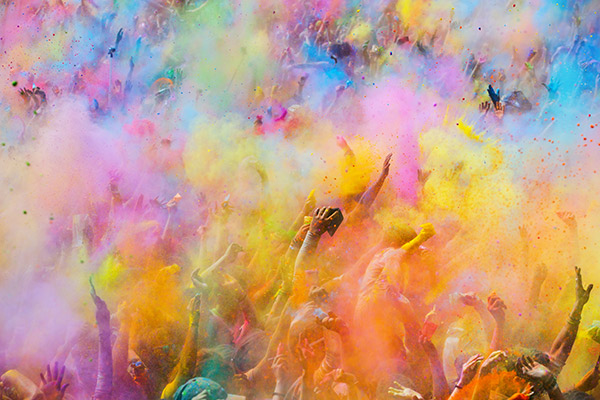 Artists like Sidhu Moose Wala, Amrit Maan and Himanshi Khurana will be spotted at this venue to make the 2020 Holi party memorable. Gear up to dance with live music and songs performed by these artists at Ambria in New Delhi. Though there are plenty of options in choosing venues for attending Holi parties, this one could be an ideal choice as it has a lot to offer for entertainment and fun. Furthermore, the entrance fee is also very reasonable so that you can take your family and friends along with you to enjoy the day here.
8. Chattarpur Farms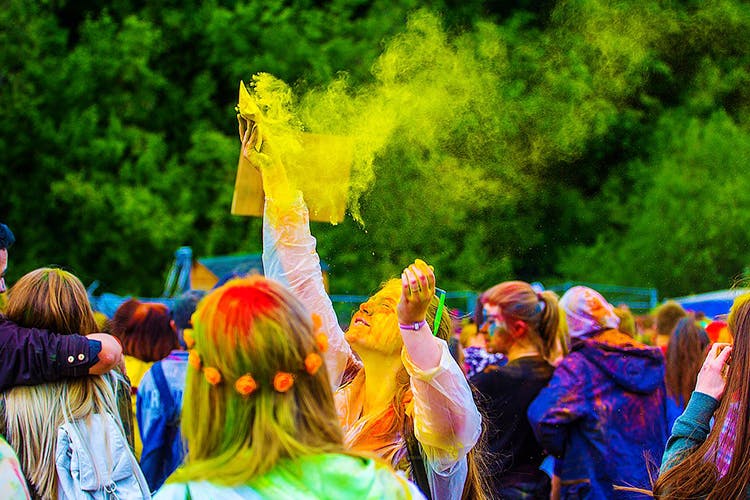 Another location inspired by the Tomatina setup and pool parties is Chattarpur Farms in Delhi. It hosts the party for the entire day beginning at 11 in the morning and ending at 8 in the evening. Celebrations are held with vibrant colours, mouth-watering food, unlimited drinks and DJs. Indeed, the DJs play a major role in making Holi a successful event. Pool Party, Rain Dance, Water Gun and Dhol are also provided at Chattarpur Farms. The event has a bunch of other attractions as well like exotic locations and decorations, photo booths, professional video coverage, pick up and drop facilities, etc.
Must Read: Top luxury Resorts near Delhi for – A Perfect Weekend Break
9. Shoots & Shoots Photography & Film Academy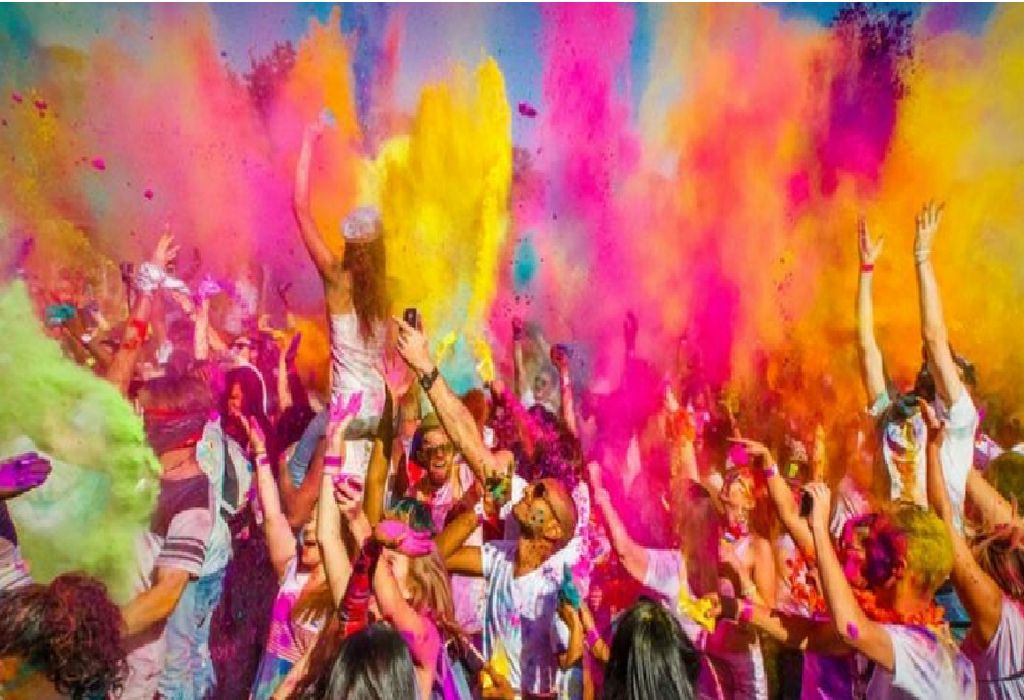 This place seems the most exciting setting for the event of Holi, as it starts its celebrations a week before the actual party is held. It is famous for the Lathmar Holi celebration where women spend a jolly day beating the men playfully with sticks. Photography and video shoots are also a part of this celebration. Music, dancing and performances by DJs are other key attractions along with bhajans.
These are thus some of the best Holi party venues in and around Delhi-NCR that you must check out this year. Groove to the beats of dhol and bhangra with your loved ones and enjoy smearing each other with colours. After all, Holi comes just once a year and you should definitely make the most of the occasion!