Discovering Some of The Best Nightout Places in Bangalore
Heading out into the night in Bangalore after a hard day at work or a day of hectic sightseeing? Take a look at some of the best places for nightout in Bangalore. The Garden City is characterized by its moniker- Pub Capital of India. Bangalore has no dearth of pubs, lounges, bars, nightlife hangouts, restaurants, cafes and other nightlife haunts that make its largely millennial population proud.
Best nightout places in Bangalore for Gastronomes
There are several Bangalore nightout places that cater to foodies like no other! Here's looking at some of the best ones:
1. Biryani Knights
Those desirous of lip-smacking late night meals can travel to Biryani Knights in South Bangalore at JP Nagar. There are yummy Biryanis on offer here across egg, vegetarian and non-vegetarian categories. There is a wide range of chicken items and kebabs at the restaurant as well. It stays open till 4 AM on weekends as well.
2. VV Puram Street
VV Puram Street is a top nightlife destination for vegetarians. The street has a plethora of food stalls that offer sumptuous vegetarian fare, ranging from rolls and sweet buns to dosas and chaats. This street has stalls open till 1 AM and some may remain open till even longer.
3. Cubbon Pavilion
Located within ITC Gardenia, Cubbon Pavilion stays open throughout the day and offers amazing late night coffee and snacking options. There are croissants and dosas prepared impeccably here that you can wash down with a hot cuppa at this Richmond Road address.
4. Richie Rich
Richie Rich is located on the Race Course Road and stays open till 1 AM. This is a great Bangalore nightout place for local residents. They offer hot chocolate, milkshakes, ice cream and more.
5. 1st Cross Road (Koramangala)
This street has several eateries and restaurants that remain open till 1 AM. This is often known as Restaurant Street and is hugely popular with college-goers and young working professionals. The Empire is a hugely famous restaurant here that remains open till 2 AM and offers yummy Chili Chicken and Kebabs.
6. Rasta Café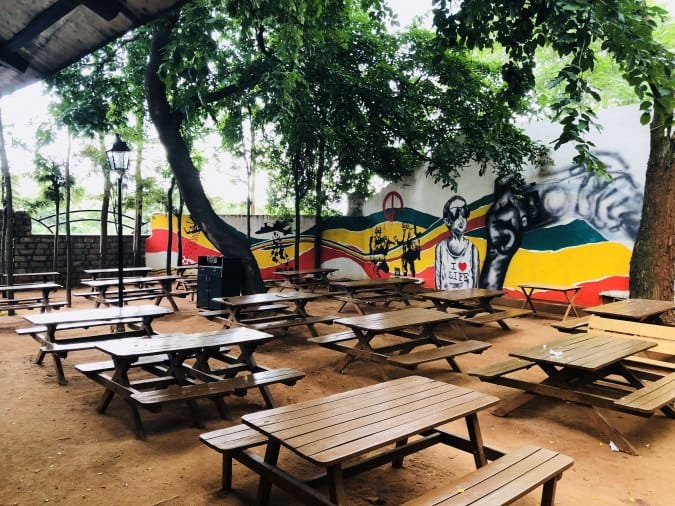 The Rasta Café does not have alcoholic beverages on the menu but is still a hot place to hang out as far as young crowds are concerned. The ambience makes it a great place to relax at night. It is situated at Mayaganahalli.
7. Coconut Grove
Coconut Grove is a popular Bangalore nightout destination and offers lip-smacking Kerala cuisine including the famous Chicken Chettinad and Mutton Fry. The Kerala-style Prawn Curry and Pepper Chicken are also amazing picks. The place remains open on weekends till 1 AM. The convenient location on Church Street is a major plus point.
Best nightout places in Bangalore- Top clubs and pubs
1. The 13th Floor

This is one of the most hip partying zones in Bangalore. The joint has a lovely rooftop bar where you will get gorgeous views of the skyline of Bangalore. There is a cover charge that can be redeemed across your drinks. This is the top choice for a late night partying experience. The place stays open till 1 AM on Fridays and Saturdays. The location on MG Road is a major bonus.
Must Read: Best Places to One Day Short Trip From Bangalore by Car
2. High-Ultra Lounge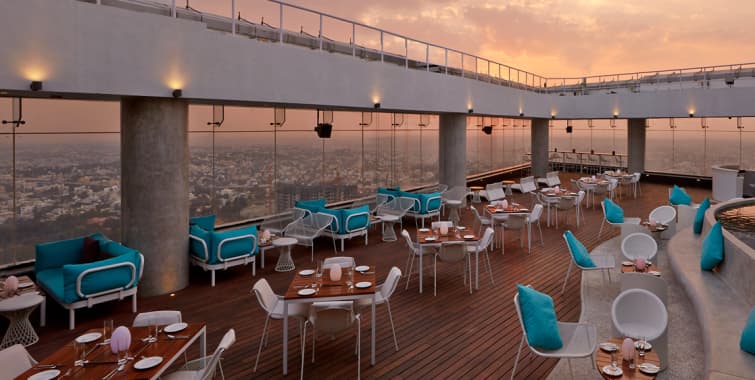 The High-Ultra Lounge is situated at the World Trade Centre in Malleswaram and remains open till late night on weekends. This is where you can have a blast jiving to lounge tracks and Bollywood music while they also serve decent food and beverages.
3. No Limits Lounge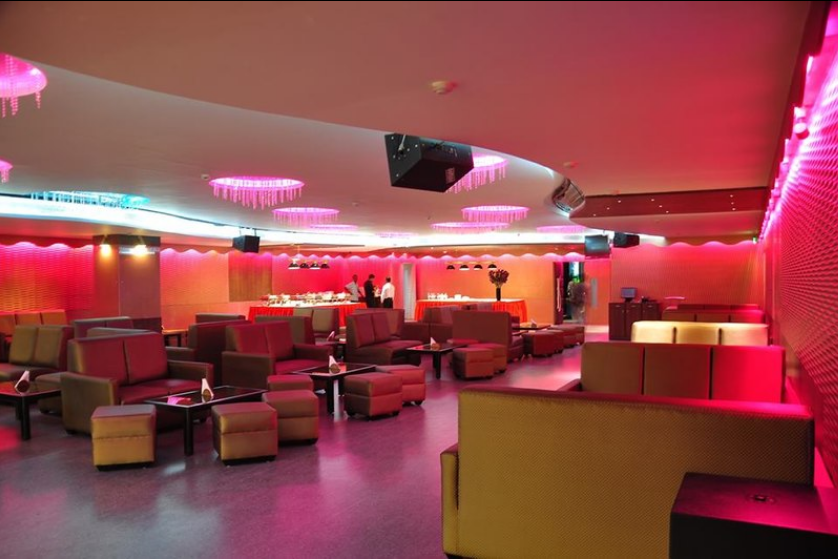 The No Limits Lounge remains open till 1 AM on Fridays and Saturdays and is a favorite nightlife spot in Bangalore. The décor theme is really trendy and the place serves up yummy fare. This is a perfect weekend nightlife hangout for listening to pop music, Bollywood tracks and house music. The club is located on Brigade Road.
4. Slug
Slug is a fabulous casual dining restaurant in Nagavara. There is fabulous live music along with beer at reasonable prices and finger-licking food. Slug has karaoke nights and broadcasts of live sporting events and matches. The top picks on the menu include Chicken Sukha and Honey Chili Potato. This place is a hit with techies working at the nearby Manyata Tech Park.
5. Hard Rock Café
Undoubtedly one of the best nightout places in Bangalore, the Hard Rock Café needs no introduction. This is where you will literally feel the fervor of pulsating rock music combined with a full bar offering the choicest selection of liquors and some good food as well including the famous HRC Burger. There is fantastic memorabilia lining the walls of the joint on St. Mark's Road.
6. Opus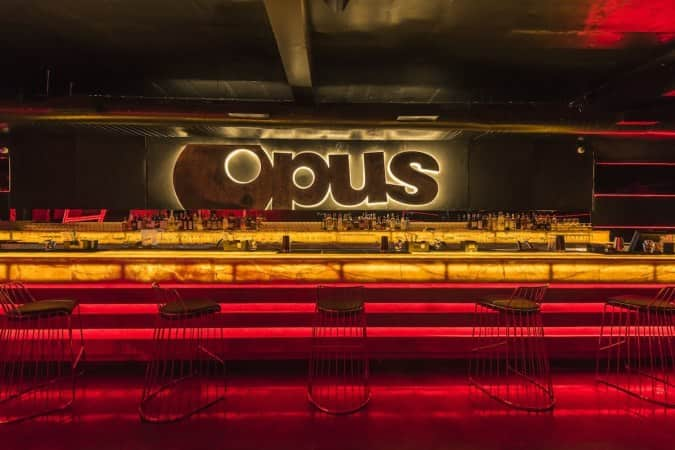 Opus is a hip Bangalore club that will delight you with its laid-back charm and amazing décor theme. There is regular live entertainment and a lineup of Indian artistes while the Collin Cooler is one of the best cocktails available from the wide selection at this place. The Ghee Mutton Roast is another top pick on the menu at this Bangalore nightlife hangout.
7. XU
XU is one of the best nightout places in Bangalore and a hit with the young crowd on weekends. There is house music, hip-hop and even some Bollywood to enjoy at this joint and the delightful ambience is a major plus point. Sundays are karaoke nights that you will certainly enjoy.
Must Read: Exhilarating Road Trips From Bangalore- A Brief Guide
Top Bangalore nightlife hangouts- public zones
1. Nice Road
Nice Road is a fantastic place for a late night drive along wide and fabulous roads. This is a great destination to truly unwind if you're an ardent motorist or driver.
2. Skandagiri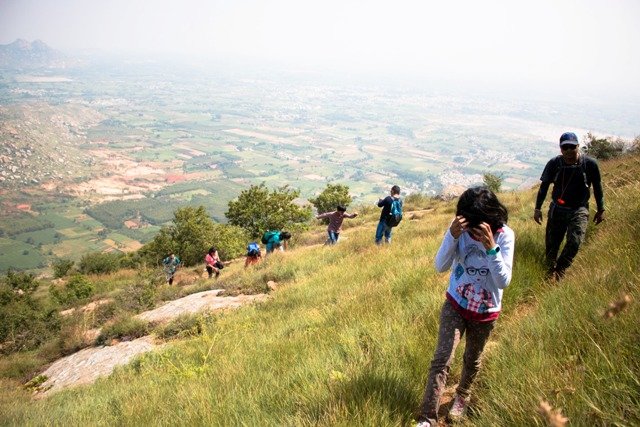 Skandagiri is a top choice for those looking for late night trekking activities. You can enjoy a roaring bonfire here along with going camping with your buddies. Definitely one of the most unique and best nightout places in Bangalore.
3. Antara Gange
Another camping haven, this mountain is close to 68 kilometres away from the city and can be reached easily with a short drive. There are several caves and hillocks here, making it ideal for some late night camping and bonfires with your pals.
These are some of the must-have nightlife experiences in Bangalore that you will undoubtedly fall in love with!
Must Read: 8 Best Shopping Places in Bangalore- Top Picks for You