Top Spots to Enjoy Snowfall in Uttarakhand This Winters
Thank God summers are over! We all just couldn't wait for the winters to arrive in our country and let us enjoy its feel and chill in the best possible way. You already are ready with your sweaters, mufflers, and jackets out of the cupboard and want to utilise them in the best way. But we understand that not all places in India let you enjoy the winters as you dream of it. Obviously, winters are nothing without a snowfall. So, if you don't experience snowfall in your area, why don't you travel to places that are specially covered with snow during this season?
Winters are totally magical. But these become more charismatic if it's blended with a heavy snowfall covering the entire city in its natural white shield. White Christmas is a dream – and you get to enjoy that in such destinations. The snow blanket on the rooftops, streets, lanes, hills and even on the vehicles is absolutely mesmerising. (You can actually spend hours gazing at this picturesque view). And one such place portraying this beauty in the most adorable way is Uttarakhand. Do you know that there are dozens of astonishing tourist attractions in Uttarakhand in winter? Well, won't a road trip here be a marvellous experience for you and your family?
Important points to keep in mind when travelling to Uttarakhand!
Expected temperature in Uttarakhand during winters —You would be glad or even surprised to know that the temperature actually falls to 3 degrees Celsius in Uttarakhand during the winter months.
Types of visits recommended in Uttarakhand — Get ready to enjoy a peaceful time amidst nature, get the best experience of sightseeing, visit the prominent religious places, indulge in exciting adventurous activities, and even view the exceptional wildlife when you are Uttarakhand. 
Get the most fabulous experience of winters and snowfall in Uttarakhand! 
If snow is in your mind this winter and you couldn't just stop yourself from experiencing the coldest of temperature, then simply head to experience the best places to visit in Uttarakhand. We are sure you're going to have a marvellous experience of your life and you won't ever want to spend your winter anywhere else henceforth.  
1. Dehradun and Mussoorie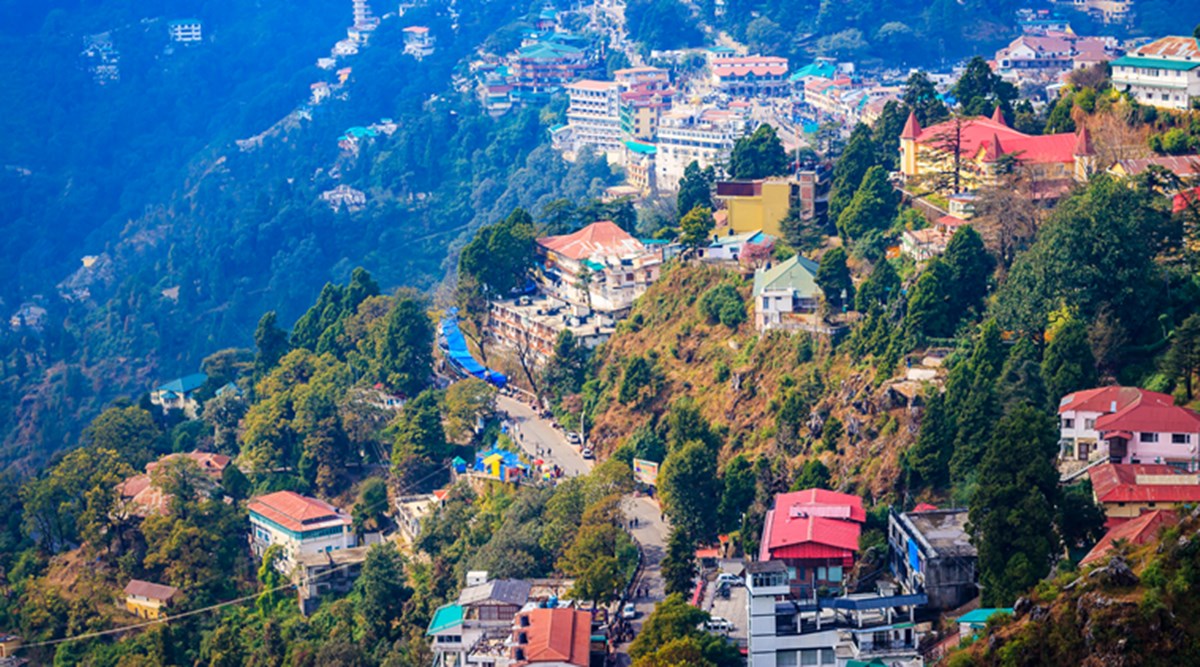 For double awesome experience, head to these twin hill stations in Uttarakhand – Dehradun and Mussoorie. Known for their old graceful and rustic charm and superb natural beauty, these destinations are actually the answer to your prayers. The captivating beauty in Uttarakhand with snowfall in places like these is enough to make your winter vacations the best ones of the year. Do enjoy the paragliding, trekking and hiking experience when you travel to these sweet cities.
2. Auli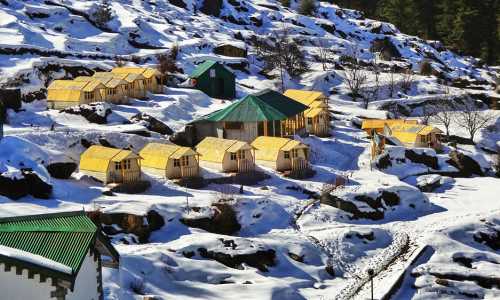 One of the best things to do in winters in Uttarakhand is to visit Auli. It's an amazing skiing location of this State and apart from its mesmerising beauty during the winters amidst the snow, you can camp and ride the gondola when you visit Auli. And yes, the coldest place in Uttarakhand in December also prides in having the Auli artificial Lake, Trishul Peak, and Auli Ropeway which are a must visit when you are here. 
3. Chopta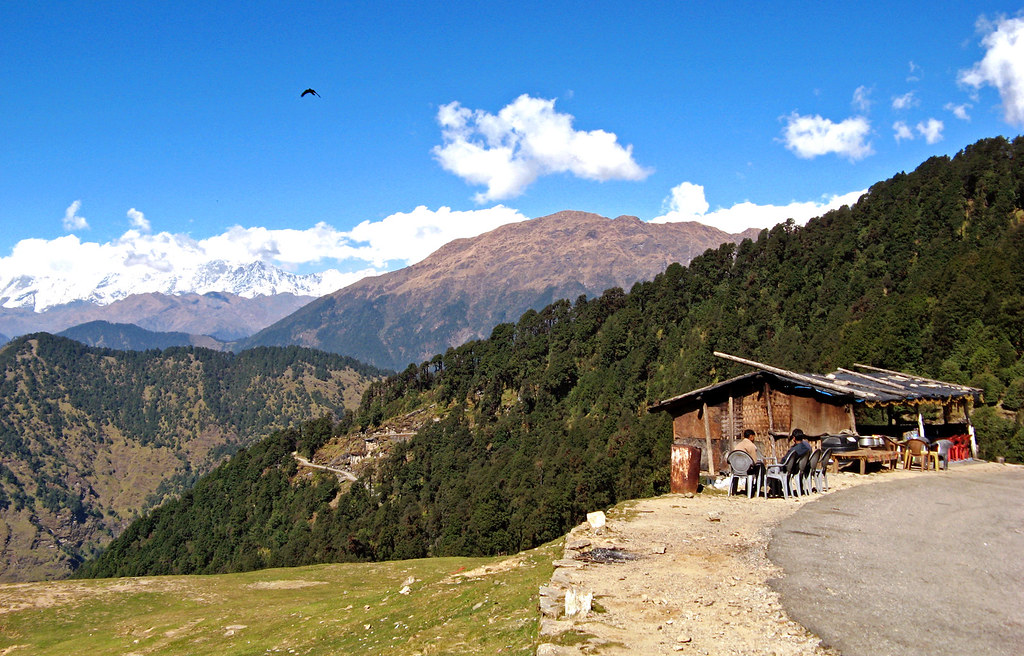 Chopta has some sweet surprises stored for you during winters. If you want to view the best snowfall in Uttarakhand, then Chopta has the magic. The alluring mountains all covered in snow, the greens now turned into whites and the exotic flora and fauna during this season, do you need anything else to make your winters awesome? The resorts here are truly luxurious and offer a great experience for you. But you shouldn't also miss visiting the Kartik Swami Temple, Koteshwar Temple, Chandrashila Trek, and Deoria Tal when you are here.
4. Chamoli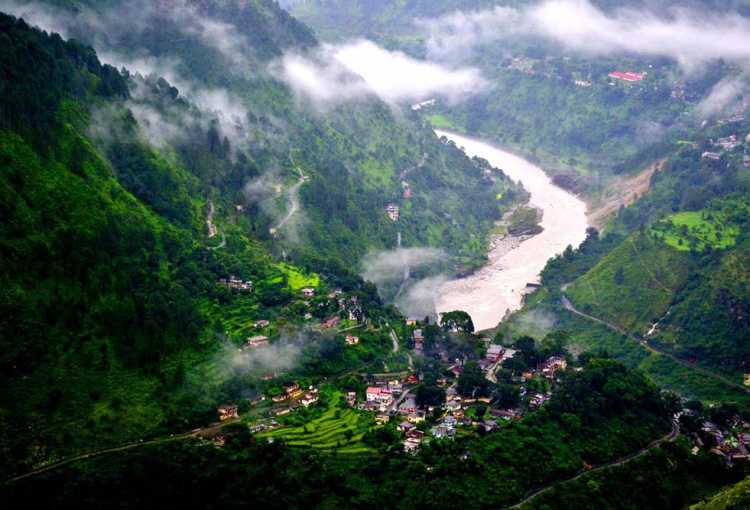 If you are a culture and heritage loving traveller, then the travel guide to Uttarakhand will instruct you to visit Chamoli this winter. Not only this small offbeat location presents a mesmerising view during this cold season, but also lets you take a dip in the past. The Valley of Flavours, Badrinath, Nanda Devi National Park, and Gopeshwar are the best destinations to head to when you are visiting Chamoli.
5. Binsar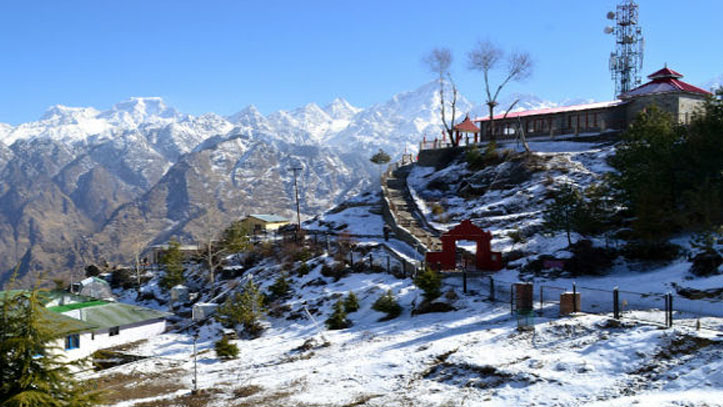 Trekking amidst snow has its own distinct charm. And that's exactly what you'll get when you visit Binsar in Uttarakhand. The lovely walking trails, snow clad Himalayas, alluring valleys and almost frozen lakes — your mind would be numbed by the beauty all around. The Binsar Wildlife Sanctuary is the popular Picnic Destination here. Apart from this, the Zero Point also lets you view the surroundings, Bineshwar Mahadev Temple and Pariyadeva Pashan are most visited by the tourists during winters.
6. Jim Corbett National Park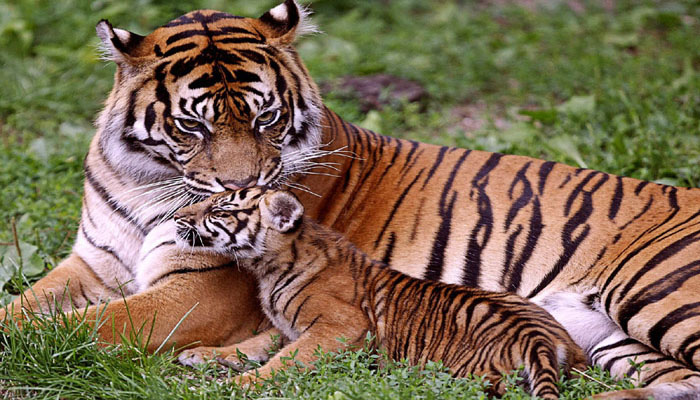 The most famous tiger reserve of the country, the Jim Corbett National Park is one of the most fascinating locations to enjoy snowfall in Uttarakhand. Yes, it shows a distinct view during the summers and a great snow covered grassland during winters. So basically, visiting here during the winters lets you enjoy wildlife as well as the snowfall!
7. Chaukori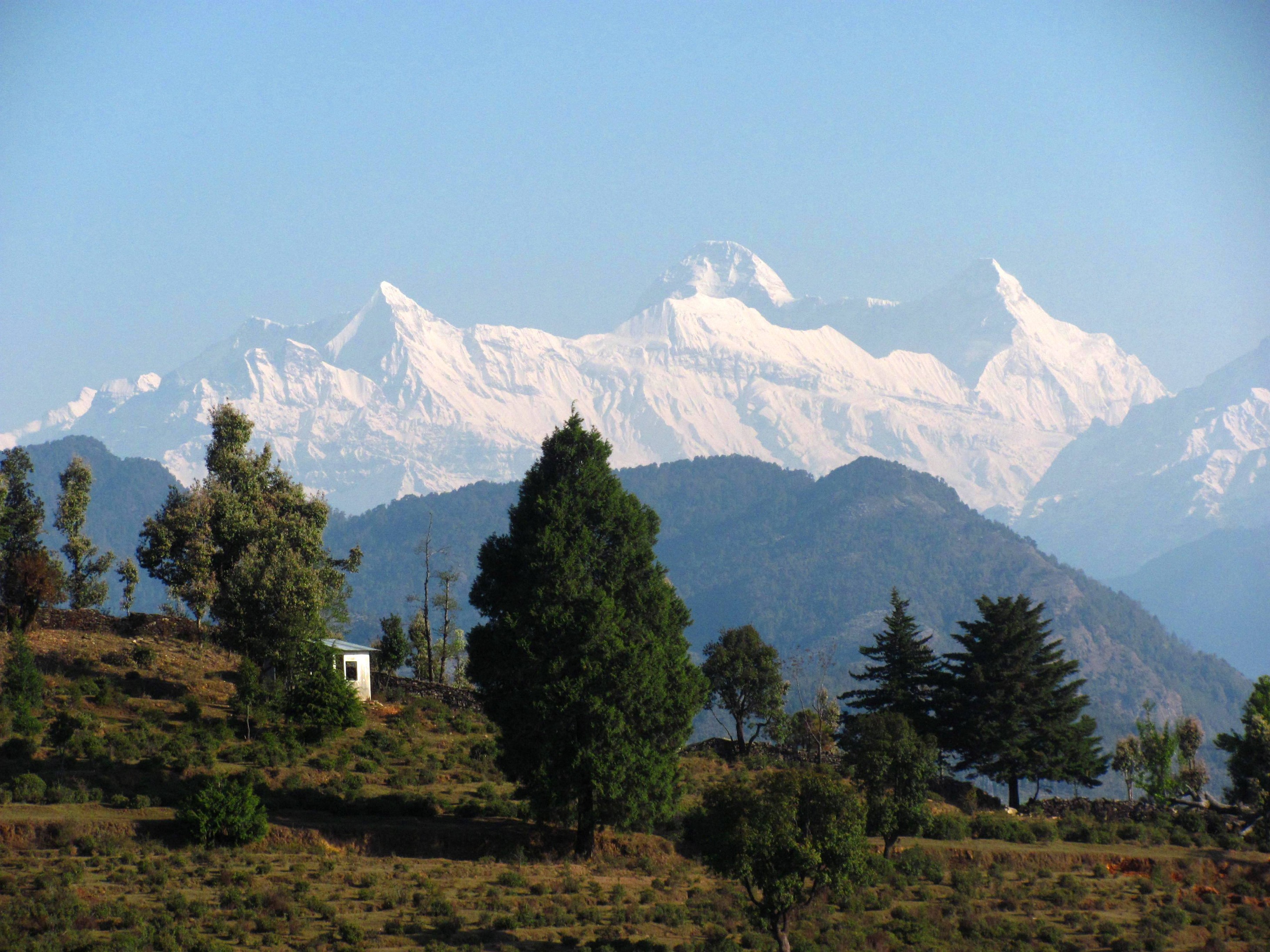 The basic feeling of a rural but beautiful place can be experienced beautifully when you visit Chaukori. It's a magnificent destination that provides calm and tranquility amidst the most enchanting snow covered region you'll ever see. The Nakuleshwar Temple, Nagmandir, and Patal Bhubaneswari are the most admirable locations to check in this town.
8. Ranikhet
Want an all-round experience of winter, snowfall, and excitement? Then Ranikhet is just the destination that you are looking for. From local sightseeing to paragliding and enjoying the marvellous view around, indulging in adventure activities like camping and trekking, this place has everything you could desire to spend your ideal winter vacations. The Jhula Devi Temple, Bhalu Dam, and Apple Garden are the most famous places here.
9. Chamba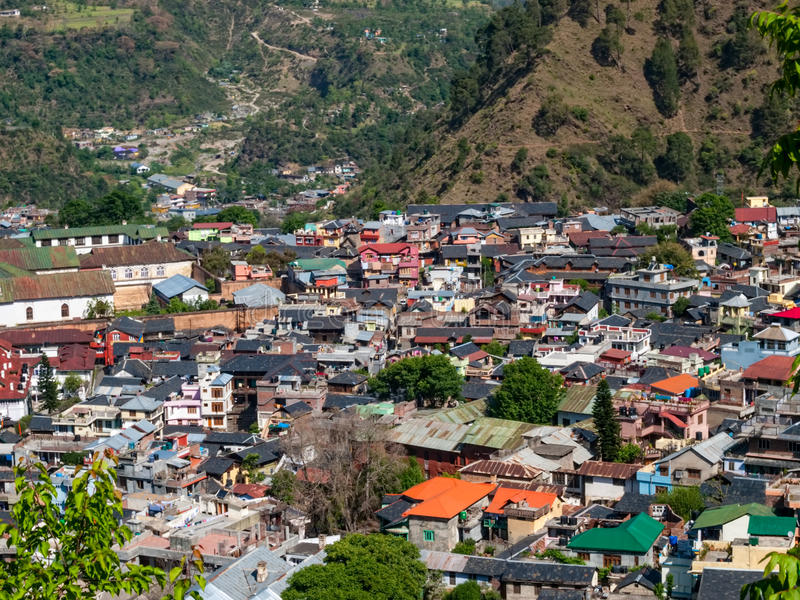 Lets not forget the iconic Chamba when you are talking about the best winter places in Uttarakhand. This location is full of captivating natural beauty amidst the high mountains and deep rivers. You won't be able to take your eyes off the enchanting view that this town presents during the winter days. A  trip here is certainly going to make your vacation worth each minute you spend here. And as you are exploring this town, do take a note to view the Champavati Temple, Lakshmi Narayan Temple, and the Chamera Lake. 
10. Khirsu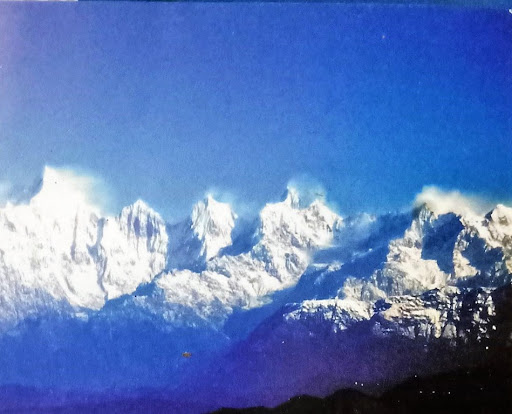 Winters often bring out your romantic side. And if this is the case with you, then why not plan a second honeymoon to Khirsu? The magical valleys and large trees provide the best privacy and if these are covered in snow, you'll fall in love with the ambience around and can rekindle your romance perfectly. 
All these sweet locations become all the more attractive when it's snowing. We think your quest for beautiful winter vacation destinations should end here. If not, then do visit Nainital- the glamorous beauty of this State, Rishikesh – a perfect blend of nature and religion, Almora – another naturally blessed town, and Muniyari- one of the best places for skiing. And remember, driving in snow isn't easy. You'll require an upgraded and good car for the same. Hire the best car in Uttarakhand from Revv to complete your journey perfectly.