Top Places to Visit Near Delhi in Winters
Winter season is the favorite of many of us, and that's especially true for Delhi residents. The scorching summer takes all our energy and how we eagerly wait for the winters to take over and the pleasant weather. Delhi is a colorful and vibrant city, a destination by itself, but it is just a few hours away from the amazing snow covered peaks. There are not one or two, but a list of places to visit near Delhi in winters. Let's scroll down and check the options we have here:
Top 15 Hill Stations Near Delhi to Visit in Winters
1. Auli
A small town that witnesses bunches of tourists during the winters. Auli is a popular name among the snow lovers and the skiing enthusiasts in India. And, even if you are not much fond of skiing, you will still be mesmerized by the snowy beauty of this place.
Distance from Delhi: 520 kilometers
Things to do: Skiing, visit to Gurson Bugyal, taking view of snow-capped mountains
2. Jalori Pass/ Shoja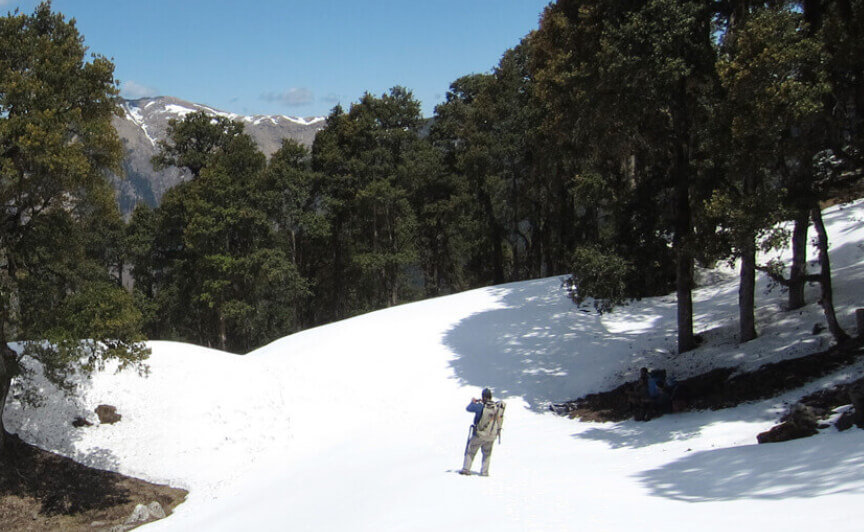 Covered under the quilt of snow, Jalori Pass is the place where you can take a snow trek to Serloskar Lake. Both Jalori Pass and Shoja are near Manali, but not much crowded. So, if you want to avoid crowd, these two places are perfect for you.
Distance between Delhi and Jalori Pass: 507 kilometers
Distance between Jalori Pass and Shoja: 5 kilometers
Things to do: Taking nature treks
3. Manali/Rohtang Pass
Manali is one of the top snowfall places near Delhi. The snow covered sloping mountains, adventure activities and the cafes make Manali an ideal destination for the blissful holidays.
Distance between Delhi and Manali: 538 kilometers
Distance between Manali and Rohtang Pass: 51 kilometers
Things to do: Adventure activities like skiing, Heli skiing, and snowboarding, attending the Manali Winter Carnival, a ride on the snow scooter, paragliding.
4. Shimla
When we talk about places covered by snow, we cannot miss Shimla. This place remains under the blanket of snow during the winters, because of which it attracts lots of tourists every year. You can try skiing and ice-skating while you are here. Also, try the lip-smacking food in the cafes and restaurants in Shimla.
Distance from Delhi: 342 kilometers
Things to do: Ice-skating, skiing
5. Kufri

Situated at a distance of 17 km from Shimla, Kufri is as beautiful as Shimla. In fact, if you are planning your winter trip to Shimla, you must visit Kufri as well. While adventure sports, visit to temples, the National Park and Kufri Fun World, will keep you packed for the day, do not miss out admiring the enchanting view of the snow-coated landscapes.
Distance between Shimla and Kufri: 17 kilometers
Things to do: Ice-skating, skiing, visit to the Kufri Fun World
6. Narkanda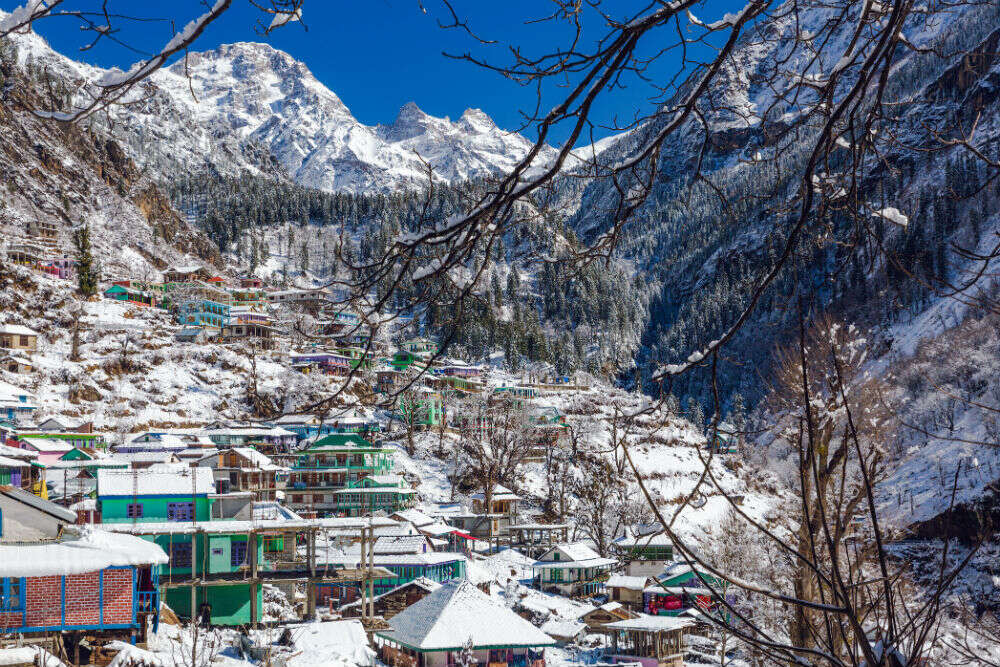 60 km from Shimla, Narkanda has come up as the new destination that is pulling a lot of crowd lately; and, there is a reason why it is successfully doing so. The beautiful town looks like a place from some story book during the winters. If you want to add thrill in this trip, you can try skiing.
Distance from Delhi: 402.3 kilometers
Things to do: Skiing, visiting the Hatu Peak, explore the local market
7. Mcleodganj
Mcleodganj is located a little far from the capital city of India, but if you want to witness the snow covered natural beauty, then you must visit this place. The valley and mountain peaks look equally beautiful during the months of December and January here.
Distance from Delhi: 477 kilometers
Things to do in Mcleodganj: Take views of the Dhauladhar mountain range from the Naddi Point, shopping for woollen wear, Tibet Kitchen for local delicacies
8. Kanatal/ Mussoorie/ Dhanaulti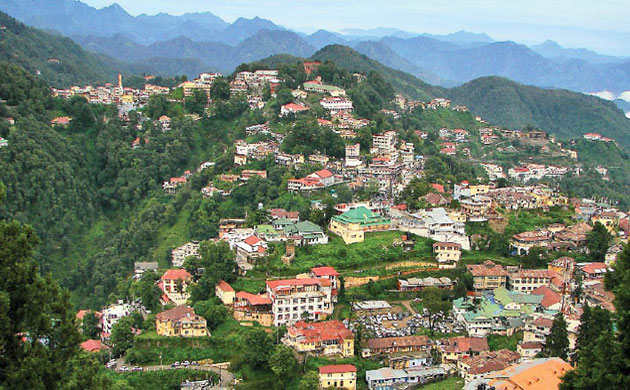 Kanatal, Mussoorie, Dhanaulti will give you memories to cherish the rest of your life. The winter season makes these places even more beautiful. If you are planning the holidays with your family, you must make yourself present at these places and enjoy the drop-dead striking views.
Distance between Delhi and Kanatal: 320 kilometers
Distance between Kanatal and Mussoorie: 48 kilometers
Distance between Mussoorie and Dhanaulti: 58 kilometers
Things to do: Relaxing in the hillside resorts, exploring the woods, visiting the Snow Adventure Zone
9. Dalhousie/Khajjar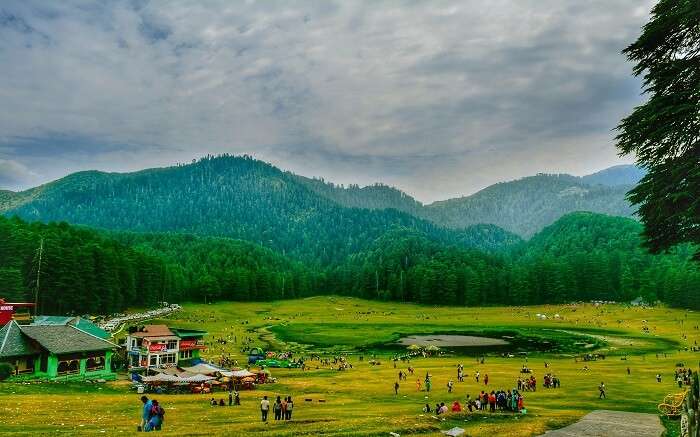 Your trip to Switzerland got cancelled? Don't be disappointed and book your tickets to Dalhousie. The beauty of Dalhousie and Khajjar are alluring and it is hard to get over it. You can also engage yourself into playing with snow.
Distance between Delhi and Dalhousie: 559 kilometers
Distance between Dalhousie and Khajjiar: 21 kilometers
Things to do: Indulging in paragliding, visiting the Dainkund Peak and then the Kali Temple
10. Nainital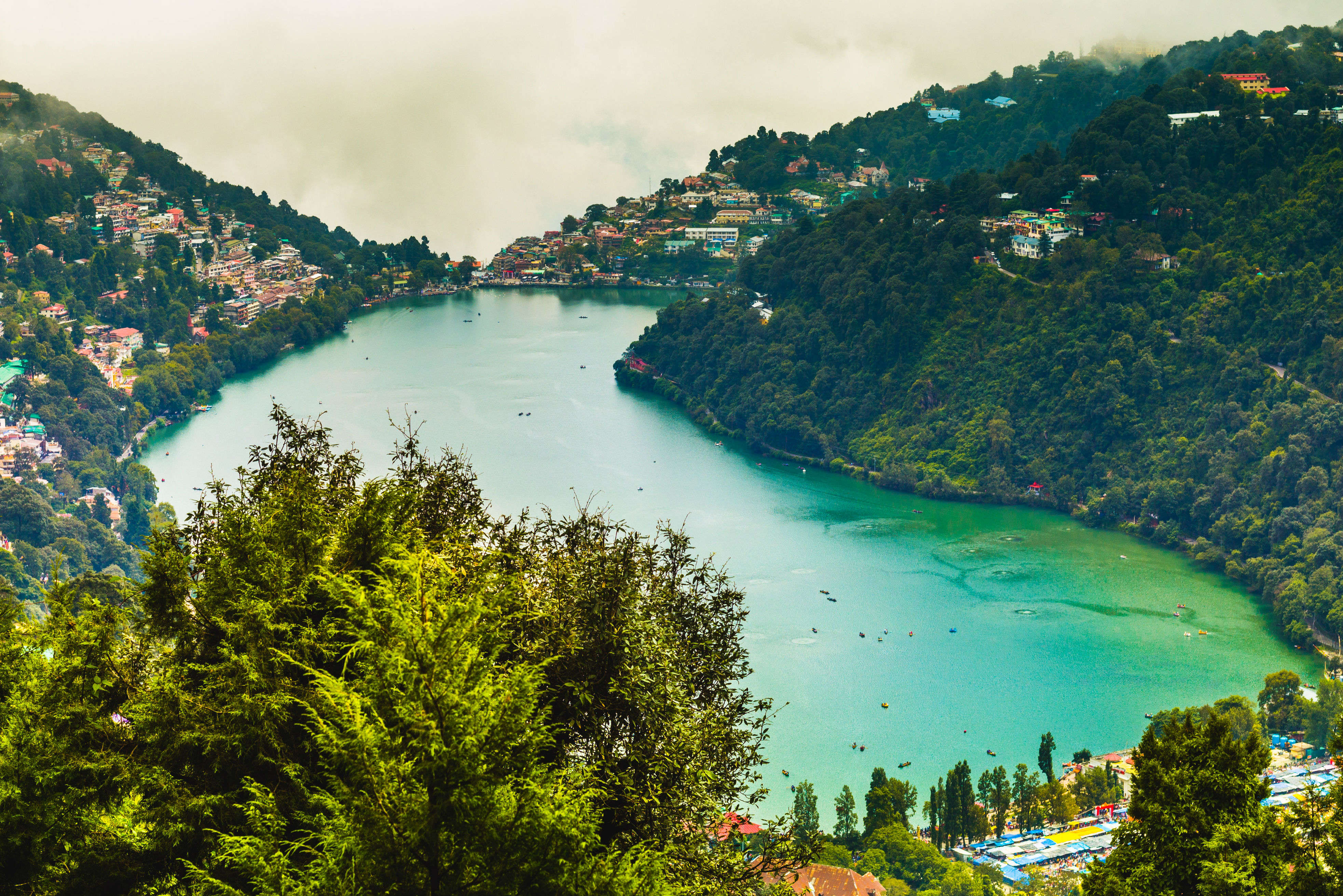 Nainital is one of the snowfall places near Delhi that still remains in the top 10 list. And to visit Nainital, you do not need a lot of planning. Just pack your bags with a heap of woollen clothes and head towards snow covered destination. You will find white flakes of snow over the canopies and even on the lake.
Distance from Delhi: 304 kilometers
Things to do: View of the Himalayas, shopping at the Tibetan Market, taking a stroll along the Naina Lake
11. Almora/Ranikhet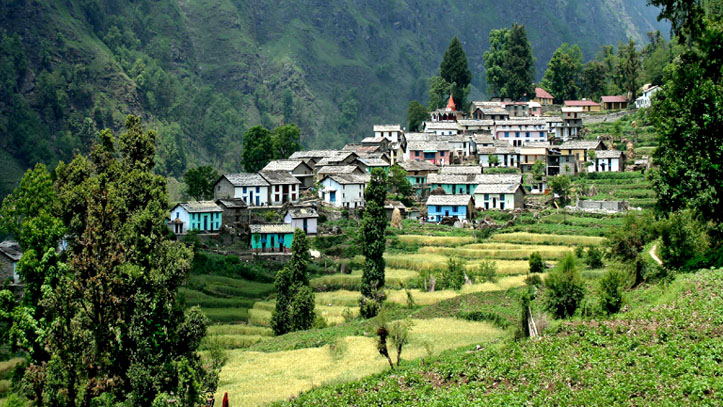 Not many people consider Almora and Ranikhet when it is about visiting the snow-filled places. These two places look equally beautiful like the others snowfall places. The tranquillity here will surely help you forget all the worries of the world. There are some remote areas near Ranikhet and Almora which you can explore.
Distance between Delhi and Almora: 364 kilometers
Distance between Almora and Ranikhet: 46 kilometers
Things to do: Shopping in the local market, sightseeing, paragliding
12. Kausani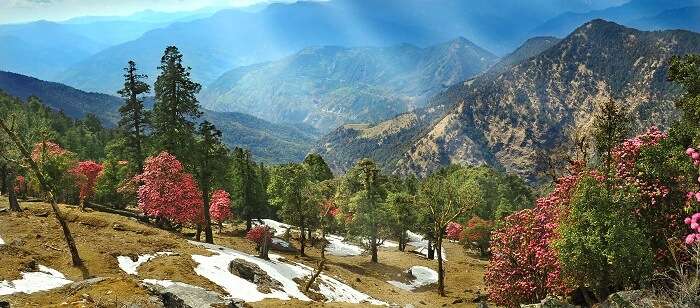 Located at an altitude of 1890 meters, Kausani is perhaps one of the best snowfall tourist places near Delhi. When you are in this town, don't forget taking splendid view of the mountains from the Pindari Glacier. You might not be able to experience a lot of adventure sports here, but the beauty and serenity of the place is enough to impress you.                
Distance from Delhi: 416 kilometers
Things to do: Views of the mountains, shopping for pickles, tea on the Mall Road
13. Chakrata/Kanasar
From December to February, Chakarata and Kanasar look no less than paradise on the Earth. The snow covered mountains due to heavy snowfall, white flakes on trees and the popular Tiger falls must be witnessed here.
Distance between Delhi and Chakrata: 325 kilometers
Distance between Chakrata and Kanasar: 30 kilometers
Things to do: Exploring Tiger Falls and Deoban forest, camping
14. Landour/Nag Tibba
An eight hours drive from Delhi can take you to Landour. If you are in search of peace, you must visit this place during the winters. From December to March, Landour remains under the snow. If you want to indulge yourself in trekking, you can further go to Nag Tibba.
Distance between Delhi and Landour: 294 kilometers
Distance between Landour and Nag Tibba: 82 kilometers
Things to do: Trekking, Sightseeing  
15. Chopta/Tungnath/Deoriatal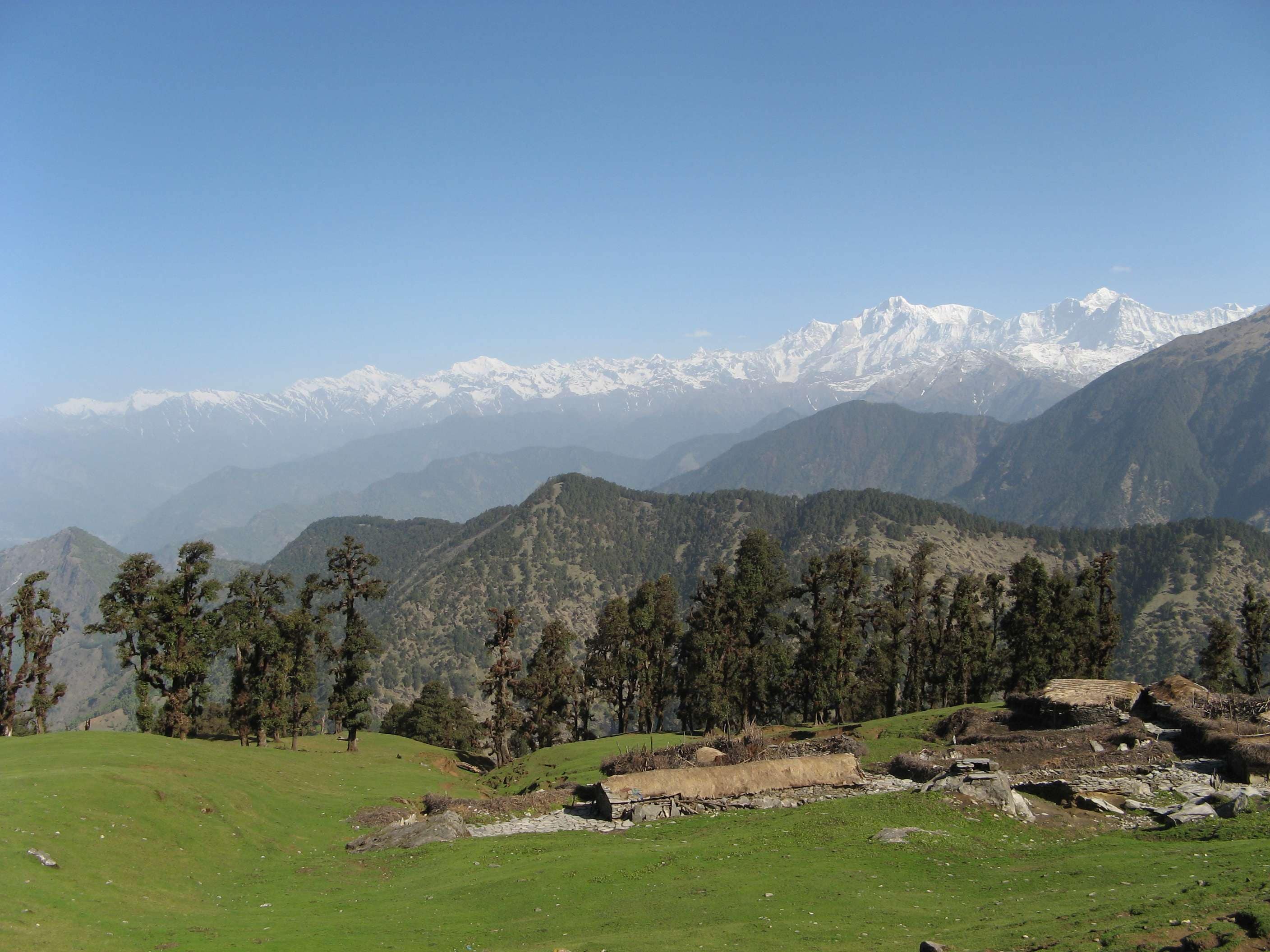 These places are offbeat though, but if you want to be somewhere that are not overcrowded and offer some good treks, you must visit these places. Copta is the base camp for Tungnath trek. So, to reach Tungnath, you first have to go to Chopta. If you want to go further, you can head towards Deoriatal. The thick snow during the winters make the village Deoriatal look like a dream.  
Distance between Delhi and Chopta: 408 kilometers
Distance between Chopta and Tungnath: 74 kilometers
Distance between Tungnath and Deoriatal: 22 kilometers
Things to do: Trekking, Rappelling, Paragliding
The places to see snow around New Delhi are many, but you need to choose the one that you think is apt for you. Pack your woollen clothes and don't forget to take as many pictures as you can. Enjoy the snowy days!