Verdant 10 Resorts and Farmhouses near Delhi Perfect for a Day Picnic
Working from home has been a great idea, especially when you know that you can be around your family all the time, and at the same time, you can also take care of your work. However, some days it can be a little taxing as managing these two worlds is not that easy as it seems to be. That is the time when you need to take a break and go on road trips near Delhi-NCR. Well no, you do not have to take leaves from the office. You can start the trip on any weekend and get back home within a day or two. There are several farmhouses near Delhi for a weekend where you can spend some lovely days with your loved ones. If the idea sounds good to you, here are some farmhouses and resorts near Delhi where you can visit.
10 Best Resorts and Farmhouses near Delhi for Picnic with Family
1. Omera The Farm Stay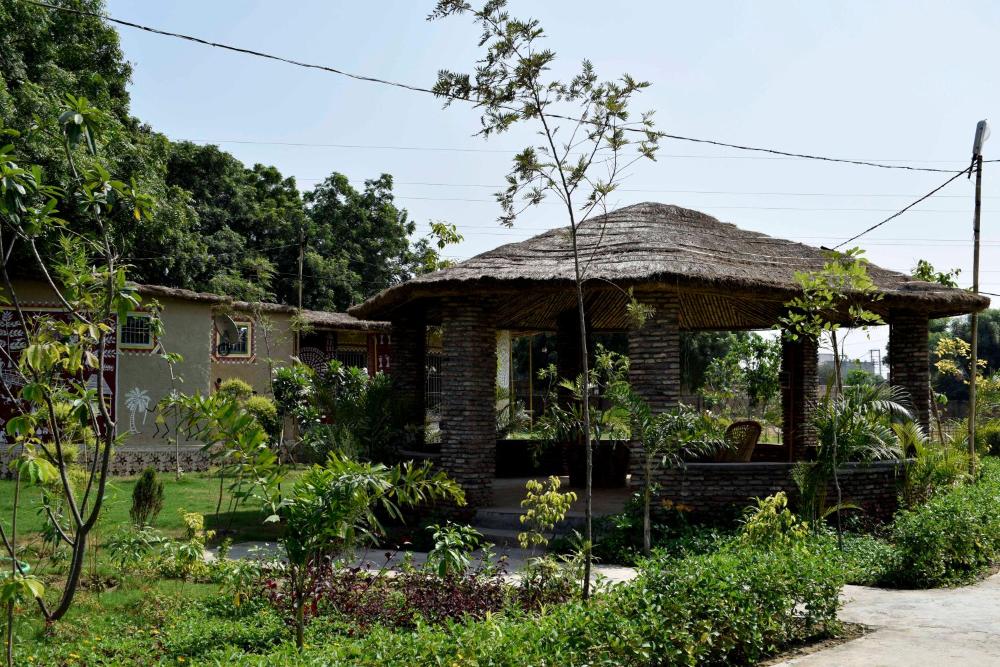 It is one of the best farmhouses to visit near Delhi where you can find mud huts. Do not worry about Delhi-NCR heat as these huts are fully air-conditioned. You will also find an outdoor gym, a pool, and a huge lush green garden. You can enjoy your breakfast in this garden. One of the best things about staying at the organic farm stay near Gurgaon is that you can bring your pets here without a second thought.
Distance from Delhi: 25.6 km
2. The Kasbah Resort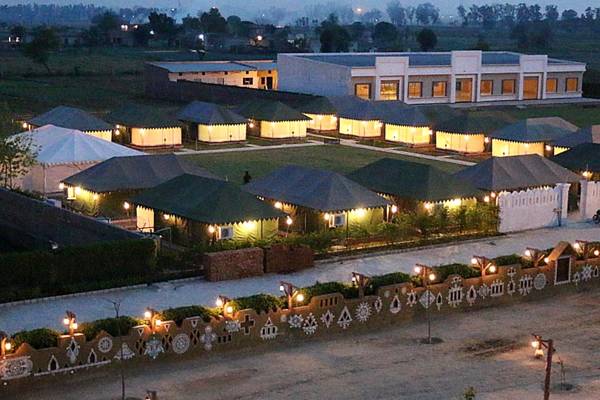 Located in Sonipat, The Kasbah Resort is the best place for a family weekend. You can stay in cozy tents. The multi-cuisine restaurant offers some of the most mouth-watering dishes. You can also check out the other amenities here before booking your stay.
Distance from Delhi: 59.5 km
3. Chokhi Dhani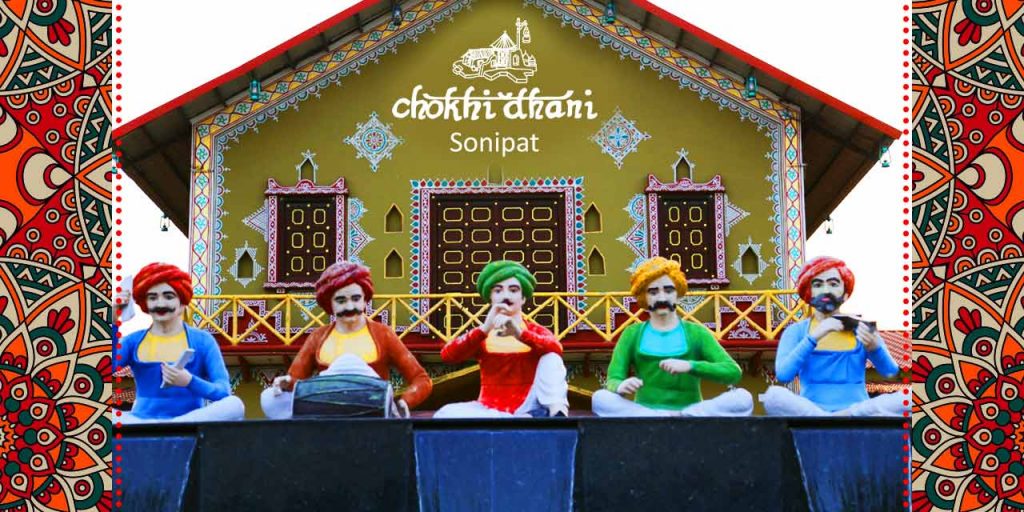 If you are looking for a farmhouse and resort for entertainment, nothing can beat the charm of Chokhi Dhani. You can choose a suite and enjoy various other amenities here. The village-like atmosphere here will help you relax from the superfast life that you live every day. While Chokhi Dhani is mostly famous for the availability of authentic Rajasthani culinary delights but you can also get a good idea of the Rajasthani culture here. 
Distance from Delhi: 251 km
4. Pratapgarh Farms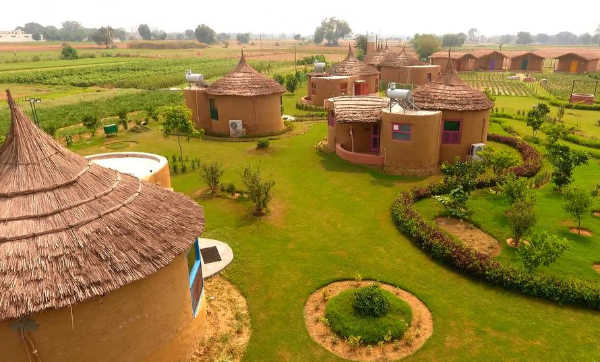 Pratapgarh Farms is one of the farmhouses for a day outing in Delhi NCR. This is an excellent place where you can spend all your day being indulged in various types of activities. From various types of rides to ethnic games, from outdoor sports to relaxation activities, and even trying various activities, this place will offer you a wide variety of activities. Your kids will thank you every minute while they are here. This farmhouse is not only good for having a fun day but the kids can actually learn a lot as well.
Distance from Delhi: 56.6 km
5. Golden Turtle Farm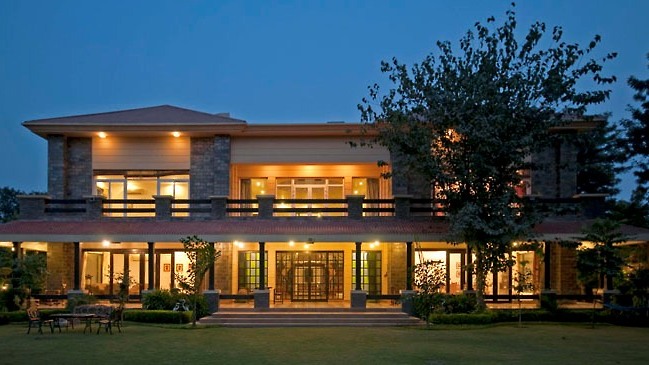 Also known as Aamod, this property is located in Manesar. Some of the best things to do at this farm are taking a dip in the swimming pool, trying hands in playing Golf, Cricket, Football, Foosball, Basketball, Table Tennis, and Carom. If you wish, you can even avail the spa and massage here.
Distance from Delhi: 70.9 km
6. Surjivan Resort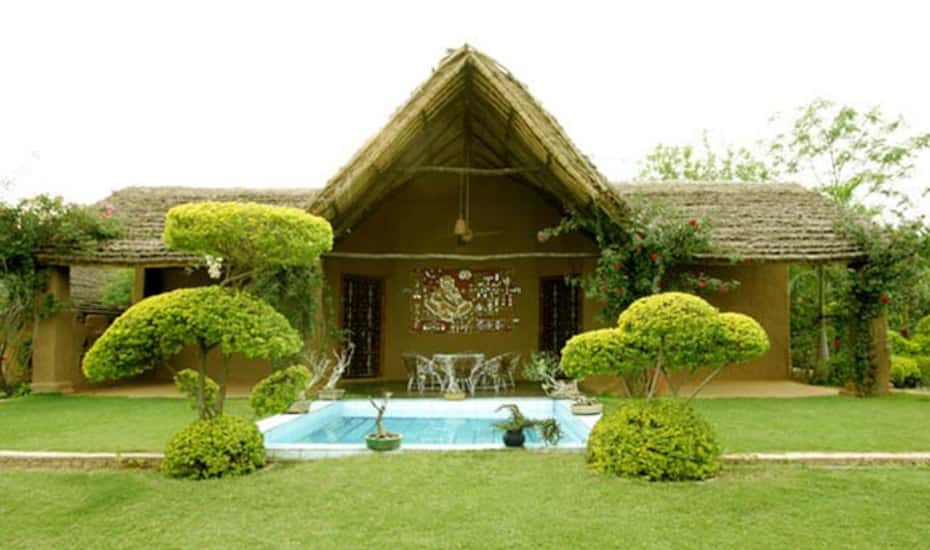 Located in Manesar, Surjivan Resort is considered unique for organizing several types of adventure activities for the guests. You can enjoy some of the most thrilling outdoor activities here. A few of the activities that you can find here include wall climbing, zorbing, rappelling, and flying fox. You can stay here in a cozy and comfortable room and enjoy the various vegetarian dishes. The resort and restaurant both are the reasons to visit this place.
Distance from Delhi: 62 km
7. Peepal Kothi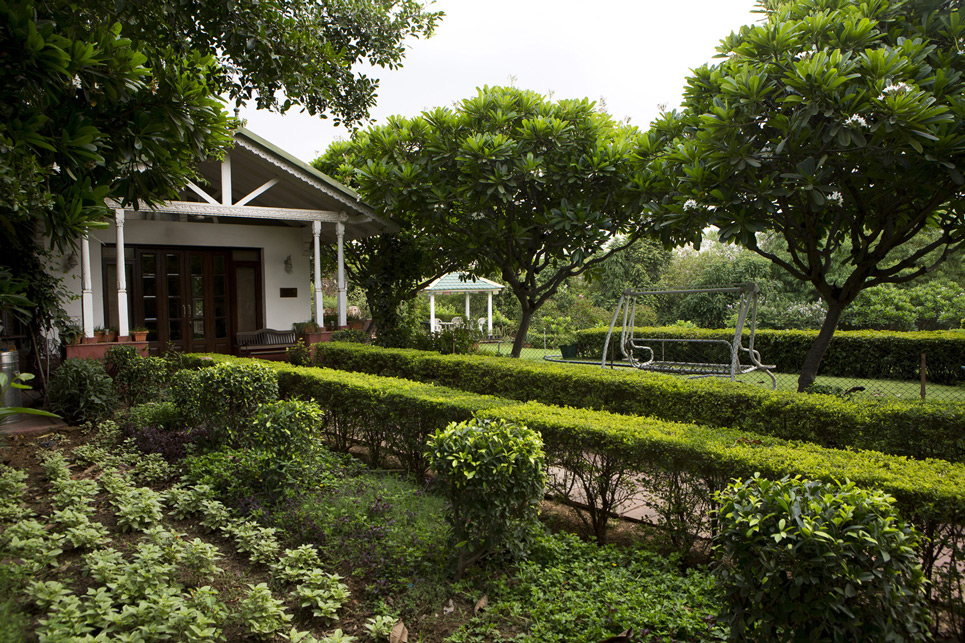 Peepal Kothi is the ultimate destination to relax and rejuvenate. The farmhouse is surrounded by the Aravalli Hills and you can witness Punjabi architecture here. The farmhouse is spread across three acres of land and has a 3-bedroomed Kothi. You can choose any of the bungalows from Port House, Mulberry Cottage, and the Dak. While you are here, you can spend your time bird watching, playing different types of sports and games such as golf, badminton and board games.
Distance from Delhi: 60.3 km
8. The Village House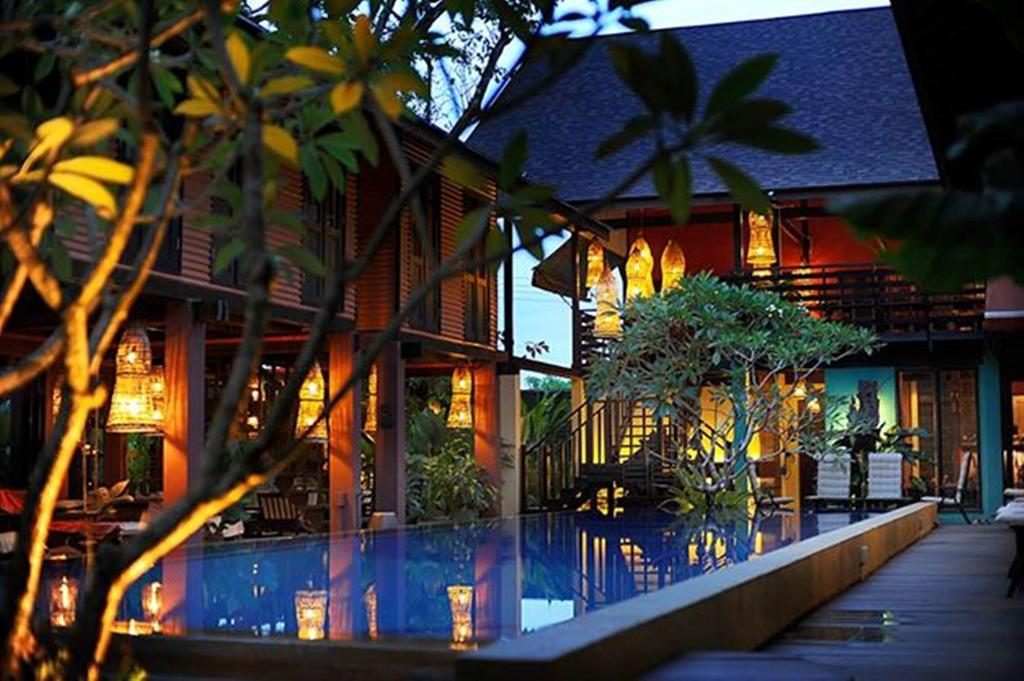 Nestled between oak, pine, and rhododendron trees, The Village House is surely one of the best farms stays that you can go for. You can find the terraced fields here dotted with organic vegetables as well as fruits. Located in Almora, this farm will offer you an amazing experience. However, you must plan the trip if you are ready to cover the distance.
Distance from Delhi: 388.9 km
9. Banni Khera Farm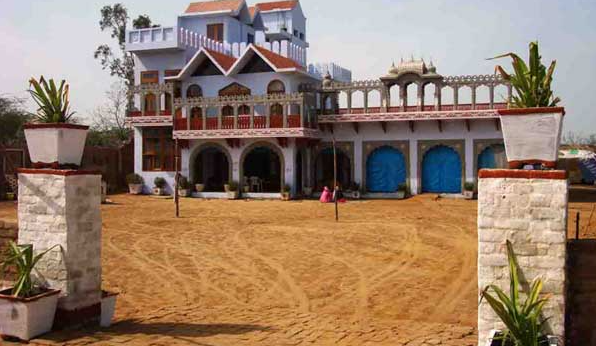 At Banni Khera Farm, you will be able to witness the rural life, which you will not see in many other farmhouses. While you can stay in a much comfortable and well-furnished room, you can also indulge in several eco-friendly activities.
Distance from Delhi: 86.8 km
10. Rudra Farms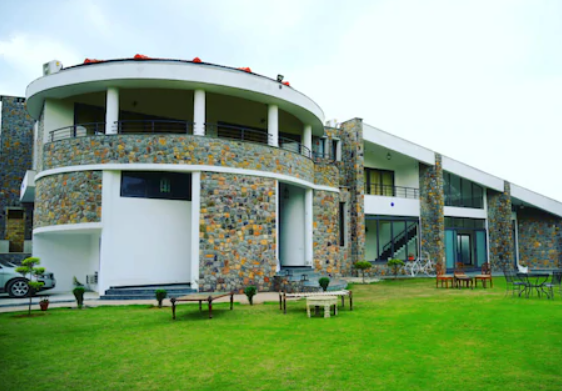 You can enjoy a luxurious stay at a pocket-friendly rate in Rudra Farms. There is a gazebo here where you can enjoy your morning or evening tea, an outdoor swimming pool to take a dip in the water and feel fresh. Apart from these, there are several other facilities you will get here which you make your stay here worthwhile.
Distance from Delhi: 63.2 km
To know the entry fees and charges to these farms and resorts, you can check out their websites. And to visit these resorts and farmhouses, you can take a car subscription service in Delhi from Revv. Install the app today on your smartphone and book the car that you like. In just a few business days you will get your car delivered to your doorstep. Choose the property you want to stay at and get started on your journey.