Road Trip from Mangalore to Goa on a Stunning Route
Craving for beaches, party, sea and a bunch of craziness – all tucked into one vacation? Well, then Goa would top your travel wish-list! If you are located in or around Mangalore, a road trip from Mangalore to Goa in a car can quench your thirst of wanderlust. Coming from one of the most adorable places in Karnataka – Mangalore — and heading towards one of the smallest yet the most impressive State of India – Goa — you are really going to have an experience of a lifetime fun and frolic waiting for you! We know you'd be super excited to reach the land where the sun and the sand meet elegantly, and their warmth is beautifully balanced by the azure sea. But aren't there some really astounding locations to check en-route too? So today, why not read and plan a fantastic gateway on road commencing from Mangalore and meandering its way to Goa!
Quick tips to check:
Best time to take a road trip towards Goa —
November to February. (Avoid March because of extreme heat, and monsoon keeps the place almost shut down)
Distance between Mangalore and Goa by road —
You can get the best idea about Mangalore to Goa – distance, journey time, driving direction by checking the details of all these three routes. Drive 365.3 Km via NH 66 which takes 7 and a half hours on road, or go on for 470.7 Km via NH 66 and Mirjan that takes 9 and a half hours, or 481.1 Km via SH1 and NH 66 route that takes around 10 and a half hours to reach your destination.
Type of trip recommended—
Casual, weekend gateway, party, beach and adventure.
Most Exciting Places to Visit in Mangalore to Goa Road Trip
When you are geared up to have a fabulous time on your way to a wonderful holiday, it would be really sad to miss the awesomeness that dot your journey towards the destination. That's why you should follow the below mentioned list and check all the places to visit in Mangalore to Goa Road Trip without fail.
1. Kaup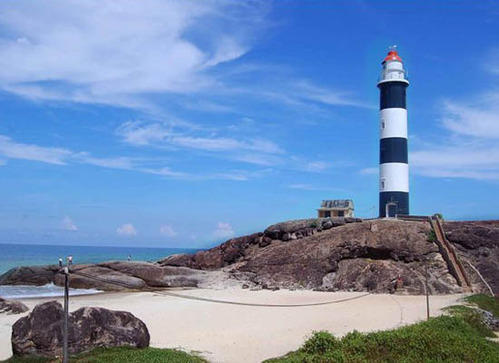 Just at a distance of an hour from Mangalore, you'll reach Kaup that's located 13 Km south of Udipi. You'll have to stop here to explore the century old lighthouse situated on a rock that makes it a perfect backdrop for an impressive photo (think about the number of likes in your Instagram page!). There's also a very famous Shri Krishna Temple in the vicinity in case you want to pray for a safe trip towards your destination.
2. Mary's Island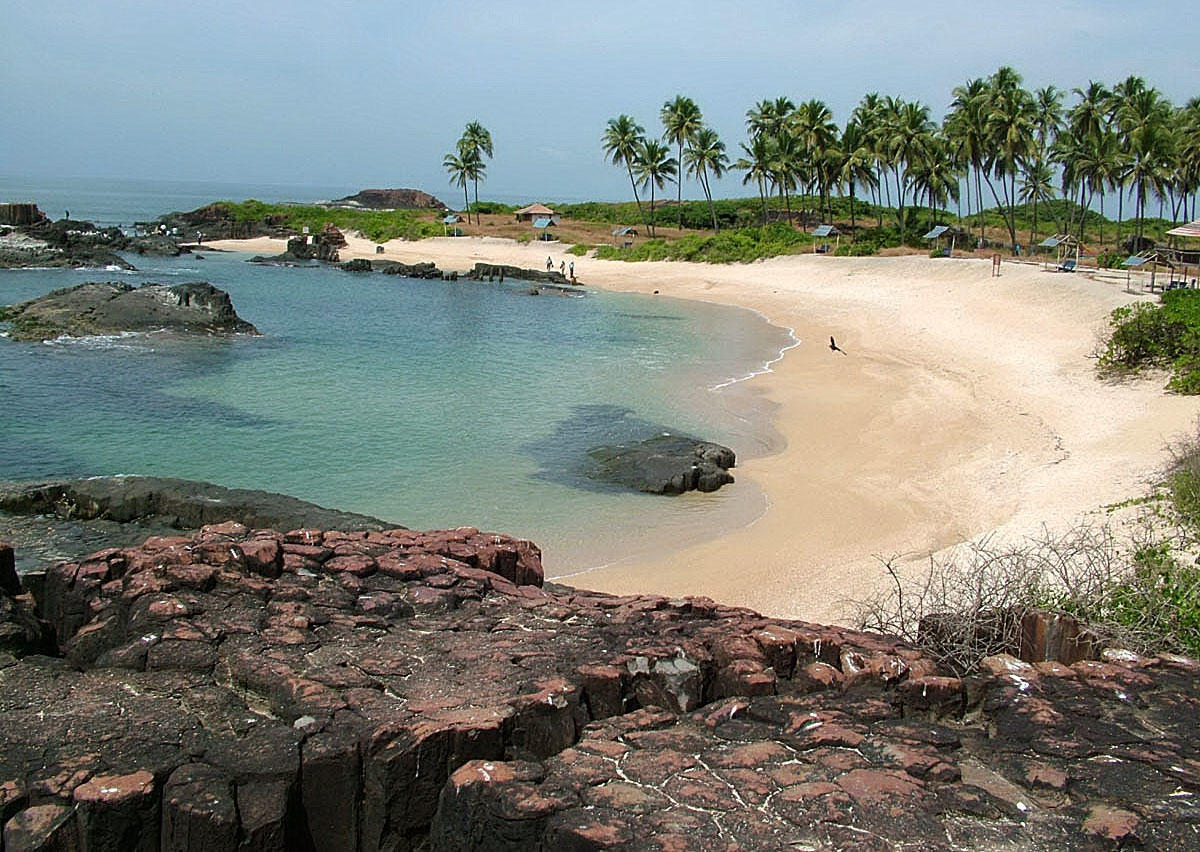 You'll soon reach Malpe Harbour where you can visit the island of St. Mary, which is an iconic location, as the famous Portuguese traveller Vasco Da Gama is believed to have landed on this island first. If exploring the stunning island isn't enough for you, try parasailing while you are here for that added adrenaline rush.
3. Nethrani Island
Also called as the Pigeon Island, you can view the clearest water and enjoy the outstanding beauty of nature around you, while you are moving towards Murudeshwar.
4. Devbagh Island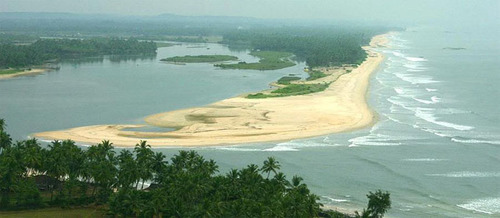 You couldn't imagine that the trip would already start to be so interesting, isn't it? Well, just as you are driving towards Karwar, why not stop at this alluring island, Devbagh? It would give you a chance to view the exquisite casuarina trees surrounding the gorgeous beach standing across a charming, simple village. You can even nudge and request the local fishermen here to let you hop into their boats and try fishing with them. (Who knows you may get treated to fresh seafood dinner!)
5. Bhatkal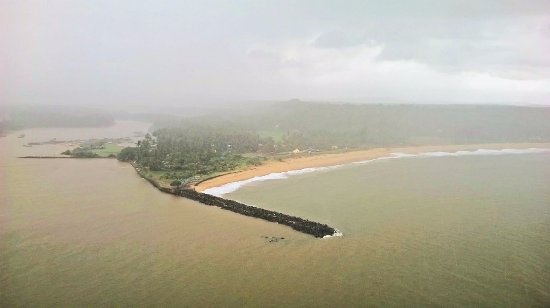 A small but important town, once the capital of the mighty Vijaynagar Kingdom around the sixteenth century, this place will capture your attention due to its prepossessing beauty and charm. The famous temple of the Jains known as the Jattappa Chandranatheswara Basadi is clearly a reminder of the grand days that the city has seen during its glorious days.
6. Mirijan Fort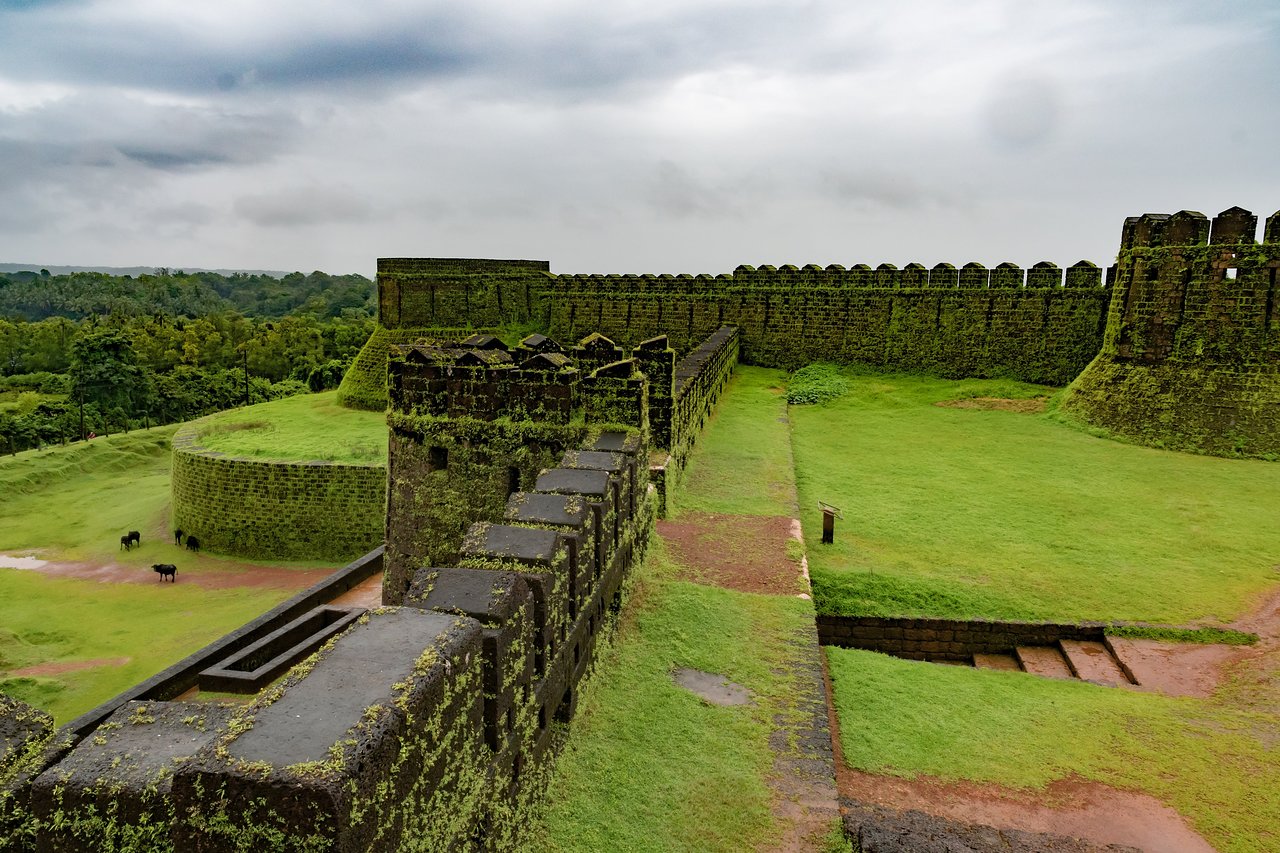 Another historical bounty that comes on the way while you are driving near Gokarna, on the Aghanashini River bank, is the Mirijan Fort. Take your time to explore the fort and try picturing yourself in the era it was built – you shall get goosebumps.
7. Gokarna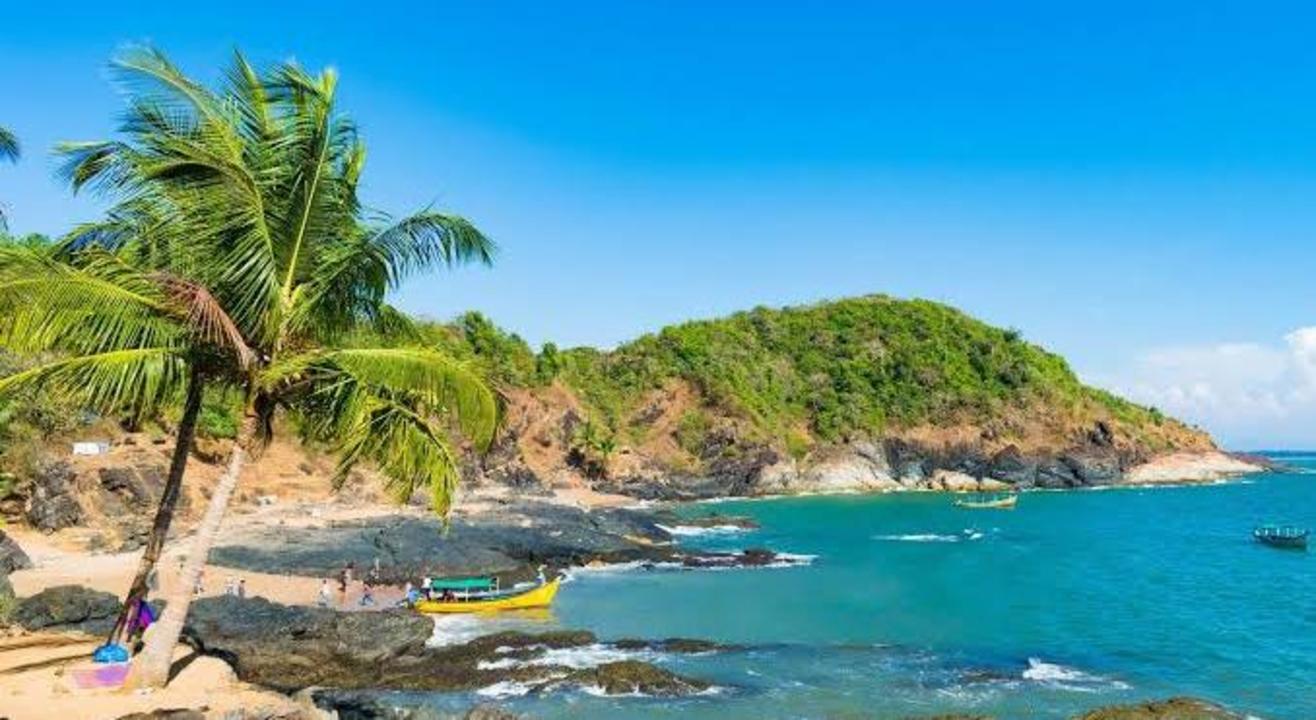 The name literally means cow's ear. We know you clearly understood the meaning and perhaps the significance of the name of this location — as Lord Shiva is supposed to have come from a cow' ear. This clearly suggests that there is a prominent temple especially dedicated to Him. And that's true! Visit the famous temple of Mahabaleshwar here, built by the Kadamba rulers centuries back, but was renovated a little recently.
8. Om Beach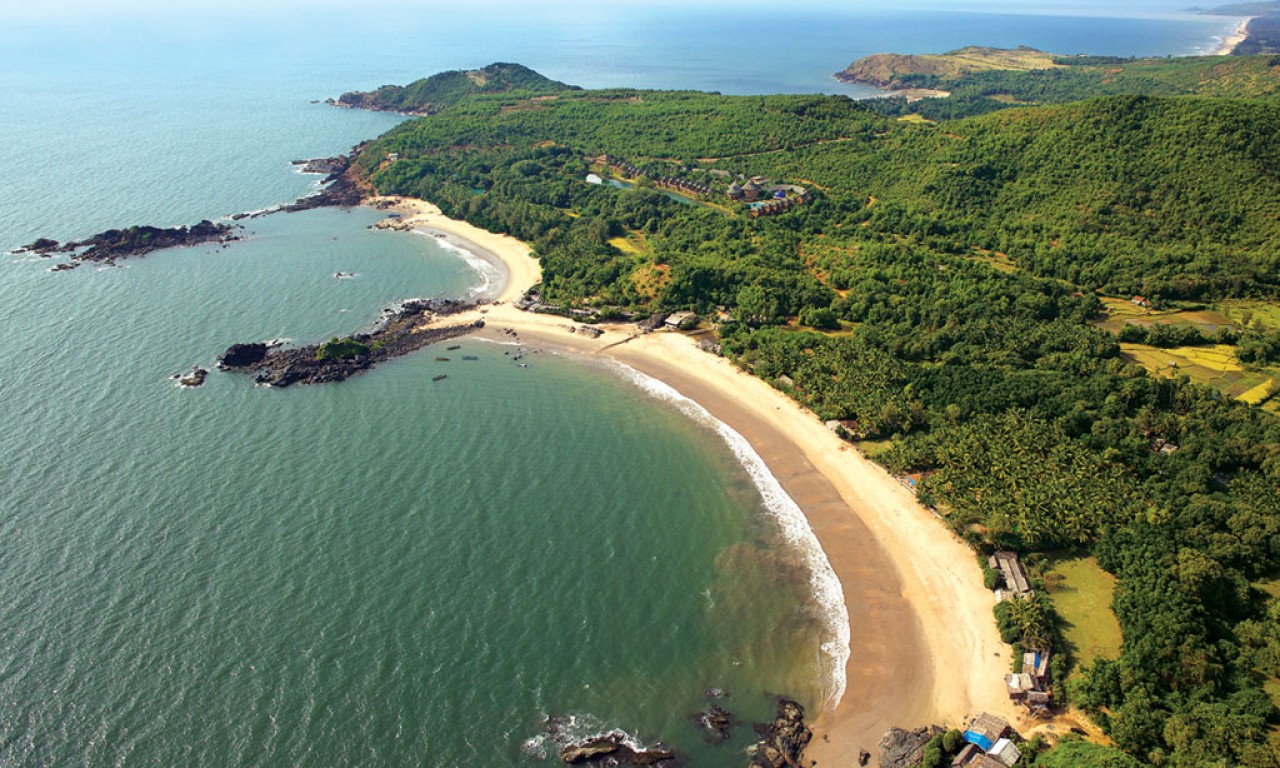 As you take a tougher ride on a clumsy road towards Goa, you'll reach Om Beach on your way. Take a dip in the sea and explore a little before going forward.
9. Paradise Beach
Oh, so you didn't know there was another one of those lovely beaches dotting your way? Enjoy the comparatively calmer beach known as the Paradise Beach before setting off again.
10. Maravanthe Beach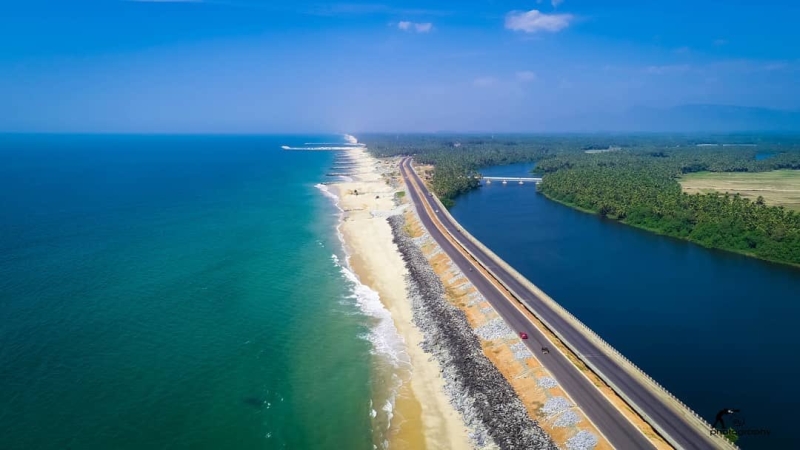 Ok, so you are very close to your destination, but the fun never ends. Here, you can actually view the grand meet-up of Arabian Sea with the stunning Sowparnika River and enjoy the view just as you are about to reach Goa.
Fantastic places worth visiting in Goa!
Now that you are finally at your destination, you sure shall be itching to check all the discos and casinos for a vibrant and buzzing nightlife experience! But don't forget to check the below listed places to visit in Goa.
11. Calangute Beach
Rightly called as the queen of beaches, Calangute beach is the most visited one in Goa. The tourists find it the best because of the thrilling water sports that they can experience here, the enticing nightlife, lots of food joints and restaurants, and obviously the deep sand and the azure sea. A dip in the sea and sun bathing along with banana boating seals your time perfectly. Reach here through a drive of around 16 Km from Panjim, the capital of Goa.
12.
Basilica of Bom Jesus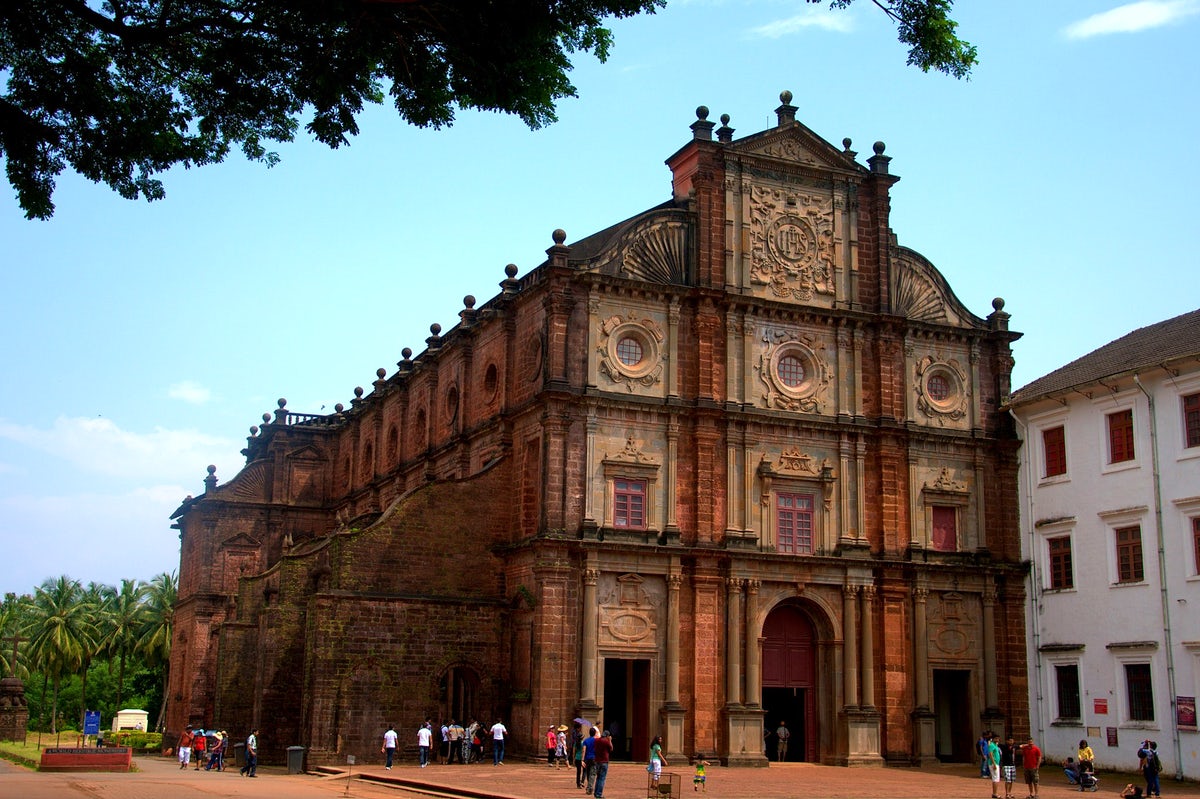 Built in 1594, it's one of the oldest churches in the world and is a proud UNESCO heritage site in old Goa. The amazing and intriguing thing about this church is that it still holds the remains of St. Francis Xavier, a friend of St. Ignatius Loyola, with whom he commenced the Society of Jesus (Jesuits). It has been 409 years since the remains have been preserved here. Apart from this, even the architectural specifications of the church is a rare sight and makes it a must visit. Travel here through Panjim driving for about 10 Km to visit the Church.
13. Fort Aguada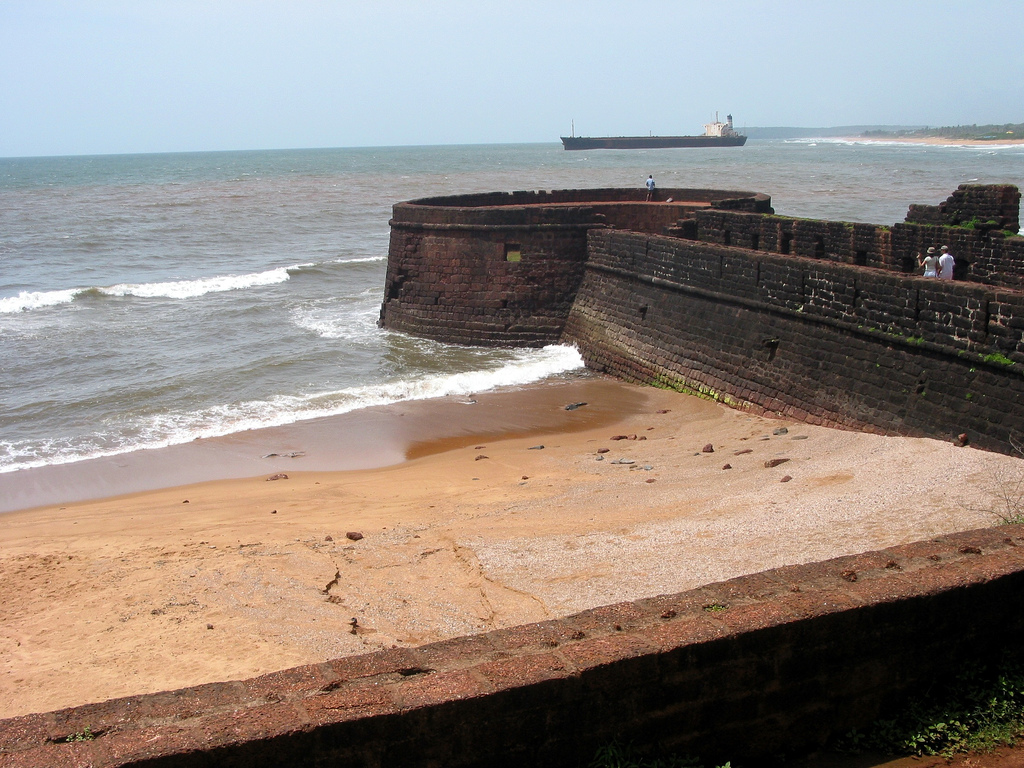 A 17th century fort that has a long 4 storey lighthouse with a spectacular view of the Mandovi River and the Arabian Sea is truly one of its kind. It was once a famous jail and there's also a statue in front of it saluting our soldiers. Reach here by driving for 18 Km from Panjim.
14. Dudhsagar Falls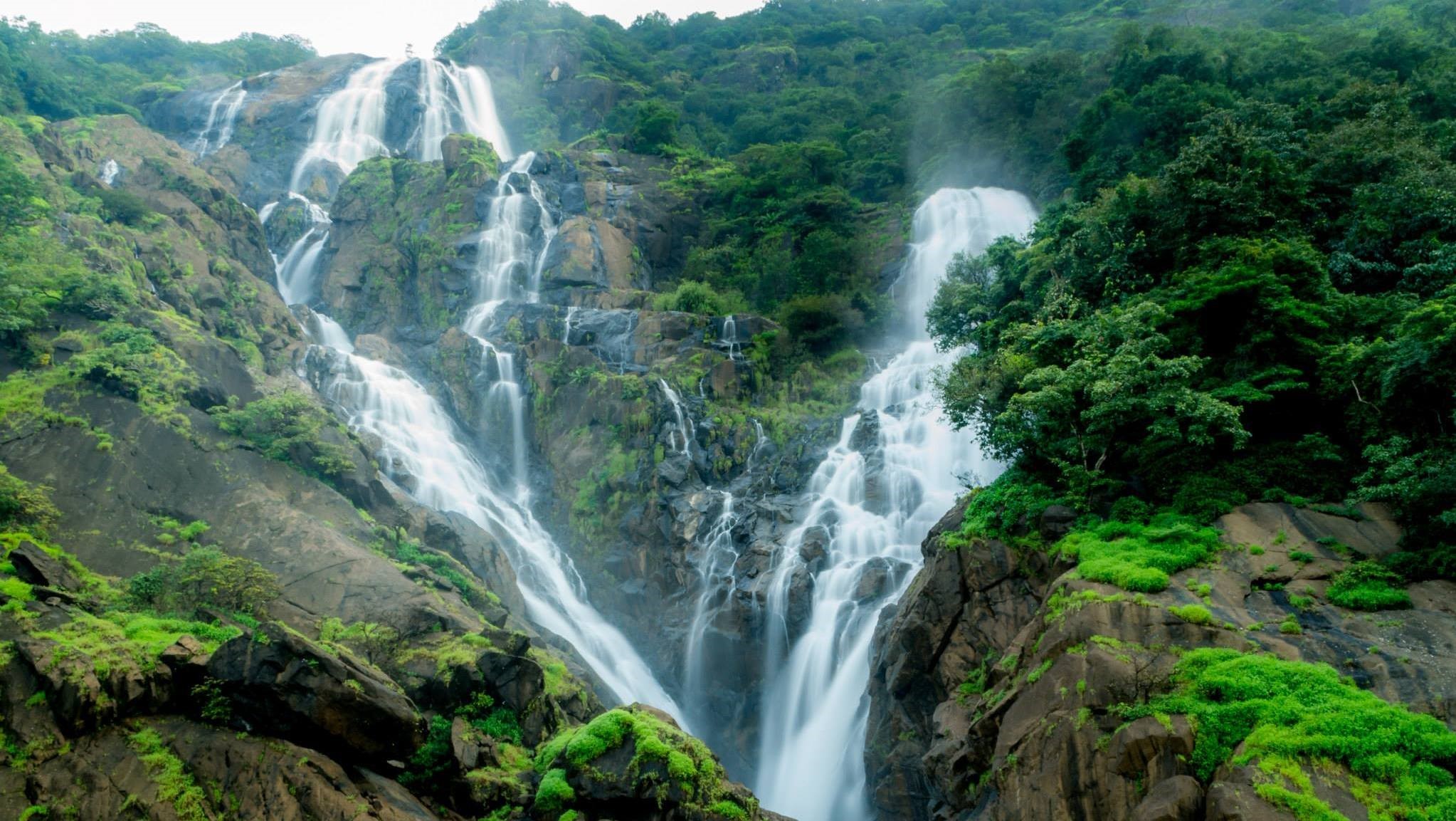 Falling from an immense height of 310 metres almost transforming water into milk, this is one of the India's tallest waterfalls located in the Mollem National Park, Goa. The lush greens surrounding it and the beauty of the gushing water is totally picturesque. You can reach here by travelling from Panaji for 60 Km.
15. Chapora Fort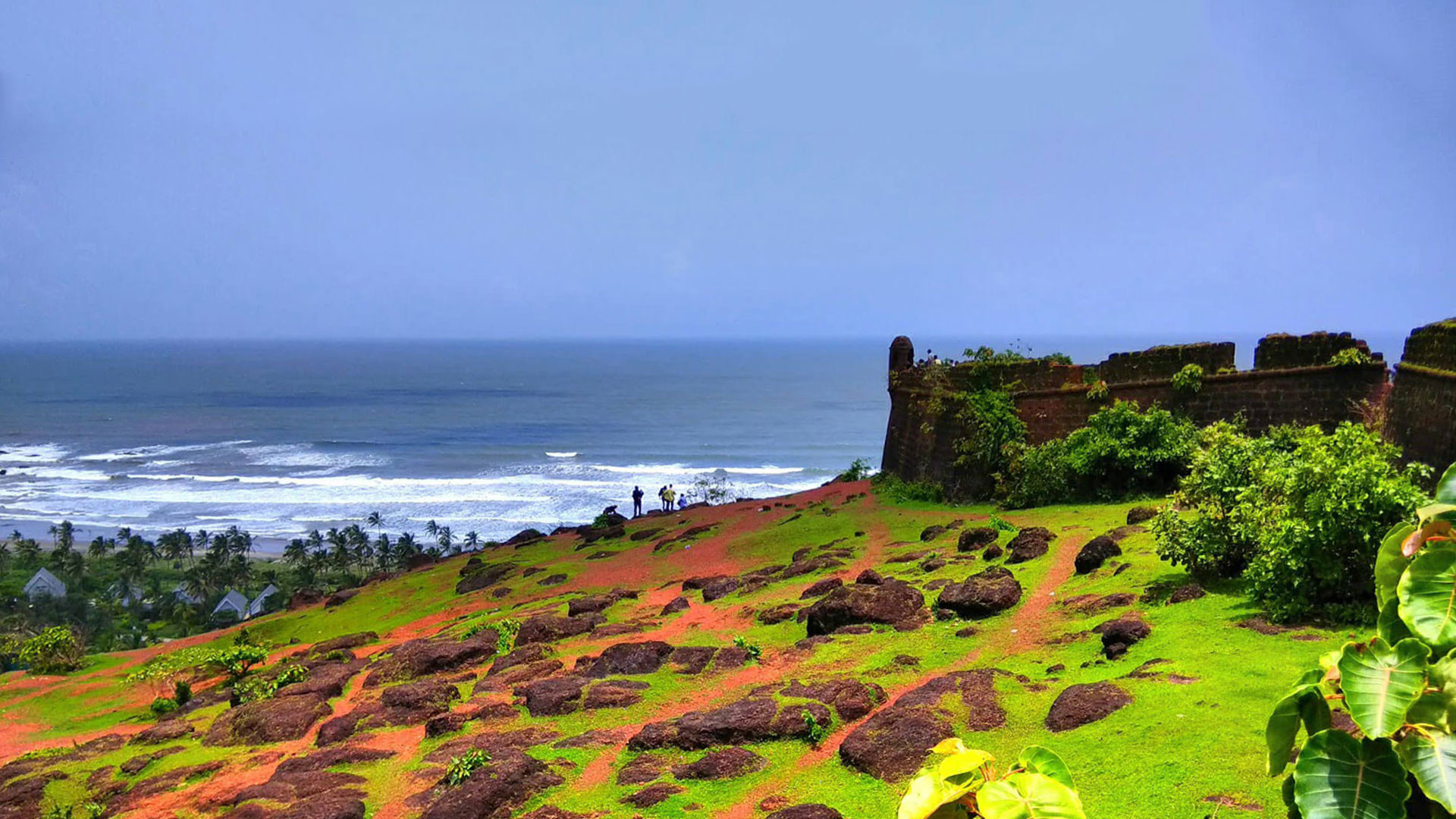 The most famous fort built by the Portuguese during 1717 got its fame after being screened in a famous Bollywood movie in 2001. But it's a historical site standing here giving you a sparkling view of the Chapora River. Travel towards Mapusa from Panjim to reach here.
When it's Goa, the list of places to explore can be unending. You should definitely try visiting the Anjuna Beach, the Baga Beach, the Dona Paula, Church of Our Lady of the Immaculate Conception and so many other places located close to each other in old and new Goa. Adding to it, never forget to take a tour of their local market to get your hands on some of the best handicraft items of the region. And for all the frolic – well what happens in Goa stays in Goa – so let your hair loose! And yes, the joy of driving on your own on this trip is second to none; so it is better to get the best car rental in Mangalore from Revv and make the experience memorable.