Attain ultimate salvation by visiting the 12 Jyotirlinga in India!
If religion plays a prominent part in your life, then you would certainly be dedicated to spend some time in the holiest places you find. And one of the mightiest pilgrimage trips is supposed to be the 64 Jyotirlinga (representation of Lord Shiva) situated in India. But it's understandable that visiting all the 64 destinations is impossible for most people. But you can always aim for the 12 Jyotirlinga amongst them which are considered to be the most auspicious ones as per the Hindu religion. They say if you want to wash away all your sins and attain extreme salvation, you should visit the 12 Jyotirlinga at least once in your lifetime.
The Jyotirlinga are considered to be the 12 radiant signs of Lord Shiva and that's why they hold a very significant place in the Hindu region. It's natural that even you want to go on road trips to the 12 Jyotirlinga in India to evolve spiritually. But you should know that these twelve sacred destinations are spread across 8 states in India. And a trip to these destinations takes some good amount of days.  So, if you are planning for an auspicious trip to these 12 destinations, it is better that you take off in a good condition car which sustains the hardships of the road for many days. 
Important things to keep in mind when visiting these destinations
States where these 12 Jyotirlinga are located —

The

locations of

the

12 Jyotirlinga

are spread across Gujarat, Andhra Pradesh, Madhya Pradesh, Tamil Nadu, Maharashtra, Uttar Pradesh, Uttarakhand, and Jharkhand.

Best time to go for the 12-Jyotirlinga trip —

The

best time to visit 

the 12 Jyotirlinga is during the coolest months of the year, which are from November to February when the weather is soothing and pleasant. 
An ideal road trip to the 12 Jyotirlinga.
If we believe the devotees who already went for the 12 Jyotirlinga tour, they say that the road trips were the best and most convenient for this journey. So, let's commence our journey:
1. Nageshwar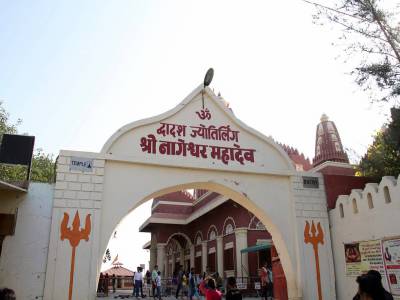 You can commence your trip by visiting Dwarka, Jamnagar, Gujarat. This is said to be one of the seven holiest cities in the country and the Dwarkadish Temple at this place is really famous. You can also explore this traditional city where every corner speaks of the religious beliefs piously practised by the locals. Even the Bhet Dwarka or the kingdom of Krishna is an auspicious place to visit while you're here. Do pay homage to the first Jyotirlinga in India, the Nageshwar Jyotirlinga at the earliest. And if you are lucky enough, you can also get a chance to view their Abhishekam Ceremony.
2. Somnath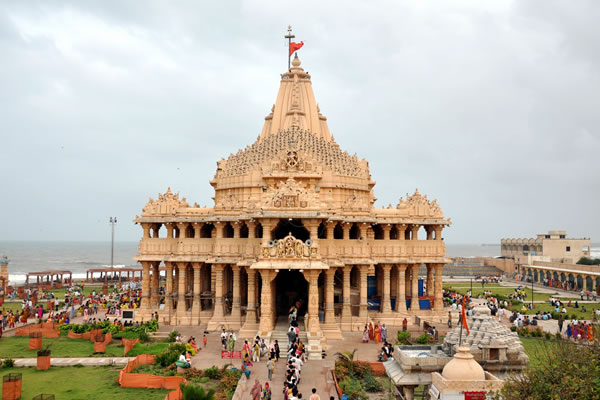 Next, take your car towards Somnath. Here, the Somnath Jyotirlinga Temple is your destination. You can stay along to attend the evening Aarti time of Jyotirlinga and even walk around the area to admire the excellent architecture and the purity in the aura of the place.
3. Bhimashankar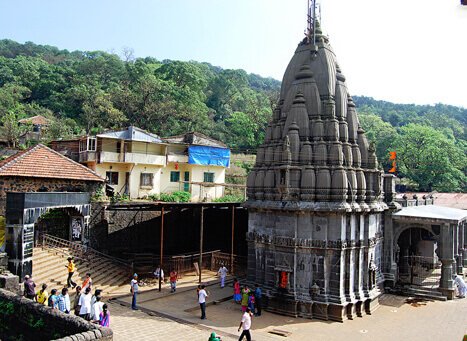 When you arrive at Bhimashankar to pay homage at the Bhimashankar Temple, you shall be mesmerised by the beautiful surroundings. It's a sacred temple included amongst the 12 auspicious ones and provides a totally refreshing view with the charming greenery around it. You can even visit the famous Bhimashankar wildlife sanctuary, which is one of the nearby tourist attractions of Jyotirlinga's.
4. Grishneshwar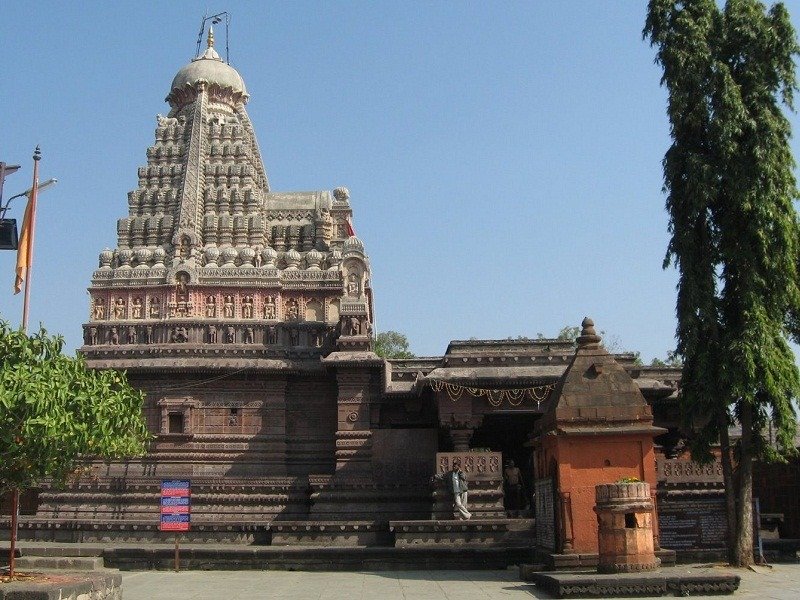 From here, visit Grishneshwar Temple at Aurangabad. The historic temple has a distinct beauty and character that makes it unique. Ensure to pray for your rest of the journey to be as soothing as it was until now. 
5. Trimbakeshwar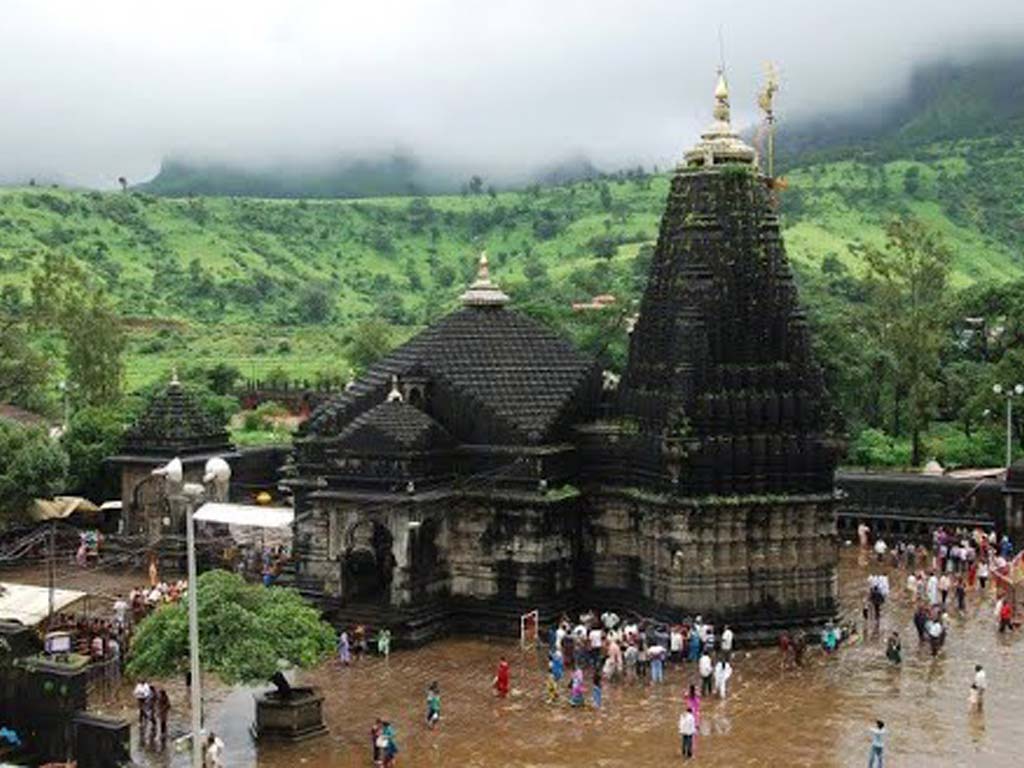 Next is the Trimbakeshwar Temple that has the most important but unique Jyotirlinga. It represents the face of the three important deities of the Hindus — the Brahma, Lord Vishnu, and God Shiva. Pray here and get ready for another long drive towards your next destination.
6. Omkareshwar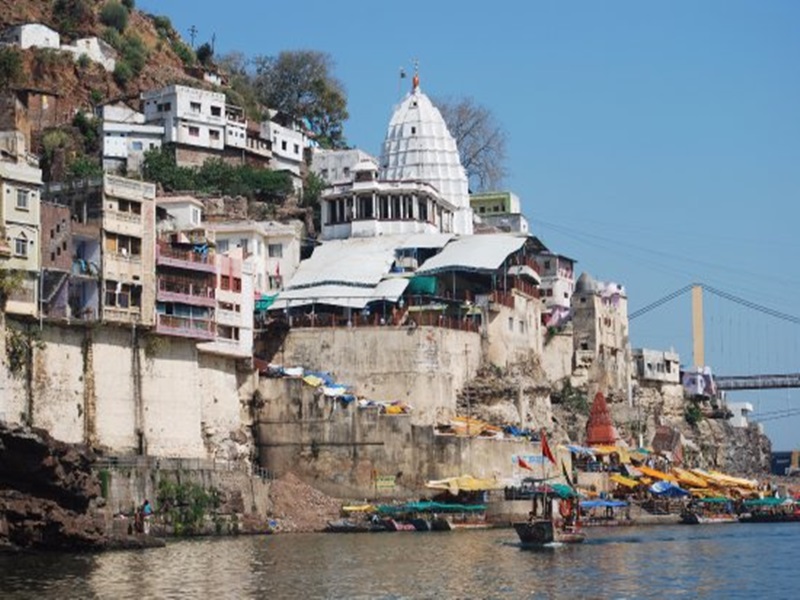 You would reach Ujjain now and here you shouldn't miss attending the Bhasma Aarthi held at Mahakaleshwar Temple. After this, you shouldn't delay visiting the Omkareshwar Jyotirlinga Temple to attend the most prominent evening Aarti held here. You shall feel extremely blessed and peaceful after attending this Aarti for sure. 
7. Mallikarjuna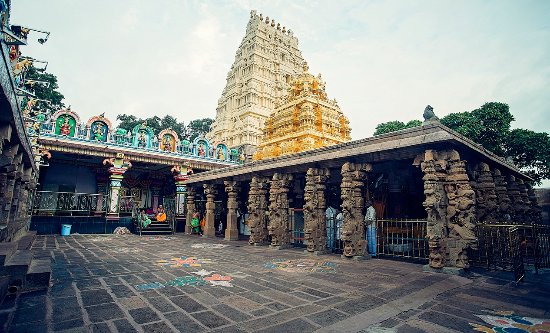 Since you're commencing another fresh day, you can pay a visit at the Omkareshwar Temple for the Abhishekam ceremony. From here, you can head to the next destination, Hyderabad, where you'll reach Srisailam. It's the home to a significant Jyotirlinga, the Mallikarjuna Temple, where you can participate in the Aarti and pujas.
8. Rameshwaram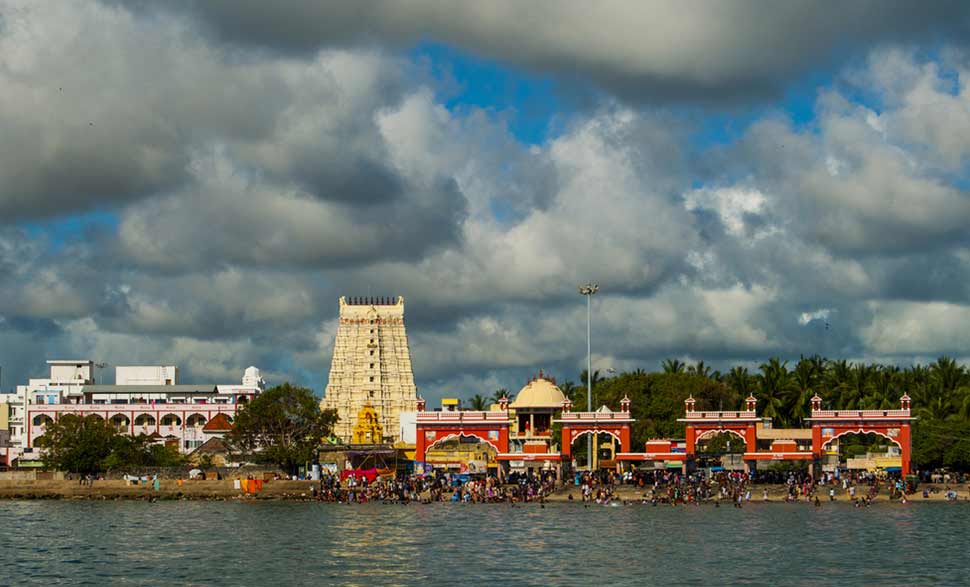 From Hyderabad, you can move towards Tamil Nadu where the Rameshwaram Jyotirlinga is quite an important one for your trip. Here, you will find more such local temples around the prominent ones and you can pay homage to all of these when you are on your religious trip. You shouldn't forget to take a dip in the river for the religious bath which is also known as the Kund Snan before attending the evening Aarti ceremony in this temple. 
9. Kedarnath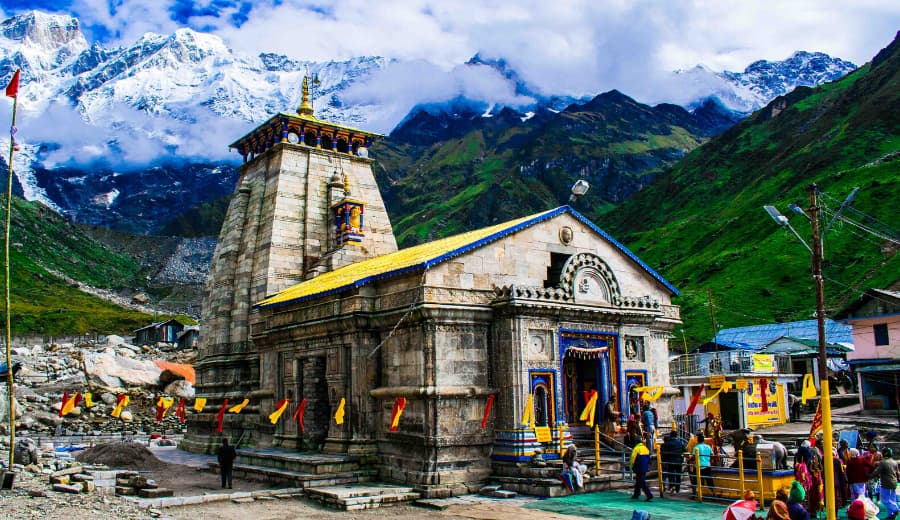 Your next drive would be a really long one since you're heading towards Delhi, and then further up to Haridwar. From here, you should head towards Kedarnath. The important temple, the Kadereshwar Jyotirlinga here is one of those 12 Jyotirlinga. And you'll see a hump here that is supposed to be a sign of Lord Shiva's presence here.
10. Visneswara (Kashi Vishwanath)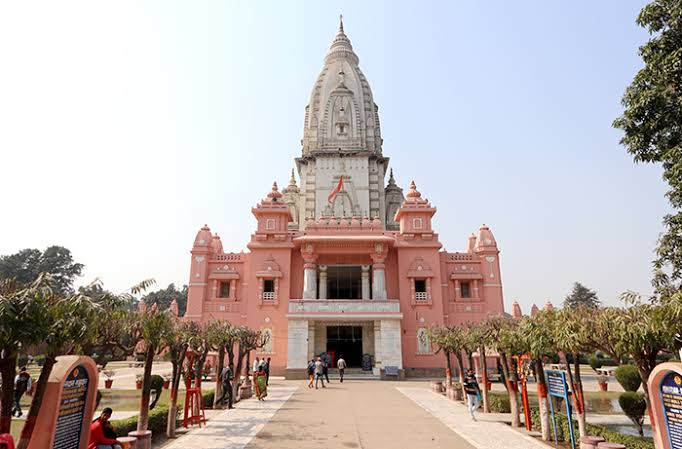 The Visneswara Jyotirlinga is found at the very famous Vishawanath Temple that is located at Varanasi (Banaras/ Benaras). This place is believed to exude a magical aura for devotees as you'll see them thronging the queue for miles to get a chance to worship here — and of course one of the most important things to do when you are in Benaras is to dip in river Ganga to purify your soul and wash away all sins.
11. Baidhyanath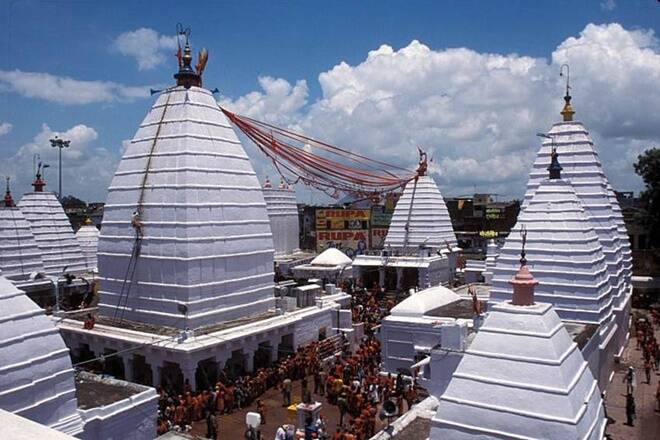 Now you can head up to the most peaceful destination of your journey at Baidhyanath that is in Jharkhand. They say that you can attain moksha or absolute spirituality when you worship at this temple.
12. Mahakaleshwar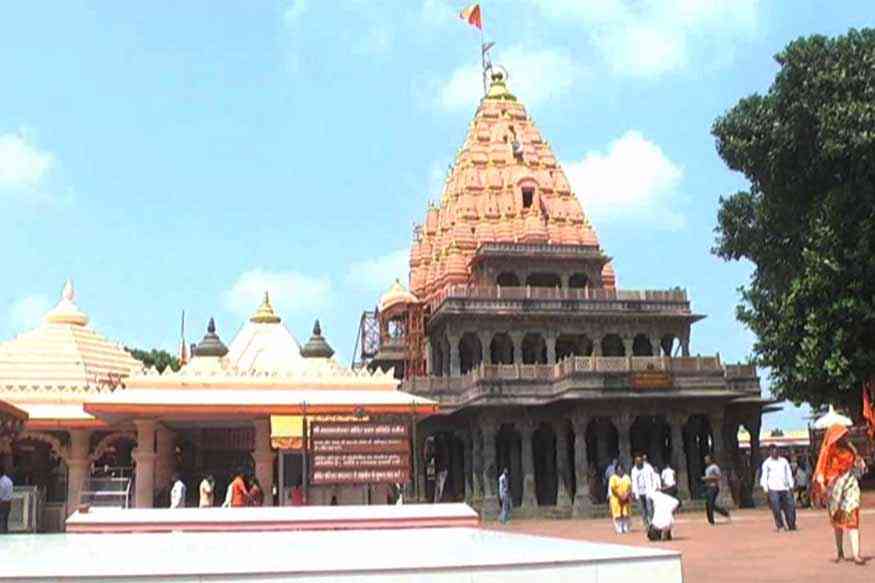 It's finally time to end your spiritual journey by visiting the Mahakaleshwar Jyotirlinga at Madhya Pradesh. Here, the famous and important Mukti Sthal is located which is again believed to be a sacred place to attain salvation and enlightenment. 
This trip is certainly going to make your soul feel purified and fresh. These twelve Jyotirlinga aren't less than any blessing for your life and visiting them is the luckiest thing to happen to you. But ensure to rent a car from Revv which helps you drive for miles and for days to travel to all these destinations seamlessly.