Indulge in a unique festive fervor by celebrating Dussehra in Hyderabad!
Bored of your regular festival celebrations? Let us shake it up a bit for you this Dussehra! Let us entice you to drive to a mesmerising location. You would have heard about Hyderabad, the city of Nizams (or the City of Pearls – whichever you prefer) which has a recorded history as old as 400 years. No doubt the city is so rich in cultural heritage and incredible monuments. The rulers in this region made sure that the people remembered them even after centuries of their reign.  And that's what exactly Hyderabad depicts. The city with some prominent World Heritage sites, stunning natural beauties, and the very famous and delicious cuisine – the city has lots stored for the tourists who wish to visit here.
Dussehra is a festival that is celebrated in Hyderabad with lots of excitement and vigour. Well, each and every part of the nation celebrates it with much grandeur. So, why would Hyderabad, the prominent city of Telangana, stay behind? You can ride across the city and see for yourself the charm and zest this festival time in Hyderabad has in store for you. The lights, lanterns, crackers and cuisines, everything is themed according to the grand festival and nothing goes amiss to give you a unique experience of Dussehra in Hyderabad. 
Important things to keep in mind when visiting Hyderabad.
Best time to visit Hyderabad— The best time to travel to Hyderabad is mostly during the winter months of October to February because the weather during the summer months are pretty warm here and that's why it doesn't provide you the ease of exploring everything completely.
Types of visits recommended— Historical, adventurous, sightseeing, and religious.
Top 5 visiting places in Hyderabad during Dussehra !
You wouldn't believe it, but Hyderabad celebrates Dussehra in a totally different way than the rest of India. Of course, the happiness and the charm are synonymous — but the exciting traditions that they follow have their own distinct importance. And that is what you are going to explore when you drive throughout the city during this charming festival. So, let's start the journey towards an incredible destination and the most prominent places to visit in Hyderabad during Dussehra.
1. Bathukamma in Hyderabad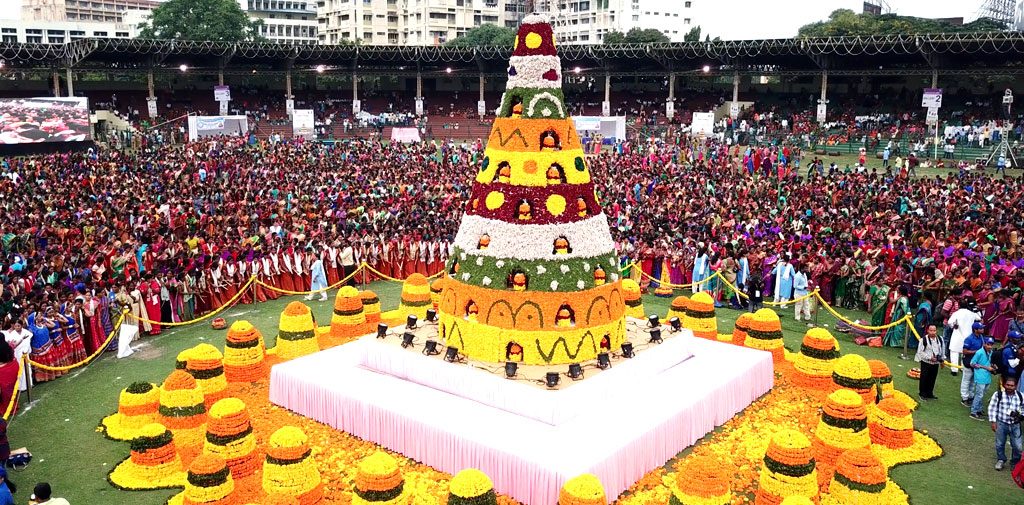 You couldn't get enough of the festival time in Hyderabad if you aren't witnessing their much-known traditional festival, Bathukamma. They have this distinct festival which is celebrated during the nine days of Navratri and Dussehra wherein you will see the women especially worshipping the flowers as Gods. They decorate their places in a specified pattern with flowers and dance and chant hymns around them during all these nine days. The positivity in the air, the colours in which they dress and the fervour with which they observe the traditions – all of it is exciting to experience. It is during the last days of Dussehra that you will see the women finally carrying these flowers on their heads and submerging them into the waterbodies which  again stemmed from a belief that was practiced in this city during the past centuries. Well, you may be thinking what is there for you in this festival? You wouldn't see the charm and excitement that you get to see here during this festival anywhere else in the world. Even the food delicacies prepared during this time are special to this area and are really worth tasting. So be ready to be intoxicated by the celebrations in the air by checking the city during this festival.
2. Visit the Charminar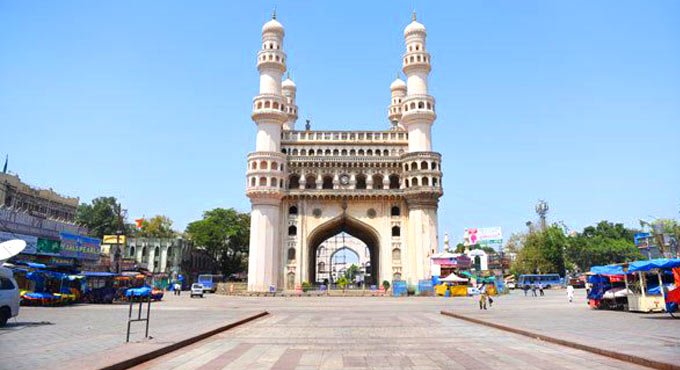 Everyone knows that the city of Hyderabad was a favourite of the Nizams. And that is why they never hesitated in creating one of the most fabulous architectural creations of history in this city. Yes, we are talking about one of the main tourist attractions in Hyderabad, the Charminar. You will actually be awed after watching the glorious Charminar situated in the heart of the city. And since the Dussehra festival is on, you will see a huge rush of tourists and locals already visiting this area to celebrate. After you visit Charminar and admire its unique architectural patterns and the astounding way it is made, you can even enjoy the festival along with the locals in the area around it. 
3. Birla Mandir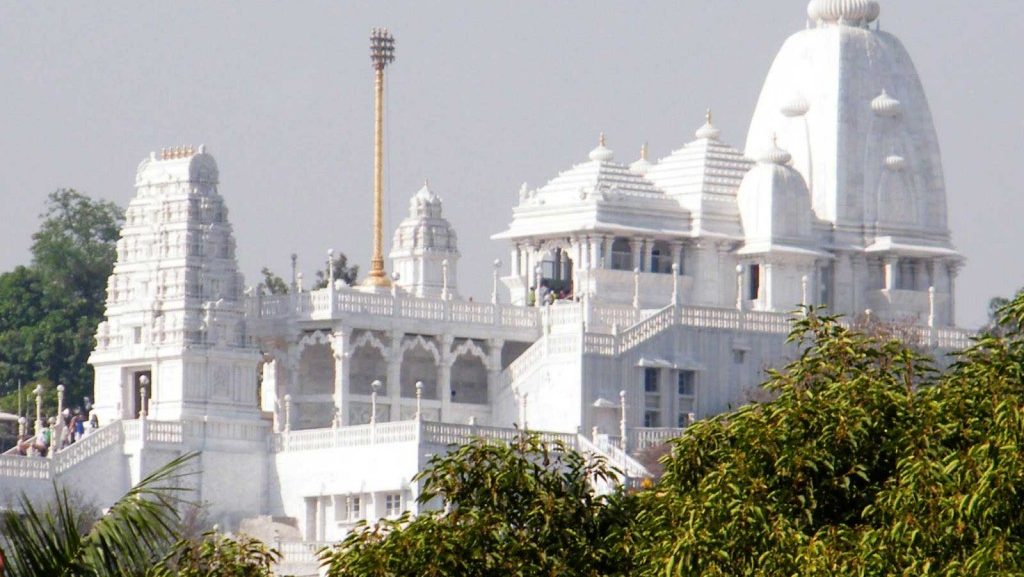 There aren't any less number of palaces and forts to visit in Hyderabad. But let's concentrate on the very famous Birla Mandir, since it's the religious observance time in Hyderabad. This is a very prominent temple for Hinduism, and you will see some exclusive carvings and idols of Hindu Lords engraved beautifully on this temple. And during this festival time the devotees don't ever leave the place alone. Let us remind you, that Birla Mandir is a 10-kilometre ride from Charminar, and you can enjoy the panoramic en route.  
4. The local bazaars of Hyderabad
The richness and traditional culture of Hyderabad can be easily seen in the local bazaars. May it be the Juda Bazaar, the very famous Meena Bazaar, or the Laad Bazaar, you wouldn't get enough of the traditional items sold here in diverse varieties. Whether it is their unique and trendy bangles, or textiles, or pearls, or the yummy delicacies sold in any food outlet in Hyderabad, everything is up to the mark and really tempting — this leaves you spending a lot of your moolah in buying all these gifts to take back home.
5. Shilparamam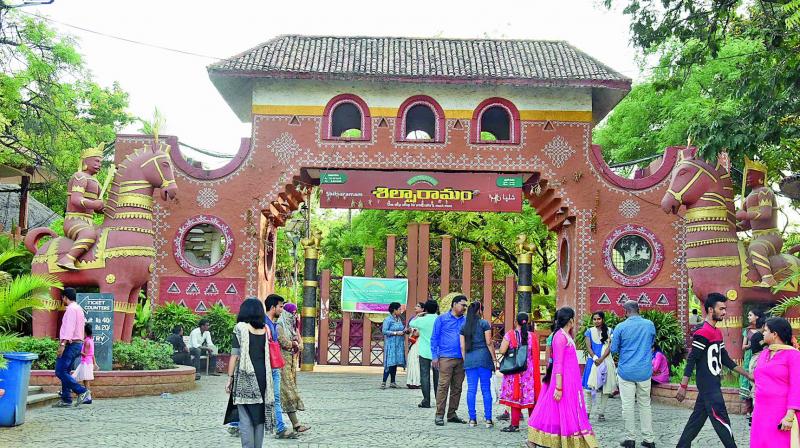 One of the most fascinating things to do in Hyderabad is visiting Shilparamam. This is a small village located in a high-tech part of the city, Madhapur. This place is famous for its unique art and craft offerings — and when you visit here, you shall see an exhibition going on during the festival of Dussehra. Though there is an entry fee for the same, but it is a very minimal amount and you get to see some really magnificent shows and even great items to be collected like extraordinary handcrafted objects from the many important  shopping outlets in Hyderabad that are put up here during this time. So, a drive to this village would never go wasted and you will end up enjoying the vibes in the air.
But this grand festival and the celebration doesn't end here. You will see a lot of excitement and celebrations about the same even at some of the famous places around the city. These nearby places from Hyderabad for road trips include famous temples and wildlife sanctuaries and much more — and are sure to seal your journey with happiness and contentment. And as you wheel back towards home, you shall be thankful for hiring Revv car rental services for a safe and happy journey.