5 Best Road Trips to Flower Valleys in India
India has significant environmental and geographical varieties, like the Himalayan mountain range, Indo-Gangetic plains, central highlands, Thar Desert, Eastern Ghats, Western Ghats, coastal plains, and numerous islands and forests. The breathtaking landscape will leave you amazed, and you will like to explore more and more. Road trips are the best way to enjoy the scenery, where you can stop at any spots you like and spend some time.
Among the environmental diversity in India, valleys of flowers are one of the top attractions, and the study shows there are several picturesque flower valleys in this country, which are very less-visited. Such unparallelly beauty is often hidden in the mountains and plateaus, far from human habitations. For this reason, you have to trek to reach the maximum locations of the flower valleys in India. You can get to the nearest points by road trip, which will also be a treasured experience.
\We all love flowers and these six beautiful flowers valleys will delight your eyes with colors and fascinate your mind with a stunning mixture of floras covering widespread areas of scenic terrain.
Here is the list of top 5 valley of flowers in India in 2021
1. The Valley of Flowers National Park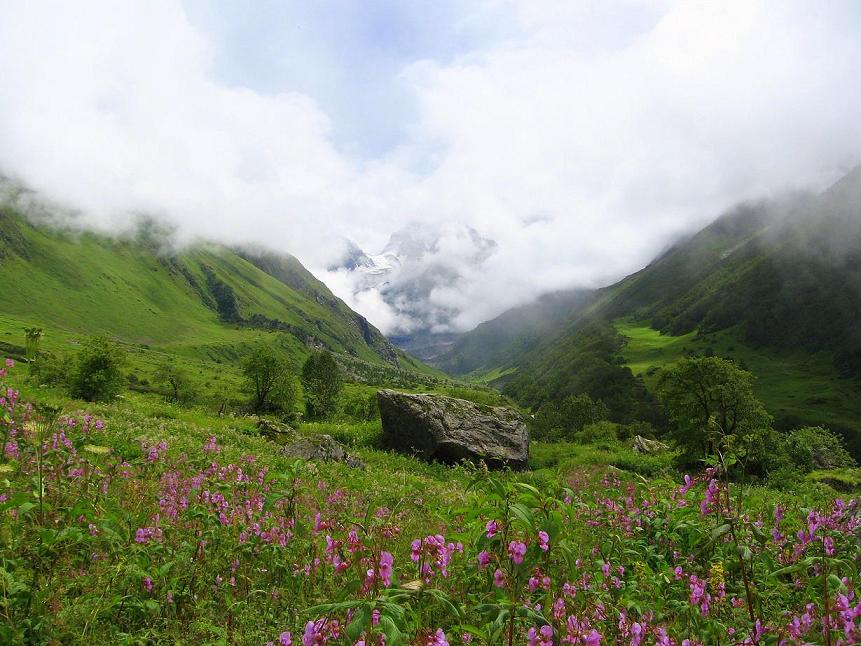 The valley of flowers National Park in Indian state Uttarakhand is a UNESCO's World Heritage Biosphere Reserve Site of 498 rare species of wildflowers at an altitude of 3,658 meters. The backdrop of Nanda Devi and the diversity of floras make it an almost surreal sight that attracts many nature enthusiasts every year from July to September.
Brahmakamal, Himalayan maple, blue Himalayan poppy, rhododendron, daisies, marigold, orchids, Wallach's cobra lilies, primulas, and many other species of flowers makes it a celebration of colors in nature. Also, it houses several rare and endangered animals like Asiatic black bear, brown bear, snow leopard, blue sheep, musk deer, red fox, and many birds.
You can plan a road trip to the valley of flowers in India, and it will take at least fourteen days to complete the road trip from Delhi. It is located in North Chamoli and Pithoragarh, and you can drive up to Govindghat, through Rishikesh and Joshimath, and then trek for 7.5 km to reach the valley of flowers. Also, visit the Hemkund Gurudwara and Nanda Devi national park as a nearby tourist attraction.
2. The Dzokou Valley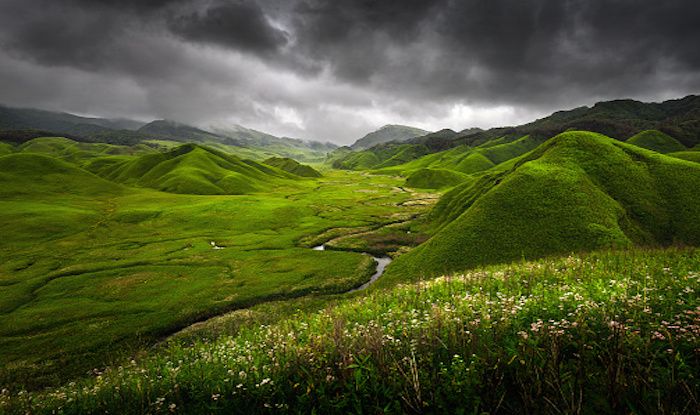 It is a breathtaking valley surrounded by the mighty Japfu hills on the Manipur-Nagaland interstate border. Dzokou Valley is famous for multicolored carpets of 'Dzukou lily' flowers at an altitude of 2,452 meters, and the best time to travel is during summer. The flowers begin to bloom in the monsoon, and the first two weeks of July are the best flower season in Dzukou Valley. It is like a hidden gem in northeast India which is a lesser-known nature's mesmerizing beauty.
The nearest city from the Dzukou Valley is Kohima, which is nearly 24 km far and many people visit this beautiful flower valley for a trekking and camping adventure. You can take a short road trip of approx 45 minutes to Viswema Village, and from there you need to trek for almost 4-5hrs to reach Dzukou Valley. If you visit from Dimapur airport, it will take around 3 hours to reach Kohima by road.
Kohima War Cemetery, Naga Heritage Village, Kisama Heritage Village, Khonoma Village, Intanki Wildlife Sanctuary, Kohima Museum, and the Catholic Cathedral are nearby sites to know their culture and heritage. You can trek to Japfu Peak, which is 12.9 km from Dzukou Valley for adventure, or visit the Naga Bazar for shopping.
3. Munnar Valley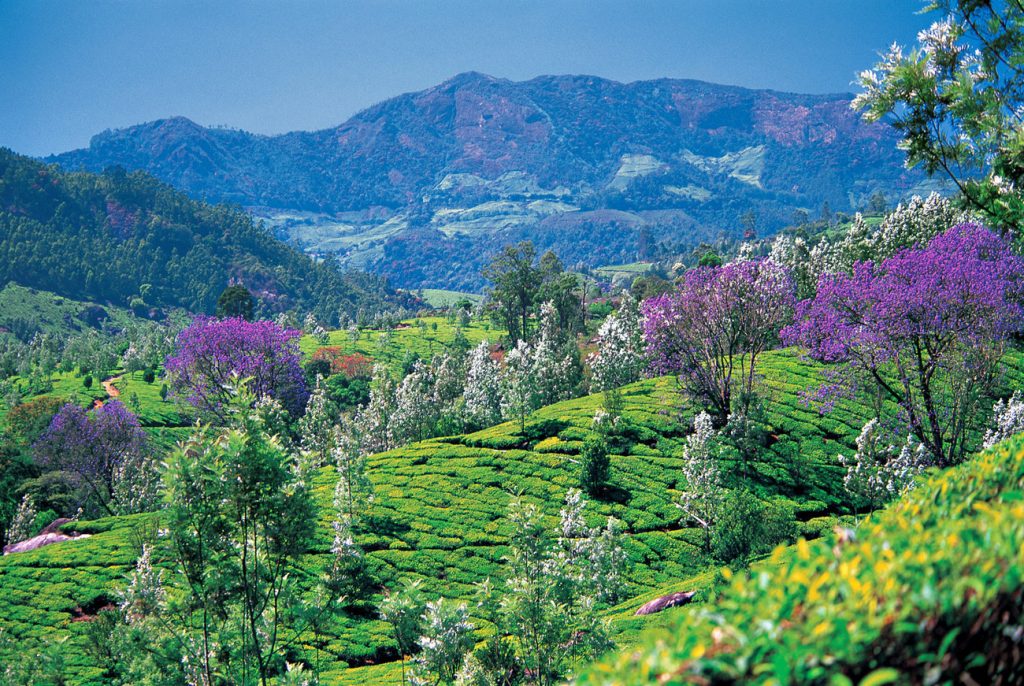 The green meadows layered with spectacular lavender-colored flower Strobilanthes kunthiana, commonly known as the 'Neelakurinji', make the Munnar valley a honeymooner's paradise. The Neelakurinji bloom in an approx 12 years gap, and the sight makes it worth exploring when the shrub covers the Shola grasslands of the Nilgiri range of the Western Ghats in lavender. The next flowering is expected by 2033, as it last occurred in 2018, and August to October is the flowering season of this rare fauna that grows in the Indian state Karnataka and Tamil Nadu.
The nearest cities from Munnar valley are Cochin and Madurai, and you can plan exciting road trips between the distances. Cochin is the nearest city at a distance of 110 km, and Madurai is 140 km away. Munnar is a beautiful hill station with several attractive nearby places to visit for sightseeing. Such as the Eravikulam National Park, Atukkad Waterfalls, Anamudi Peak, Pothamedu View Point, Tea Museum, and Echo Point.
\We suggest visiting during the winter season, from December to February to feel the mesmerizing forest aroma in cold mountains. Also, you may visit up to May, the beginning of summer in Munnar to see nature during spring.
4. Kaas Plateau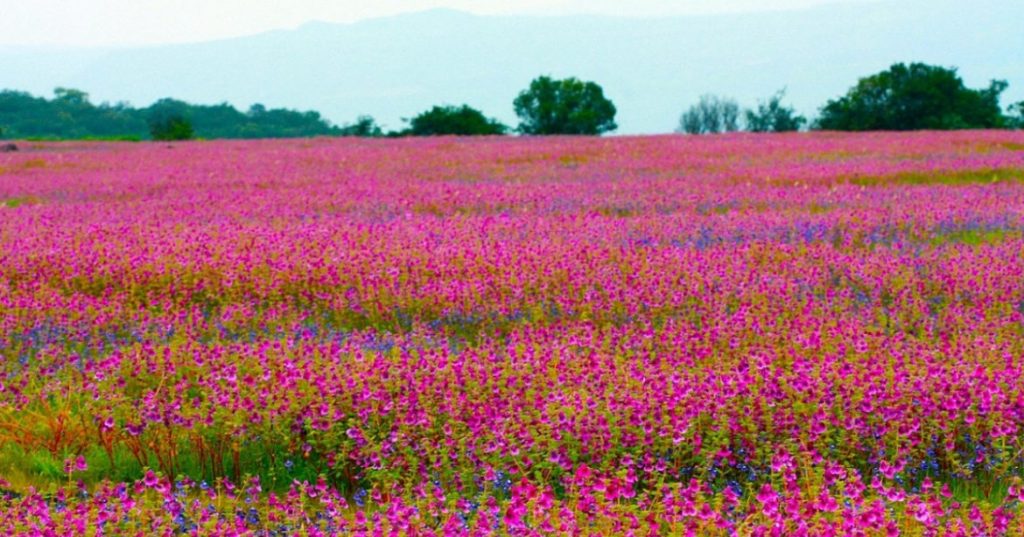 The Kaas Plateau Reserved Forest, locally known as the Kaas Pathar, is a UNESCO world heritage site on the plateau, situated 25 km west of Satara city in the Indian state of Maharashtra. It is named after the 'Kaasa' flower, which is commonly seen in this place. Also, about 850 rare species of flowers like orchids, toothbrush orchids, Indian arrowroot, Dipcadi flower, tropical sundew, Y-tura, and many others bloom in this environment. Also, many reptiles, birds, mammals, and amphibians are found in the plateau.
For the best view, you need to visit from September to early October as the bloom stays for only two to three weeks, and you need to catch the right time. The widespread flowery fields look so beautiful that you will like to visit every year during this time to capture the pink shades.
Kaas Plateau is a perfect weekend getaway with family and friends within a three-hour drive via NH4 from Pune, and the distance is 136 km. Also, visit the nearby Vajrai and Thoseghar waterfalls or Kaas lake as a famous tourist attraction near this place.
5. Yumthang Valley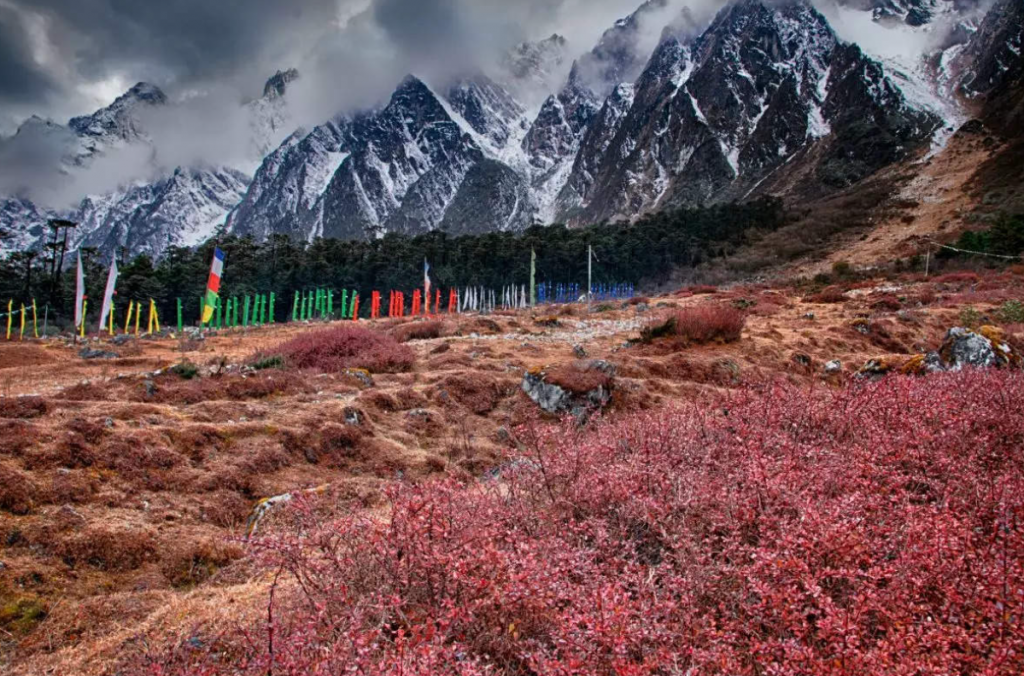 The Yumthang Valley or Sikkim Valley is a paradise for nature lovers with exotic varieties of flowers. Spectacular flower landscape, river, yaks, hot springs make it a natural wonder at 3596 meters above sea level, surrounded by the Himalayan Mountains in Sikkim. Cinquefoils, Rhododendrons, Poppies, Iris, Primroses, Louseworts, and Cobra-lilies are among the many varieties of flowers that bloom in this environment.
Heavy snow covers this place during winter, and during summer you can see the flowers blossom under a clear sky. So from February to June is the best time to visit the Yumthang Valley of Flowers. The Shingba Rhododendron Sanctuary is a nearby attraction of this place, and there are several other exciting things to do in North Sikkim.
It is a hot destination for photographers to capture the scenic flowery exhibition by nature. You can reach Yumthang Valley from Siliguri, and the distance is 127 km via NH10. It usually takes less than eight hours through the Himalayas. Also, you can reach faster via Gangtok airport, but you will miss the scenic road alongside the River Tista.
So if you haven't been to any flower valleys, then pick anyone on the list, and you will find some amazing things to see that will refresh your body and mind. Hire a self-drive car from Revv and take the road trip to your destination to understand the environment more closely and intensely.