Take a Road Trip to Tamil Nadu during Golu Festival
Festivals are meant to be happy and jolly times! And when it's Navaratri, you know that the fun and excitement in the air is contagious and is also soul cleansing. After all, it's about the triumph of the right over the wrong, the good over the evil, and of happiness over sadness. How can you commemorate Navratri celebrations in Tamil Nadu? Wondering why we ask? For, there Navaratri is celebrated as Golu! And yes, this happens only in Tamil Nadu and its neighbouring States.
We all know how Tamil Nadu is deeply proud of culture, heritage and traditions, and a profound perception of spirituality. If you want to experience some of it, celebrate the festival of Navaratri here which is commemorated in the most unique way with lots of vigour and grandeur. And that is why it is the best time to visit this State if you really want to steep in her tradition and culture.
Important things to keep in mind when visiting Tamil Nadu
Best time to visit Tamil Nadu — Tamil Nadu never faces extreme summer or winter. You'll even find it raining here during October and November. So, basically, you can visit here whenever you want. But we suggest that the best time to visit here is when Navratri is commemorated as Golu with full fervour.
Types of visits recommended— Historic, religious, leisure, sightseeing, and adventurous.
Celebrate Navaratri in a different way this year in Tamil Nadu!
 Nothing can be more exciting than having a first-hand experience of the diverse culture and social customs of incredible India. So, if you plan a long drive towards Tamil Nadu during the Navaratri festival, then you are surely going to be cherishing these moments for the rest of your life. Well, let's see how gloriously you can celebrate this festival together with the locals of Tamil Nadu where Navaratri is especially called Golu. We are totally obsessed and excited about the idea of celebrating Golu festival in Tamil Nadu, what about you?
Golu Celebration in Tamil Nadu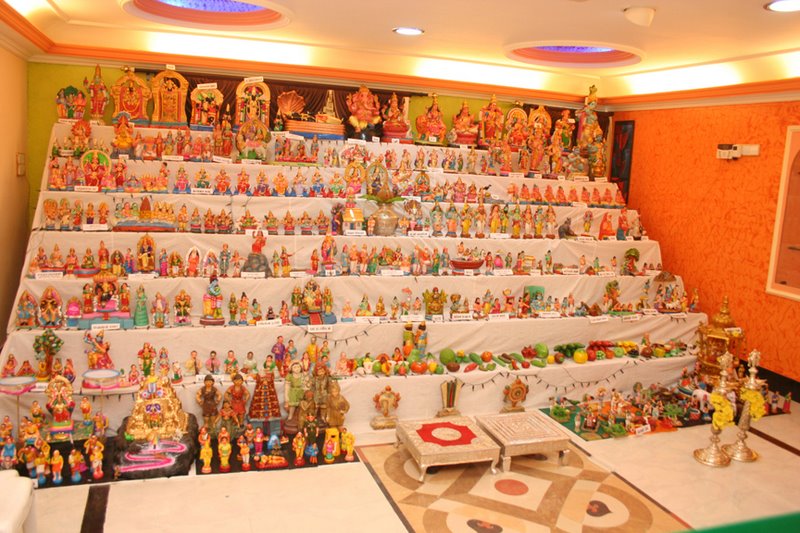 Before you proceed, you have to understand why is Navaratri Golu celebrated? Well, it's actually a nine-day festival during which the people of the State remember the grand religious fight that happened centuries ago when the good defeated the evil. This win is celebrated during the Navratrias Dussehra or Vijayadashmi when they burn the effigy of Ravana. The Golu that we have been mentioning so much symbolises the Goddesses and are specially prepared with deep reverence and observing traditional rituals. You'll be astonished to see how sincerely the locals here place them on their steps with coconut, rice, and other items in the 'Kalash' and celebrate the festival joyously around them. Crux: It is a ceremonious way of welcoming hope and positivity to one's life (eradicating all that is negative).
Things To Do During Golu Festival in Tamil Nadu
It's during the Golu festival that the entire State shines with light and chirps with cheerfulness. If you want to be a part of this celebration, you should know about the best things to do during Golu festival! We suggest- just drive your car towards the famous locations and markets where you'll get to see the myriad Golu dolls that are prepared specifically for this festival. You will find them in awesome colours and patterns and all of them are totally impressive. Then there are also the places where some special celebrations are organised for the poojas and artis of these Golu and even the Bhajan program is held after the same. You shouldn't also miss the best attractions in Golu festival in Tamil Nadu which are the local markets and the food stalls full of special festive treats to delight you.
Best Places to Visit in Tamil Nadu during Golu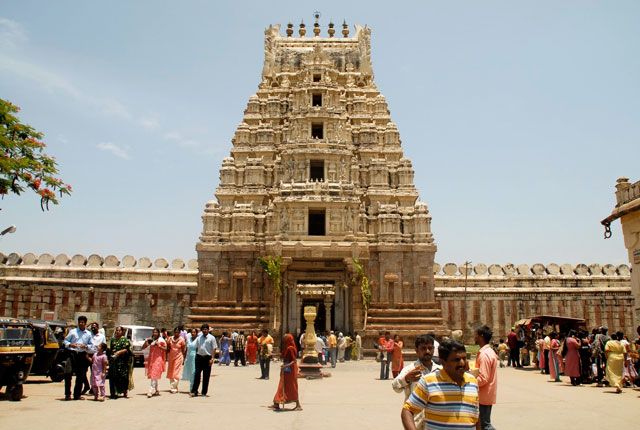 If you are really keen on knowing the best places to visit in Tamil Nadu during Golu festival, then do check the long list of its temples. During the festival of Golu, these temples are decorated with beautiful lights that make them all the more alluring and inviting. You can also wow over their fabulous architectural carvings and the way they dress up and decorate their idols. Apart from it, the hustle bustle of people in these temples during this festival is the best way to hobnob with the locals. Some of these famous temples are Araikasu Amman Temple, Deivanai Amman Temple, Ayyanar Kochadai Temple, Ellai Karupparayar Temple, Brihadeeswarar Temple, etc.
Take a Road Trip around The State as well
Well, the Golu festival isn't just celebrated in Tamil Nadu. You'll see the aura and essence of the festival in its nearby States like Karnataka as well. That is why, since you are traveling in your car in and around Tamil Nadu during this festival, you can as well check the tourist attractions in Pattadakal. Pattadakal in itself is a marvellous location full of grandeur and rich history. So, the famous sites here like the Virupaksha Temple, Kashiviswanatha Temple, Sangameshwara Temple, Jain Temple, Papanatha Temple, Galaganatha Temple and the Mallikarjuna Temple are worth visiting as well. Especially during the festival of Golu, the devotees from all over the country come to pray in these temples and to crowning glory would be the decorations that are not only totally stunning but also gives the entire place a sense of gaiety.
So, didn't we say that your trip towards this rich and glorified State during Golu prove to be extremely enchanting? We are sure you are delighted after reading this post and are hurrying to get a car rental in Tamil Nadu from Revv as soon as possible to enjoy your tour and festival in the best way.