12 Best Short Road Trips from Jaipur in Summer by Road
Jaipur also called the Pink City, is the capital of the royal state of Rajasthan. Jaipur ruled by the Rajputs is a city famous for its remnants of history and cultural heritage. Surrounded by the grandeur of the Marwar Empire, there are amazing places around the Pink City that are ideal locations for some of the best tourist places and attractions from Jaipur.
12 Best Short Road Trips From Jaipur:
1. Ajmer 
Ajmer is one of the most sacred destinations for Ajmer Dargah. It is considered holy across all religions and people from all over the world pay their visits to this Dargah to pour their heart out and get blessings. You can also visit Fort Taragarh, and Blackbuck National Park.
Distance from Jaipur: 130 km
2. Sariska National Park
Sariska National Park also called the Sariska Wildlife Sanctuary in Alwar district of Rajasthan is a tiger reserve. Explore the forests in this wildlife sanctuary and if you are lucky you can get a glimpse of the majestic beast. You can also spot leopard, jackals, antelope and so many other varied species. At the far edge of this national park is the Sariska Palace.
Distance from Jaipur: 133 km
3. Pushkar
If you are planning a short trip around Jaipur, then a trip to Pushkar is a must. Enjoy the beauty of the beautiful Pushkar Lake and visit the sacred Brahma Temple.  You can go for shopping exquisite Rajasthani artifacts in Pushkar fair or go for a camel safari on the deserts of Pushkar.
Distance From Jaipur: 144 km
4. Alwar
Alwar is one of the most sought after attractive tourist place near Jaipur. Alwar has a rich history of Rajasthani grandeur etched out in its grand forts, gardens, lakes and temples. Alwar also has a rich Jain influence visible in its temples that are dedicated to the Jain Tirthankaras. The Alwar city palace is one of the most beautiful and majestic structure that brings tourists here.
Distance From Jaipur: 138 km
5. Ranthambore
If you are a wildlife lover and you are in Jaipur then you should head straight to the Ranthambore national park. Nestled in the vast acres of Sawai Madhopur District of Rajasthan this is the largest national park of North India. If you want to get a glimpse of the majestic beast then you must plan gypsy safari in Ranthambore National Park. Another attraction is the Ranthambore Fort that still has its remnants here.
Distance From Jaipur: 162 km
6. Mandawa
Mandawa is a beautiful historical place situated in the Shekhawati region in Rajasthan. Mandawa is the home grand Rajasthani architecture embodied in its beautiful palaces and its interiors.  The Murmuria Haveli, Gulab Rai Haveli, Jhunjhunwala Haveli are some of the major attractions in Mandawa.
Distance From Jaipur: 168 km
7. Bharatpur
For the ardent bird lovers, Bharatpur is famous for the Keoladeo National Park that is the home to wide variety of birds. Bharatpur is beautiful heritage city of Rajasthan.  Every year in winter you can spot several migratory birds from all over the world in Bharatpur.
Distance From Jaipur: 184 km
8. Mathura
Known all over the world as the birthplace of Lord Krishna,  Mathura is an ideal location for short trip from Jaipur. If you are glued to Indian mythology then do not miss the birthplace of Krishna in Mathura and also the place where his parents lived. You can also go to the Krishna-Balaram Temple (ISKCON)  and also see the Prem Mandir.
Distance From Jaipur: 223 km
9. Vrindavan
Vrindavan is known in Indian mythology as the city of love between Lord Krishna and his beloved Radha. Vrindavan is a much-revered pilgrimage for the tourists. Vrindavan is filled with chants of Radhe Radhe, colorful flowers and amazing desserts. Visit the famous Bankey Bihari Temple and the Prem Mandir in Vrindavan.
Distance From Jaipur: 235 km
10. Agra
Agra is the home to one of the most magnificent creations of the world, the monument of love, Taj Mahal. Known for its grand forts and palaces, Agra has treasured the rich history of Rajputs and Mughals in its forts and palaces.  It is said that if you plan a visit to the Taj in moonlight, there is nothing more ethereal than that experience. Agra Fort which is located at a distance from Taj also stands tall with its historical grandeur. The Fatehpur Sikri, Akbar's Tomb, and Moti Masjid are a few more attractions in Agra.
Distance From Jaipur: 237 km
11. Delhi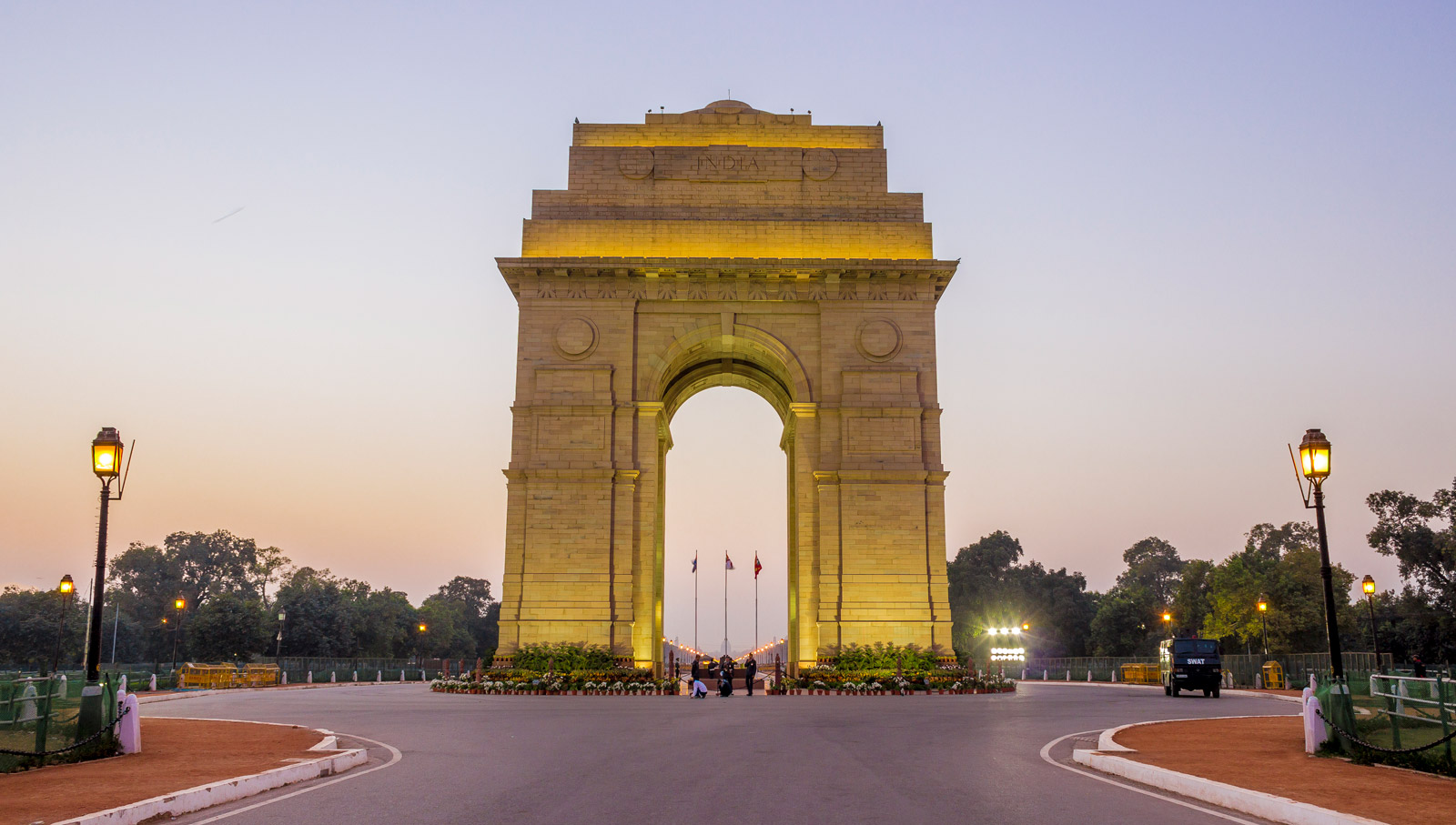 The heart of India the capital city of Delhi is not too far from Jaipur.  From rich historical architecture, authentic North Indian food to the handicrafts, Delhi surely is one of the best tourist places near Jaipur.
From India Gate, Rashtrapati Bhawan, the tall Qutub Minar, or Taj's replica the Humayun's Tomb, Delhi is the most favorite place for tourists from all over the world.
Distance From Jaipur: 272 km
12. Chittorgarh
The tales of Chittor are famous all over the world for the brave and beautiful queen Padmini. The forts and palaces of Chittor still echo this story and tourists from all over the world love to visit Chittor for its historical significance. From majestic forts, grand palaces and beautiful temples this city depicts the heroism of Rajputs.
Distance from Jaipur: 306 km
Now you have a list of places to explore from Jaipur.  You can visit these beautiful destinations around Jaipur by using self drive car rental by Revv in Jaipur. You can have a relaxed journey using this service. So, plan special trips and keep exploring.
Must Read: Shopping Places in Jaipur