Your Activities Guide to Explore Tirupati
Being an Indian, you would have surely heard about Tirupati. It's a fascinating ancient city renowned for the prominent Hindu temples. The city with lots of vigour and charm and an amazing religious presence is always a delightful location to reach out to even if it is for a one day trip in and around Tirupati. And if you think that you require that bliss and blessings in your life with a touch of divinity, then a road trip here is strongly recommended. Not that we need to promote this place for a tour. Indians and International Travellers alike throng this place all the year round. You wouldn't believe it, but there are at least 50,000 to 1,00,000 devotees reaching out to this town on a daily basis. Yes, when the numbers are so huge, obviously the place must have some lure to attract attention year after year since times immemorial. .
Important things to keep in mind when travelling to Tirupati!
Best time to travel to Tirupati — Though, this location sees a daily rush of devotees and people happily enjoying each and every weather and season here, but you couldn't deny the fact that the best time to travel to Tirupati is during the winter season.
Types of visits recommended— Keeping its religious importance aside, there are still lots of other things to do in Tirupati like exploring the heritage sites, going for adventurous trips, checking the wildlife here, and sightseeing.
Travel to Tirupati for a rich and astounding experience!
This small and famous town of Andhra Pradesh is rich and dotted with some really glorious places to visit. Apart from it, there are quite a few interesting things to do here as well. But for that, you have to take road trips to Tirupati. But it's also very important that you concentrate upon the ideal time to plan a visit to Tirupati so that the rush of devotees doesn't let you stop from exploring the place properly.
1. Head to Tirumala Temple to pay homage to Balaji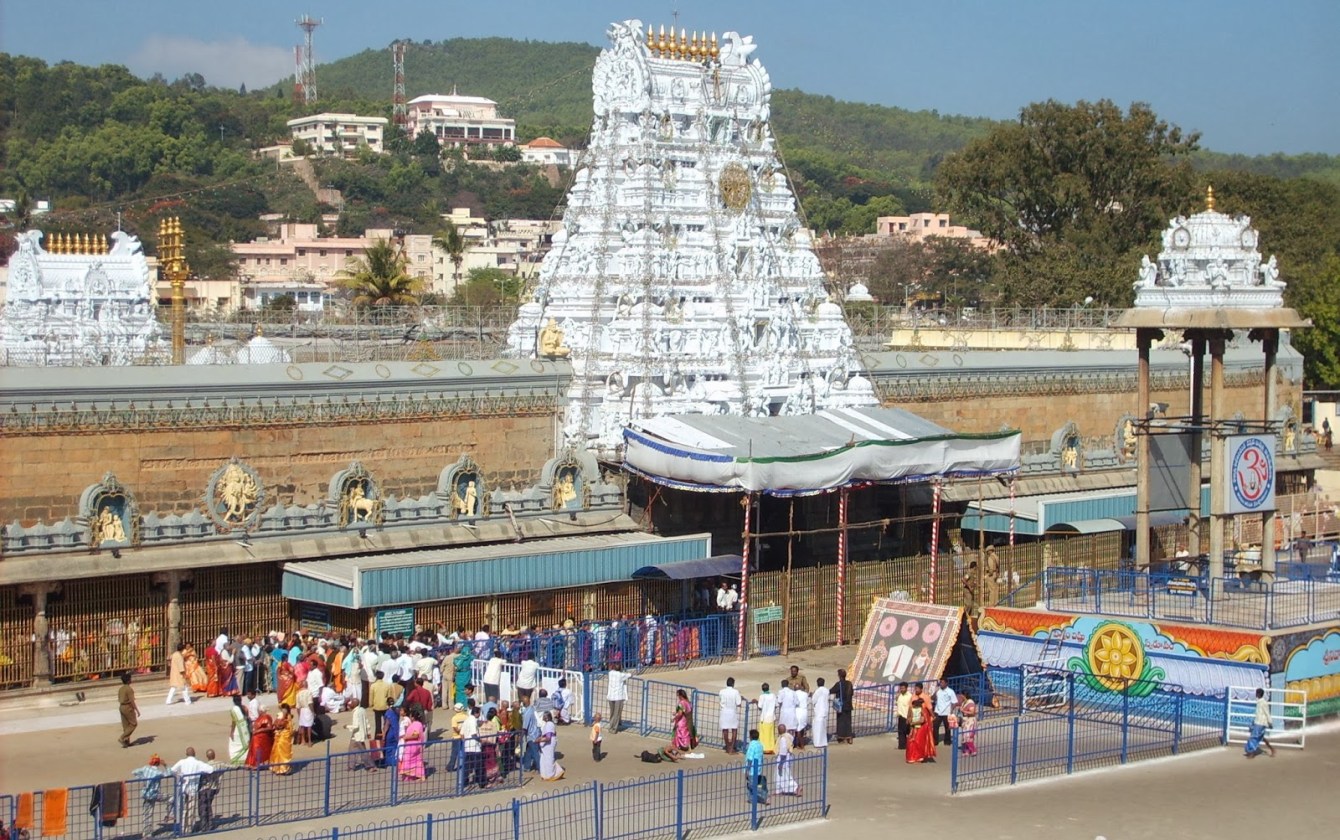 The Tirumala Temple is one of the top attractions in Tirupati which sees and causes the rush of tourists and travellers here. The enchanting architecture of this temple is in itself a marvel. But apart from this, even the importance of this temple in the Hindu religion can't be challenged. Reach here and take part in the daily religious Puja and Arthi.
2. Participating in the rituals at Sri Venkateswara Temple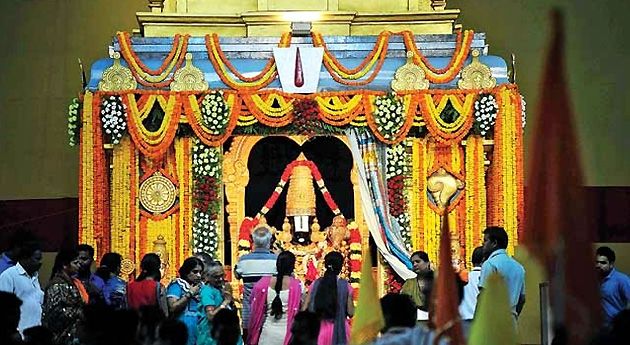 The Thirumala Venkateswara temple is the most celebrated pilgrimage place in Tirupati. The religious rituals here are sure to provide you the divine peace and cleanse your soul from all the sins. A trip will act as the balm to your stressed mind.
3. Plan a religious trip and a calm retreat to Akasaganga Teertham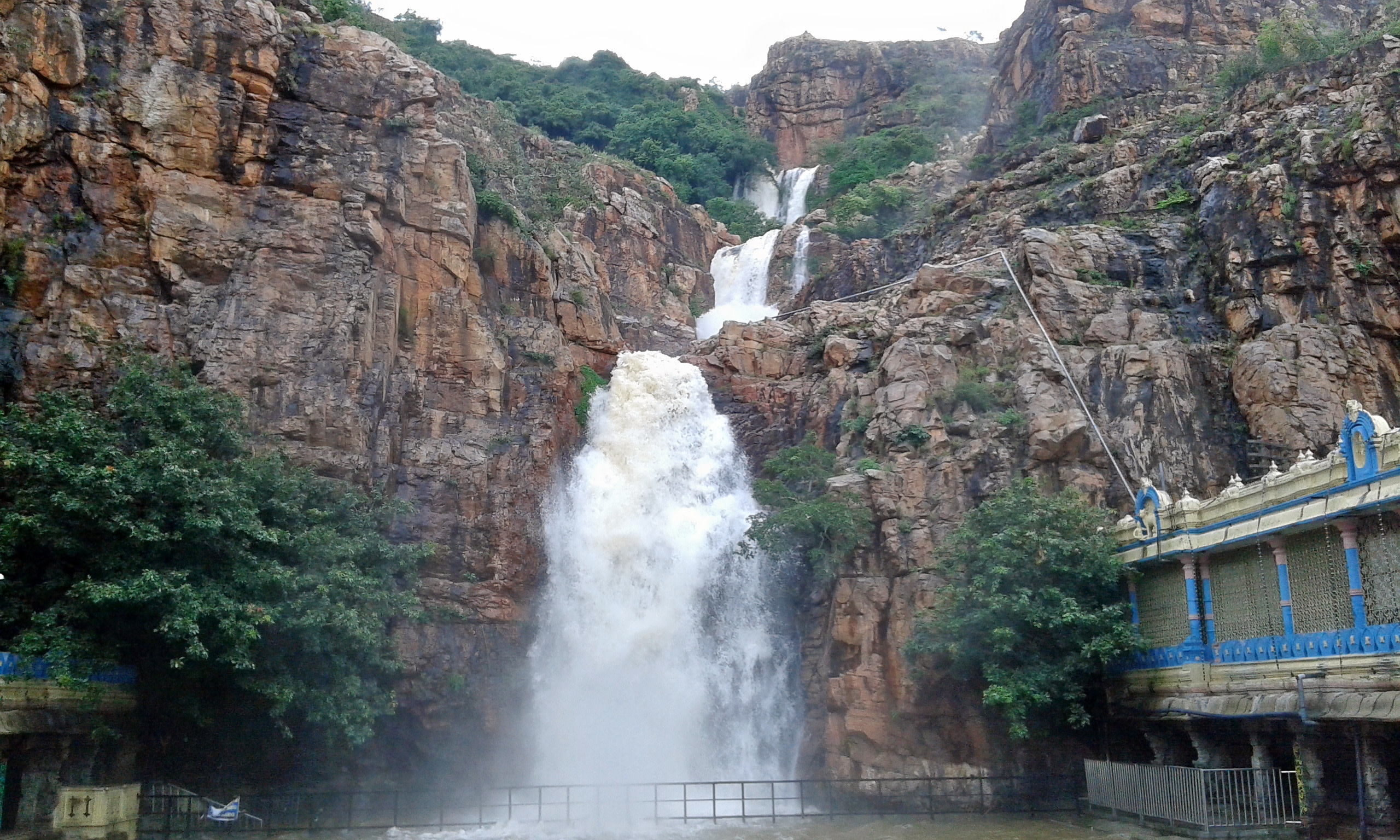 Just around 3 kilometres from the main pilgrimage places in Tirupati, you'll reach the Akasaganga Teertham waterfall. It's a very calm, fresh, and rejuvenating site to enjoy a peaceful time away from the city chaos. And you can even pay homage to the Devi Temple located here.
4. Enjoy the natural marvel at Silathoranam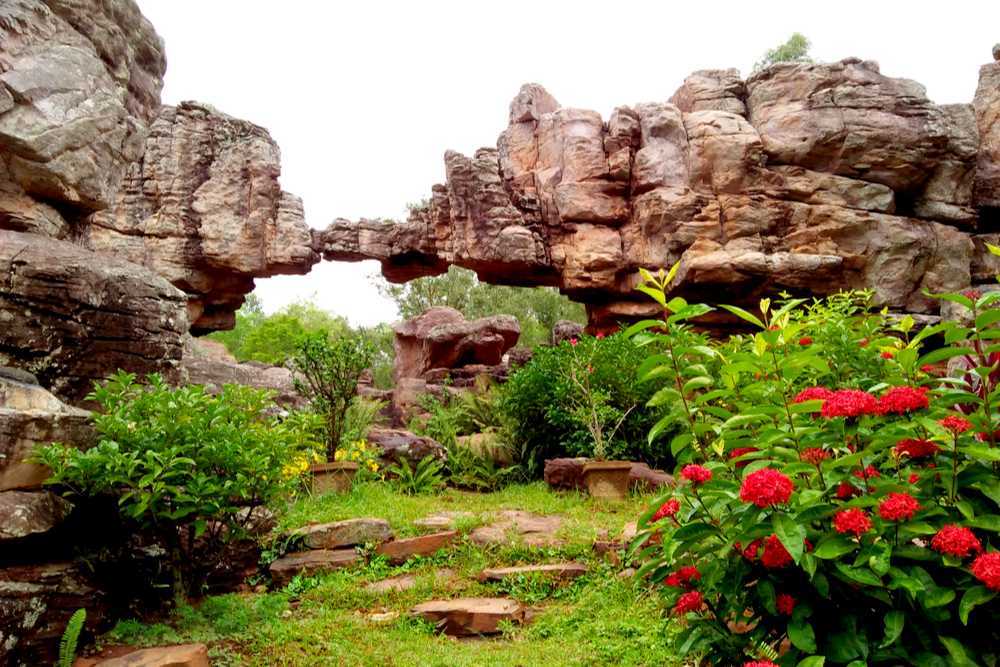 Silathoranam is an incredibly fascinating location that's a blend of excellent historical architecture and amazing geological remains. A visit here not only leaves you in awe of the beauty of the place, but the iconic rock formation is enough to give you the best experience amidst the lap of nature.
5. Take a dip in the Swami Pushkarini Lake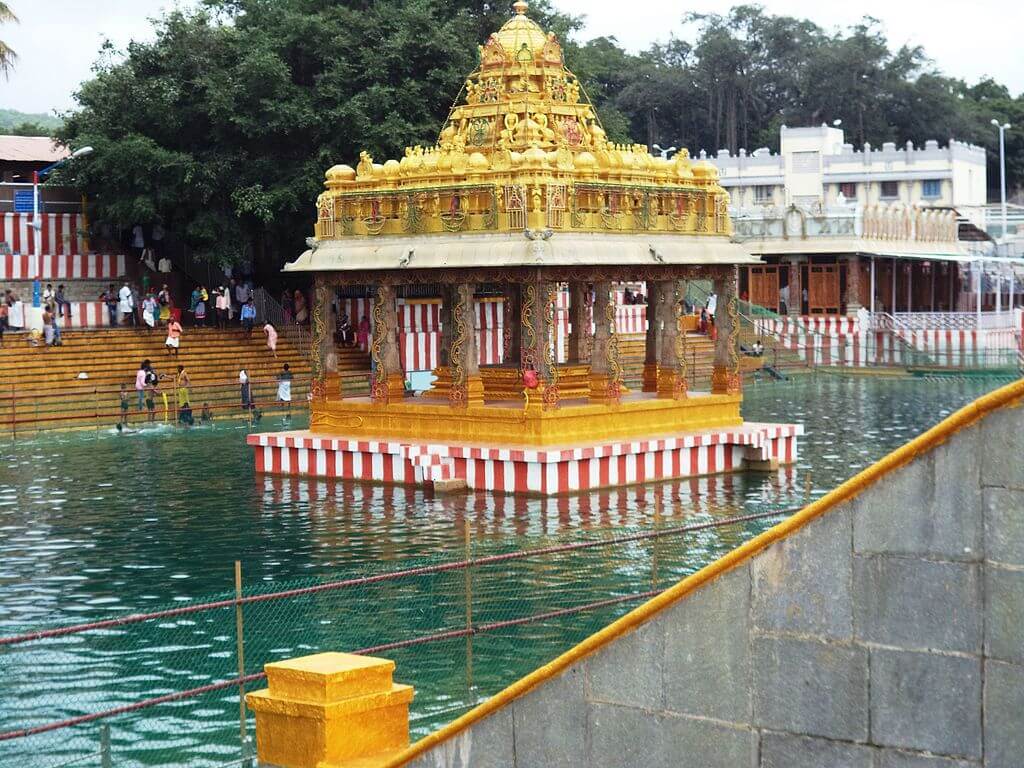 The Swami Pushkarini Lake is one of the most enchanting tourist places in Tirupati. You can indulge in the awesome experience of viewing the most astounding temples around. And a dip here is enough to purify your soul and provide you solace.
6. Shop at the local bazaars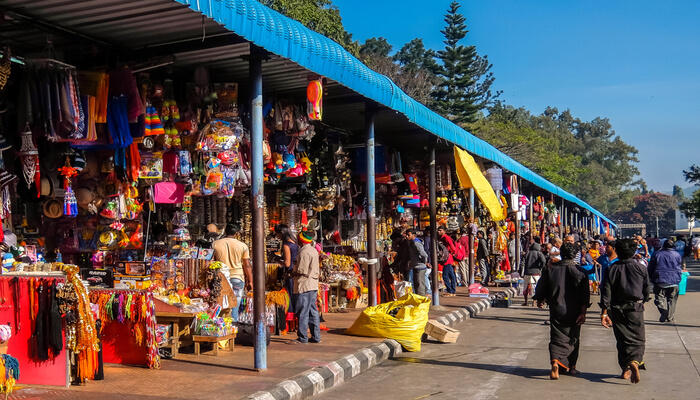 Do you know what the tourists always do after they have explored the famous places in this town? They go shopping in Tirupati. The local bazaars here provide you with the famous ancient paintings of the deities depicted beautifully, the wooden toys that are especially carved by the locals here, glass bangles, Indian handcrafted items, and even traditional attires. You should hit the Bazaar Street, Tirumala Tirupati Devasthanam, and Lepakshi Emporium to buy them.
7. Refresh at the TTD Gardens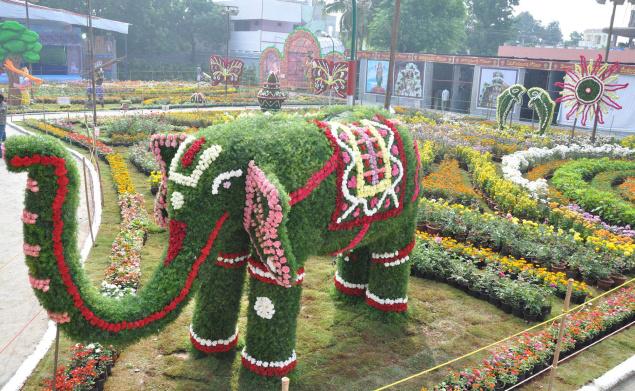 If you are a nature lover, then you will certainly love to visit the TTD Gardens at Tirupati. It shows off some really beautiful and carefully manicured plants which are not available anywhere else in the country. You should also check their annual horticulture exhibition which has some really exclusive flowers for you to admire.
8. Enjoy the naturally blessed view at Chittoor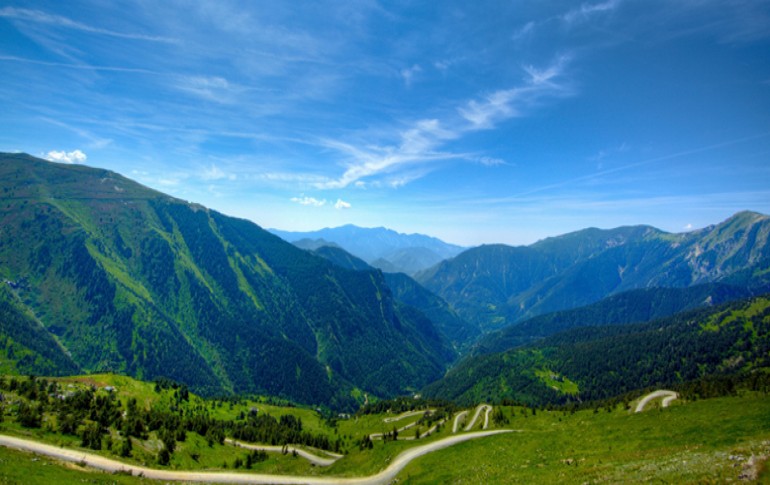 Chittoor has one of the most ravishing waterfalls near Tirupati. You'll love the magnificent natural beauty of this place and can also enjoy the calmness and tranquility in the air. There are also some prominent temples located here like Subramanya Swamy Temple, Durgamma Gudi, Sai Baba Temple, and Varasiddi Vinayaka Swamy Temple.
9. Enjoy beach time at Nellore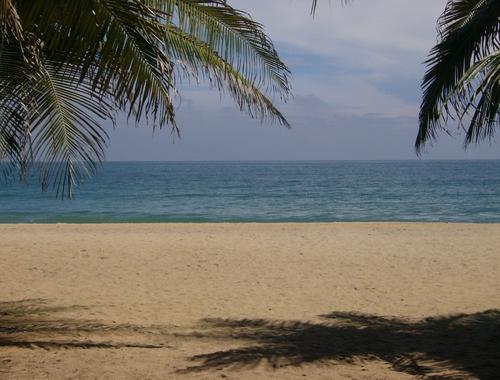 Are you searching for tourist places near me in Tirupati? Then simply head to Nellore. It's a small city that has a pleasant coastal line and nestles some very famous but quiet beaches. You can enjoy a fun time with family when you drive here for a day's picnic. Apart from this, you'll simply love the sea food offerings of this city.
10. ISKCON Tirupati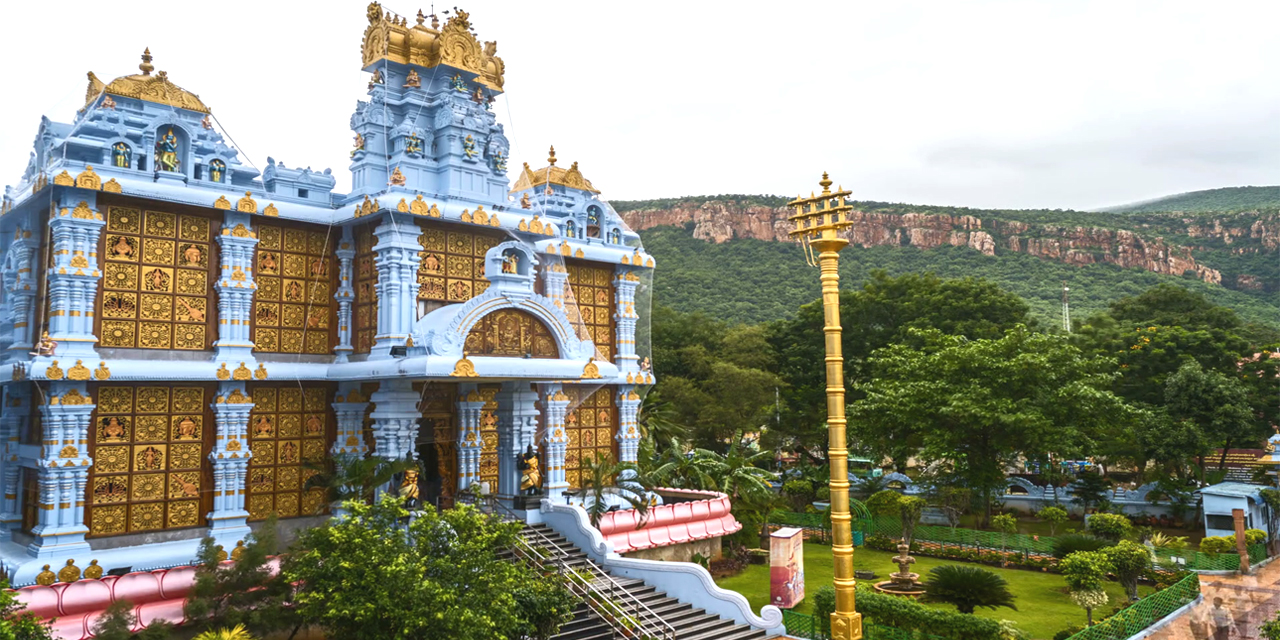 The ISKCON Tirupati is another most captivating temple of this city. It has a very important relevance in the history of Hinduism and that's why visits by devotees are quite frequent. And what's more, you'll see a lovely view around the temple for a refreshing time after you finish your religious rituals here.
These locations are some of the most prominent and astounding ones in the tourism map of India, hold a prominent place in the Hindu religion, and also emboss a special place for Tirupati in the map of the country. And these aren't all; you'll be surprised to see some more such famous and significant religious centres here like Papanivasam Teertham, Japali Teertham, and Tumburu Teertham. Additionally, there are also famous tourist places like the Chandragiri Palace and Fort, Deer Park, Rock Garden, and Srivari Museum which can give you lots of opportunities to explore when you are in this city. And of course, you shouldn't also forget to enjoy a yummy treat here by tasting the famous food in Tirupati like the Parayasam, Pulihora, appam, etc. But in the excitement of enjoying all these activities, shopping treats, and delicacies, don't forget to hire a car from Revv to make your trip to Tirupati comfortable.