12 Unexplored Places to Visit in Delhi
The heart of India, Delhi is rich with its exotic history and culture. From Rajputs, Mughal to the British, Delhi bears the remnants of rich cultural heritage and historical magnificence. Apart from the most sought after tourist attractions, there are a number of unexplored places to visit near Delhi that intrigues the curious travelers.
12 Unexplored Places in Delhi 2021 You Must Visit:
1. Hauz Khas Village
Hauz Khas Village was built on the remnants of a medieval city named Siri. This is a very artsy neighborhood known for its established galleries, cafes, fashion boutiques and handicrafts and vintage Bollywood posters. It is loved by the South Delhi crowd. Hauz Khas retains its old-world charm with its hip and happening weekends. You can also visit the Hauz Khas cafes as it has interesting restaurants and is one of the ideal places to visit in Delhi at night.
2. Majnu Ka Tila
Known as Little Tibet, this place has been the home to all the refugees who came from Tibet and followed their spiritual leader the great Dalai Lama. Located in North Delhi this presents a unique Tibetan culture in the heart of North India. You can visit the Tibetan temples, try the lip-smacking Tibetan cuisine and momos at the cafes and restaurants.  You can take a Metro to Vidhan Sabha station to reach this place.
3. Agrasen ki Baoli
Agrasen ki Baoli is an age old historical structure preserved by the Archeological Survey of India (ASI). Dated around 14th century, it was built by the king of Haryana Maharaja Agrasen during the time of Mahabharata for the sole purpose of water conservation. A baoli is a step well pond with stairs. You can reach here via Janpath Metro Station and Barakhamba station.
4. Satpula Bridge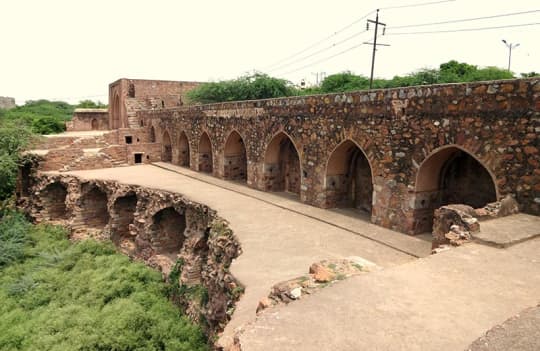 The Satpula Bridge derives its name due to a group of seven bridges that was built with the theme of water conservation. This bridge also acted as a wall for defence during the rule of Sultan Mohammed Shah Tughlaq. Satpula is located on the east of Khirki Masjid. In the ancient years this bridge connected Qila Rai Pithora or Qutub complex, Siri, Tughlaqabad and the Jahanpanah.
5. War Cemetery
Delhi War Cemetery, is the site where lies the grave of all the service personnel who served the British Empire during the World Wars. Established in 1951 this was created for the preservation of the remains of soldiers during that period. At the entrance is the Delhi 1939–1945 War Memorial that honors the Indian forces who served both the world wars. This is located in Delhi Cantonment area.
6. Mirza Ghalib Ki Haveli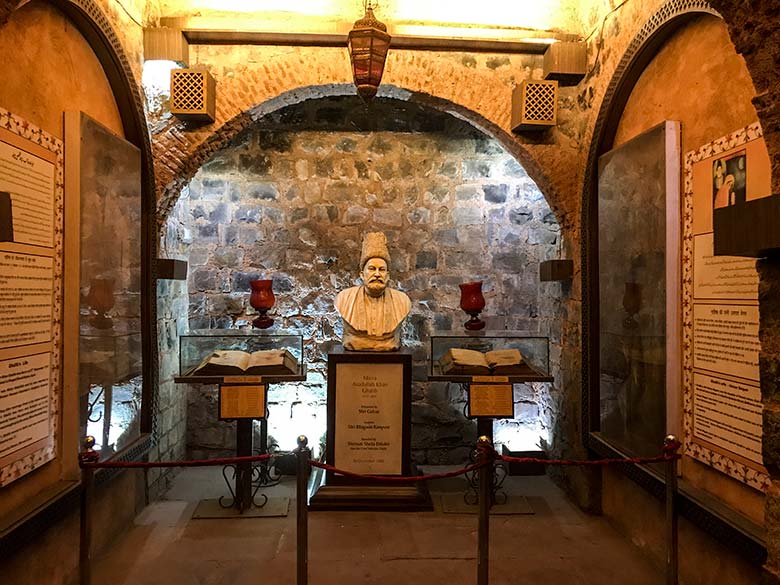 This is the home of the world-famous Urdu poet Mirza Asadullah Baig Khan popularly known as Mirza Ghalib. This was his home during his struggling years and bears witness to some of his exclusive works. Located in Chandni Chowk, this has a museum too. It is preserved by the Archeological Survey of India (ASI).
7. Santusthi Shopping Complex
Immaculately manicured lawns, spacious walkways and away from the bustling city life, Santushti Complex located in Chanakyapuri is a shopper's paradise. This is one of the unexplored places to visit in Delhi for the shopaholics. An initiative by the Air Force Wives' Welfare Association, this place is perfect if you are looking for local handicrafts, shoes, fabrics at affordable rates.
8. Asola Wildlife Sanctuary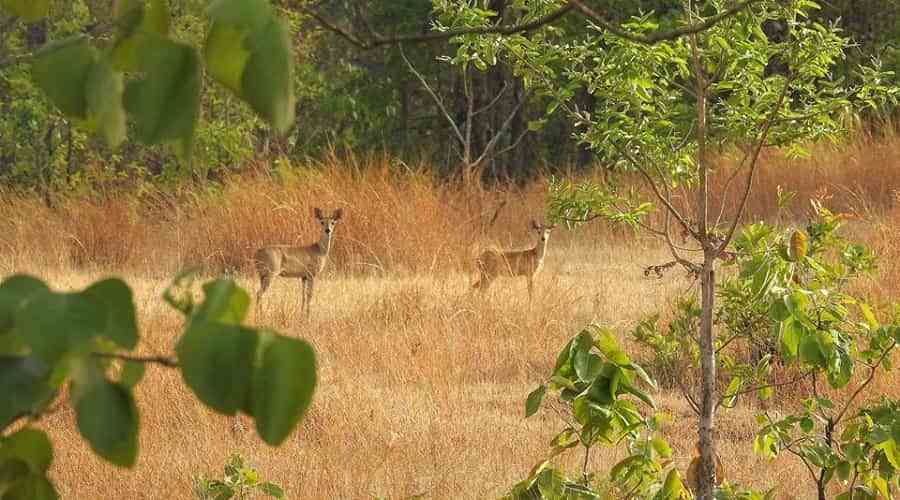 For the hikers, a trip to the Asola Wildlife Sanctuary in South Delhi is one of the offbeat places to visit in Delhi. It is a vast wildlife area on the border of Delhi lined by the thorny Kikar trees. At the far end lies a beautiful man-made lake and this place is frequented by hikers, wildlife lovers and trekkers.
9. Jahaz Mahal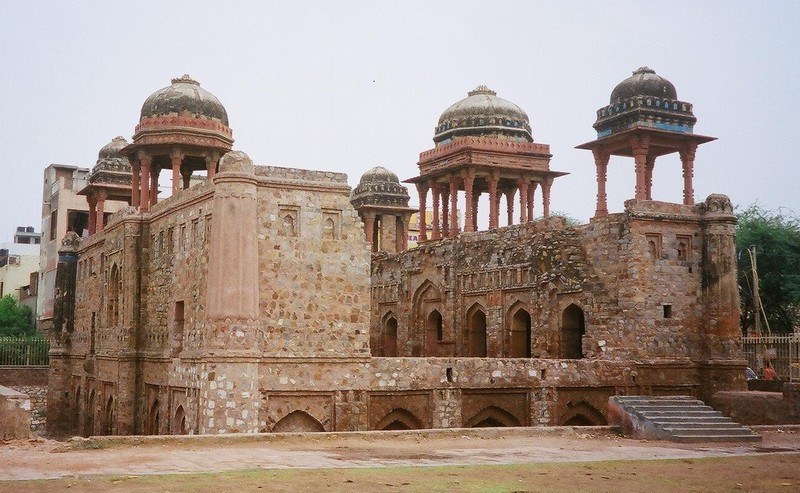 Jahaz Mahal means the Ship Palace which is located next to Hauz-i-Shamsi that is in Mehrauli in Delhi. The Jahaz Mahal was named as its reflection in the surrounding reservoir looked like a ship on a lake. It was built during the Lodi dynasty period and it was used as a resort during those days. Qutub Minar is the nearest metro station.
10. Tughlaqabad
Tughlaqabad Fort built by Ghiyas-ud-din Tughlaq is one of the unexplored places to visit in Delhi. The Tughlaqabad is the fort of Ghiyasuddin Tughluq that was constructed once he drove away the Khalji dynasty.  It is a fortified city which he had built with houses, markets and reservoirs for water supply. There is the mausoleum of Ghiyasuddin inside the fort. Tughlaqabad is the nearest metro station.
11. Sanjay Van
A bird lover's paradise Sanjay Van is a city forest area that is visited by a number of domestic and migratory birds that are located near Vasant Kunj and Mehrauli in Delhi. Spread across an area of 443 acres it is one of the densely forested areas in the heart of Delhi and is a favorite spot for morning walkers and joggers who live around the area.
12. Chunnamal Haveli
Located in old Delhi's Chandni Chowk area lies this Haveli from yesteryears, the Chunnamal Haveli built by Rai Chunnamal in 1850 stands tall with its rich heritage. From Hollywood and Bollywood movie locations to visit by tourists, this Haveli is Delhi's best kept secret. Take a glimpse of how royally the Chunnamals lived and you can also meet the current family residents here.
If you are looking for unexplored places to visit in Delhi, you can take a trip to any of these unique destinations. Although Delhi is well connected via public transport but to visit these places you can car rental in Delhi and use the Revv car rental services to save yourself from the stress of calling cabs.
Must Read: Road Trips From Mysore