Best Holi Party Venues in Bangalore
Let's celebrate this festival of colours with love, lots of fun and flavours of the spring season, commonly known as Basant Ritu in Hindi. Let there be a spectacular show of colours and unlimited laughter, joy and songs in tune with Holi's boundless thrill. Bangalore is one of the most happening cities of India and it is here that you will get the best Holi party at Bangalore. This is one of the coolest cities where you will find people and places to celebrate with you in style.
The preparations for the festival of colours are on in full vigour and enthusiasm. If you're in Bangalore during Holi you should scout for the best Holi party venues in Bangalore. Once you've made up your mind where and how to celebrate this festival of colours, get ready to just be at the venue and go full blast with your friends and folks. It's better if you do the bookings in advance because there are many who've been contemplating celebrating the festival at some of these best places in Bangalore. Be amongst the early birds, plan your party and then go full throttle!
There are many wonderful places, known to be some of the best venues for Holi Parties in and around Bangalore. For some, the best place is the one where they're more at home with nice people around who are likeminded, who love good food and music and who like playing with colours. Besides the party, you may look forward to having long conversations with newfound friends, singing songs in the chorus and devouring Dahi Vada, Papdi Chaat, Gol Gappe and other such tasty snacks. You may even crave home-made food like Rajma Chawal, Kadi Chawal and others. 
For those of you who are away from your home town, working in India's IT hub, a Holi party at one of these places is a must. The memory of celebration and brotherhood will linger forever till the next Holi. You'll feel like coming back to the place, literally a home away from home. When you're doing the rounds of Holi Party avenues in Bangalore, they bring you waves of pleasure and a lot of enthusiasm. The bonus will be your opportunity to mix with people of India from all corners. Bangalore being a cosmopolitan city, welcomes and accommodates people of all nationalities, religions, faiths, castes and creed. It's a riot of colours with people thronging the party avenues amid splashing of colours manifold!
The best Holi Party venues in Bangalore-
1. Rang Rasiya
The name itself has been inspired by the festival of Holi. It's an incredibly terrific place where there is the music of east and west, dance and food from different regions under one roof. One of the nicest things about this party is that the colours used here are all organic. There will be a DJ too to bolster your enjoyment.
Address:- The Park in Central, Bangalore.
Timings:- 10:30 am to 6:00 pm
Ticket Price:- INR 300 Onwards
2. Party at Zone, The Park
There won't be a better place than The Zone at the Park, Bangalore. You will enjoy the day in the best possible manner because this place is famed for having organized lovely Holi celebrations in the past. There will be an open field for all the music, dancing and lots of excitement. There will be outdoor food, drinks and DJ music. There is also a stage for dancing to the tunes of the latest hits.
Address:- Party at Zone, Infantry Road in Bangalore.
Timings:- 11:00 am to 11:00 pm
Ticket Price:- INR 499 onwards
Must Read: 15 Summer Vacation Destinations Around Bangalore
3. Gulaal in Bangalore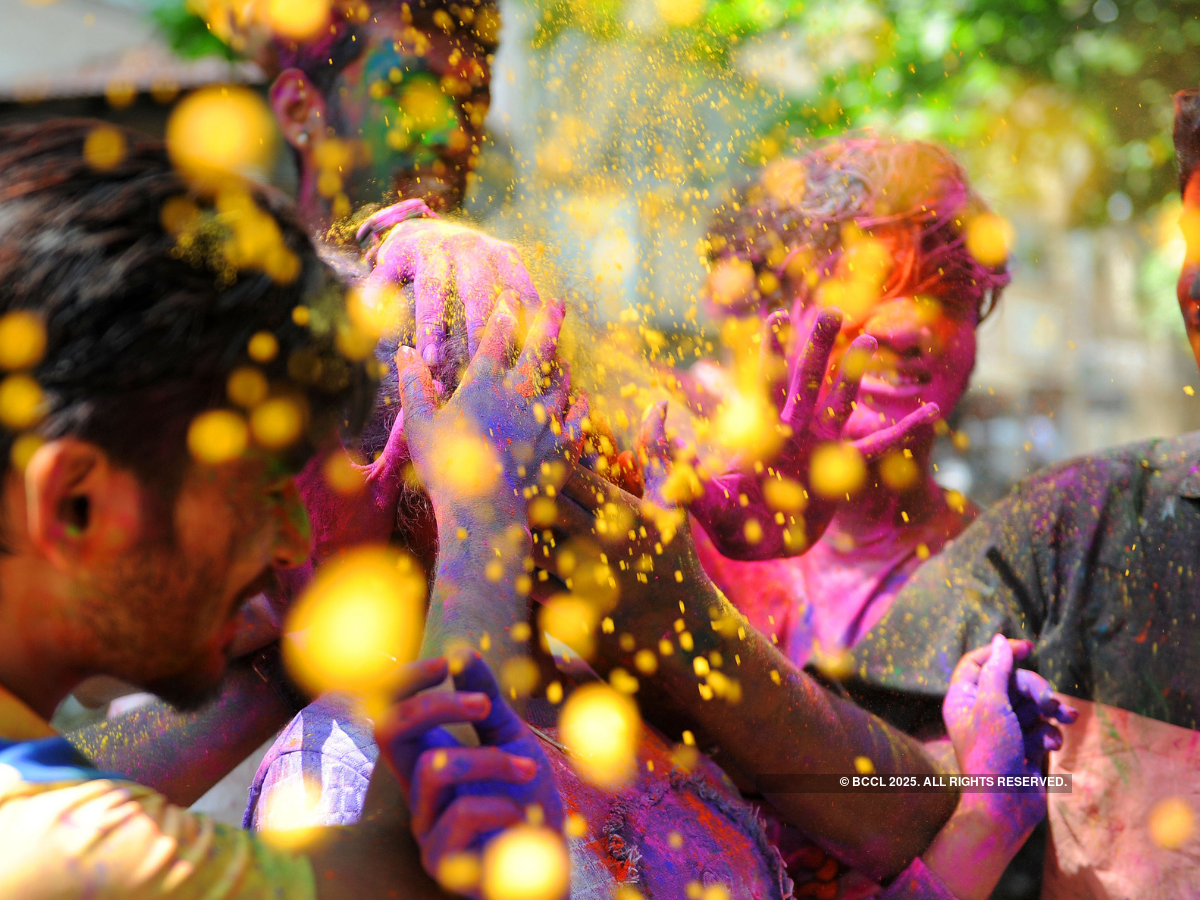 This event is just christened Gulaal in Bangalore. There will be head-turning celebrations, dancing to the tune of the latest Bollywood beats. The place has been a head-turner in recent times with its three-day-long party with lots of splashes and endless excitement.
Address:-  Pebble, The Jungle Lounge, Bangalore.
Timings:- 10.00 a.m – till 10 at night.
Must Read: 8 Best Shopping Places in Bangalore- Top Picks for You
4. Aqua Holi
This place is slightly different because here the Holi Partying will be slightly a low-key affair. This place is for people who wish to have a party with all the fun, music, DJ music and colour but with a smoother ambience and lower crowds. If exclusivity is the key, this is the place for you where there will be campfires and AC camps.
Address:- Cowboy Resort, 211 banandur,beside cowboy resort,mysore rd,bidadi, Bengaluru, Karnataka   
Timings:- 12 noon to 11:00 pm
Ticket Price:- INR 999 onwards            
5. Tag
Tag-the Adventure Grove at Jamia Masjid Road hosts the Holika Zombie festival this year. It's an innovative theme party with some spooky acts to startle the guests just for fun. The theme-based party here is quite famous in Bangalore. You'll enjoy lots of surprises here with plenty of music, dancing and lovely food.
Timings:- 10.00 A.M. – 6.00 P.M.
Must Read: Best Places to One Day Short Trip From Bangalore by Car
6. Mangala Kalyana Mandapa
Yet another idea for a Holi Party in Bangalore is the Mangala Kalyana Mandapa in the southern part of the city. The music here will be a blend of Punjabi, Oldies and International music with the DJ going full throttle. You will be in for many other surprises as well. There will be a thematic rain dance party too.
To put it in a nutshell, these are the best Holi party venues in and around Bangalore that you should definitely check out this year without fail!