10 Best Weekend Destinations to Drive to From Delhi with Family
Monotonous life with a routine schedule seems almost like a stigma. You need to get out once in a while freshening up and breaking that depressing tedium. But going on lavish tours and escaping to faraway destinations isn't feasible every now and then in today's tight schedule that everyone has (or permissible in everyone's budget). But you can always spare a day or two and go for a short weekend trip, right? We are sure both your schedule and salary will permit you this much freedom! And going solo for such weekend trips is fine, but how about utilising the time to spend some quality hours of fun and banter with your family?! 
If you are staying in Delhi, then there are numerous places to visit in the city itself which can rekindle your spirits. The famous Humayun's Tomb is an incredible monument that we Indians are so proud of. Even Qutub Minar and the Red Fort add to the beauty of this place. You will also get some very glorious gardens and scenic locations in Delhi to lighten your mood. All these places evoke nostalgia and history, nudge the art lover in you – all well so far. But if it is a family getaway that extends beyond a day, then you can always travel to the destinations around Delhi. These are some of the very fascinating and attractive places which are sure to give you a joyful time away from your regular hustle and bustle.
Essential things to consider when travelling around Delhi
Best time to travel around Delhi —The best time to travel around Delhi is from June to March because the heat during the rest of the months can be totally taxing.
Other activities to explore near Delhi —You'll get lots of things to do near Delhi like trekking, wildlife spotting, sightseeing, visiting the prominent temples and forts, and even have fun at exciting entertainment parks.
10 Places to head with family around Delhi
Do make your weekends unforgettable by going to these places near Delhi with your family. Immense fun and excitement are totally guaranteed! Added bonus? Special bonding with family. 
1. Manesar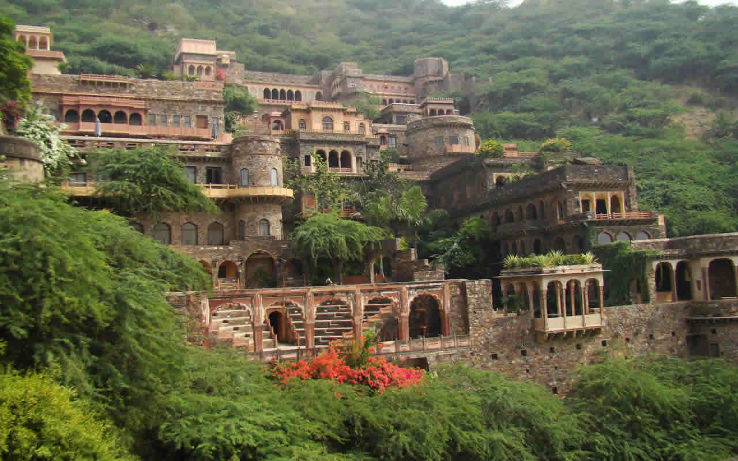 If you are looking for a quiet and calm place to spend your weekend with the family, then Manesar is the most appropriate town for you. In spite of being a business hub, you'll find lots of scenic locations like enticing lakes and hills at this place. It even has some of the very best resorts near Delhi for a family holiday that you should definitely check. 
Distance from Delhi — 48 kilometres
2. Sohna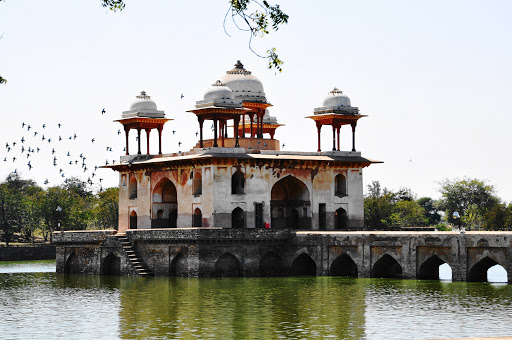 One of the most exciting locations for weekend trips with family is Sohna in Haryana. It's especially an interesting destination to enjoy lots of hot springs, calm but tranquil lakes, fort ruins, and even for enjoying the beautiful greenery around. The Sohna Lake in this place is the most famous location to head to with your family. 
Distance from Delhi — 63 kilometres.
3. Neemrana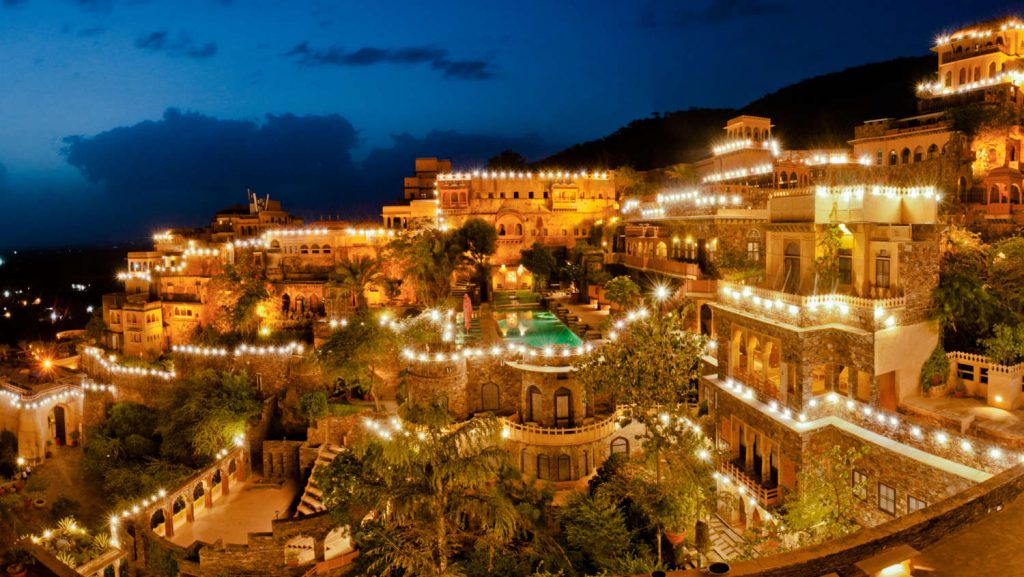 Looking for luxurious places to visit for a family holiday near Delhi? Then you'll certainly thank us for suggesting Neemrana. It's a very peaceful and tranquil historical town with lots of heritage sites and profound buildings. The primitive but cosy ambience of this small district in Rajasthan has its own charm but if you are staying in the Neemrana Fort Palace with your family for the weekend, you'll love the luxurious amenities and services there. A holiday fit for royalty.
Distance from Delhi — 129 kilometres.
4. Alwar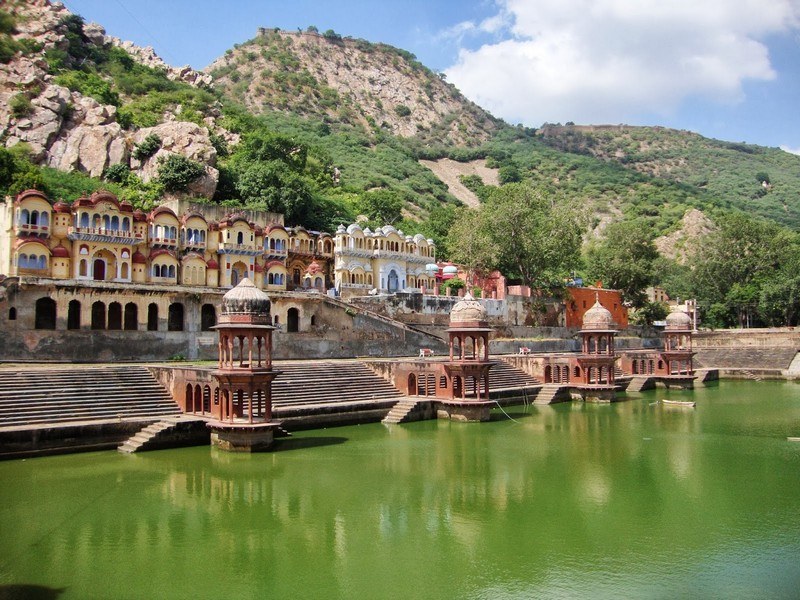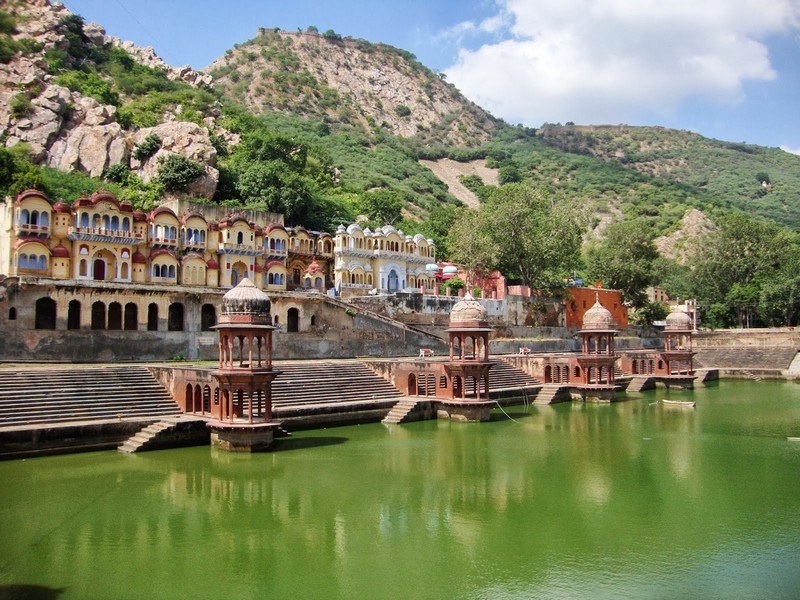 One of the most splendid places around 200 kilometers from Delhi is Alwar. It is a small but old town of Rajasthan that is dotted with various peaceful but scenic lakes, magnificent forts, awe-inspiring palaces, and even profound temples. You can always indulge in fun activities with your family like boating, visiting the haunted yet famous Bhangarh Fort, and even trek or camp at the outskirts of this town. 
Distance from Delhi — 164 kilometres.
5. Agra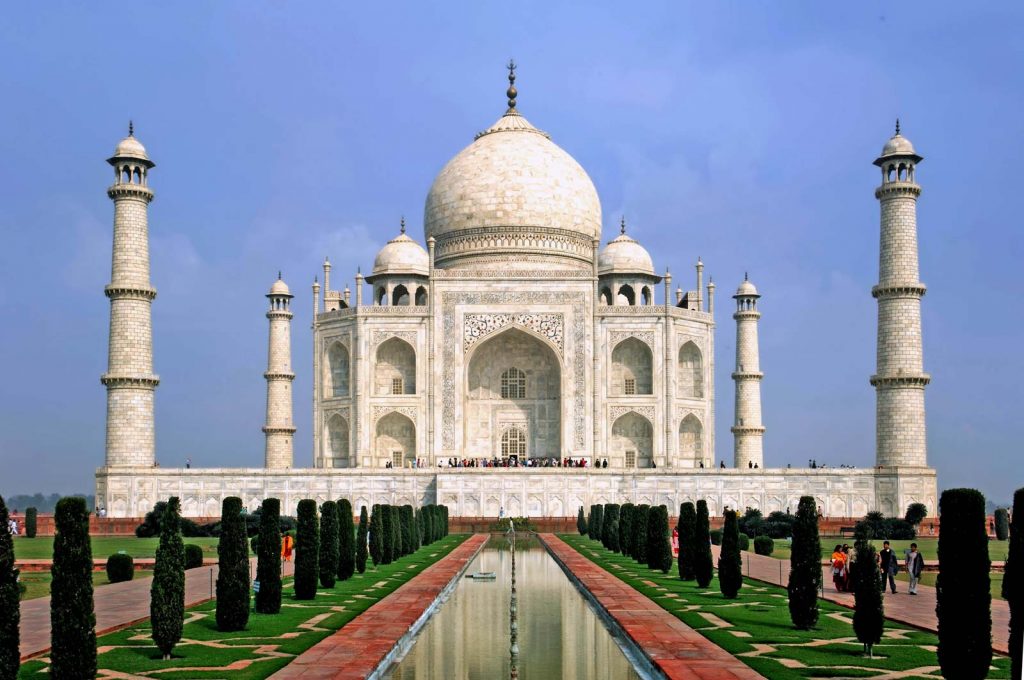 The best weekend getaway you can enjoy in the realm of road trips around Delhi is the one heading towards Agra. We know your family would certainly love exploring the mesmerising wonder of the world — Taj Mahal. But there are even more alluring places in Agra that are worth visiting. Yes, we are talking about the glorious Agra Fort, the wonderful Itmad Ud Daula, Tomb of Akbar, and the magnificent Panch Mahal. You can even enjoy the local treats at the famous stalls and food places of Agra and indulge in a shopping spree with the family.
Distance from Delhi — 233 kilometres.
6. Rishikesh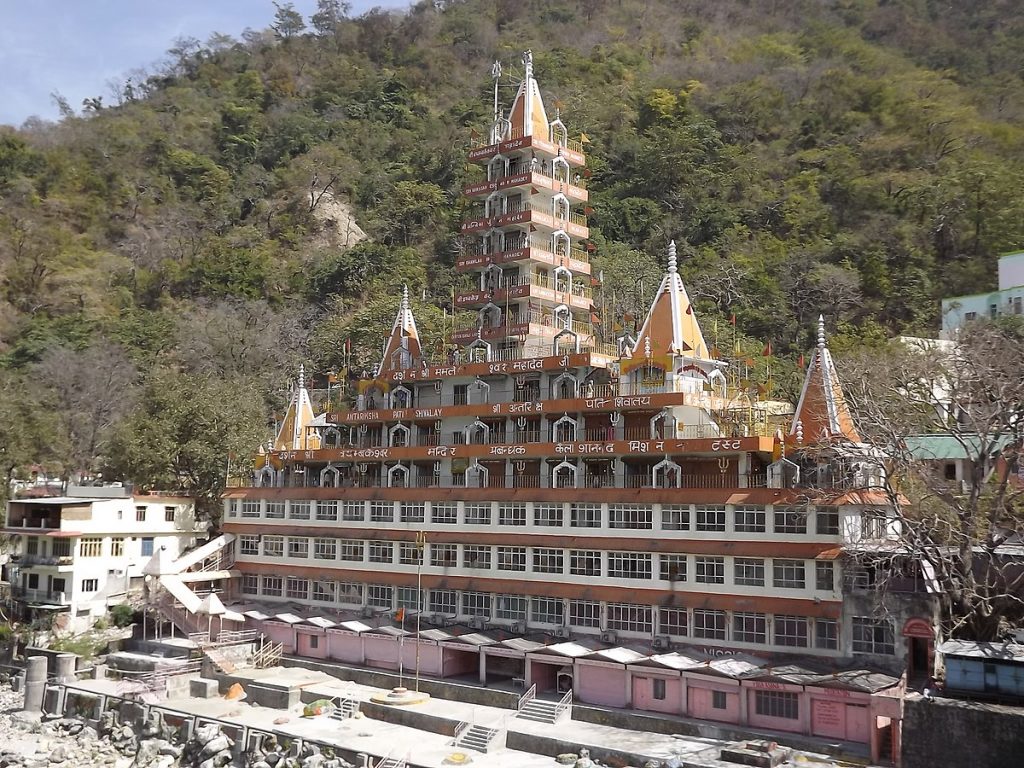 Do read about Rishikesh carefully if you are looking for entertainment and fun places near Delhi to go with your family. A little perplexed? Always associated Rishikesh with spirituality? Well, it's a fascinating place where you can get wholesome enjoyment and entertainment for everyone in your family. From river rafting to trekking, mountain climbing to camping with family, and even exploring the exclusive wildlife, everything is available for you at Rishikesh, and you'll definitely love each and every moment spent in this place. While you are here you may also pray at the temples for the well-being of your family. 
7. Dehradun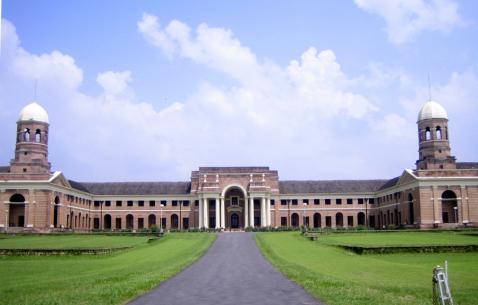 One of the best hill stations and tourist attractions of India, Dehradun is very close to Delhi. So, you can easily plan a fun weekend trip with your family to this enticing location. The Robber's Cave, Rajaji National Park, Malsi Deer Park, Asan Barrage, and Fun Valley are some of the best places to hit with your family to spend your time brilliantly in this quaint hill station.
8. Jaipur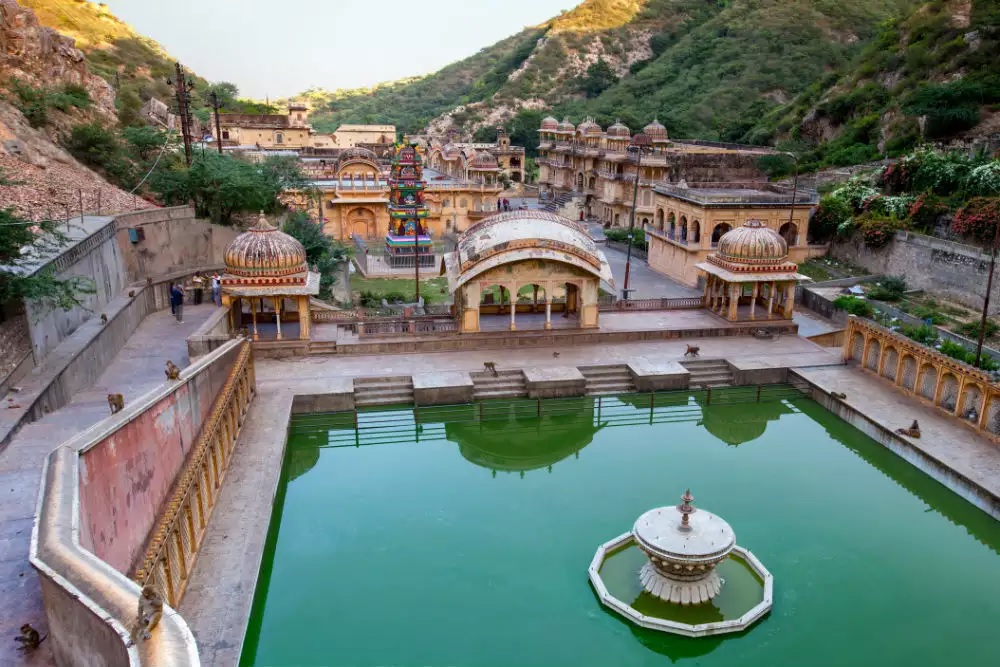 Let's not forget one of the most amazing family trip places near Delhi, the culturally rich and royal city of India – Jaipur of Rajasthan. The lovely palaces, forts, and gardens of this pink city are everything that can keep your family engrossed for the entire weekend. The royal Amber Palace, magnificent Hawa Mahal, wonderful City Palace, magnetic Jal Mahal, and majestic Nahargarh Fort are the best places to visit in Jaipur. 
9. Mussoorie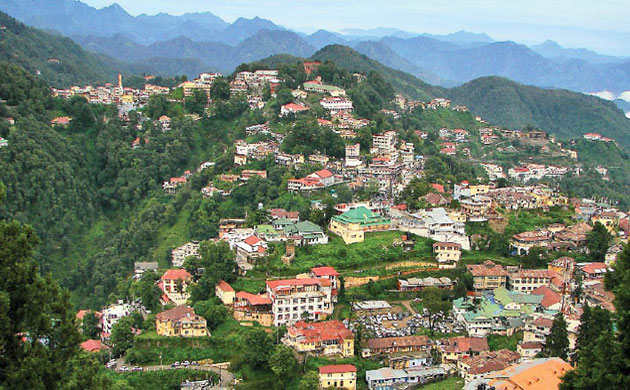 With your car subscription in Delhi, you can reach one of the most captivating hill stations of the country — Mussoorie. The attractive climate of this location is truly magical. You'll also love spending time amidst the hills and lakes and the green meadows and valleys. Do try the adventurous activities in this hill station like paragliding, trekking, camping, and boating with a heavenly backdrop.
10. Shimla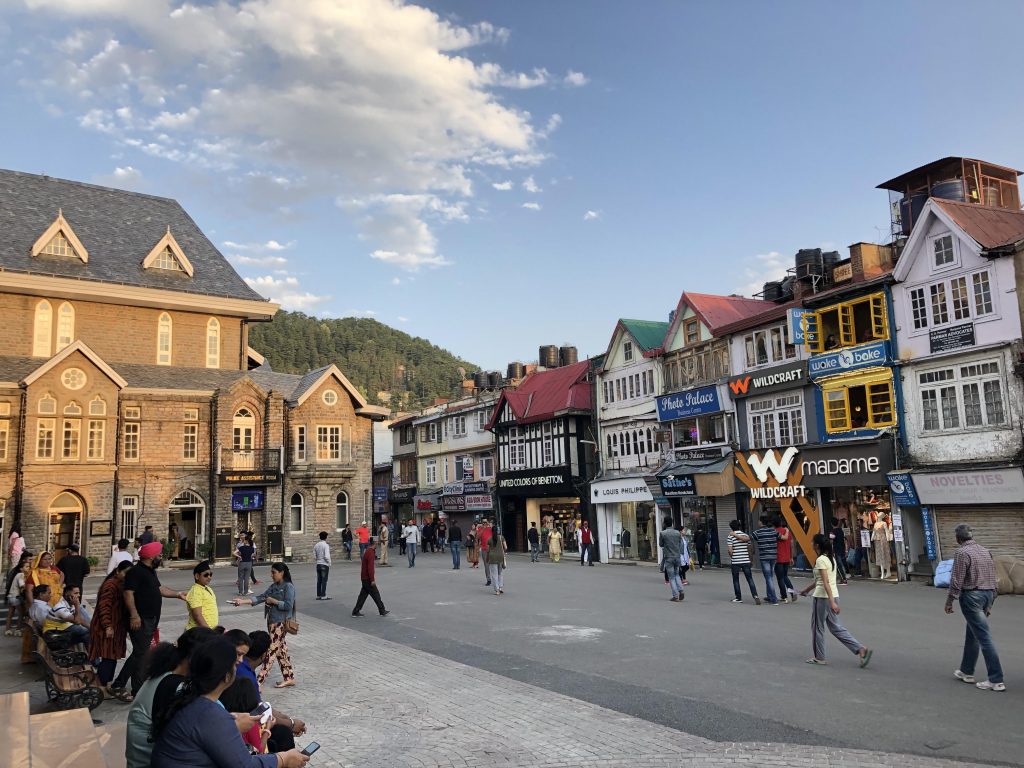 Another fabulous weekend getaway to head with your family is to the best city of Himachal Pradesh – Shimla. From snow clad peaks to the magical meadows, serene lakes and lovely valleys, all add to the magic of this attractive hill station. With a car subscription from Revv, travel across this enticing location to view exclusive points and various monasteries here.
Your family is surely going to enjoy the most memorable time with you in this short vacation (Psst: it is a great opportunity to strengthen ties too!). But if you intend to explore some more places, do visit Chail – that's so primitive yet magical, Mashobra – the delightful place with lots of scenic resorts, Sawai Madhopur – the land of magnificent ruins, Pushkar – the glorious town of Rajasthan with religious significance (and a paradise for silver lovers!), and Auli – the heavenly hill station of Uttarakhand. Since you have a car at your disposal, you can travel free of worries!