An Adventurous Road Trip from Delhi to Jim Corbett National Park
They say road trips make you stronger! Doesn't matter if this is related to the amount of experience you gain while travelling, or whether the tough terrain and journey is what gives you more strength of driving and sustaining better. Regardless of this, road trips also add a new chapter in your life that's full of fun, adventure, excitement and happy memories. And when the journey is from the capital of the country, Delhi, to the oldest national park, the Jim Corbett National Park, then you not only collect pictures and memories, but also tons of knowledge in your mind's encyclopaedia.
Quick Tips: 
Best time to travel from Delhi to Jim Corbett National Park :- The road trip from Delhi to Jim Corbett should be best carried out during winters, that is from November to February, if the roads are open. But since temperature is average all year long here, you can even visit any time other than this too.
Distance in kilometres from Delhi to Jim Corbett National Park:- The distance from Delhi to Jim Corbett National Park is 244.3 km via car.
Time required to complete the road trip:- You'll require approximately 5 hours to reach the National Park.
Famous Places to visit from Delhi to Jim Corbett National Park 
 The best route to take from Delhi to Jim Corbett National Park by road starts from the capital to Gajraula leading to Moradabad and Kashipur towards Ramnagar.  And while you are on the roads reaching out to your destination, why not check some really great stopovers in between and enjoy to the fullest?
1. Gajraula
It's a very small town that can be explored in a day and is frequently visited by travellers commuting from Delhi towards further cities. You'll reach here after travelling for 134.9 km from Delhi and can just relax and enjoy the local food here before heading towards Moradabad.
2. Moradabad
A rich commercial city, located at about 186.8 km Delhi, was established by Prince Murad in the 16th You should collect some famous brass handicrafts from here and explore some really culturally rich monuments. The best one to check when in the area are the Raza Library, Najibudaulah's Fort, Kunj Bihari temple, Mandawar ka Mahal, Pataleshwar Temple and more.
3. Kashipur
You'll reach Kashipur after travelling for 245.3 Km from Delhi. It's a fast growing industrial town that holds a lot of historical importance. You can find the ruins of the great Harsha period here near the Govisham Fort and ancient temples of Kashipur. And when here, you can't miss visiting the Drona Sagar Lake that has a historical mythological belief behind its existence.
4. Ramnagar
A really charming and luscious green town that's around 272.4 Km away from Delhi, has lots of prominent places to visit that are enchanting and entertaining at the same time. You'll even get to visit your final destination, the Jim Corbett National Park in this town along with exploring the natural beauty and wonderful resorts at this place.
Things you could do at the Jim Corbett National Park:
Jim Corbett is a complete package of excitement for all the travellers. You wouldn't spare a minute of leisure and boredom while enjoying the unending things to do in Jim Corbett. Check below the list of those stirring things to do while you are exploring Jim Corbett:
1. Jungle safari at Jim Corbett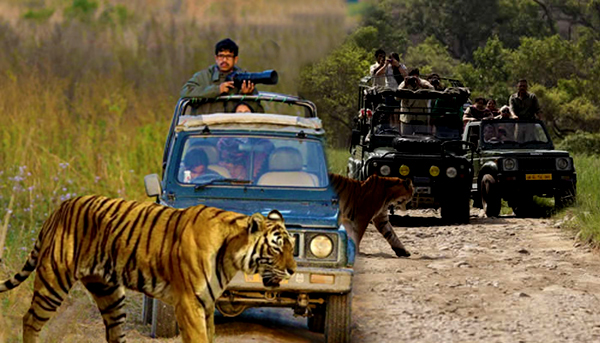 The huge expanse of land dedicated to this national park consists of numerous rare and exceptional birds, animals, reptiles — coexisting in a large ecosphere consisting of ravines, rivers, streams all along in the forest. And the only way to explore these ecological bounties is by taking a jeep safari. These safaris are organised only twice daily and with only a restricted number of vehicles and stipulated number of passengers in them.
2. Elephant ride at Jim Corbett
When you are enjoying the wildlife so closely, why not take a leisure ride on the elephant as well? We are sure you're going to get a once in a lifetime experience along with some cute pictures.
3. Soak at Corbett Waterfall
This 66-feet-high waterfall near Jim Corbett is a stunning site surrounded by dense and green forest. You can soak to the skin under this waterfall and enjoy the coolness of the place.
4. River Rafting
River rafting, along with other water related sports and activities, is organised by the authorities in the Kosi River. Don't you think it's the best way to enjoy your time here?
5. Visit the Garjiya Devi Temple
Perched on a mighty rock around the River Kosi is a temple dedicated to the Hindu Goddess Parvati. It's a famous temple in the region which is a must visit when you are in this area.
6. Explore the Corbett Museum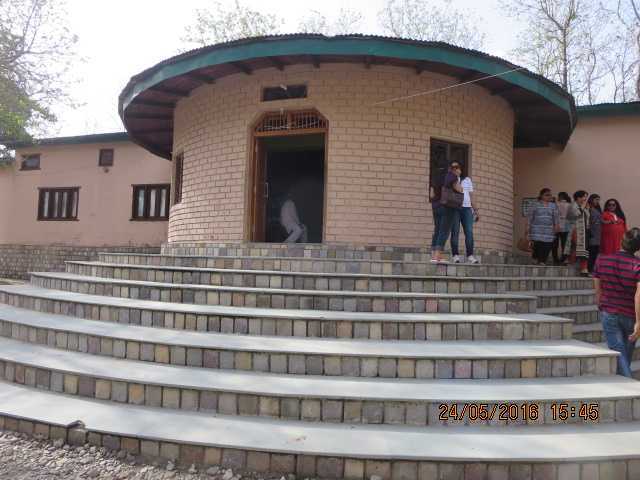 Located at Kaladhungi, this Museum had once been the home of Jim Corbett, the renowned tiger conservationist. This place contains all his belongings, memoirs, photographs and fan letters. By visiting here, you get a chance to know more about the great founder of this famous national park.
7. Stay at Dhikala Complex
The most famous tourist attraction near Jim Corbett National Park, this complex gives you a clear view of the wild animals in the park. As it's located in the middle of the National Park and gives you a fantastic view of each of the park's corners, staying here is a once in a lifetime experience.
Places to visit near Jim Corbett
There are also some really charming places to visit near Jim Corbett National Park. If you have visited this far, it wouldn't be fair to leave the destination without taking a tour of these places.
1. Birjani
Just around 32 Km from the centre of the Jim Corbett, Birjani was earlier the shooting block area of the park. But now, this area is drier and the vegetation is quite thick making it a unique spot to visit and take a look at the area around.
2. Jhirna
Just 10 Km from the city lies Jhirna. It is a very small and heavenly village town that has been turned into a park recently. The pleasant greenery around and the azure sky makes it a truly wonderful location to visit.
3. Kosi River
A truly magnificent and most attractive place near the National Park, the Kosi River, is everyone's favourite. You'll find a scenic view of the blue sea, sky, brown mountains and lush greens here, along with facilities for lots of water sports and activities.
It is important though to have the right vehicle for the trip, so it is best to opt for the self drive car rental from Revv in Delhi. The Jim Corbett National Park isn't just limited to wildlife explorations; there are lots of other gripping activities and places in store for you. This depicts what a wonderful journey it is and how fabulous this destination is!