7 Best Unexplored Places To Visit in Bangalore
Are you looking for unexplored places in Bangalore for visiting? You will be pleased to know that the Garden City offers access to several virgin destinations that are still unexplored to a large extent. These are ideal locations for sudden getaways and weekend jaunts and will give you the feeling of total privacy and comfort, something that is often missing in most popular tourist destinations nowadays. On that note, here's looking at the best unexplored places near Bangalore that you can visit
Best Unexplored Places To Visit in Bangalore:
1. Gudibanda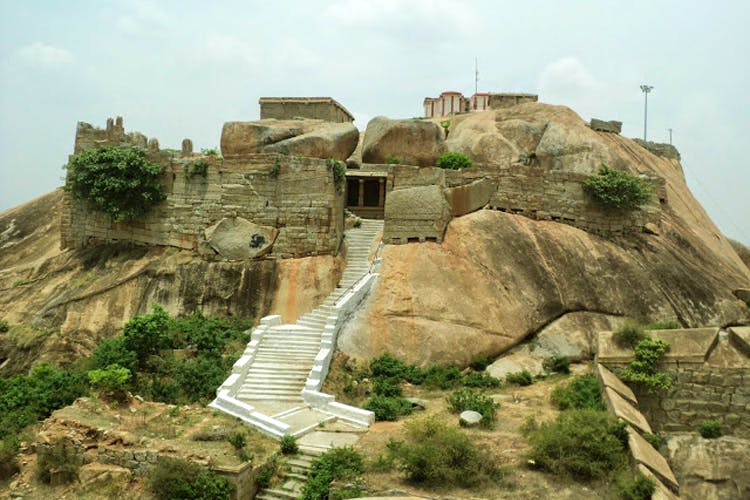 Located approximately 92 kilometres away from Bangalore, Gudibanda is situated in the Chikkaballapur district in Karnataka. The hill fort or Gudibande Fort is really impressive and is built in the shape of a Shiva Linga. This historical site is an excellent place for some trekking as well. There is the beautiful temple of Lord Shiva within the fort, surrounded by lush natural greenery. The Fort is built into the mountain with several turrets, gateways and ramparts which come with panoramic views of their own. The hill summit has the shrine which is said to be one amongst the 108 Jyotirlingas established by Lord Rama.
2. Nrityagram
Situated roughly 39 kilometres away from Bangalore, this enchanting dance village will bowl you over. Founded by reputed Odissi dancer Protima Gauri in the year 1990, the village is a premier institution for classical training, teaching several dance disciplines including Odissi, Bharatnatyam, Kuchipudi, Kathakali, Kathak and Mohniattam among others. The lovely greenery makes it a perfect place for a weekend jaunt with its mud houses, open areas, trees and fresh air. Creatively inclined travelers will hugely appreciate this break from routine.
3. Chikballapur
This town is roughly 60 kilometres away from Bangalore and only 3 kilometres away from Muddenahalli. There are several attractions in the town including the Bhoga Nandeeshwara Temple, Nandeeshwara Temple and Nandi Hills in addition to the Vivekananda Waterfalls which is around 12 kilometres away. The Kandavara Lake can also be accessed from here. The lovely and pristine surroundings will delight travelers along with the mélange of natural wonders.
Must Read: Exhilarating Road Trips From Bangalore- A Brief Guide
4. Galibore
Galibore is an ultimate relaxation zone near Bangalore on the banks of the Kaveri River. This nature camp offers a chance to relax amidst beautiful deciduous forests on the river banks. There are hills and trees all around while the area teems with wildlife including crocodiles, grizzled giant squirrels, turtles, snakes and even several birds like green pigeons, owls and Kingfishers. There are several activities on offer here including coracle riding, fishing, angling and trekking. Simply lie on a hammock amidst the breathtaking scenery at this marvelous destination, situated 97 kilometres away from Bangalore and wash away your daily stress.
5. Devanahalli
Just 40 kilometres away from Bangalore, travelers will chance upon the town of Devanahalli. This is located in the north-eastern portion of the city and the key attraction here is the Devanahalli Fort which is situated roughly 35 kilometres away from Bangalore. Built in the year 1501, the fort has immense historical appeal, having seen several battles over the years. It has passed into the hands of various rulers, ranging from Tipu Sultan and Hyder Ali to even Lord Cornwallis. The Fort covers a whopping 20 acres and is a major heritage landmark with temples like the Chandramouleshwara Temple and Nanjudeshwara Temple housed within it.
6. Hogenakkal
Located around 125 kilometres away from Bangalore, Hogenakkal is where you will come across the Niagara of India. It is one of the most breath-taking and captivating waterfalls in the country. Situated in the Dharmapuri district along the Kaveri River, this waterfall will give you some delightfully photographic moments and memories galore!
This giant waterfall is sub-divided into 14 channels and they have varying heights between 15-65 ft. The whole picture is too pretty to describe, when these channels gush out together through the rocks, going down towards the Stanley Reservoir or the Mettur Dam. The waterfall has a booming sound that will awe you instantly and is one of the best unexplored places to visit in Bangalore. You may choose a coracle ride here or even a boat ride to get closer to the waterfall and capture its beauty in a vivid manner.
Must Read: Best Places to One Day Short Trip From Bangalore by Car
7. Horsley Hills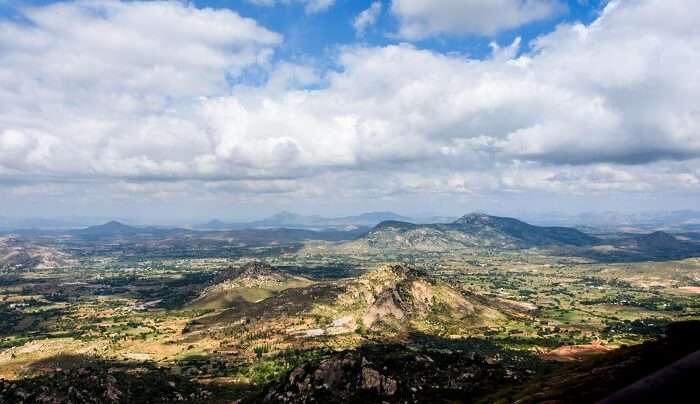 Located around 160 kilometres away from Bangalore, the area is also called Horsleykonda in the Chittoor district. The place is 9 miles away from Andhra Pradesh's Mandanapalle town. The group of mesmerizing hills is absolutely breathtaking here and they are situated around 4312 meters above sea level. The scenic beauty here is too awe-inspiring to be described in words. There are several plant species here including Blue Gum, Eucalyptus, Banyan Tree and Gulmohar among others.
This place is a treat for lovers of adventure activities, offering options like wall climbing, trampoline, water walking, shooting and rappelling. There are several species of birds to be witnessed here including the White Rupud Shama, Bulbul and Black Eagle. There are more than 100 bird species present at the Horsley Hills. The beautiful landscapes all around, will draw your attention instantly along with the panoramic views and fresh air. This is one of those unexplored places to visit in Bangalore or nearby, that will fascinate you considerably.
These are some of the best unexplored destinations that you can visit near the Garden City of Bangalore. These places come without the milling crowds or the rush and offer you ample scope to relish some much-needed peace and tranquility.